Disclaimer: Your capital is at risk. This is not investment advice.
Token Takeaway: TWT
In the crypto world, the phrase "not your keys, not your coins" is widely repeated but rarely observed. In this Token Takeaway, we look at Trust Wallet and its native token, TWT. This mobile crypto wallet allows users to have full custody of their tokens by allowing users access to their private keys. In the last two years, the wallet has grown from five million to 25 million users, with over one million daily users managing their crypto assets in Trust Wallet.
Overview
In June 2022, the Celsius Network, one of the biggest crypto lenders with over $20 billion in assets, shocked the crypto world by announcing that it would be effectively pausing all withdrawalsfrom its platform. This created panic among crypto investors who withdrew assets from centralised exchanges and opted for self-custody wallets instead. Why? Because maintaining access to your private keys makes self-custody wallets "more secure".
Self-custody wallets can be subdivided into two categories, i.e. hot and cold wallets. For an easier comparison of the two, I've broken down the key factors in the table below.
| | | |
| --- | --- | --- |
| | Hot Wallet | Cold Wallet |
| Internet Connectivity | Always connected to the internet. | Not connected to the internet. |
| Security | More vulnerable to attacks as they do not require an additional confirmation to process transactions. | More secure than hot wallets as these wallets require transaction confirmation through specialised hardware. |
| Ease of use | More convenient to use and send funds easily. | Less convenient than hot wallets as specialised hardware is always required to process transactions. |
| Entry barriers | Most apps are free to use, lowering the entry requirements. | Usually more expensive - the cheapest cold wallet costs around $85. |
| Examples | Trust Wallet, Metamask, Exodus and Coinomi are widely used. | Ledger and Trezor are the most widely used. |
As we can see, cold wallets are ideal for users who have sizable investments in crypto and want to protect their assets with the best security available. However, investors with smaller investments in crypto could consider storing crypto in hot wallets as these wallets prioritise ease of use over security.
However, hot wallets come with a caveat; poor customer service. Metamask and Trust Wallet are amongst the most widely used hot wallets, but score an abysmal 1.4 out of 5 stars on Trustpilot. This is because the users' information and assets are not stored in centralised servers, which limits the support from wallet providers. Practically, this means that users are usually left to self-diagnose the problems they experience. This factor alone may put off many from self-custody wallets.
Regardless, both Metamask and Trust Wallet have been able to onboard millions of users, with the latter onboarding over 20 million users since 2020. The surge in popularity of hot wallets is undoubtedly due to the fact that hot wallets act as a gateway for DeFi products and services.
The Trust Wallet App
Trust Wallet was founded and developed by Viktor Radchenko, a US-based Ukrainian software developer. Prior to this project, he participated in many ICOs, looking for an efficient way to manage and store his ERC-20 tokens. This led him to develop and launch Trust Wallet in late 2017.
Trust Wallet's ability to automatically detect any ERC-20 token associated with the user's wallet address made it the go-to mobile wallet for many crypto enthusiasts. The popularity of Trust Wallet was so immense that Binance bought Trust Wallet in July 2018 - its first-ever acquisition.
Radchenko stepped down as Trust Wallet's CEO in March 2022 to focus on his family. When stepping down as CEO, he thanked CZ, Binance CEO, for believing in the project and enabling them to have full autonomy to build Trust Wallet with the community's consensus.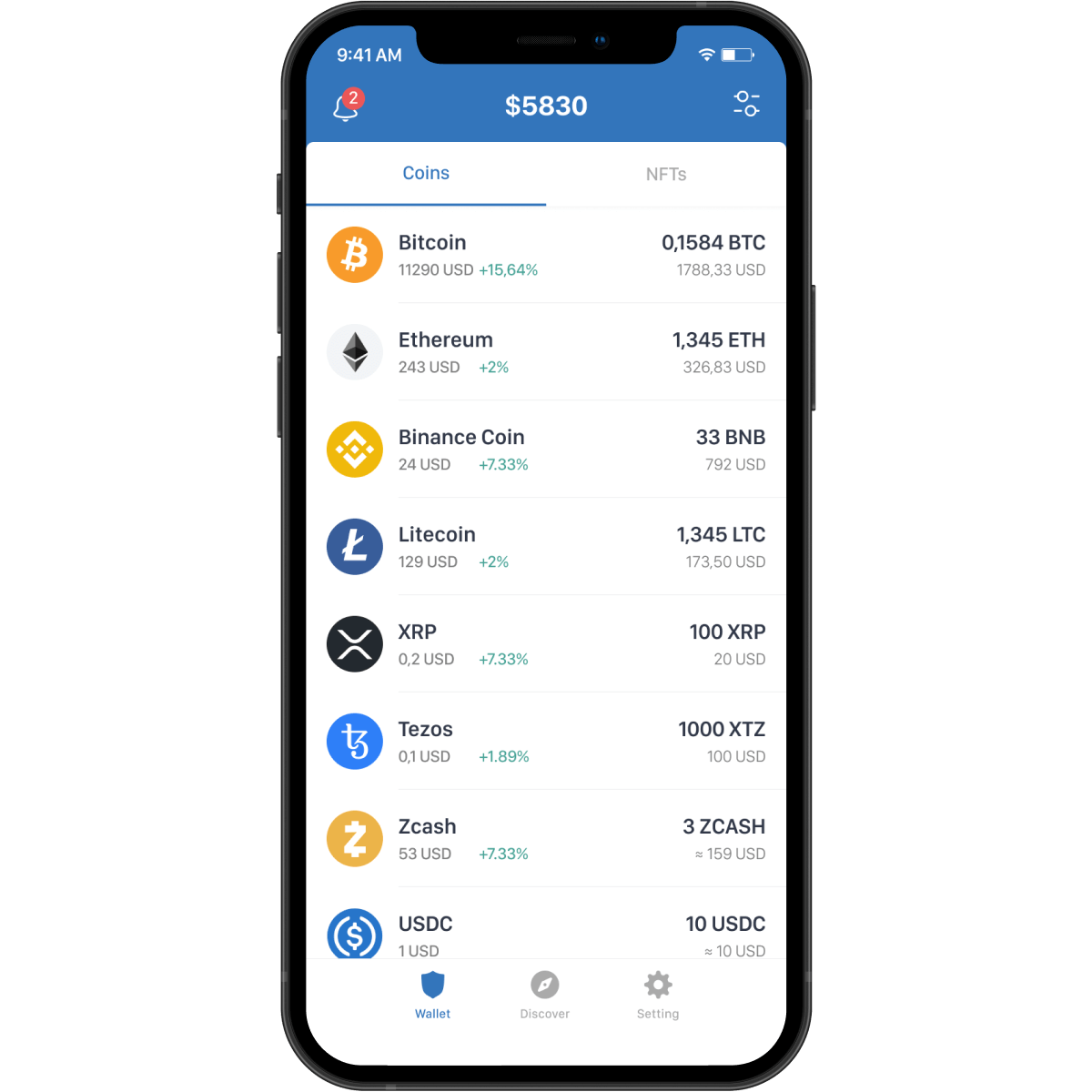 Source: Trust Wallet. Trust Wallet user interface.
Like all self-custody wallets, Trust Wallet is a decentralised service that supports over 65 blockchains and over 4.5 million digital assets (including NFTs). This versatile support increases the likelihood that your niche altcoin is going to be supported by Trust Wallet. Another important feature that contributed to the success of Trust Wallet is the ability to stake select assets in-app, allowing users to earn passive income while holding crypto. While the selection of stake-able assets is quite limited, the list is constantly growing. At the time of publication, Algorand, Polkadot, Solana, Cosmos, Tezos, Tron, Kava and BNB can be directly staked via Trust Wallet.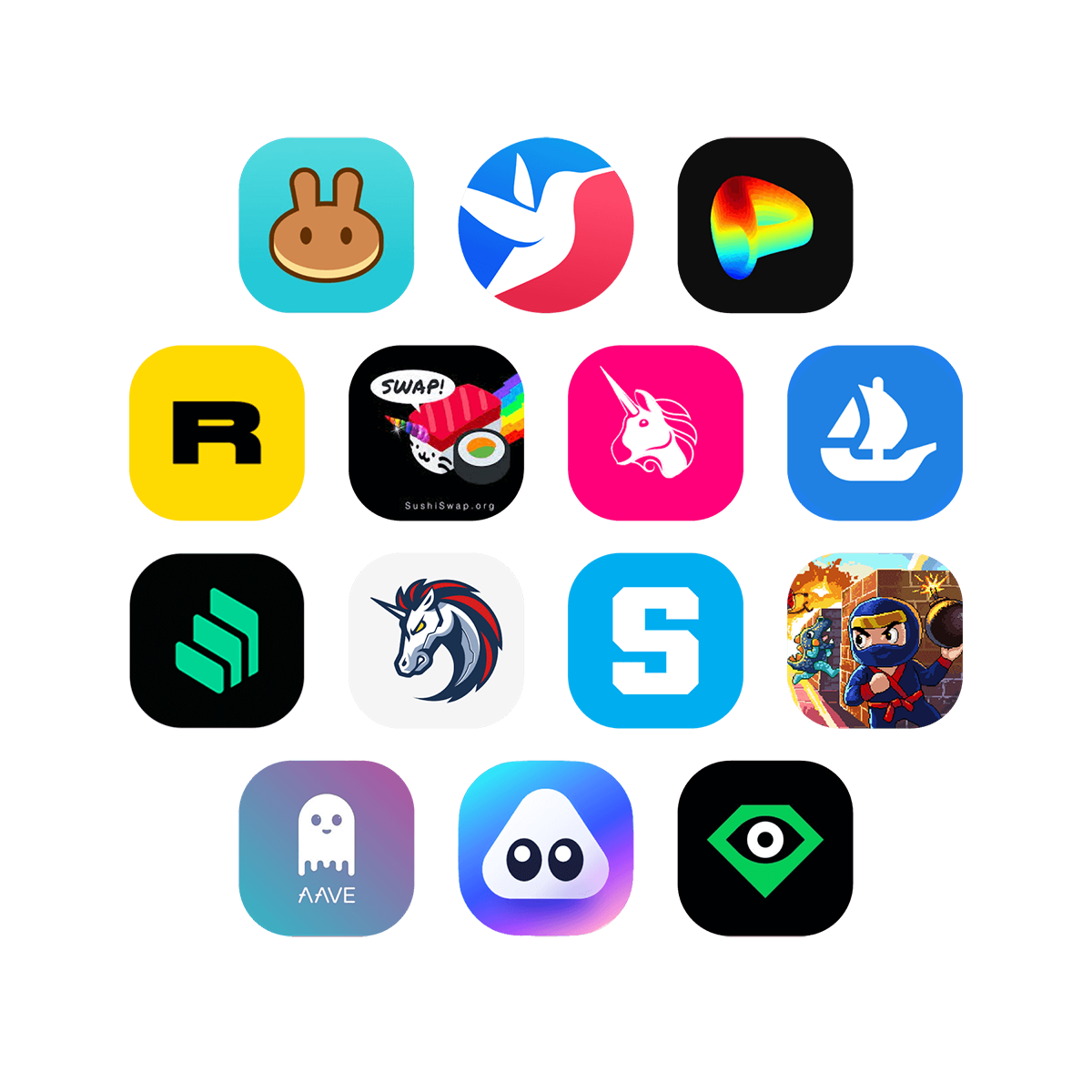 Source: Trust Wallet. dApp browser.
Additionally, Trust Wallet has an integrated dApp browser that can connect with other decentralised exchanges (DEXs), such as Curve Finance, Uniswap and 1inch. This allows users to provide liquidity in liquidity pools and exchange their crypto assets within the app, circumventing the need to use centralised exchanges where KYC is required.
What is TWT?
Like other ambitious crypto projects, Trust Wallet has its own token called Trust Wallet Token (TWT). TWT is a governance token available on the Binance blockchain and, more recently, the Solana blockchain. TWT holders can participate in the decision-making process for improved blockchain support and adding new tokens and product features. This is achieved through the governance process via Trust Wallet Governance Portal. Additionally, TWT can be used for discounted DEX trades and in-app purchases.
Tokenomics
The circulating supply of TWT is approximately 460 million tokens, with a max supply capped at 1 billion. The circulating supply of TWT will gradually grow as Trust Wallet users earn TWT tokens for completing tasks like participating in referral campaigns, staking, and trading within the app. In my opinion, this is a better way to build a strong and active community rather than airdropping tokens. Users will feel like they have earned TWT and will hold the token long term, which may reduce the overall selling pressure.
According to the TWT whitepaper, TWT token distribution is as follows:
40% is allocated to user acquisition.
15% will be distributed among the Trust Wallet community.
30% is held in reserve.
15% is allocated to developers.

Source: ByteTree. ByteTrend for TWT with price performance in BTC since August 2021.
As illustrated in the ByteTrend chart above, the TWT token has been in an accumulation phase towards the end of 2021 and through Q1 2022. Following this, TWT had bullish price action from the end of March to May.
Furthermore, the major price rally in mid-June coincided with Celsius stopping all withdrawals from its platform. Consequently, many consumers withdrew their tokens from centralised services to self-custody wallets, which is most likely why TWT has seen a bullish price action in the past few months. The TWT token is currently outperforming bitcoin, scoring a 5-star ByteTrend relative to BTC since mid-June 2022.
The Competition
It would be difficult to discuss self-custody wallets and not mention Metamask. The crypto wallet has over 21 million monthly users and works with any EVM-compatible blockchain. This limits the number of blockchains supported on Metamask, which means that the support for, e.g. Bitcoin, Solana, or Cosmos is quite slim.
Another upcoming self-custody wallet popular among crypto enthusiasts is Exodus. Exodus provides a sleek and clean user interface and supports over 230 digital assets. What I particularly like about Exodus is its partnership with Trezor, a popular cold wallet. Users can maintain their cold and hot wallets in one app, which is not a feature in Trust Wallet. I have listed some pros and cons for the three aforementioned wallets in the comparison table below.
| | | | |
| --- | --- | --- | --- |
| | Trust Wallet | Metamask | Exodus |
| Cold Wallet Integration | No | Yes | Yes |
| Easy-to-use interface | Yes | No | Yes |
| No. of assets supported | 4.5 million | Only EVM-compatible | 230 |
| In-app staking | Yes | No | Yes |
| Growth with a community consensus | Yes | No | No |
While it is clear from the table above that each wallet has its pros and cons, it ultimately depends on what you prioritise when storing your digital assets.
Conclusion
The Trust wallet's versatile support of over 65 blockchains and intuitive interface makes it undoubtedly one of the best crypto wallets available on the market. Not only can users store their crypto, but they also have direct access to DEXs to swap tokens on the go. However, the future of Trust Wallet, and TWT, ultimately depends on the proposals the Trust Wallet community votes on.
That said, the utility of the TWT token is very limited. Unless you want to access in-app discounts and actively participate in the decision-making that shapes Trust Wallet, I find it difficult to see the intrinsic value of holding TWT for the long term.