Disclaimer: Your capital is at risk. This is not investment advice.
Token Takeaway: tez (XTZ) Token
After a fantastic launch in 2017, Tezos, an open source decentralised smart contracts blockchain platform, had a rough time moving forward in the early post-ICO period. However, against all odds, the blockchain has managed to survive and thrive among its competitors. In addition to smart contracts and dApps, Tezos has also ventured into the virtual assets space and gained decent traction. In this article, we will examine the fundamentals of Tezos and its native token, tez (XTZ).
Overview
Tezos, a multi-purpose decentralised ledger that utilises blockchain technology to host complex smart contracts and decentralised applications, has shown a decent surge in network activity. With $1.2bn in marketcap, it is now the 16th largest cryptoin the smart contracts sector and 37th largest overall.
The Tezos network is designed to be highly adaptive to this emerging market through its in-protocol amendment process called self-amendment. Using this, Tezos can upgrade itself without requiring a hard fork (split). Hard forks usually divide and split the community. For example, Bitcoin's hard fork in 2017 occurred due to community disagreement, which resulted in a separate chain called Bitcoin Cash (BCH). As we've seen, disagreements can be very bad for any emerging technology.
Furthermore, Tezos is also a so-called Ethereum killer. In a sense, it is addressing the shortcomings of the Ethereum Network, like high transaction fees, network congestion, speed and more. Like Ethereum, apart from smart contracts and dApps development, Tezos has also ventured into DeFi and NFT space. With over 87 projects in the ecosystem, including music, fashion, gaming and art, Tezos is positioning itself as an emerging contender.
History and Tokenomics
Tezos launched its native token XTZ through an ICO in July 2017, raising $231m. It was the biggest ICO at the time, but its success was short-lived.
Johann Gevers, president of the Tezos Foundation, and the foundersargued about funds and payouts. Gevers refused to pay out the founders' share of the funds, which stood to be around $70m. Meanwhile, multiple lawsuits were filed against Tezos, alleging fraud during the ICO and that XTZ was an unregistered security. Later in 2018, Gevers resigned, and the Tezos Foundation paid $25m to settle the lawsuits in 2020.

Source: Tezos Stats. Breakdown of current XTZ supply.
Initially, 763 million XTZ were distributed between the Tezos Foundation (10%), Dynamic Ledger Solutions (i.e. the founders; 10%), ICO participants (79.59%), and early backers (0.41%). XTZ can be used for staking and delegating, incentivised by an annual yield (reward), i.e. newly minted XTZ. With an inflation rate of around 4.58%, the current total supply of XTZ is over 918 million. With over 178k stakers, 76% of the total circulating supply, i.e., $1bn, is being staked on the network.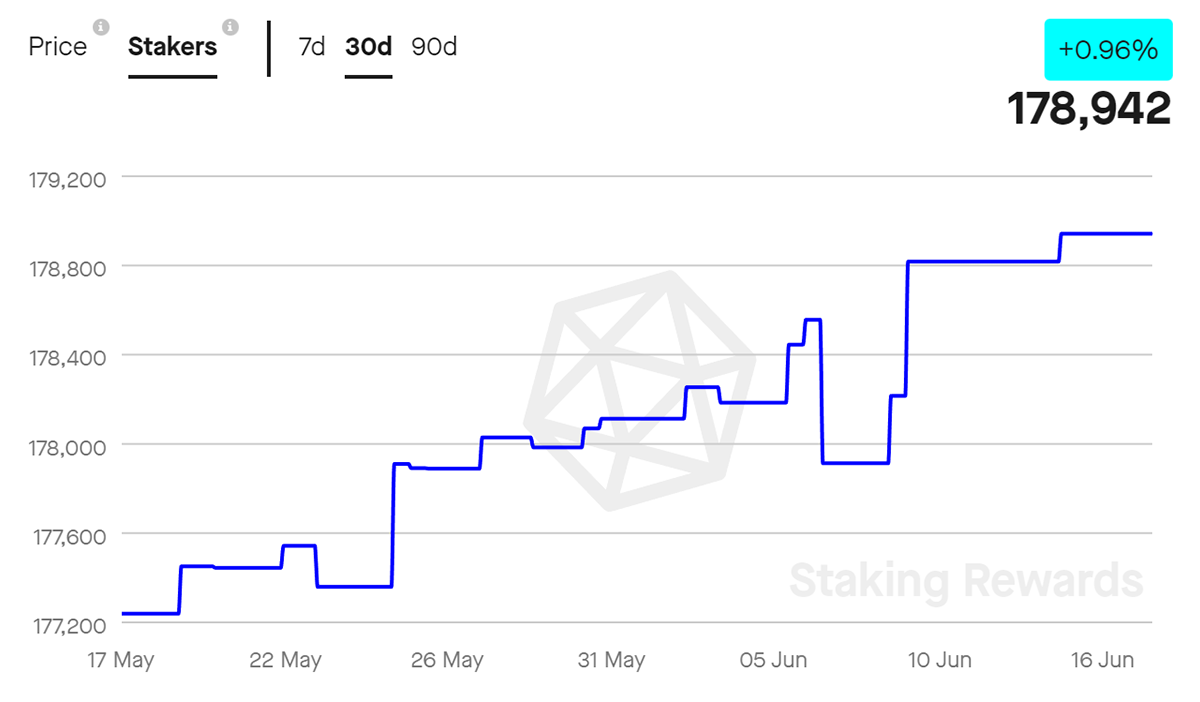 Source: Staking Rewards. Chart representing the growth in active stakers in the past 30 days.
The XTZ price correlation with its supply is inversely proportional to each other. As we can see in the below chart, with the increase in XTZ supply, the price has gradually been declining over the past six months.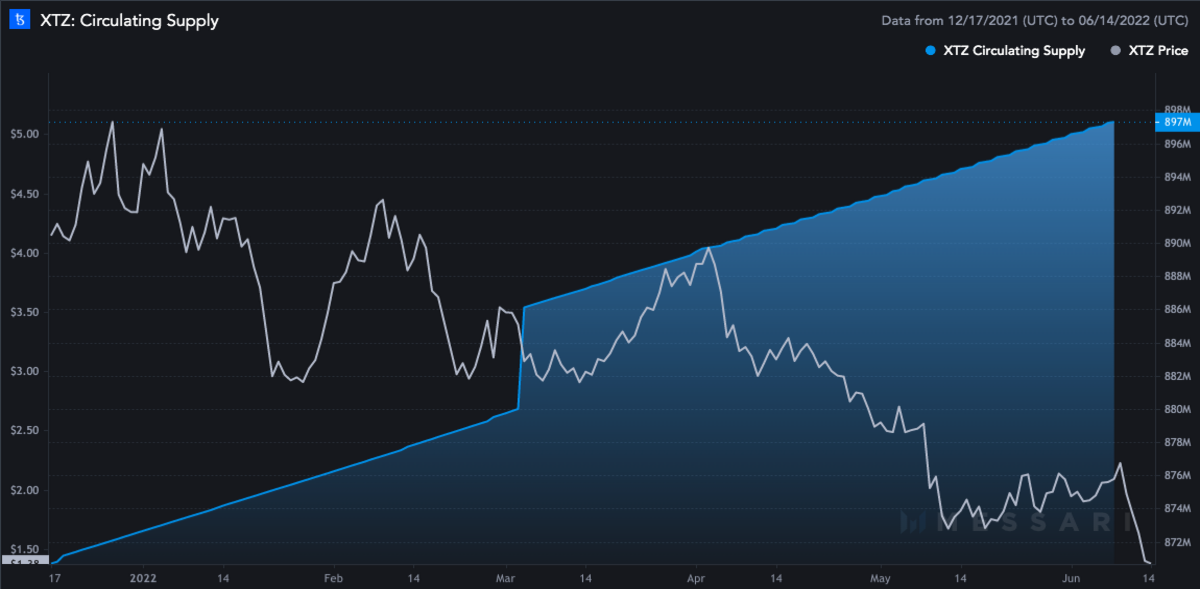 Source: Messari. Correlation of XTZ supply with its price.
Governance, Recent Developments and Partnerships
Tezos utilises a Liquid PoS consensus and an on-chain governance mechanism for network governance, where users are allowed to create or validate (bake) blocks when their roll (8000 XTZ) is randomly selected. These users are called Bakers (validators). Additionally, someone who doesn't have 8000 XTZ can delegate their tokens to a Baker and receive a portion of the reward. As maintainers of the network, Bakers are also allowed to propose upgrades and vote in the network amendment process.
The self-amendment process is split into five periods: Proposal, Exploration Vote, Cooldown, Promotion Vote, and Adoption. For clarification, please see the chart below.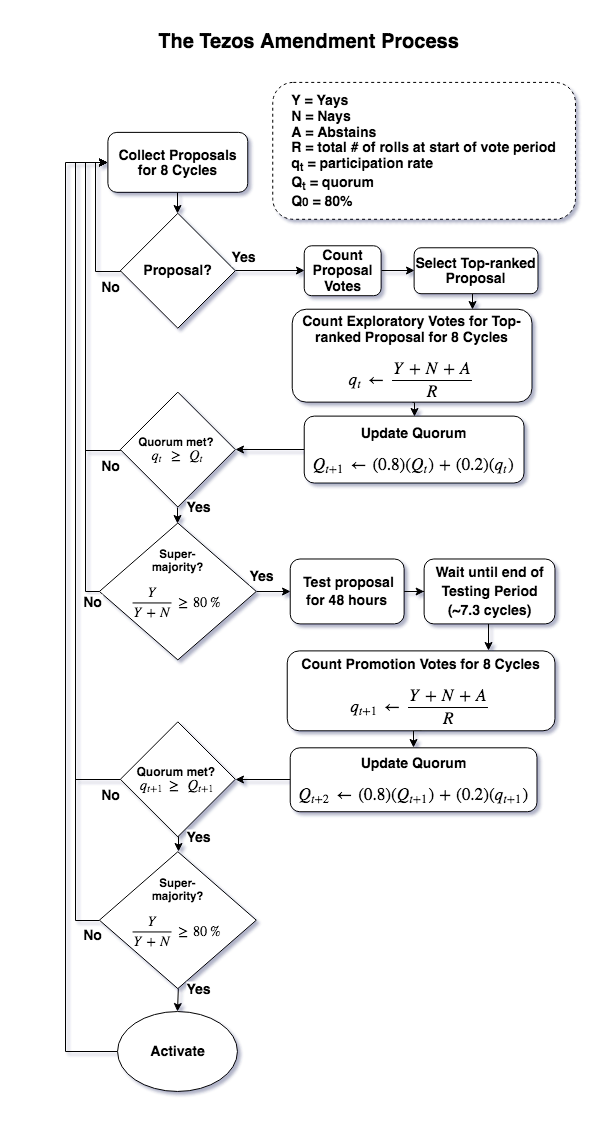 Source: Tezos Whitepaper. Flowchart of the Tezos Amendment Process.
Developers built many innovative and successful applications on the Tezos network, ranging from NFT marketplaces, gaming, entertainment, DeFi and more.
| | |
| --- | --- |
| NFT marketplaces | Objkt.com, fxhash, Kalamint |
| Gaming | InterPop, One of, Henradio |
| DeFi | FlameDeFi, Instaraise, Juster |
| Stablecoins | Kolibri, USDS, uUSD |
Source: Tezos. Tezos ecosystem projects.
With all the new projects, the network activity on the blockchain saw a significant surge, pushing the weekly transactions on the Tezos Network to nearly 700k.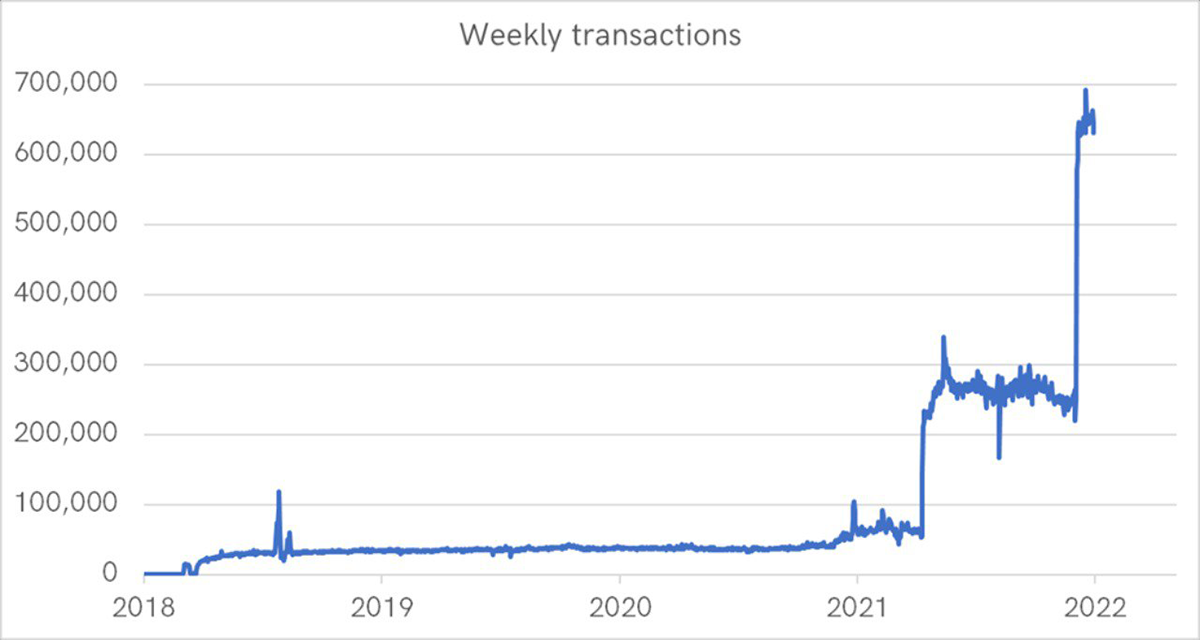 Source: CoinMetrics. Weekly transactions on the Tezos network.
Tezos has also secured partnerships with popular brands like Manchester United, Ubisoft, McLaren Racing, Red Bull Racing, Team Vitality, Misfits Gaming, FloSports, The Gap, Pantone and more. Not only transactions but smart contract calls have also seen fantastic growth, a 4034% increase from January 2021 to January 2022.
Tezos Foundation Financials and Grants
Based in Switzerland, the Tezos Foundation's (TF) main objective is to promote the Tezos blockchain through grants and other capital disposals. As of 31 January 2022, TF has $1.1bn in assets, which is $49m lower than in July 2021. With an acceptance rate of over 43%, TF has granted over $243m to 167 projects from 33 different countries. Notably, of the total granted projects, 67 were awarded in the last 10 months.

Source: Tezos Foundation Report. Breakdown of Tezos Foundation's financials in January 2022 and July 2021.
The grant process has three steps: Proposal, Award, and (if successful) Post Award. The average time to review a proposal/application is 4 weeks, while proposals that can add value to the Tezos ecosystem are more likely to be successful. Projects focused on improving baking, security, developer experience, education, end-user applications, etc., are comparatively best preferred. Moving forward, TF is also interested in supporting global projects in the NFT, gaming and DeFi spaces.
Network Upgrades
Transactions and other network activity started to pick up in August 2021 following its 7th network upgrade Granada, which cut the average block time in half and significantly reduced the gas consumption in smart contracts.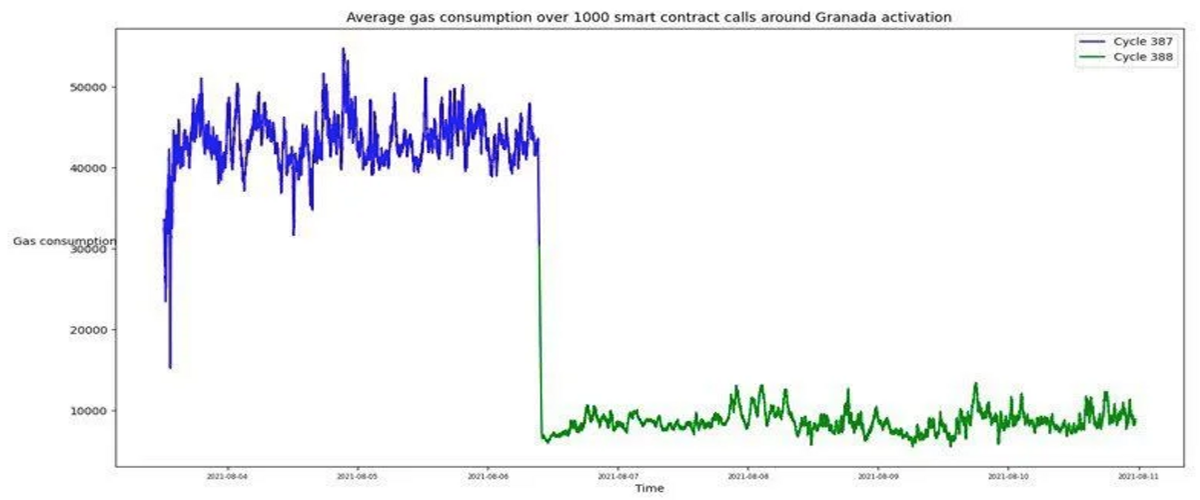 Source: Reddit. Gas consumption in smart contracts before and after Granada activation.
As seen in the above chart, the sudden drop in gas consumption is due to the Granada upgrade.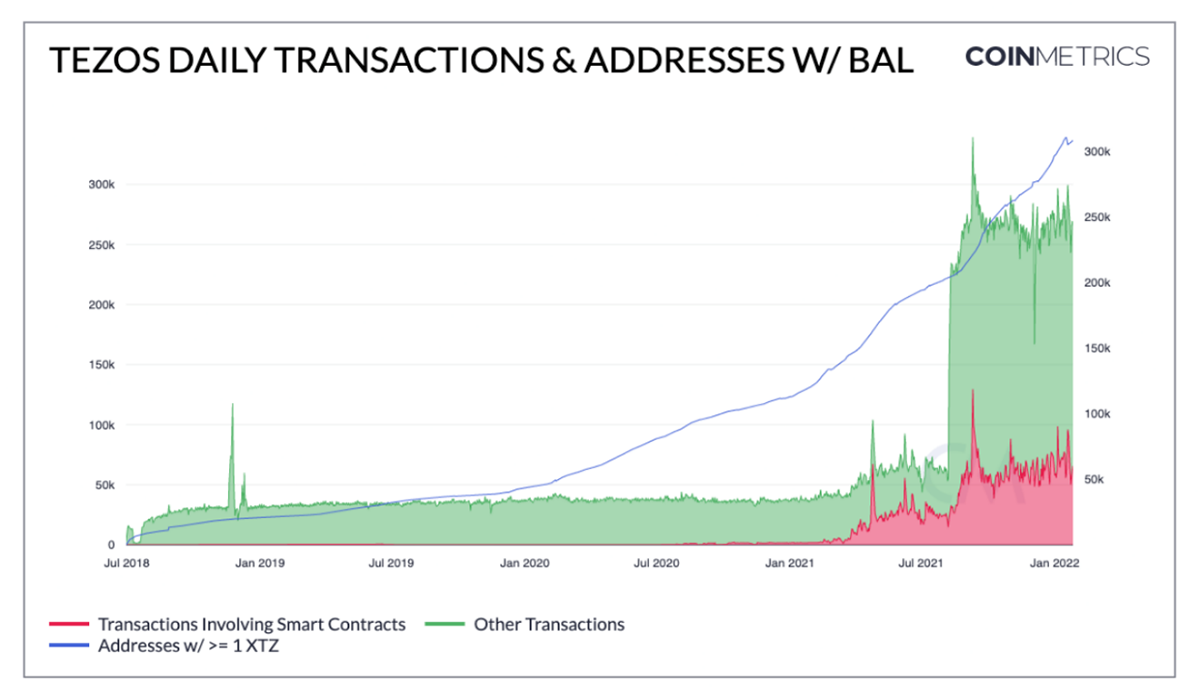 Source: CoinMetrics. Daily transactions on Tezos and addresses with at least 1 XTZ, from July 2018 to January 2022.
As seen in the above chart, not only the transactions but also the addresses that held at least 1 XTZ grew by over 150%, from 120k in January 2021 to over 300k in January 2022.
In April 2022, Tezos launched Ithaca 2, its 9th upgrade, which replaces the current consensus algorithm Emmy with Tenderbake. Ithaca 2 was the most anticipated upgrade, which is set to revolutionise the Tezos blockchain. The latest upgrade will further reduce the block time with improved finality, faster transactions, and smoother running of applications and smart contracts. Additionally, with the ambition for significant scalability solutions, it has also introduced the concept of transactions and smart contracts optimistic rollups with WebAssembly and EVM compatibility. Finally, the upgrade looks to reduce the roll size by 25% to 6000 XTZ instead of 8000 XTZ (minimum XTZ required to participate in baking).
Conclusion
Tezos appears to be an almost perfect project in this swiftly evolving space. Even though it is still in its early phase, the ecosystem has managed to spread across multiple sectors, consuming a large portion of the market share. However, entering new sectors has also drastically increased its competition. Nevertheless, upgrades like Ithaca 2 make the network more appealing to new users and developers, driving significant ecosystem adoption.
Although the journey ahead will not be easy, there is a high chance that Tezos will continue to grow moving forward, provided it stays fundamentally robust and pursues innovative methods that can evolve the network.