Disclaimer: Your capital is at risk. This is not investment advice.
Token Takeaway: BNB Token
Crypto exchanges saw substantial growth starting at the end of 2020. With an average volume of around $2bn per day, 600+ listed cryptos, derivatives and millions of users worldwide, Binance is the clear winner in this sector. In this two-part series, we will examine the fundamentals of Binance and its native token, BNB.
Overview
As the initial point of entry for most investors and users of digital assets, crypto exchanges have become the key point of access to the entire crypto ecosystem. Since the boom of Bitcoin and altcoins, the likes of Coinbase in the US, WazirX in India, and Huobi in Singapore have all become household names and important players in the growth and evolution of the cryptocurrency space. Binance and its native utility token, BNB, take this success to great heights.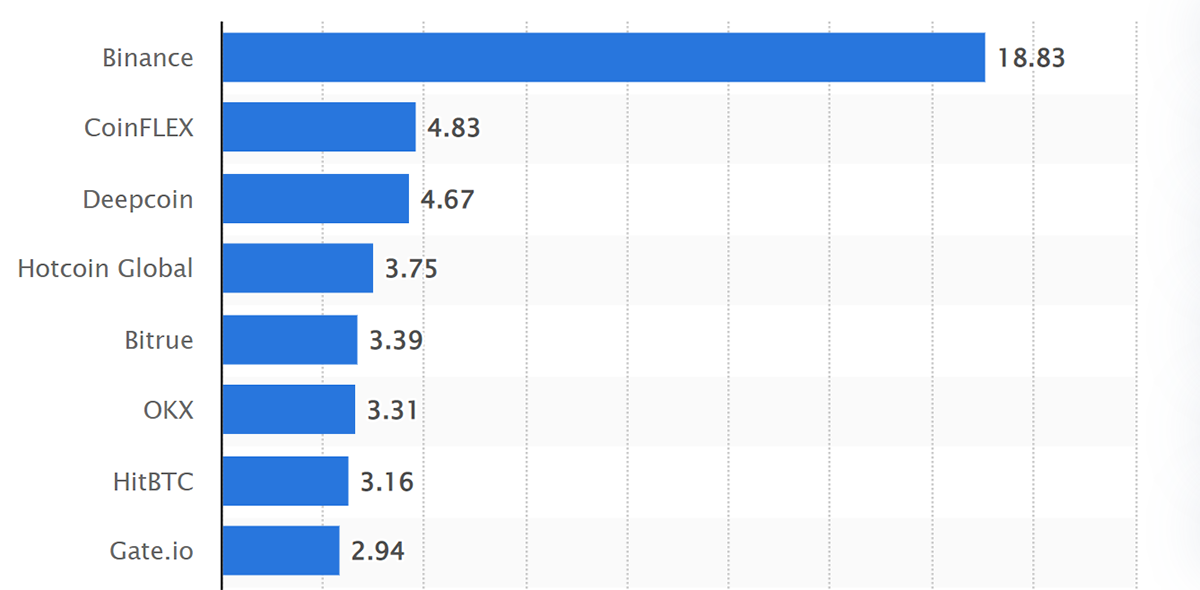 Source: Statista. Top 6 global cryptocurrency exchanges based on 24h volume data on 20 April 2022.
Binance has a beginner-friendly interface with round the clock customer support, while the Binance Exchange can also be accessed through their mobile app. According to their website, Binance has a whopping $76bn in 24hrs trading volume and can also facilitate 1.4+ million transactions per second with <0.1% in transaction fees.
Binance Chain (BC) and Binance Smart Chain (BSC)
Binance Chain (now the BNB Beacon Chain), their basic initial blockchain, launched in April 2019. It serves as an alternative marketplace for issuing, using, and exchanging digital assets in a decentralised manner. Binance Chain uses the BEP2 token standard, and its first use case was the Binance decentralised exchange (DEX), which aims to carry over the best features of the current exchange in a decentralised setting. However, to meet these requirements, the configuration of the Binance Chain led to limited smart contract functionality and no scalability.
This led to the launch of the Binance Smart Chain (now the BNB Smart Chain (BSC)), which uses the BEP20 token standard and is best described as a blockchain that runs parallel to the Binance Chain. As an independent blockchain, BSC could function even if Binance Chain went offline. BSC combines both delegated PoS and proof of authority (PoA), i.e. Proof of Staked Authority (PoSA), to achieve network consensus and maintain blockchain security.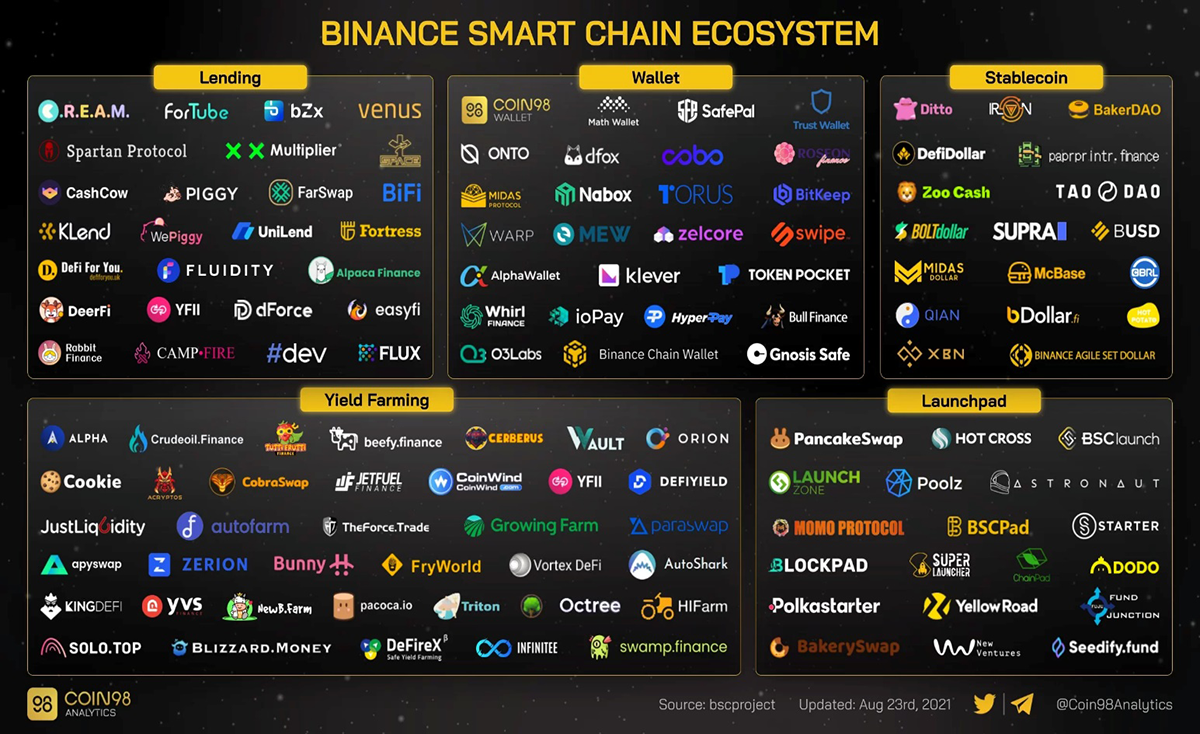 Source: Incryptohub. BSC ecosystem.
Unlike the Binance Chain, Binance Smart Chain is basically a blockchain with a full-fledged developing environment for high-performance decentralised applications and complex smart contracts. It was built for cross-chain compatibility with the Binance Chain to ensure that users get the best of both worlds. Compatibility with the Ethereum Virtual Machine (EVM) enables developers to easily migrate dApps, tools and other ecosystem components to the BSC network. For example, applications like MetaMask can easily be configured to work with BSC with just a matter of a few settings.
Meanwhile, in February 2022, Binance announced that they've combined Binance Chain and Binance Smart Chain to form a parallel chain called BNB Chain. The merge supports the infrastructure that will power the world's virtual ecosystem by offering a decentralised multi-chain open-source network with on-chain governance. The BNB Chain also introduces a new concept, MetaFi, which is short for the virtual ecosystem and Decentralised Finance (DeFi). In essence, it is a concept that combines all the different types of projects such as Metaverse, DeFi, GameFi, SocialFi, Web3, and NFTs.
Notably, the BNB Chain website is currently undergoing re-construction, as Binance Chain and Binance Smart Chain are in another new development and rebranding phase.
The BNB Token
BNB, which stands for "Build and Build" (formerly called Binance Coin), was launched as an ERC-20 standard on the Ethereum blockchain in 2017 via an Initial Coin Offering (ICO). Binance pre-mined 200 million BNB for distribution and fundraising prior to the public sale. The three-phase distribution was as follows:
Founding team: 40% (80 million BNB)
Angel investors: 10% (20 million BNB)
Public sale: 50% (100 million BNB)
The 100 million BNB tokens available for public sale were sold during the ICO at 15 cents per token, allowing Binance to raise $15m in BTC and ETH.
Source: Messari. Use of BNB sales proceeds.
From the $15m raised, 35% was allocated to upgrading the Binance platform and exchange system. Additionally, 50% was allocated for Binance branding, marketing, and education of new innovators, and the remaining 15% was used as a reserve in case of any internal emergencies.
BNB Burning
From the initial supply of 200 million BNB, 50% will be burned to halve the supply. So far, 37.2 million BNB has been burned, and 162.7 million remain in the circulating supply.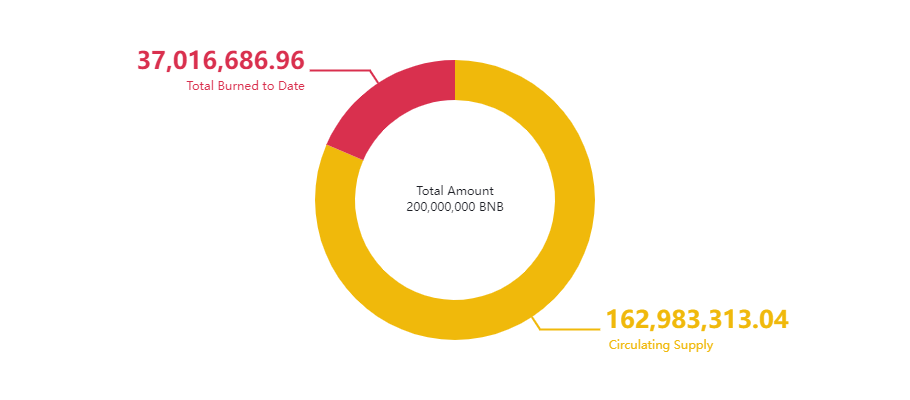 Source: BNBBurn.info. A visualisation of total BNB burned and circulating supply.
The BNB Auto-Burn mechanism adjusts the amount of tokens to be burned based on the token price and the number of blocks generated on the Binance Smart Chain during a quarter. Additionally, BNB uses a real-time burning mechanism based on gas fees, which means that a fixed ratio of the gas fee collected is burned in each block. The continuously decreasing circulating supply means that BNB is a deflationary token, making it inflation-resistant and a possible store of value asset.
Since the Bruno upgrade in November 2021, BSC burns approximately 860 BNB every day. In the first quarter of 2022, the BNB auto-burn program burned over 1.8 million BNB from circulation, worth around $741 million. Despite the significant decrease in token supply, BNB is currently trading around a 40% discount from its all-time high of $690 in May 2021, undoubtedly reflecting the weakness in the overall crypto market. That being said, the effect of the burn is yet to be seen on its price and will likely impact it positively once the market starts to recover and the BNB demand increases.
BNB Utility and Use-cases
Initially, BNB was launched as a utility token for the Binance exchange, but it didn't make much sense for a non-Binance customer to buy or use BNB. Besides having numerous use cases on the Binance exchange, BNB can also be used on many other platforms. Some use-cases for BNB on the Binance exchange include:
Save 25% on Spot and Margin Trading fees and Save 10% on Futures Trading fees
Lend BNB through new token farming opportunities on the Binance Launchpool
Earn a flexible percentage yield by depositing BNB on select BNB Chain projects
Spend your BNB at more than 60 million merchants worldwide with the Binance Visa Card
Stake BNB in one click to earn rewards using BNB Vault
Access exclusive token sales on the Binance Launchpad
Additionally, BNB can also be used to make crypto credit card payments on Crypto.com and for services like travelling, accommodation, entertainment, payments and financial services. BNB is also utilised on other blockchains like Decentraland to participate in auctions and Axie Infinity to buy virtual land.
Conclusion
After facilitating numerous use cases on the exchange and already having a decent utility, BNB is more than just a centralised exchange token; it also powers a whole independent ecosystem. Arguably, BNB is one of the most practical cryptocurrencies out there, which builds a strong reputation for BNB and its blockchain. Additionally, new upgrades and combining BSC and BC into the BNB chain encourages developers to build on the BNB chain, pushing the growth of the whole ecosystem.
In the second part of this series, we'll examine some of the criticism faced by Binance and BNB, provide an overlook on its future and more.