Disclaimer: Your capital is at risk. This is not investment advice.
Token Takeaway: AXS
Whilst Quant has recently been the main talking point, we deep-dived into MIR last week, which is attempting to recreate a decentralised stock market. Readers can find my QNT research here and here. For my MIR analysis, see here. This week, I want to look at the very promising Axie Infinity protocol and its native governance token, AXS.
This article will focus solely on explaining the AXS token and its surrounding ecosystem, emphasising on Axie's team, partnerships and funding. A more in-depth quantitative analysis will be available in the future part II article.
Sector: NFTs, Blockchain Gaming
The success of governance tokens typically depends on their native protocols experiencing continual growth. This should be a key point for digital asset investors as native governance tokens are not equity. Typically, voting rights are attached to governance tokens, which are only worth something if the protocol is succeeding. The utility of a token and protocol revenue share should be at the top of an investor tick list and not governance.
AXS is a governance token, and its success as an investment is correlated with the progress that the Axie Infinity ecosystem makes. From a high level, Axie Infinity is attempting to create a play-to-earn gaming economy. Axie monsters, land and collectables are all products that are available to buy through the Axie Infinity marketplace. The monsters can even be used in the Axie Infinity game to earn rewards. It's not a concept protocol either. According to Token Terminal, the Axie Infinity protocol has accumulated $22.9m of revenue over the last 30 days, almost double the revenue of second-place PancakeSwap, which makes it the most valuable protocol in the digital asset sphere.
The utility of AXS is promising as well. Community members are currently waiting for two new features: AXS staking rewards and governance of the community treasury, which accumulates protocol fees in a community-driven money pot. We will cover this later on in this article, but first, a deep dive into the team and ecosystem.
The Team, Partnerships and Funding
The Axie Infinity team is part of the Sky Mavis group and boasts a very competent group of technology-focused game experts. CEO Trung Thanh Nguyen co-founded Lozi.vn, a Vietnamese e-commerce start-up that recently raised $10m. COO Aleksander Leonard Larsen also has extensive experience in gaming, representing Norway in several online games. He is also on the board of directors in the Blockchain Game Alliance. While there are no world-famous appointments, it is very clear that the Axie team has a perfect skill set to help the protocol succeed.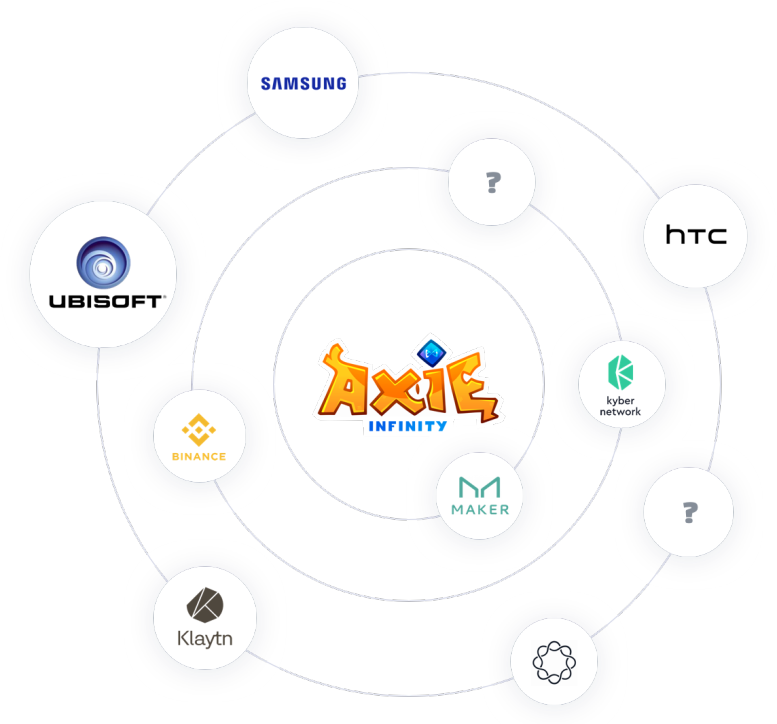 Source: Axie Infinity. Infographic of Axie Infinity's Partnerships.
As you can see, Axie has partnerships of the highest quality inside the crypto-sphere and out. Ubisoft is the standout partner in my view. They are one of the highest-grossing traditional video game companies in the world and the company behind the Assassin's Creed franchise, which has sold over 155 million copies since its launch in 2007, according to VGC. Within the digital asset space, the partnerships are of equally high quality. A partner not included in the graphic above is Aave, one of the top DeFi protocols.
Funding
According to Crunchbase, Axie Infinity has completed three funding rounds, raising a total of $9m. On top of this, in November 2020, they also raised $860,000 through the AXS token sale led by Delphi Digital. AXS was also listed on the Binance launchpad and managed to reach its hard cap of nearly $3m. These funding numbers are impressive, considering Axie is a completely decentralised game and protocol.
The Ecosystem Surrounding AXS: NFT Marketplaces and Gaming.
Non-Fungible Tokens, NFTs, are the wider sector that Axie is trying to dominate through its unique land and monsters. NFTs have been the hot topic of 2021; however, not everyone can see the value they generate. Crypto-natives certainly worry that this could be a repeat of the 2017 initial coin offering craze.
According to DappRadar, Axie has emerged as the leader in the NFT gaming and marketplace sectors, overtaking some pretty impressive names such as NBATopShots and the OpenSea marketplace. This is promising because leading two prevalent sectors is proof that, as a protocol, Axie is generating vast value for its users.
Axie Infinity spans across Ethereum and the sidechain Ronin. This has facilitated low fees and efficient transaction throughput while enabling AXS to conform to the popular ERC-20 token standard. Axie aims to revolutionise the digital gaming sector by creating a play-to-earn (P2E) economy, and an easy-to-use network is key to achieving this goal.
For the less versed, P2E means that players of the Axie Infinity game can earn money by participating in the game. Bear in mind that this is essentially a paradigm shift from traditional gaming, which is very much centred around pay-to-play, as in-game purchases are the backbone of gaming revenue. The P2E involvement doesn't just stem from battling the NFT Axie monsters, but from a variety of products: breeding monsters, trading monsters and land on the marketplace.
Axie monsters are not just an odd-looking Pokémon-inspired NFT. They are made up of a mixture of three genes and six body parts. Each characteristic makes them unique and attributes value and battle stature to the monster. Time for a disclaimer; I own both AXS tokens and Axie monsters. Here are mine.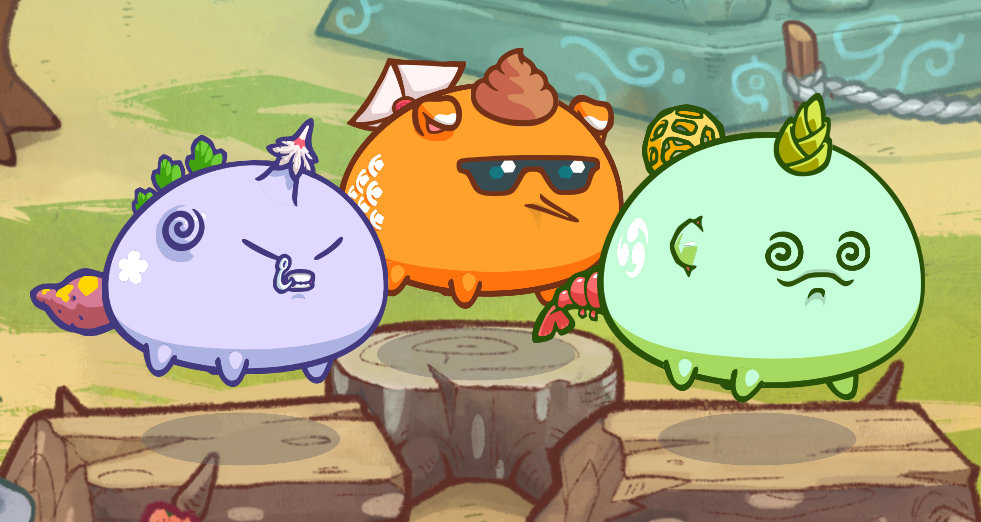 Source: ByteTree. My Axie Team.
Sure, they don't look mean, but the value they generate for holders suggests otherwise. Whilst I can trade or breed them, I can also use them in battle for small love potions (SLPs) and sometimes for other tokens, such as AAVE or AXS, when competitions arise.
A Real-World Application
By creating a successful play-to-earn structure, Axie has empowered its users with a global wage; very significant. By a global wage, I mean an income from playing the game that does not come with direct exposure to the inflationary pressure of some local currencies. Most notably, there are recorded stories from Venezuela and the Philippines that document the positive impact Axie has had on them. You can find my take on those stories here.
The AXS Token
It is essential to look at the quality of the products offered by the Axie Infinity ecosystem, as this has a direct impact on the success of AXS. For example, the fees generated by Axie monsters and land play a huge part in contributing to the community treasury. This generates value for the AXS token because governance, and the ability to divert fees back to tokenholders, could play a more important role in the future of Axie.
However, whilst governance is relevant, an investor should always consider whether this is the only utility that a token can offer. If that was the case, then I would reconsider the potential growth of that token, and reduce my holdings. This is not the case with AXS; they aim to release staking in Q3 2021. Staking is the act of locking up tokens in return for a reward. When this becomes operational, AXS will also provide a yield generating opportunity for its tokenholders - a massive potential.
Furthermore, the Axie team also plan to relinquish control of the community treasury. This will generate significant value for tokenholders because the protocol will become completely decentralised, meaning that it will continue to grow as a community-driven dApp.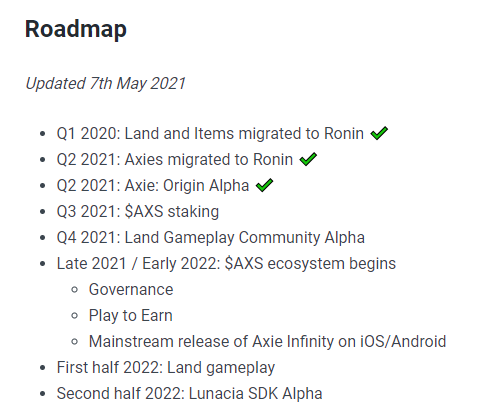 Source: Axie Infinity. The roadmap laid out by Axie Infinity.
The roadmap above should spark curiosity for an investor, as the largest milestones have not yet been met. Meaning that if the market is fairly inefficient, which it could be, then catalysts like these might not have been fully priced in. This could present a perfectly sound investment decision.
However, without data, I would not be comfortable making that decision. Do tune into my future part II article, where I will analyse the more quantitative side of AXS and give readers our conviction score.
Conclusion
Overall, from a qualitative standpoint, Axie and AXS look to have significant potential for investors. Considering the utility that the protocol offers (i.e. monsters, breeding, land, and battle), we can see why AXS has been so highly ranked in our ByteTree models. From a token perspective, staking adds a considerable value proposition by creating a yield generating opportunities for tokenholders.
It is quite unclear how positive the decentralisation of a protocol will be for its native token since it's never been achieved before. However, one cannot ignore the vastly positive implications that Axie and AXS have had in the real-world. Investors should continue to follow the traditional world impact, as it is incredibly valuable when analysing a token or protocol.
Lastly, Axie and AXS look to have an even brighter future with staking and opening the community treasury. However, readers should consider whether the protocol can continue to generate this value or if it is riding the NFT wave. Read more about AXS in part II.