Disclaimer: Your capital is at risk. This is not investment advice.
Token Takeaway Part II: AXS token
In part I, I guided readers through a more qualitative analysis of the AXS token and the surrounding Axie Infinity ecosystem. Since that post, the token's price has risen from $13 to nearly $30, which makes it the perfect time to take a more quantitative look at AXS and evaluate whether we see conviction behind the current price. This piece will analyse AXS's technicals, competitors, stats and finally present readers with our conviction score.
Firstly, I must disclose my vested interest in the Axie ecosystem. I hold AXS token as well as Axie monsters and have done since July/August last year. I must say, while I always saw promise in AXS, it has blown me away in terms of performance and development. Especially in recent months, where it has broken away from the contracting digital asset market.
Technical Analysis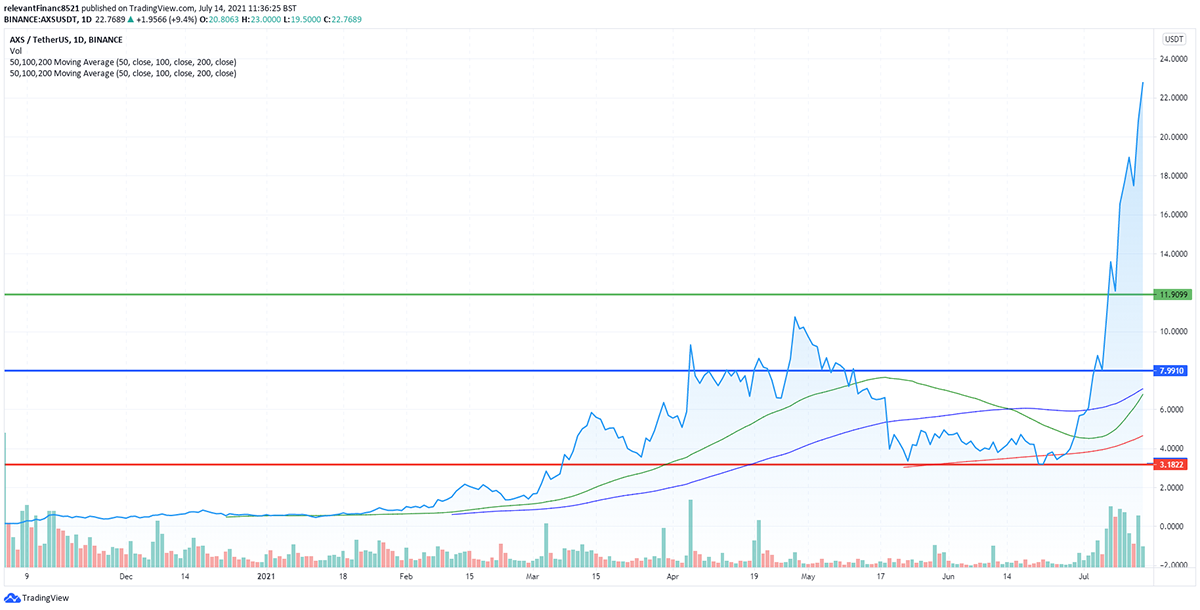 Source: Trading View. Technical Analysis of AXS/USDT.
This year has seen significant gains for AXS token holders, and from a technical standpoint, AXS has broken out of its June/July slump to become one of the best performing digital assets. However, AXS has a lot of air beneath it. Investors should be wary of anything but a quick trade at this moment in time. It needs to build a base.
Competitor Analysis
In this section, we will look at the NFT competition. I recognise there are several other competitors, such as CHZ, but I believe these three represent the most competitive alternatives.
FLOW blockchain, which is a sequel to the CryptoKitties franchise. They are responsible for the largest NFT marketplace by volume, NBATopShots.
MANA, is the native token of the Decentraland protocol.
ENJ is Enjin coin, which enables users to build NFTs which can then be deployed on the Ethereum Network.
FLOW

Source: ByteTree. AXS Relative to Flow.
Notably, NBATopShots resides on the FLOW blockchain. According to dAppRadar, the FLOW blockchain has the highest historic volume ($631.67m) amongst NFT platforms. However, over the last 30 days, Axie Infinity volume ($394m) has exploded in comparison, which conveys that Axie will most likely be in the lead in a matter of months. This is highlighted well in the relative chart above, which shows the token price performance relative to each other.
MANA

Source: ByteTree. AXS Relative to MANA.
A similar story can be seen when comparing MANA and AXS. AXS has broken a trend, and its tokenholders are reaping the benefits.
ENJ

Source: ByteTree. AXS Relative to ENJ.
Once again, the competition can't keep up with AXS. The performance shown by AXS in the charts above shows that AXS can come out as the top NFT gaming platform. Continued high performance is the best outcome for investors.
General Statistics
| | |
| --- | --- |
| General | Figures |
| Token Ranking | 71 |
| Market Cap | $1,268,365,305 |
| 24hr Exchange Volume | $1,709,987,113 |
| Price | $22.96 |
| Token Analysis | |
| Total Supply | 270,000,000 |
| Max Supply | 270,000,000 |
| Circulating Supply | 55,260,010 |
| Supply Held by Top 100 Holders | 99.28% |
| Total Holders | 6,841 |
| Transfers | 176,755 |
| Treasury Stats | |
| Est. AXS Balance | 3463107 |
| Est. ETH Balance | 31593.95 |
| Cumulative $Value | $143,786,462.00 |
| Platform Revenue | |
| 7d | $30,960,000.00 |
| 30d | $51,650,000.00 |
| Annualised Revenue | $608,140,000.00 |
| P/E Ratio | 10.14 |
| Axie Marketplace | |
| Historic Volume | $475,430,000 |
| Historic Traders | 183,532 |
| Axies Sold | 876,251 |
| Total Sales | 888,197 |
| Development Activity | |
| Events 30d | 49 |
| Events 90d | 107 |
| Smart Contract Activity (Ethereum and Ronin) | |
| Users | 140,790 |
| Transactions | 483,680 |
| Volume | $ 261,930,000.00 |
| Old World Comparison | |
| Est. Traditional Gaming Market Size | $300,000,000,000 |
| Competitor: FLOW | |
| Token Ranking | 83 |
| Market Cap | $896,251,800 |
| 24hr Exchange Volume | $70,057,947 |
| Price | $18.65 |
| Competitor Token Analysis | |
| Total Supply | 1,367,168,015 |
| Circulating Supply | 52,168,015 |
At first glance, the token distribution might look very centralised; it is a very different story due to how Etherscan records total supply. They include the tokens held by the protocol, which holds over 75% of the total supply, leaving the highest tokenholders with just 6% of the total supply.
Secondly, investors eyes should be watering at the revenue, PE ratio and treasury figures. Axie Infinity has the highest revenue of any protocol or application in the entire digital space, and the market is starting to notice. Who would have thought that Axie Infinity would have a similar P/E to General Motors and a third of Apple!
Breeding is a key part of the demand for the AXS token. To measure this demand, investors should pay close attention to the two things: the AXS token and Smooth Love Potions (SLPs). Both are needed for the process, which enables users to merge two Axie monsters to create another. Although tempting, I feel the birds-and-bees story is not needed here. If the breeding continues to rise, then so will the demand for SLPs and, more importantly, the AXS token.
The treasury is also a key part of the utility of the AXS token. Although the voting rights are not live for tokenholders, meaning it is not yet community-controlled, one should use this figure as a guide to the valuable resources that will be available to tokenholders from 2021 Q3/4 onwards (as publicly planned by the Sky Mavis team). To monitor this, investors should keep up with the growth of the Axie marketplace because once the treasury is made "public", all fees will be directed there.
Readers should also be encouraged by the split of transactions between Ronin and Ethereum. For the less versed, Ronin is a sidechain to Ethereum, where Axie Infinity's marketplace and monsters reside. When it came to migrating away from the hardships of Ethereum network costs, Axie Infinity was early to the game. This initiative put AXS above the rest.
The addressable market cap, i.e. the traditional counterpart, is the old-world gaming industry where the typical business model relies on in-app and recurring purchases from its customers. Some might fail to see how this warrants a rewarding experience, but the $300bn Accenture valuation suggests otherwise. So, when the AXS valuation sits at 1/300th the size and can generate value for its players, it should spark promise for AXS as an investment.
Where to Buy
| | |
| --- | --- |
| Centralised Exchanges | All major exchanges such as Binance, Huobi and FTX. |
| Decentralised Exchanges | All major exchanges such as UniSwap and SushiSwap. |
AXS Conviction Summary
Crypto market: On-chain continues to contract, no sign of this reversing. However, the NFT sector has shown strength, with AXS leading by a country mile.
Hype vs Reality: Reality
Trade or Trend: Trade currently. The long-term outlook is positive.
Market Outperformance: Yes - AXS is showing positive support.
Competitive Advantage: Axie's play-to-earn economy gives a great moat between traditional and crypto alternatives.
Token Takeaway Score: 4/5 - The best score yet.