Disclaimer: Your capital is at risk. This is not investment advice.
ByteFolio 68;
ByteFolio brings together ATOMIC, ByteTrend and Token Takeaway to create ByteTree's model portfolio, known as ByteFolio. This is a selection of crypto tokens, which are weighted according to their risk/reward characteristics. ByteFolio has a modest turnover and will not suit traders. It will appeal to investors who wish to diversify beyond bitcoin, with the aim to beat it.
The broader crypto space appears to be on a promising path to recovery. As the market stabilises and regains momentum, we are optimistic about the potential for further growth and development in the space in the coming months.
As shown in the ByteTrend Crypto Breadth chart in USD below, the red 'sky', which represents crypto tokens with 0-star trends, has retreated significantly, showcasing a sharp decline in the number of tokens with strong bearish price trends.

However, the number of tokens with a neutral 3-star ByteTrend score (light blue) has experienced the most increase, suggesting that the market remains cautious.
Similarly, the ByteTrend Crypto Breadth chart measured in BTC also exhibits a decline in red trends, but tokens with 5-star trends are relatively scarce. This highlights Bitcoin's strength, as only a few tokens can rival its robust performance.

Currently, there are four tokens with a 5-star ByteTrend score against BTC: Ripple (XRP), Bitcoin Cash (BCH), Xinfin Network (XDC) and MX Token (MX).

XRP's unprecedented surge was driven by its victory against the SEC, resulting in a price increase of over 100% on 13 July. Although the blockchain is working with central banks and financial institutions to develop CBDCs, the price surge was entirely event-driven. If the fundamentals fail to support such a price range long-term, the token price will inevitably return to its original support levels. We remain cautious for now.
XRP performance in BTC on ByteTrend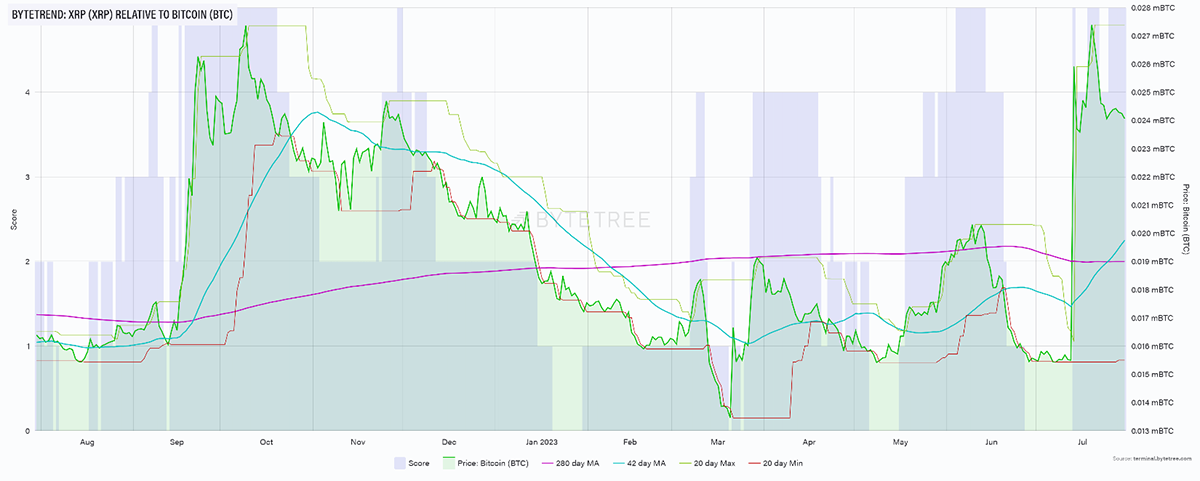 The Xinfin Network token's (XDC) positive performance is linked to the UK's Electronic Trade Documents bill officially entering law on 20 July. The Act simplifies the process of moving goods across borders by introducing electronic documents to replace paper, which is estimated to save UK businesses £1.1 billion over the coming decade. This is good news for the Xinfin Network as their hybrid blockchain focuses on the digitisation, tokenisation, and instant settlements of trade transactions within the global trade and finance sector. In support of the bill, Xinfin also submitted evidence of how blockchain technology and smart contracts could further future-proof electronic trade documents. Like XRP, the XDC token performance is event-driven, and we opt to let the dust settle and remain cautious.
XDC performance in BTC on ByteTrend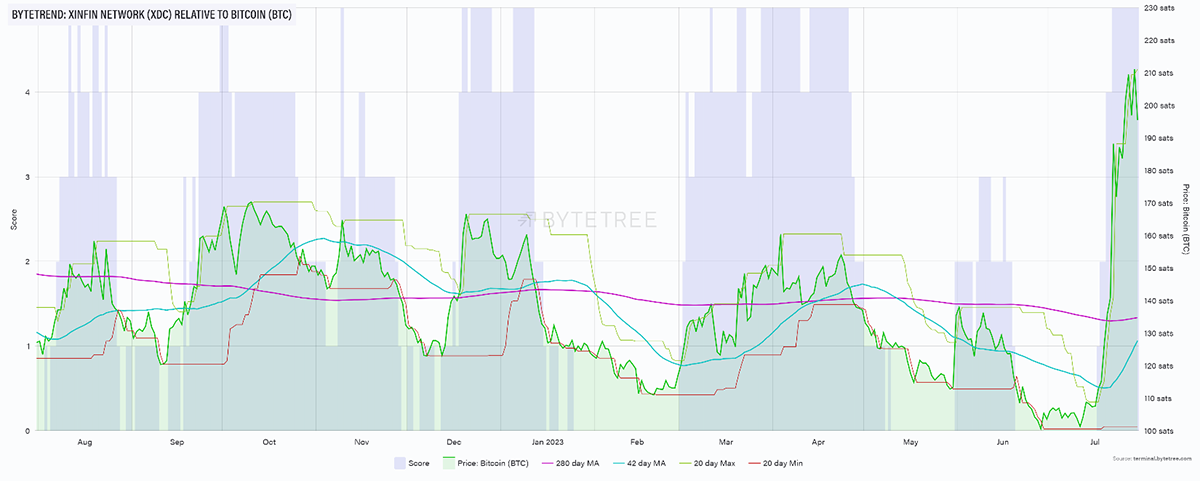 We already addressed BCH in ByteFolio update 66, and MX is a centralised exchange token. We are staying clear of them for now.
Action: