Disclaimer: Your capital is at risk. This is not investment advice.
Token Takeaway: ATOM Token
Cosmos is a platform that offers decentralised interconnectivity among blockchains. Often referred to as the "Internet of Blockchains", Cosmos provides many unique features and tools to develop independent blockchains that could serve various use cases in the ecosystem. In this article, we will analyse the fundamentals of Cosmos and its native token, ATOM.
Overview
Cosmos is a decentralised ecosystem that offers communication between independent blockchain protocols. Hubs (e.g. the Cosmos Hub) act as central blockchains that connect the independent chains called Zones. In this vast space, Cosmos stands out by providing an infrastructure that offers customisability and seamless interoperability to help the usability and development of blockchains and applications. This architecture futureproofs them as we head into a future where numerous blockchains will coexist, making interoperability a likely necessity.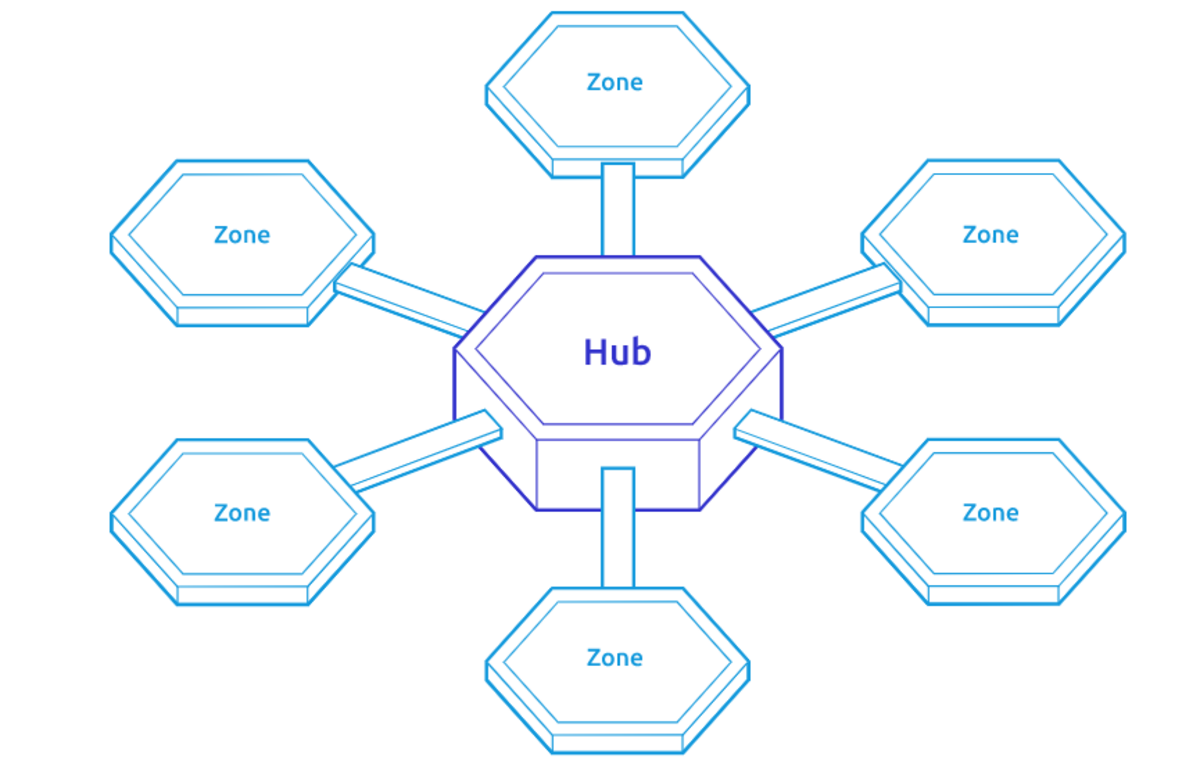 Source: Cosmos. Illustration of Hubs and Zones framework.
ATOM, the native token of the Cosmos Hub blockchain, experienced poor performance in 2022. After Terra (part of the Cosmos ecosystem) collapsed in May, ATOM made a low of $5.6 on 19 June, wiping nearly two years' worth of gains. However, since then, the token has made a high of $16.6 on 9 September (200%+ increase) and is among the weekly top five best-performing tokens in September 2022.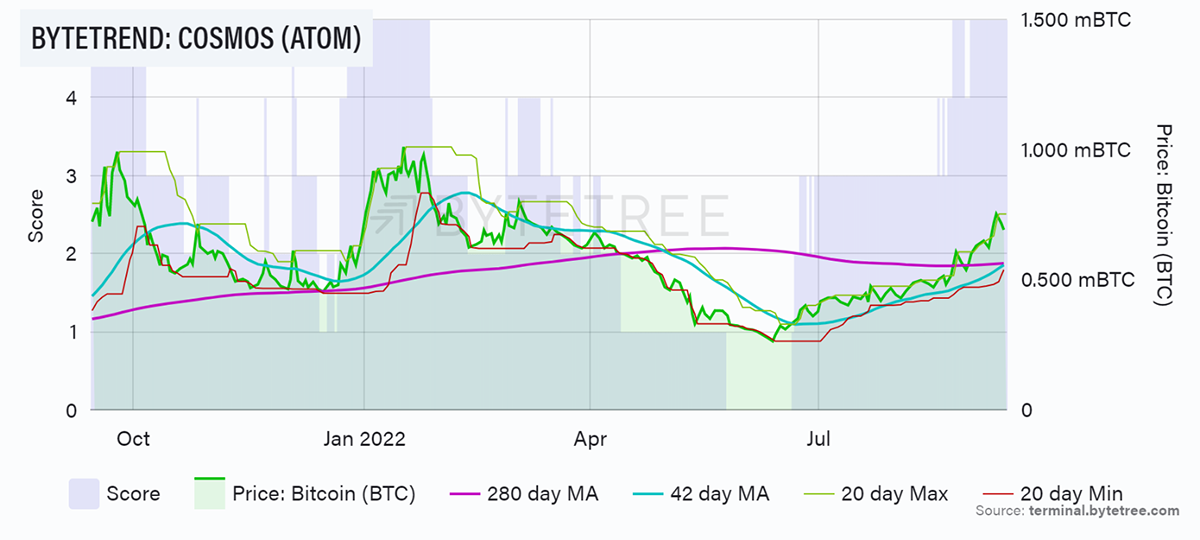 Source: ByteTree. A 5-star (bullish) ByteTrend score (blue fill) for ATOM in BTC.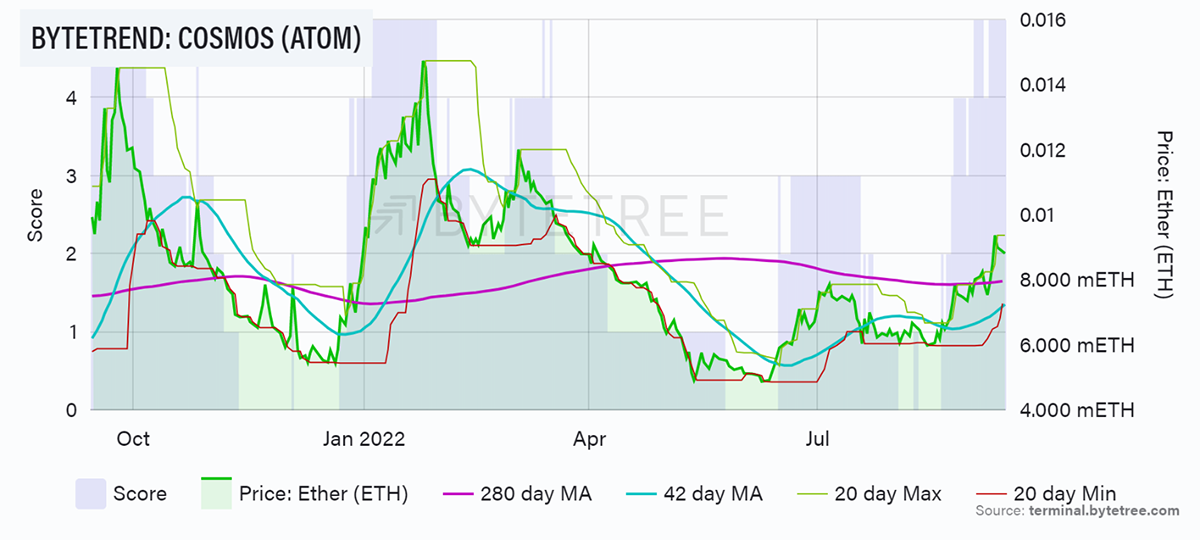 Source: ByteTree. A 5-star (bullish) ByteTrend score (blue fill) for ATOM in ETH.
As we can see in the charts above, ATOM currently holds 5-stars against BTC and ETH on ByteTrend, showcasing a strong bullish trend against the two largest cryptos.
Cosmos Features and Architecture
Cosmos aims to create a fast, secure, scalable and, most importantly, interoperable "Ecosystem of Ecosystems", eliminating the boundaries between blockchains while also maintaining a developer and user-friendly environment. Such functionality is achieved by three main features: Tendermint BFT and ABCI, Inter-Blockchain Communication (IBC) and Cosmos Software Development Kit (SDK).
Tendermint
Tendermint is a unique protocol that provides a consensus engine to validate transactions and an Application Blockchain Interface (ABCI) that connects applications to the generic Tendermint engine. Additionally, it is compatible with any programming language that best fits the application. It is also Byzantine Fault Tolerant (BFT), meaning the network can still efficiently function even if someone is trying to corrupt the network with malicious activity or non-cooperation. Notable Tendermint features are high performance, instant finality with thousands of TPS, security, and private and public blockchain friendly.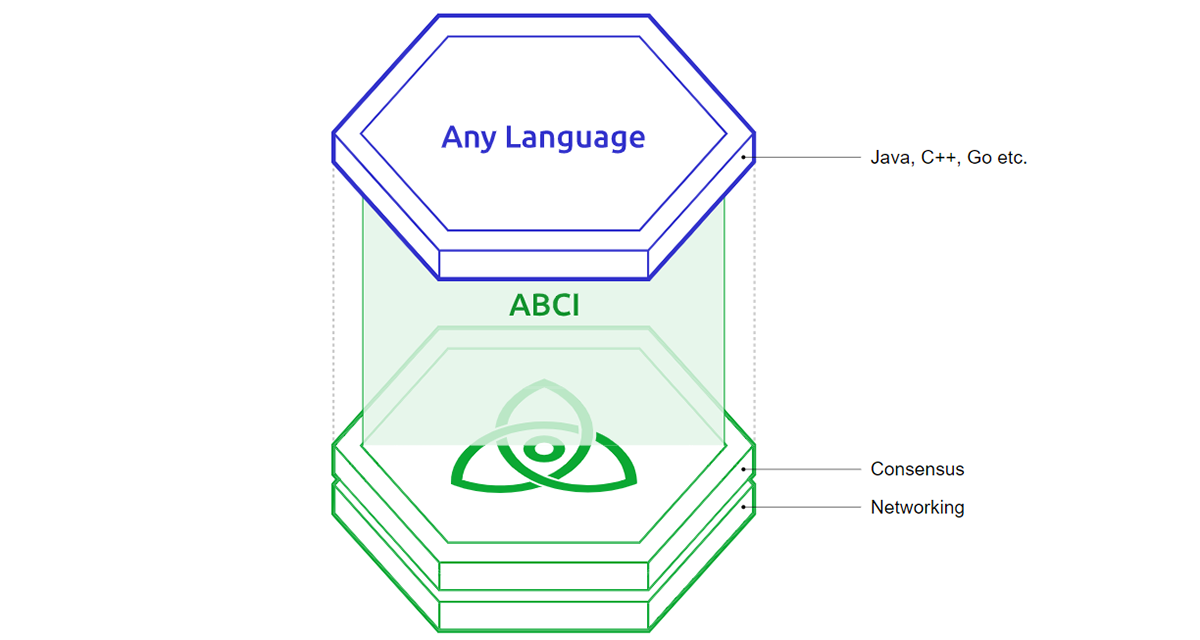 Source: Cosmos. Tendermint consensus engine and ABCI.
Cosmos Software Development Kit (SDK) and Inter-Blockchain Communication (IBC)
Cosmos SDK is a framework used to build blockchains on Tendermint, while IBC allows the transfer of value among heterogeneous public and private blockchains with fast finality. You may recall that Quant has a similar feature enabled by its blockchain operating system. Still, Quant does not have a blockchain, which makes the Cosmos feature unique. Moreover, Cosmos can also communicate with proof of work chains like Bitcoin and Ethereum, using a tool called 'Peg Zones'. You can read more about IBC and SDK in our previous article on Cosmos.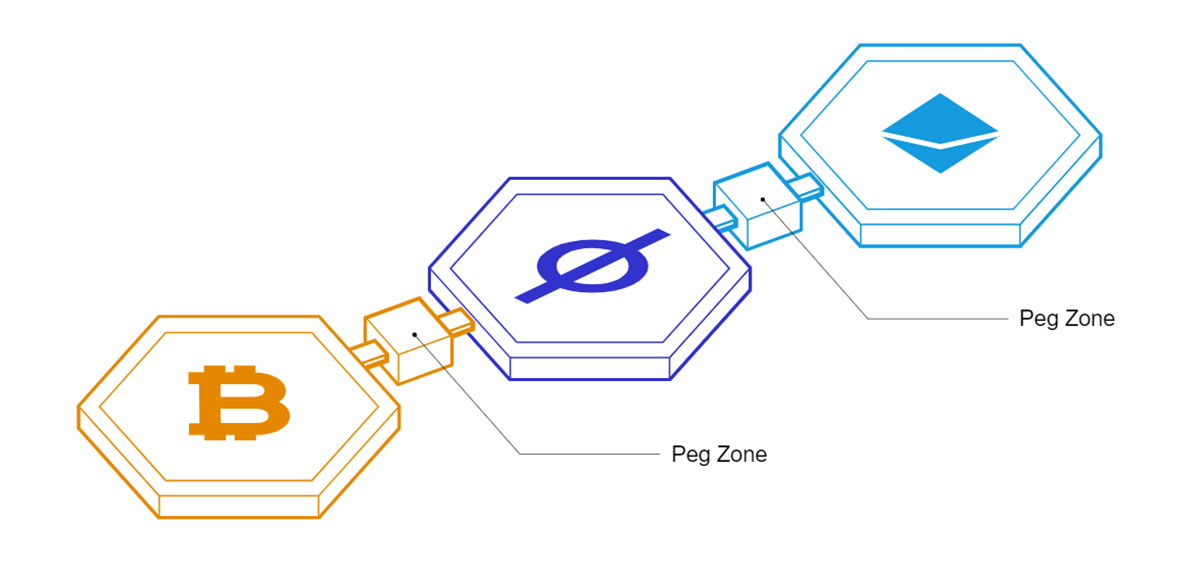 Source: Cosmos. Visualisation of the Linkup between proof of work chains and Cosmos.
Finally, to counter the scalability limitations of the consensus engine and the application, there is a feature called Horizontal scaling. This feature allows applications to run on multiple chains simultaneously, theoretically making the network significantly more scalable.
History and Tokenomics
Jae Kwon, a computer scientist, co-founded Tendermint with Ethan Buchman in 2014. While working on Tendermint, the idea for Cosmos formed, and they consequently launched it in 2016. ATOM launched in 2017 with the help of the Interchain Foundation (ICF), a Swiss non-profit, and was distributed via two private and one public sale, raising around $17m in total. Following this, the Cosmos Hub was launched on the Mainnet in 2019. The same year, Tendermint also raised $9m in a series A funding round to help develop the project.
ATOM does not have a hardcap, meaning its supply will continue to increase in the future with a targeted inflation rate of around 7%-20%, which is high relative to other cryptocurrencies. Its current inflation rate is over 12.7%, amounting to 286.3 million ATOM in circulation, of which 66.3% (worth over $3.2bn) is locked for staking. According to Staking Rewards, to run a validator node, almost 66,000 ATOM are required, whereas there is no minimum requirement for delegation. Both have a 21-day lockup period and can earn up to 19.3% and 17.8% per annum, respectively. According to Defi Llama, Cosmos Hub has around $580k in TVL, which fell from a whopping $10m since the start of this year (note: the Cosmos Hub blockchain is different from the Cosmos Network). Moreover, the top 10 wallets collectively own over 30% of the total supply.
In addition to being essential to becoming a validator and maintaining network security, ATOM is also used for participation in network governance (proposals and voting) and transaction fees.
Competition
Competition is always a key factor in the crypto space, and Cosmos' closest and biggest competitor is Polkadot. While it has some unique ones, Polkadot offers many similar features to Cosmos.
| | | |
| --- | --- | --- |
| | Polkadot (DOT) | Cosmos (ATOM) |
| Market Cap | $8.7bn | $4.56bn |
| Ranking (by market cap) | 10th | 22nd |
| Annual Token Inflation | 7.7% | 12.7% |
| Description | Polkadot is a decentralised blockchain platform that hosts multiple chains on its primary blockchain, the Relay Chain. | Cosmos is a decentralised ecosystem that offers communication between independent blockchain protocols. The first, and one of the main blockchains, is the Cosmos Hub. |
| Architecture | There is only one primary blockchain, the Relay Chain, while the other connected blockchains are called Parachains | Hubs act as central blockchains that connect other independent chains called Zones. There is more than one hub. |
| Transaction Confirmation | The Relay Chain handles the transactions of Parachains. | Zones are independent blockchains that use the Tendermint consensus mechanism. |
| Interoperability | Can directly interoperate with Parachains, and external independent blockchains, using bridges. | Can interoperate with proof of stake blockchains using IBC and proof of work blockchains using peg zones. |
| Upgrades | Possible without a hard fork. | Possible with a hard fork. |
Source: ByteTree; Cosmos. A comparison table for Polkadot and Cosmos.
Polkadot only has one primary blockchain called Relay Chain, and the other connected blockchains (Parachains) depend on the Relay Chain for transaction confirmations. In contrast, Cosmos can have multiple primary blockchains (Hubs), while the other connected blockchains (Zones) are independent and handle their own transactions. Polkadot's native token DOT is almost twice the size of ATOM in market cap, showcasing strong adoption.
Ecosystem
Cosmos undeniably has some of the best tools and features in the industry. To date, developers have built hundreds of blockchain projects using Cosmos tech, most notably Binance Chain, Terra, OKExChain, Cronos, and THORchain. In fact, there are Cosmos-based projects in over ten different Web3 sectors, including DeFi, NFTs, smart contracts, and GameFi.
In terms of the IBC transaction volumes, Osmosis, the first IBC-enabled Automated Market Maker (AMM) DEX in the Cosmos ecosystem, is consistently at the top. Moreover, it has over $230m in Total Value Locked (TVL) and over $260m OSMO (native token) staked. We covered Osmosis and OSMO in a previous article, which I highly recommend.
According to ATOMScan, the total all-time transactions for ATOM have seen gradual growth since January 2020, which increased exponentially in December 2021.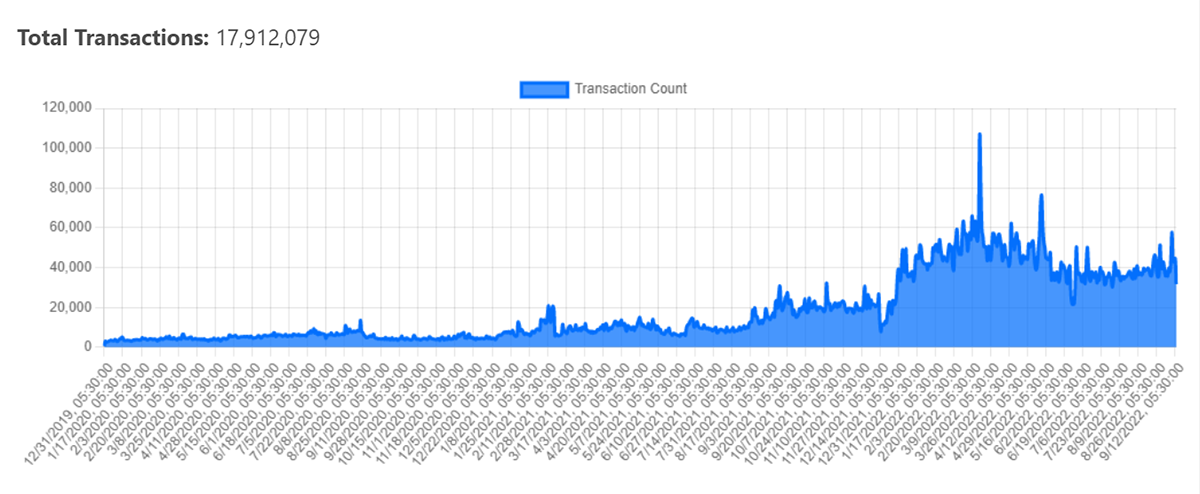 Source: ATOMscan. Total daily ATOM transactions from January 2020 to present.
Currently, there are over 262 apps and services built on Cosmos, with a combined token market cap of $62bn.
Notable Events
Delphi Labs, a research and development arm of Delphi Digital, was developing protocols on Terra. Following its collapse, the team found itself looking for a new ecosystem to continue the work. In their report, "Finding a Home for Labs", they evaluated several different ecosystems, including Solana, Polkadot, and Cosmos. On Cosmos, the report noted:
"Its biggest weakness is the ecosystem, with current TVL lower than single ETH L2s. Relatedly, Cosmos also suffers from lack of hype, funding, and memeability […] While we believe that inflow of projects from the Terra crash and an increasing number of specialised app-chains will serve to remedy this somewhat, it's undeniable that we're betting on future ecosystem growth. This remains the biggest risk to Cosmos and to our thesis."
Clearly, this did not deter Delphi Labs in the slightest, as the report concluded that Cosmos is the best fit for their needs. Delphi Labs now has a large team dedicated to building new Web3 products using Cosmos, hopefully introducing plenty of new projects into the ecosystem.
Finally, I'd like to highlight the upcoming Cosmoverse Conference in Medellin, Colombia, on 26-28 September 2022. This highly anticipated event will be attended by the co-founders and top executives of Cosmos and other projects, investors, influencers, and international media. Supposedly, an important announcement regarding ATOM 2.0 will be made on the last day of the event. The details have been a tightly kept secret so far, but we are sure to know more at the end of this month.
Conclusion
From Tendermint to IBC to SDK, the Cosmos ecosystem provides some of the best technical tools and features in the crypto space. Developers can now create apps and services with high security and fast finality while seamlessly interconnecting and exchanging value with the whole ecosystem and beyond.
However, the Cosmos Hub blockchain is seemingly struggling in terms of TVL and adoption. This could be a small setback, given that a large portion of the ATOM token's growth is tied to Cosmos Hub blockchain. Additionally, the closest competitor, Polkadot, is currently safely ahead of Cosmos, holding almost double the value in market cap. Given ATOM's high inflation rate, combined with the Terra collapse, the token price has taken a beating since the start of this year. Nevertheless, its attractive staking yield could somewhat aid this problem.
With Cosmos architecture being highly developer friendly, it's probable that more developers and companies, like Delphi Labs, choose Cosmos for new projects, boosting network growth and adoption. Its ability to future-proof blockchains with seamless interoperability certainly makes it a highly attractive platform.