Disclaimer: Your capital is at risk. This is not investment advice.
Token Takeaway: KCS Token
KuCoin is not a household name such as Coinbase or Binance, but what KuCoin provides is undeniably what most crypto traders need: a vast selection of crypto trading pairs. The exchange offers over 600+ crypto assets to trade with, and low trading fees make the native token, KuCoin Shares (KCS), a prime candidate in the exchange token sector. In this Token Takeaway, we will analyse the KuCoin ecosystem and whether the KCS token can replicate the success of BNB?
Overview
KuCoin is a centralised exchange founded by Justin Lyu on the belief that blockchain technology and its related applications will be applied on a large scale and profoundly change lives, similar to the changes brought about by the adoption of the Internet.
The exchange is based in Seychelles and started its operations in 2017. Although, the developers responsible for KuCoin have been experimenting with blockchain since 2011. Their platform architecture was created in 2013 but has undergone several reiterations over the years, improving the onboarding of new users. KuCoin is the 5th largest crypto exchange, with an average of $1.79bn in daily trading volume. The exchange had over 10 million registered users by November 2021. That's an 1100% year-on-year increase in users, especially from Asia and Europe, with a 21.5% and 16.8% rise, respectively. To date, KuCoin supports over 600 cryptocurrencies, as well as the ability to trade futures products and use margin.
Despite the fact that the KuCoin exchange is available to users in more than 200 different countries, it doesn't have the licence to serve US customers. This might be because KuCoin's native token, KuCoin Shares (KCS), can be seen as a security per Howey's Test, which we will discuss further below.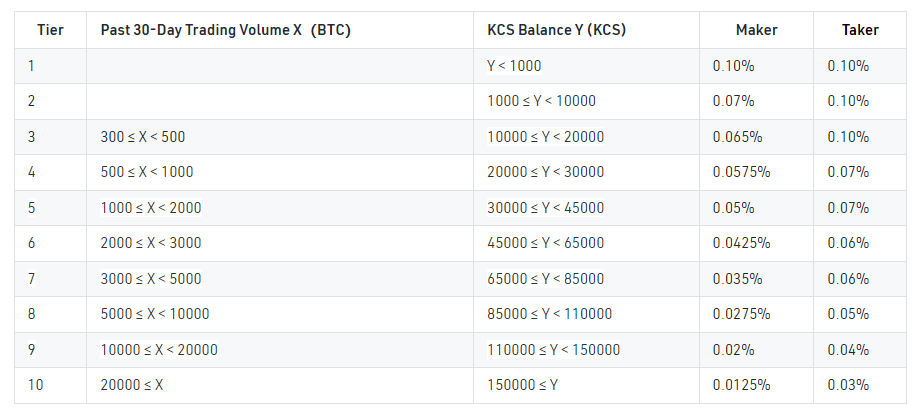 Source: KuCoin. Trading Fees Tier List.
KuCoin has a tiered trading structure, with the lowest tier listed as charging 0.1% in maker and taker fees, respectively. Comparatively, Coinbase Pro's lowest tier charges 0.40% in maker fees and 0.60% taker fees. In addition to KuCoin's tiered discounts, there are further fee discounts for KCS holders.
KuCoin's development funding was raised via an ICO, which took place in 2017. The crowd sale helped KuCoin raise approximately $20 million for 100 million KCS, with the ICO token price set at 0.000055 BTC.
Tokenomics
KCS was originally listed as an ERC-20 Token with a max supply of 170.12m. However, due to the deflationary nature of the token through KCS buyback and regular burning, the total supply has decreased to approximately 145.8 million KCS. Currently, the circulating KCS supply is roughly 98.38 million.
In June 2021, KuCoin announced the launch of its own blockchain named KuCoin Community Chainor KCC for short. The implementation of this blockchain required KuCoin to migrate 100,000 KCS to the KCC mainnet. To ensure that the total circulation of KCS remained unchanged, KuCoin locked 100,000 KCS on the Ethereum Network and released an equivalent number of KCS tokens on the KuCoin Community Chain, which provided enough initial liquidity for trading on the native blockchain.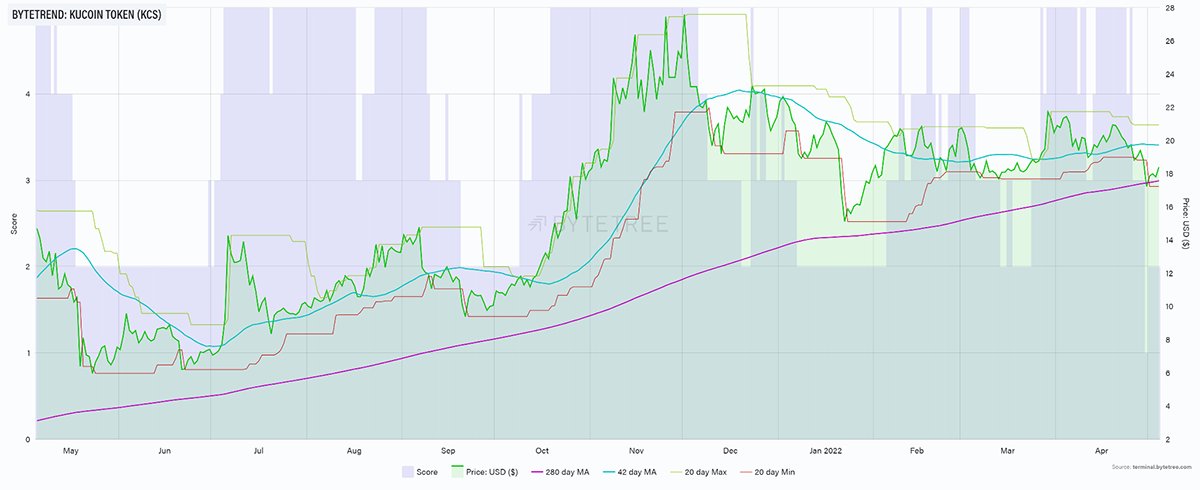 Source: ByteTree. KCS price performance in USD since May 2021, overlayed with moving averages and max/min lines.
In the ByteTrend chart above, we can see that KCS had a very bullish year and hit its all-time high of $27.75 in November 2021. The bullish run for KCS ended shortly after and has kept at a level pace ever since.
KCS and Ecosystem Utility
KuCoin built KCS to create a self-circulating ecosystem, thereby lowering the barriers for ordinary users to enter the world of the blockchain. Apart from trading fees discounts for KCS holders, as mentioned previously, users who hold at least 6 KCS are eligible to receive a daily bonus, which comes from 50% of KuCoin's daily trading fee revenue.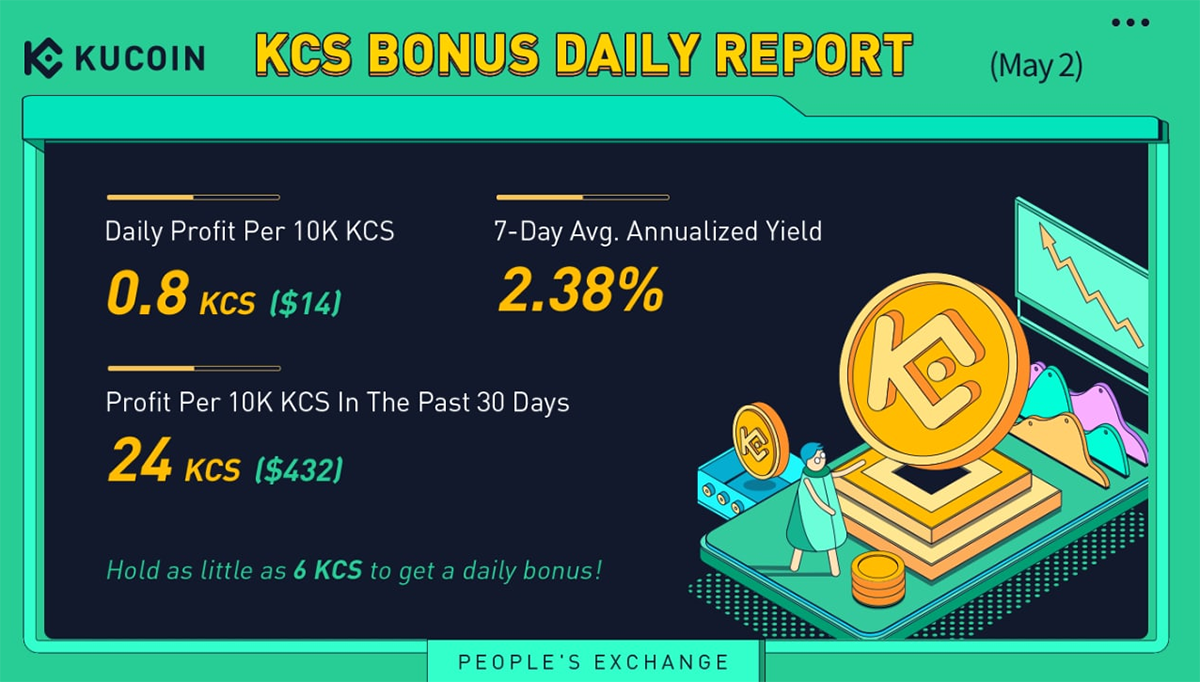 Source: r/kucoin. KCS Bonus Daily Report.
This KCS bonus is similar to what FTXprovides for FTT holders and opens up the possibility of making passive income. The number of rewards that users can receive depends on the amount of KCS held and the trading volume of the KuCoin Exchange. As of 2 May 2022, the 7-day annualised yield for holding KCS was 2.38%, which incentivises more users to hold KCS long-term.
KCS bonus is a great way to earn some passive income. However, this incentive scheme mimics how an organisation pays dividends to its shareholders, which, according to Howey's test, classifies KCS as a security. To tackle this issue, we might see KuCoin roll out a US-based exchange similar to FTX.US and Binance US.
The 2020 Hack
In September 2020, KuCoin was the target of a hackdue to a leak of private keys associated with hot wallets. A number of cryptocurrencies were stolen, including BTC and ETH, amounting to about $275 million. What's especially notable about this hack is how the perpetrators used Uniswap and Kyber DEX protocols to launder the stolen ETH and ERC-20 tokens.
KuCoin resolved this issue promptly, and deposits and withdrawals resumed within a week. KuCoin worked with other exchanges to recover $222 million of these stolen funds. Another $15 million was recovered through cooperating with law enforcement agencies, while Kucoin used its insurance fund for the remaining $38 million shortfall. Additionally, KuCoin has reassured customers and announced that they now have put measures in place to reduce the chances of this happening again, including redeploying hot wallets and updating risk management protocols.
Conclusion
After several reiterations to improve the process of onboarding new users, the KuCoin team seemingly still has some work to do as the exchange is not a beginner-friendly crypto trading platform. However, the platform excels in catering to experienced crypto traders looking for altcoin trading pairs not available at other exchanges. KCS has a variety of utilities within the KuCoin ecosystem, such as trading fee discounts and KCS Bonus.
Depending on how well the KuCoin ecosystem performs, I believe there will be high demand for KCS due to the passive income enabled by its distribution of trading fees. The only factor that may hinder the growth of the KuCoin's Ecosystem is regulations. If KuCoin bolsters its regulation requirements, the exchange has a huge opportunity and room for growth and can compete with bigger exchanges such as FTX and Kraken.