Disclaimer: Your capital is at risk. This is not investment advice.
Token Takeaway: CRO Token
This year has generally been good for exchange tokens, as evidenced in my previous Token Takeaway on the FTX token (FTT). The same can be said for Crypto.com's native token CRO. The exchange offers over 200 crypto assets and has attracted over 10 million customers worldwide. In this Token Takeaway, we will analyse the value proposition that Crypto.com offers as a platform and the utility of CRO within this ecosystem.
Crypto.com is the 9th largest crypto exchange, with $1.35bn in daily trading volume. Users can buy, sell, and trade an extensive list of crypto assets and benefit from relatively low trading fees. Additionally, the company offers a decentralised exchange, crypto wallet, and an NFT marketplace. Long-term holders can stake their crypto for fixed terms, earning up to 14.5% interest per annum.
Their easy-to-use mobile app enables users to spend crypto with a prepaid Visa debit card, which makes it a great option for making crypto payments at retail outlets and managing account balances on the go. This might very well be Crypto.com's USP and an opportunity to carve its fair share from the larger crypto exchanges.
Overview
Founded in 2016, Crypto.com (CDC) is a Hong Kong-based company with the vision of redefining how money is being moved, spent and invested by democratising blockchain technology and designing beautiful, simple and useful financial services. The Crypto.com ecosystem can be divided into five distinct sectors: payments, trading, financial services, metaverse and infrastructure.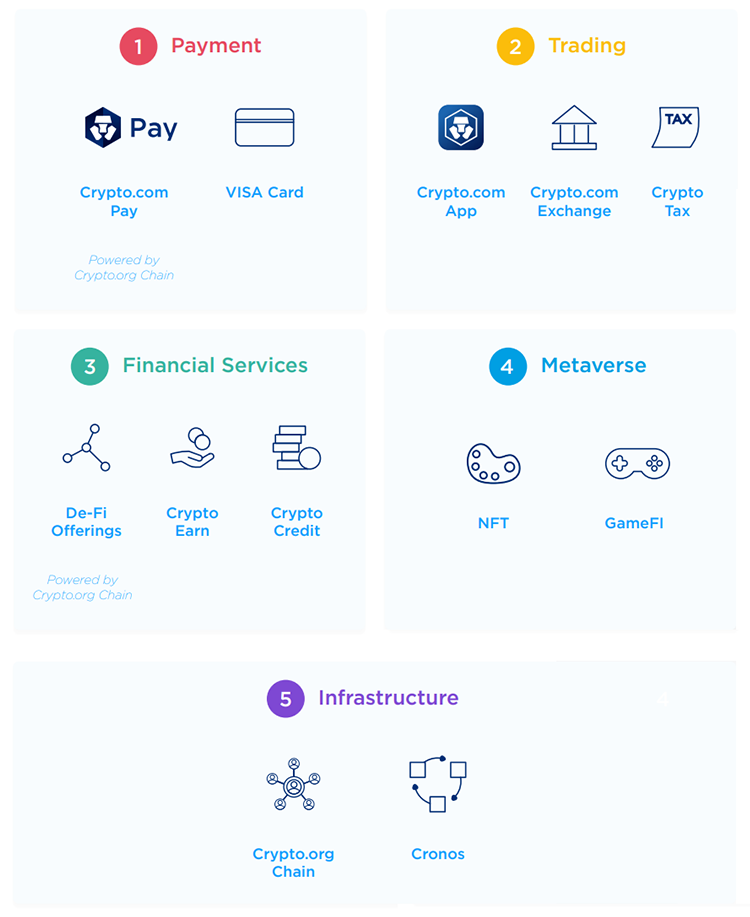 Source: Crypto.com. The Crypto.com Ecosystem.
Partnerships and Investments
Crypto.com has deployed a vast range of marketing ads to enhance visibility to the general public. Their marketing campaign, "Fortune Favours the Brave", which stars Matt Damon and is directed by Oscar-winner Wally Pfister, highlights CDC's core values while formally introducing the platform to consumers globally. CDC also partnered with Water.org; a global non-profit organisation co-founded by Matt Damon that brings access to safe water and sanitation to people in need. To date, they've donated $1m to the organisation.
To further their brand awareness, CDC partnered with AEG, acquiring the rights to rename the AEG-owned and operated STAPLES Centre. Now known as the Crypto.com Arena, this multi-purpose arena hosts hundreds of annual marquee events and is the official home of the NBA's Los Angeles Lakers and LA Clippers. This deal reportedly cost $700m, making it one of the largest naming rights deals in sports history.
In January 2022, they partnered with LeBron James and the LeBron James Family Foundation (LJFF) to support educational empowerment and workforce development opportunities focused on Web3. If these partnerships were not impressive enough, CDC has developed a world-class strategic partnership portfolio, partnering with VISA, UFC, Formula 1, Paris Saint-Germain, NBA's Philadelphia 76ers, and Aston Martin, to mention a few.
In February 2022, Crypto.com and other notable crypto exchanges competed for the NFL Super Bowl ad space. These 30-second ad spaces were going for up to $7m each, which evidently was well-spent money as crypto apps shot up in the app store rankings after the game.
The Crypto.com and Cronos blockchains
Both the Crypto.com and Cronos blockchains have been built on the Cosmos SDK, enabling them to be interoperable. However, the key difference here is that the Cronos blockchain is compatible with Ethereum while the Crypto.com chain is not - a similar set-up to the Binance Chain (BEP2) and the Binance Smart Chain (BEP20) infrastructure.
The primary purpose of the Crypto.com chain is to enable fast transactions with low fees. Meanwhile, the Cronos chain, implemented in November 2021, allows decentralised apps to be built on the platform using smart contracts. The Cronos blockchain is also the first EVM-compatible chain built on Cosmos, which I believe will be a critical factor in bridging liquidity from Ethereum to the Cosmos ecosystem.
CRO and ecosystem utility
CRO is the native token of the Cronos blockchain and acts as an intermediary currency, allowing users to convert cryptocurrencies into fiat currency at a significantly reduced cost. Cronos aims to provide a more affordable and accessible way to pay for online purchases using cryptocurrencies while also offering solutions for large scale adoption. CRO was distributed in December of 2018 via airdrops through their mobile app. The airdrop lasted six months, after which the tokens were locked for 12 months to ensure robust tokenomics.
New users in the CDC ecosystem can expect to pay 0.4% on trades with a total monthly trading volume of less than $25,000 without any CRO token stake. Trading fees are comparatively lower than Coinbase, although not as low as Binance and FTX. Higher-volume traders can qualify for fees as low as 0.04% in maker fees and 0.1% in taker fees without CRO staking. Additionally, CRO holders are eligible for further discounts on trading fees when users stake at least 5,000 CRO.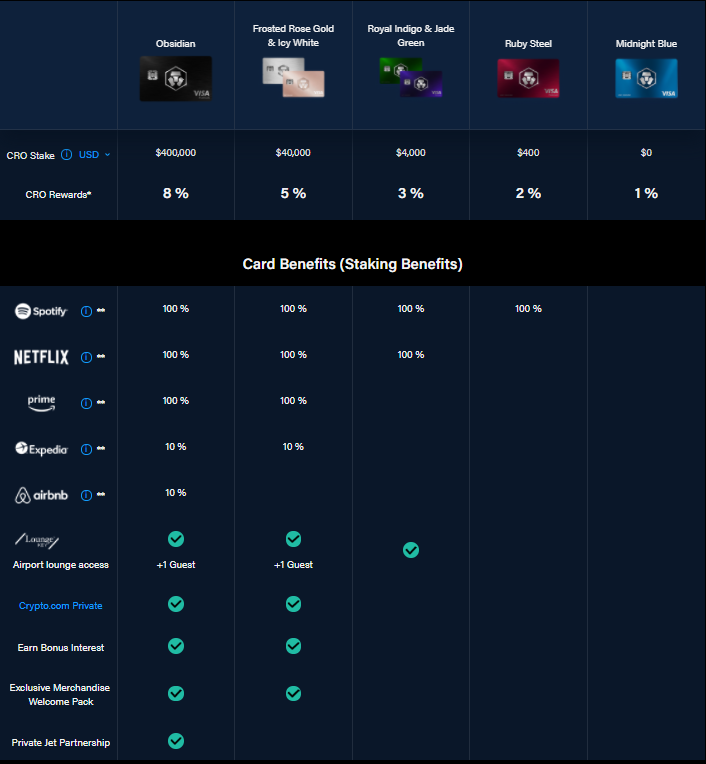 Source: Crypto.com. VISA debit card tiers available via the Crypto.com ecosystem.
The Crypto.com VISA debit card is perhaps the most appealing feature of their entire ecosystem. There are currently five tiers of cards available to the CDC user base, ranging from the lowest tier, Midnight Blue, to the highest tier, Obsidian. Users can unlock higher tiers by staking more CRO tokens via the Crypto.com mobile application. The Midnight Blue tier is free for all users and offers 1% cashback on all purchases. The Obsidian tier requires users to stake an astounding $400,000 in CRO tokens but provides many benefits, such as 8% cashback in CRO on all purchases.
Tokenomics
CRO was listed as an ERC-20 Token with a max supply of 100bn. However, in February 2021, CDC announced the burning of 70bn CRO tokens in preparation for the Cronos Chain Mainnet launch. Marketed as "the largest token burn in history", a staggering 59.6bn CRO was burned in February 2021, while the remaining 10.4bn will be burned on a monthly basis as it unlocks from smart contracts. This reduced the max supply to 30bn CRO, with a current circulating supply of 25.2bn.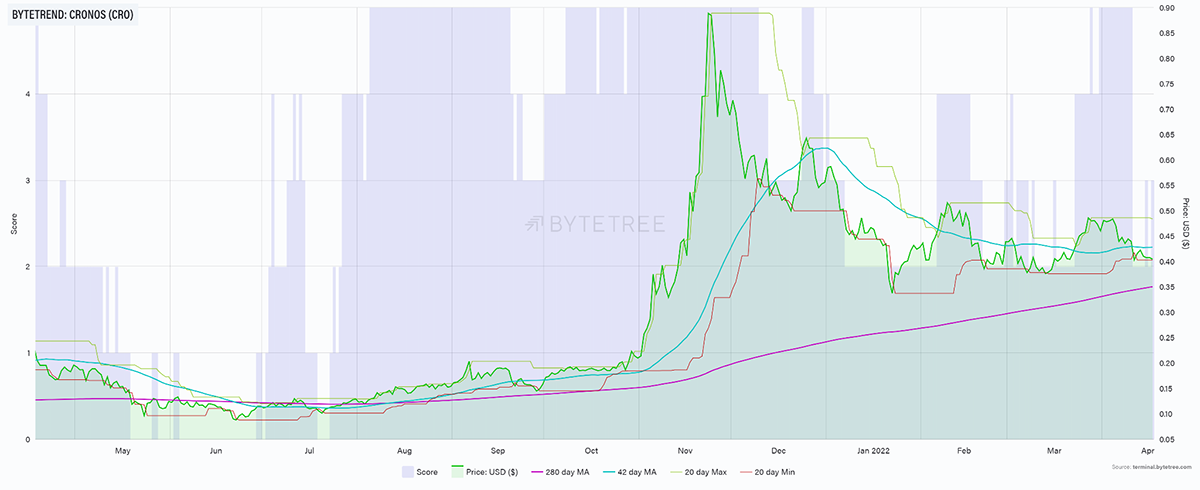 Source: ByteTrend. CRO price performance in USD since April 2021, overlayed with moving averages and max/min lines.
As shown in the ByteTrend chart above, CRO hit its all-time high of $0.89 in November 2021, no doubt fuelled by the listing of CRO on Coinbase. The bullish momentum continued into December, where it cooled, keeping at a level pace ever since. CRO is currently priced at around $0.42, with a market cap of $12.57bn.
Conclusion
Crypto.com is a beginner-friendly crypto trading platform that makes it effortless to acquire, exchange, and spend crypto, with CRO being the backbone of this ecosystem.
The platform itself is a good choice for retail cryptocurrency investors looking for a platform with relatively low fees and an extensive list of supported currencies. The highlights of Crypto.com are the Visa card and its mobile app, which is best suited for people who feel confident managing their finances on their phones. On the other hand, large-scale crypto traders, who do not want to hold a large amount of CRO, would benefit from using other crypto exchanges with lower trading fees.