Disclaimer: Your capital is at risk. This is not investment advice.
On Tuesday, the US reported inflation at 3.2%, down from 3.7% last month. Then, on Wednesday, the UK reported 4.6%, down from 6.7%. The markets were ecstatic because it increased the chances that interest rates have peaked. Rates cuts are now priced in for next year.
This budges the Money Map regime slightly away from the top right and towards the bottom left. Quality stocks had a good week; at least the cheap ones did. Many of the quality large caps had a torrid time because they are overvalued. Value always matters in the end.
The Money Map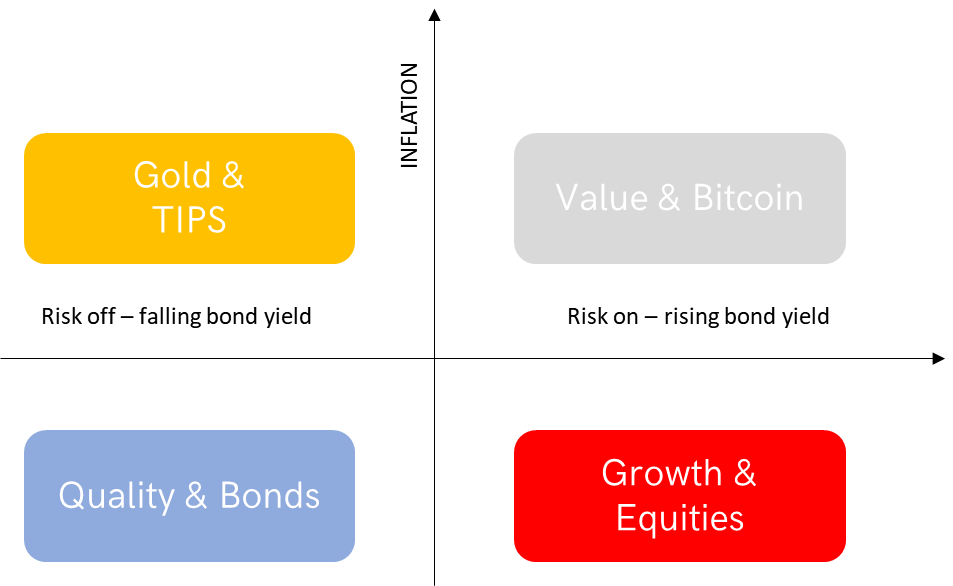 Other notable moves came from the long bond, where the yield fell. It was 5.2% last month, and now it is 4.6%. That's one hell of a move in a short space of time.
Bond Yields Fell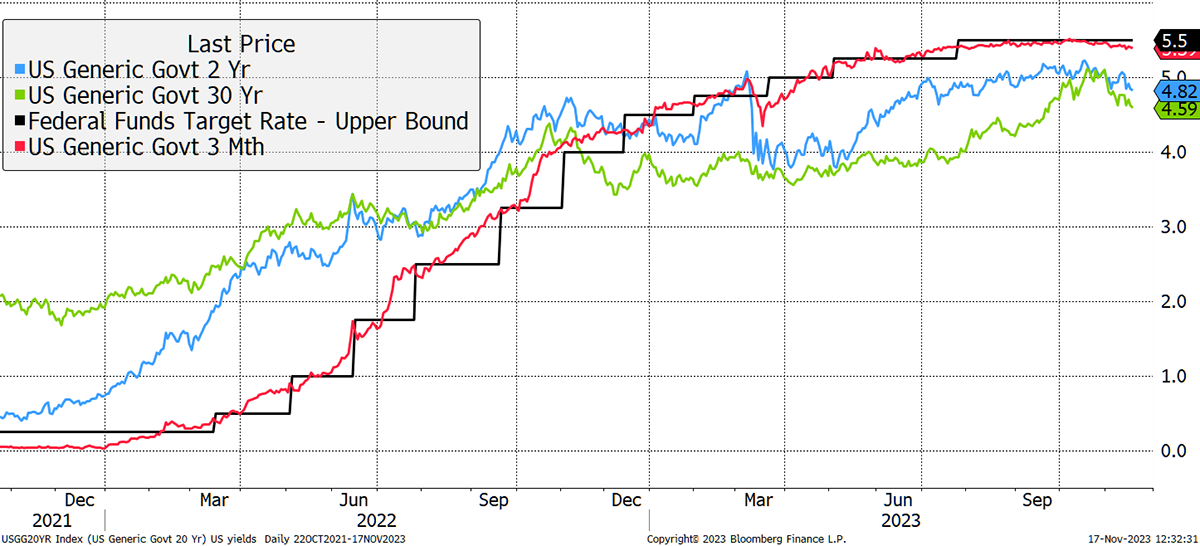 Emerging markets also did well (ex-China at least) along with gold. But oil slumped along with most commodities; a reminder that a market recovery and an economic recovery are not the same thing. Still, if sky-high bond yields were the market's worst nightmare, then that is one less thing to worry about.
A Week at ByteTree
It's been a busy week at ByteTree with seven notes, which I think is a record! When things are moving quickly, we move too. A double dose of lower inflation has been well received by the market, and we have added several new holdings.
In The Multi-Asset Investor, I added a diversified investment company and a high-quality medical equipment company. Then, by the following day, both the US and the UK reported lower inflation, and the market liked it. It seems to be believed that interest rates have peaked. I followed up with a flash note, adding another diversified investment company at a deep discount and another high-quality retailer.
Venture didn't stand still either. I recommended a Venture Capital Fund (no pun intended), also trading on a deep discount, and a small cap industrial company with significant upside.
In crypto, we were also flat out. Just a few weeks ago, ByteFolio held little more than Bitcoin but now has 9 tokens. On the analysts' call this morning, we may add another two on Monday.
I also covered Bitcoin in our free monthly piece called ATOMIC, where I highlighted the surge in Bitcoin ETFs in many countries (not the UK, where they remain banned). The US SEC approved two futures ETFs by ByteTree's partner, 21Shares, and will soon decide on 12 spot ETFs. This approval will lead to billions of dollars of investment in Bitcoin.
Finally, our analyst, Ali, covered Liquidity (LQTY) in Token Takeaway. Liquity is a fully decentralised Ethereum-based borrowing protocol that allows users to borrow crypto using collateral. Crypto deserves far more credit for what it has managed to achieve. Ignore the naysayers.
Have a great weekend,
Charlie Morris
Founder, ByteTree