Disclaimer: Your capital is at risk. This is not investment advice.
💡
This issue covers Bitcoin (BTC), THORChain (RUNE), Ripple (XRP), Stellar (XLM), and Worldcoin (WLD).
Bitcoin has experienced a nearly 15% surge since 15 October. This rally is largely attributed to the optimism surrounding the potential approval of a Bitcoin ETF in the US.
BTC 5-star ByteTrend Score in USD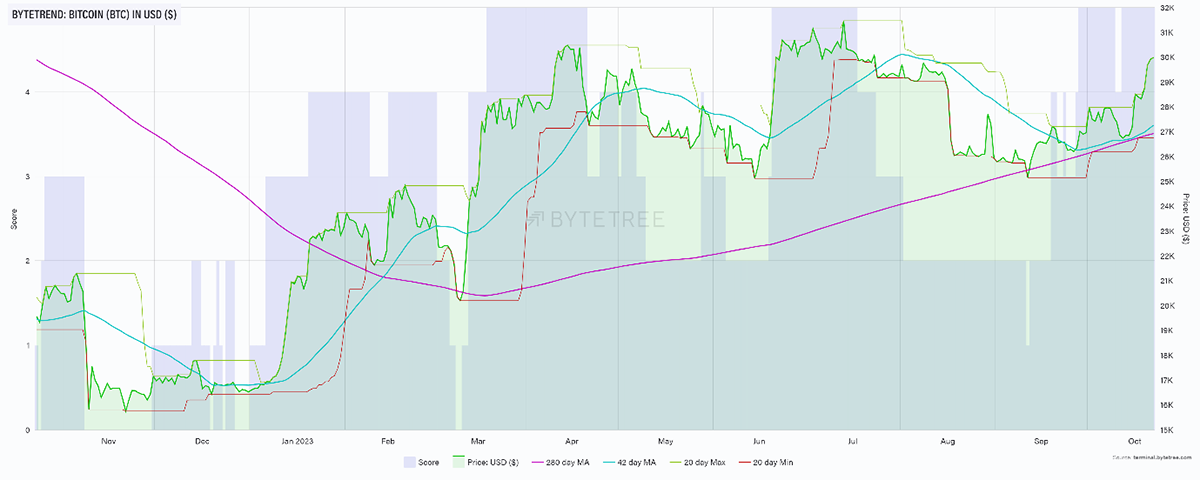 The SEC's decision not to contest the court ruling allowing Grayscale to transform its trust into an ETF has bolstered this sentiment. Nonetheless, the on-chain activity observed on the Bitcoin blockchain doesn't entirely align with its price surge.


The transactions on the Bitcoin blockchain have declined to slightly over 50% since 20 September. Moreover, the economic throughput of BTC on the blockchain has also been on a downtrend. This means that the price is driven solely by the anticipation of positive news, which is not necessarily healthy for the short term. Let's hope the ETF approval comes through before the market's ETF confidence dilutes.
On the other hand, several altcoins have had a good couple of days. Ripple's leadership is relieved of the SEC charges, translating to a bounce in its price on 19 October. Chainlink (LINK) is on a 5-star ByteTrend score relative to BTC, while Solana (SOL) and Stacks (STX) are both on a 4-star score, all of which we are interested in.
While the prospects of a Bitcoin ETF and the impending Bitcoin halving serve as significant bullish drivers for Bitcoin, there are certain altcoins that may closely follow, if not surpass, Bitcoin's performance. In the upcoming weeks, ByteFolio will witness several new additions.
Movers