Disclaimer: Your capital is at risk. This is not investment advice.
💡
This issue covers GBTC, Ethereum (ETH), Polygon (MATIC), crypto regulation in Hong Kong, and institutional investing in the crypto space.
The Grayscale Bitcoin Trust (GBTC) was the first publicly available Bitcoin Fund that could be traded over the stockmarket. It was launched by Barry Silbert on 25 September 2013, and we congratulate GBTC on its tenth anniversary. By the looks of things, it launched with a couple of million dollars and did so just in time because, in the autumn of that year, Bitcoin shot up 10-fold.
Grayscale Bitcoin Trust
That got people interested, and GBTC issued new shares in their thousands and then millions. The red line represents shares in issue and only ever goes up. In 2016, it was $100 million and by late 2017, $2 billion. Over the next couple of years, it kept on growing, fueled by the premium.
The share price exceeded the value of the Bitcoin held, and so there was an incentive to buy the shares when they were offered at par (i.e. the same value as the Bitcoin held). Investors would hold for six months and then sell at a premium. Demand was monstrous, and GBTC peaked at $41 billion in the spring of 2021. Soon after, the premium dried up, and GBTC started to trade at a discount to net asset value. That meant GBTC shares traded below the value of the Bitcoin held.
GBTC Premium to Discount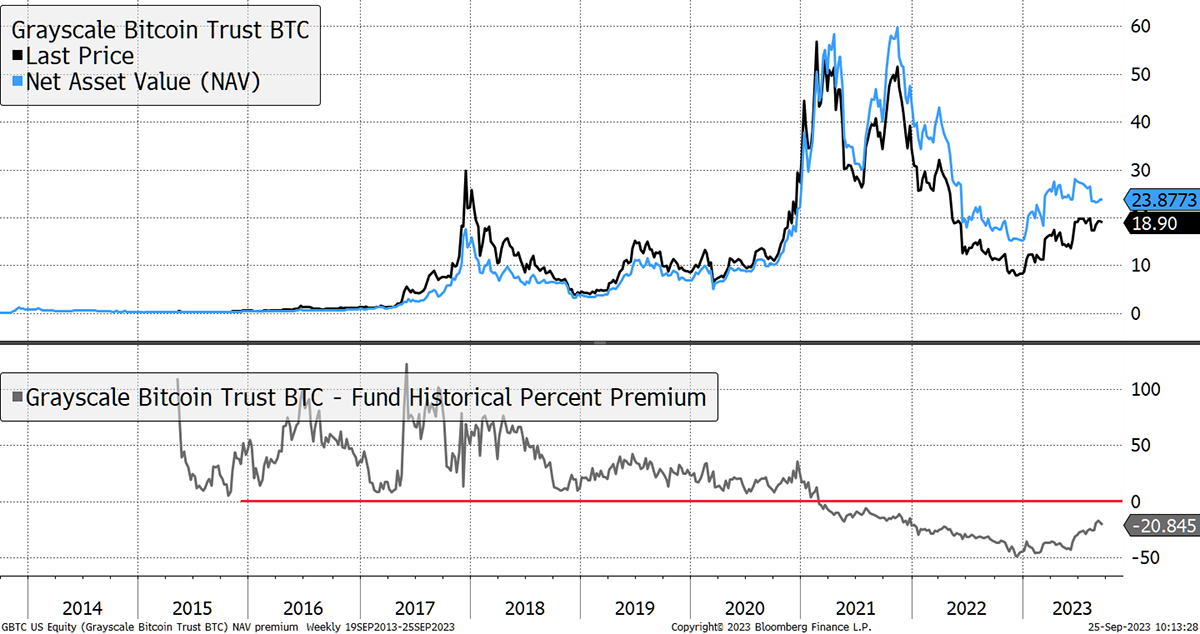 The discount troughed at 50% at the end of the 2022 Bitcoin bear market. The fear was the "lobster pot", where you could get in but couldn't get out. To solve this, Grayscale has applied to convert GBTC into an ETF, which would make it possible for the fund to redeem shares and therefore shrink. Crucially, it would guarantee that the shares would always trade at par. This has increased the discount from 50% to 20%, and the GBTC discount has become a prediction market for the SEC to permit Bitcoin ETFs.
GBTC today is worth $13 billion and charges a 2% annual management fee. In other words, this is one of the most profitable funds in the world. Their charges are high, and if the Bitcoin ETFs are approved, that will surely come down. But on this day, it is right to congratulate Grayscale on a remarkable achievement and their important role in developing the Bitcoin ecosystem to what it is today.
Action: