Disclaimer: Your capital is at risk. This is not investment advice.
ByteFolio 67;
ByteFolio brings together ATOMIC, ByteTrend and Token Takeaway to create ByteTree's model portfolio, known as ByteFolio. This is a selection of crypto tokens, which are weighted according to their risk/reward characteristics. ByteFolio has a modest turnover and will not suit traders. It will appeal to investors who wish to diversify beyond bitcoin, with the aim to beat it.
Looking at the performance of the top 100 tokens since April, few have made money, with the median down around 24%. The blue one that has doubled is Bitcoin Cash (BCH).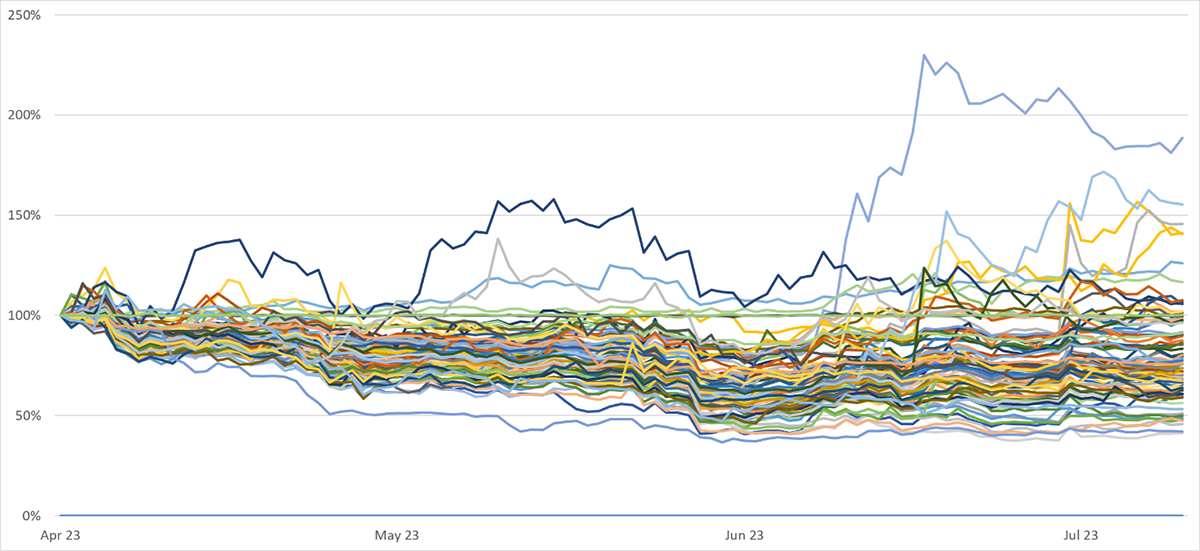 A much clearer way to visualize crypto strength is with our ByteTree Crypto Average (BCA). It's just risen to a 3-star trend in USD, but still not signalling a bull market.

Sometimes I think this is one of the most valuable tools we have created. The last great signal came about in May 2020, around the time of halving. Look what happened to ETH… 13x!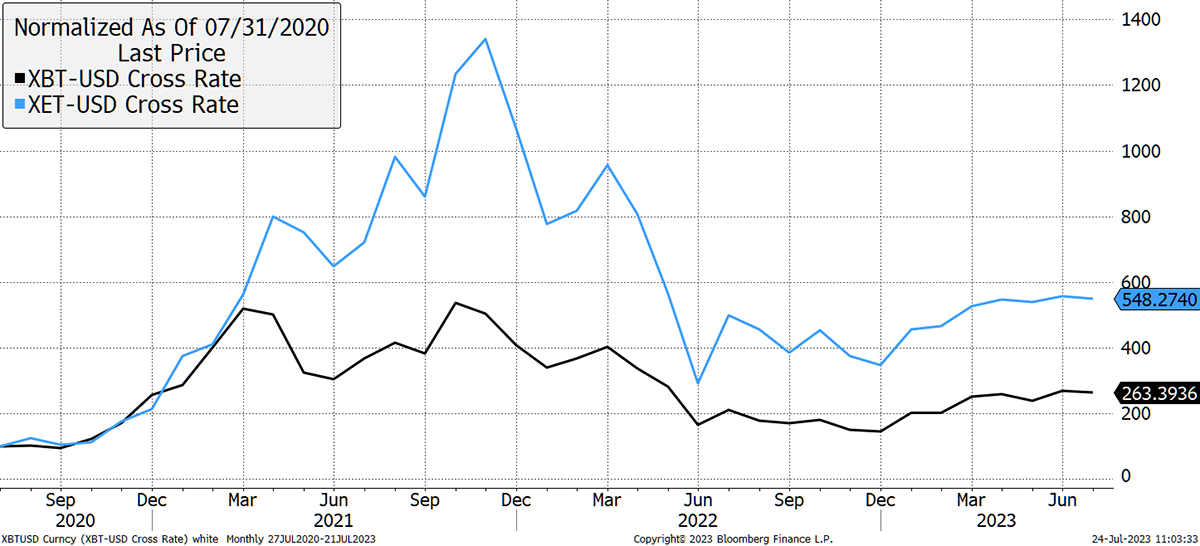 Generally speaking, I would say it is much safer to chase alts when BCA has a 5-star trend.
A 5-star BCA could come in the coming months, but we have to get through the seasonal weakness in September. Thereafter it's Uptober. We can look forward to that.
Bitcoin is trading back below $30,000 but is still within an uptrend.
Action:
No Action
Shakers
Kuwait Regulation
Kuwait's financial regulator has issued a circular to combat money laundering through cryptocurrencies, resulting in a ban on their use for payments and investments. Additionally, the country has imposed a complete prohibition on digital asset mining and refuses to recognize cryptocurrencies as decentralized currencies. The public has also been cautioned against engaging with any crypto-related services provided by companies.
The circular clarifies that securities regulated by the Central Bank of Kuwait and other financial instruments overseen by the Capital Markets Authority are exempt from these restrictions.
The regulatory actions are driven by Kuwait's commitment to comply with the Financial Action Task Force's (FATF) global recommendations concerning crypto assets. They followed a comprehensive study of the sector conducted by the National Committee for Combating Money Laundering and Financing of Terrorism.
UK Regulation
The UK government has turned down the proposal made by lawmakers to regulate cryptocurrencies akin to gambling, asserting that its existing plans are better equipped to address the risks associated with events like the FTX collapse.
The Treasury responded firmly, disagreeing with the Committee's recommendation regarding retail crypto trading and investment. It argued that solely relying on gambling regulations would not effectively address key risk factors, such as the alleged commingling of customer funds by crypto exchanges or resolve issues related to insider trading and market manipulation, which are adequately covered by traditional financial regulations.
Furthermore, the government emphasized that adopting a gambling regulation approach would deviate significantly from its intended strategy, which aligns with recommendations from global standard-setting bodies. It cited recent endorsements by finance ministers from the world's top 20 economies of recommendations put forth by the Financial Stability Board. The government warned that such a departure could push cryptocurrency activities offshore, leading to potential regulatory inconsistencies.
The Lightning Network
After a slight delay, Binance successfully integrated the Bitcoin Lightning Network last week, allowing users to deposit and withdraw BTC.
Lightning is a Layer-2 settlement layer for Bitcoin and other Bitcoin-like networks. It allows payments between participants with practically negligible fees, and transactions can be almost instantaneous as it doesn't rely on the core blockchain. This means it is particularly useful if you often exchange funds with the same entities, be they friends, businesses, or digital payment services.
Lightning enables a 'channel' to be funded between two or more wallets in a single Bitcoin transaction. Once funded, BTC can be exchanged with other channel members and routed out further across a '20 degrees of separation', i.e. a friend-of-a-friend network, for which routing nodes can charge a fee. Any channel participant can choose to close a channel at any time, and the outstanding BTC balances are settled back to the participating wallets over the standard main chain.
Ocean Protocol (OCEAN)
After reaching a high of 57 cents per token and registering a growth of over 250% in 2023, Ocean Protocols native token, OCEAN, has now retraced and reached 36 cents per token (still up over 120% YTD). However, the token has been showing strength against BTC by holding a 4-star ByteTrend score against BTC since 15 July. Moreover, the OCEAN token is also forming a flag and pole pattern against USD, potentially aiming for a breakout.
Ocean Protocol is a decentralized data exchange platform that enables individuals and organizations to share, sell, and access data securely and privately. It utilizes blockchain technology to create a marketplace where data providers can offer their data assets, and data consumers can purchase and use them for various purposes, such as AI, machine learning, and research. The platform ensures data privacy and allows users to maintain control over their data while fostering a collaborative and transparent data-sharing ecosystem.
Worldcoin (WLD)
Worldcoin, a blockchain project focusing on creating World ID powered by ZK-technology, has officially launched today, as reported by Reuters. World ID is like a digital passport, which can commit online confirmations that the actor is human and not a bot. The news of Worldcoin's launch has generated significant attention on the internet, largely attributed to its high-profile co-founder, Sam Altman, renowned as the CEO of OpenAI. Inadvertently, WorldCoin (WDC), a completely unrelated project, has also been drawn into the spotlight. It's safe to say that people are getting the two protocols mixed up, as WorldCoin has seen little progress since its launch in 2013.
Tools For Humanity, the team behind Worldcoin, raised $115m, adding to their $100m fundraiser from last year. As Worldcoin takes its first steps into the blockchain landscape, its innovative approach to creating a Global ID and revolutionizing global payments has captivated the interest of many. With its renowned co-founder and substantial financial backing, Worldcoin is set to make waves in the blockchain industry, offering promising solutions to address various challenges in the digital realm. However, like with any new project, it is crucial to exercise caution and maintain a watchful eye as the project progresses. While the initial enthusiasm is promising, the true success and effectiveness of Worldcoin's innovative solutions will be determined by how well they are implemented and adopted in the real world.
Polygon (MATIC)
MATIC currently holds a 3-star ByteTrend score against BTC. We are closely monitoring the blockchain and are waiting to see some growth in the daily transactions on the Polygon PoS chain.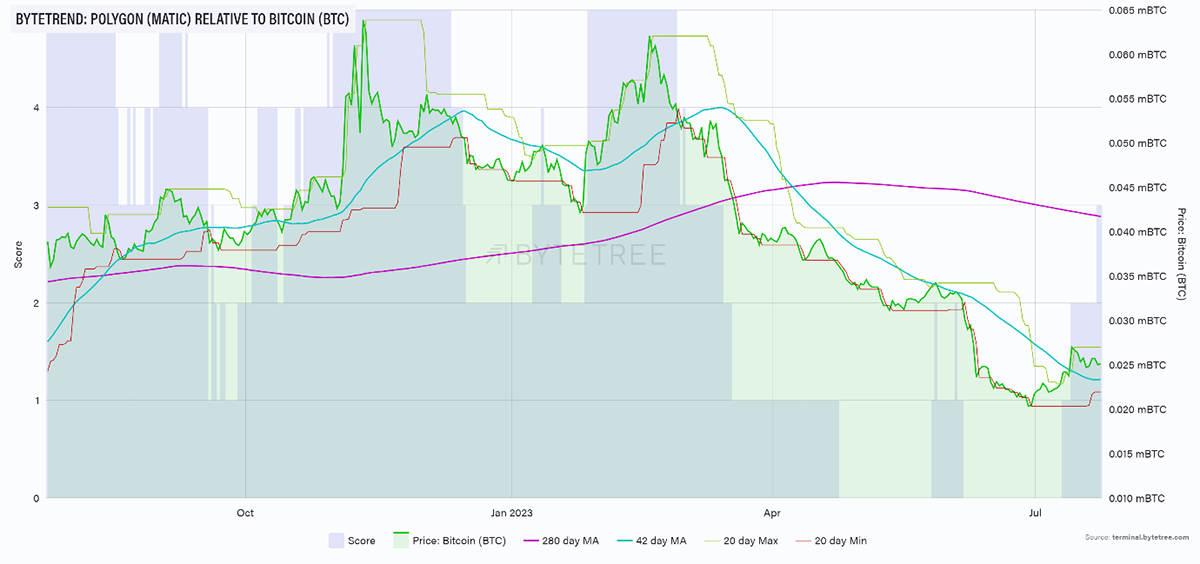 Although the daily active addresses are steadily increasing, we're still waiting for the transactions to pick up. Major upgrades are planned for the near future, and these developments could significantly impact the platform's adoption. As these upgrades are implemented, we anticipate a positive shift in the ecosystem. Hence, we are just a confirmation (growth in daily transactions) away from having MATIC in ByteFolio.
ByteFolio Asset Allocation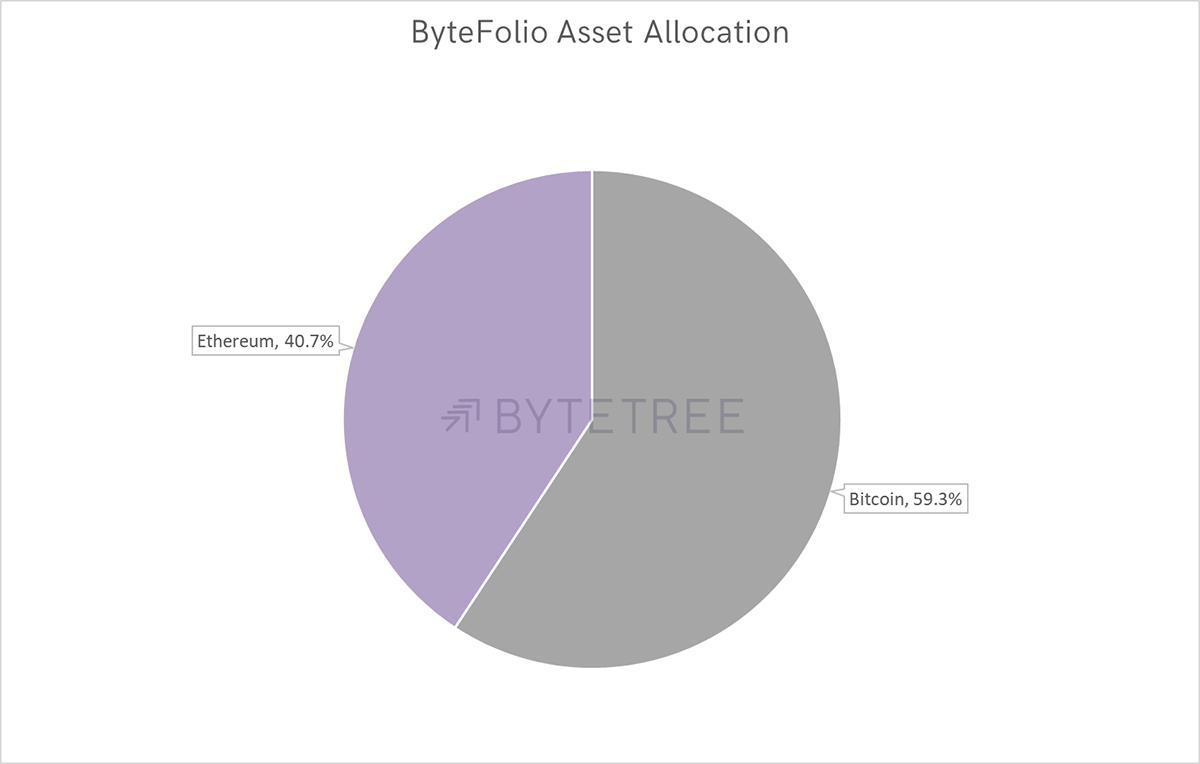 ByteFolio Performance