Disclaimer: Your capital is at risk. This is not investment advice.
ByteFolio 63;
ByteFolio brings together ATOMIC, ByteTrend and Token Takeaway to create ByteTree's model portfolio, known as ByteFolio. This is a selection of crypto tokens, which are weighted according to their risk/reward characteristics. ByteFolio has a modest turnover and will not suit traders. It will appeal to investors who wish to diversify beyond bitcoin, with the aim to beat it.
I would like to thank Charlie Erith for his efforts in managing ByteFolio since I handed it over to him in December. He has decided to go at it alone and focus on the Bitcoin and General Fund full-time. We wish him well, and he can be contacted here.
For the second time this year, Bitcoin has rallied on bad news. The first was the banking crisis in March, and then over the weekend, the attempted Russian coup saw an advance. That Bitcoin is becoming a safe haven is an interesting development which will turn heads. Ethereum also advanced, proving its macro credentials, but by a little less.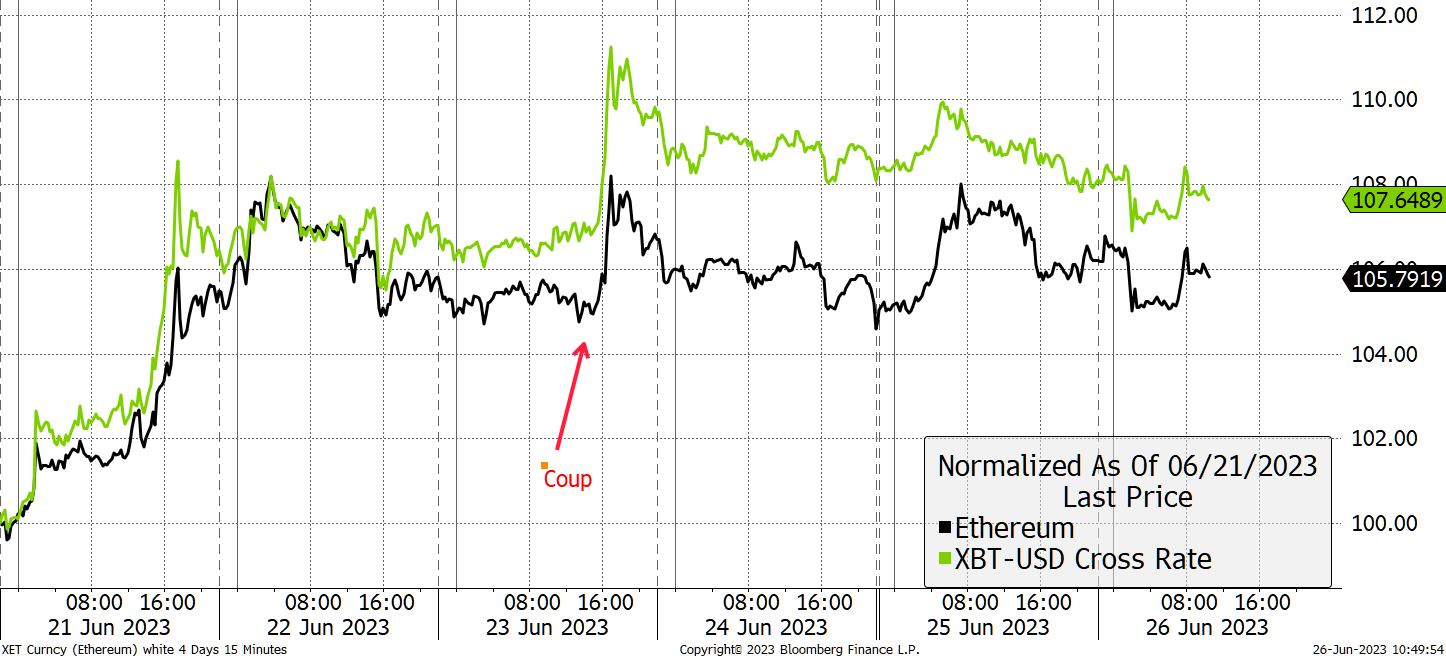 BTC makes up just over 50% of the entire crypto market and seems to be rising. I would expect that in crypto bear markets, such as 2017 which saw it rise from 34% to 53% as alts got slaughtered. But the dominance chart reminds us that it carried on rising into 2019, as Bitcoin rallied from $3,000 in November 2018 to $13,000 the following summer.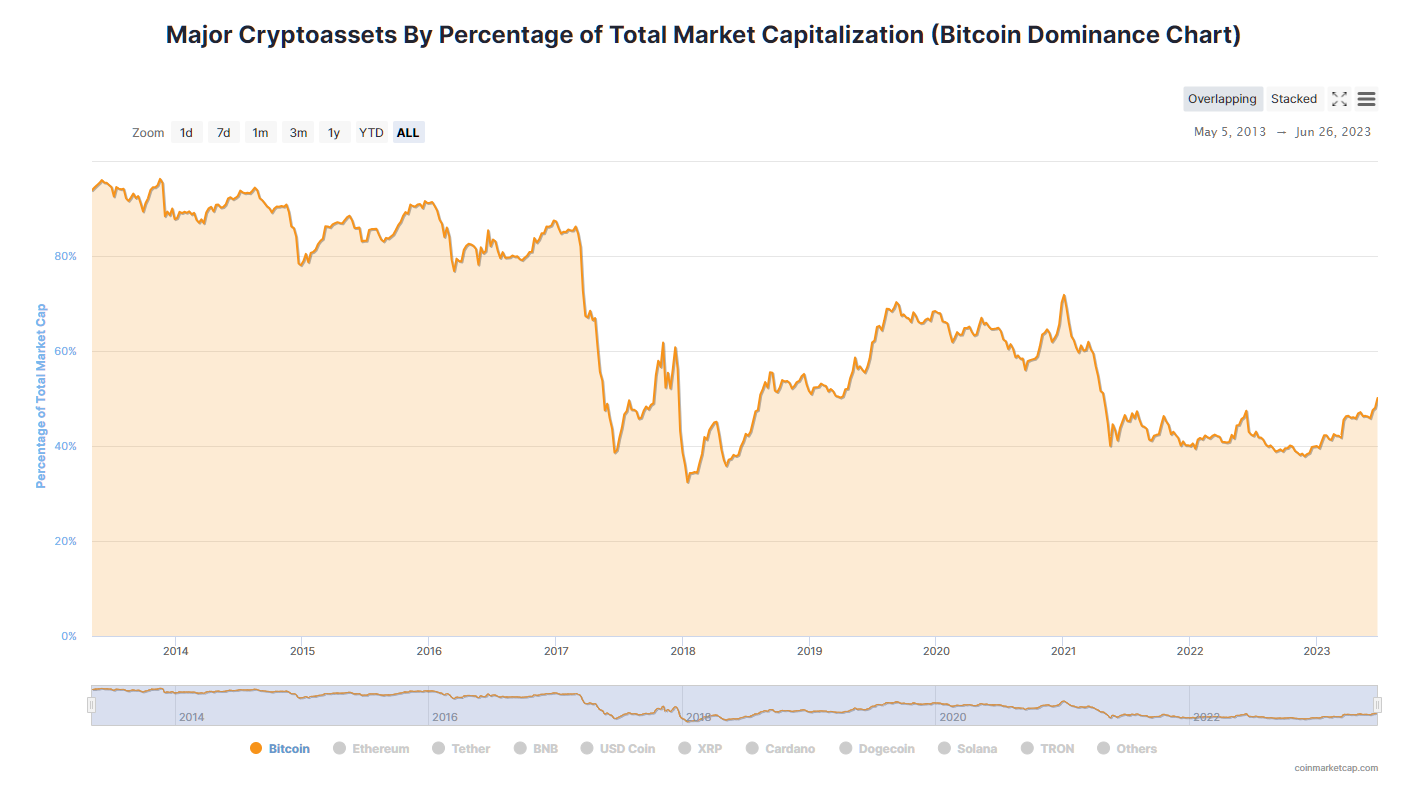 In 2022, dominance was stable, despite the bear market and has only started rising this year. In that sense, last year's behaviour was strange, but this year's isn't.
Another way of visualizing this is looking at ByteTrend crypto in dollars and BTC. In USD, there are a few trends, but in BTC, stars are scarce.
Top 15 in USD and BTC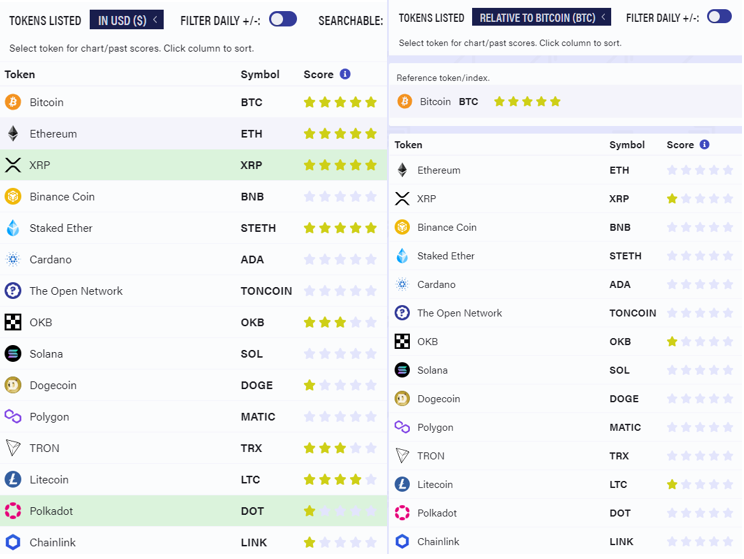 The soft market may reflect regulatory uncertainty or weak macro. It's probably a bit of both. It is time to stay patient and wait for conditions to improve, but Bitcoin and Ethereum remain in rude health.
We're in the doldrums.
Action
No action
Shakers
Bitcoin Cash (BCH)
Bitcoin Cash has seen a significant surge of over 70% in the past seven days following its listing on the EDX exchange, which is backed by prominent financial institutions such as Fidelity, Schwab, and Citadel. This surge indicates a shift towards positive sentiment, with hopes that institutional adoption of Bitcoin Cash will be stimulated by its inclusion on the EDX exchange.
For those unaware, Bitcoin Cash was created in July 2017 through a blockchain fork from the original Bitcoin. It achieved a peak price of $2,947 during the bullish market of 2017. However, despite initial optimism, Bitcoin Cash has not gained significant traction as a payment network compared to its sibling, Bitcoin. Don't underestimate the amount of work required for BCH to catch up.
Polygon (MATIC)
Polygon has seen a notable decline in its price over the past few months, mainly due to fierce competition from other layer-2 networks like Optimism and Arbitrum. Adding to the challenges, the Securities and Exchange Commission (SEC) identified MATIC as a security in a recent lawsuit against cryptocurrency exchanges. As a result, MATIC's price dropped to $0.50 in June. However, there are now indications of a bullish recovery in MATIC's price.
Ripple (XRP)
The digital payment provider, Ripple, has recently achieved another significant regulatory milestone in Asia. Following its positive reception by Hong Kong regulators, Ripple has now obtained an In-Principal Approval (IPA) from the Monetary Authority of Singapore, the country's central bank. With this approval, Ripple has secured the Major Payment Institution license, enabling the company to offer regulated digital payment products and services in the region.
By leveraging this license, Ripple Markets APAC intends to enhance the adoption of its On-Demand Liquidity (ODL) service, which operates on the Ripple distributed ledger and utilizes XRP as its mode of payment. The primary goal is to streamline the global payments infrastructure. As Ripple successfully attracts new users from the region and promotes the use of its ODL service, the network's overall usage is expected to grow. This increased activity has the potential to drive up the value of XRP.
However, it is important to note that there are still additional regulatory requirements and checks that Ripple must fulfil before obtaining the full license. Nevertheless, this progress signifies a positive development for crypto firms in the Asian market. Ripple is seizing this opportunity to maximise its potential in the region, which bodes well for the company's future endeavours.
Near (NEAR)
The Near Foundation, the non-profit organization responsible for the development of Near protocol, has formed a strategic alliance with Alibaba Cloud, the computing and digital storage division of Chinese tech behemoth Alibaba. As reported by CoinDesk, this partnership grants Near Foundation access to Alibaba Cloud's developer ecosystem throughout Asia and the Middle East, with the goal of attracting a larger pool of developers to create applications on the NEAR protocol.
Through this collaboration, new opportunities for cooperation and knowledge exchange emerge, empowering developers to leverage the capabilities of the NEAR protocol and explore its potential across diverse industries and use cases. This partnership not only fortifies Near's position in the market but also serves as a testament to the increasing recognition and appeal of blockchain-based platforms among influential industry leaders like Alibaba.
ByteFolio Performance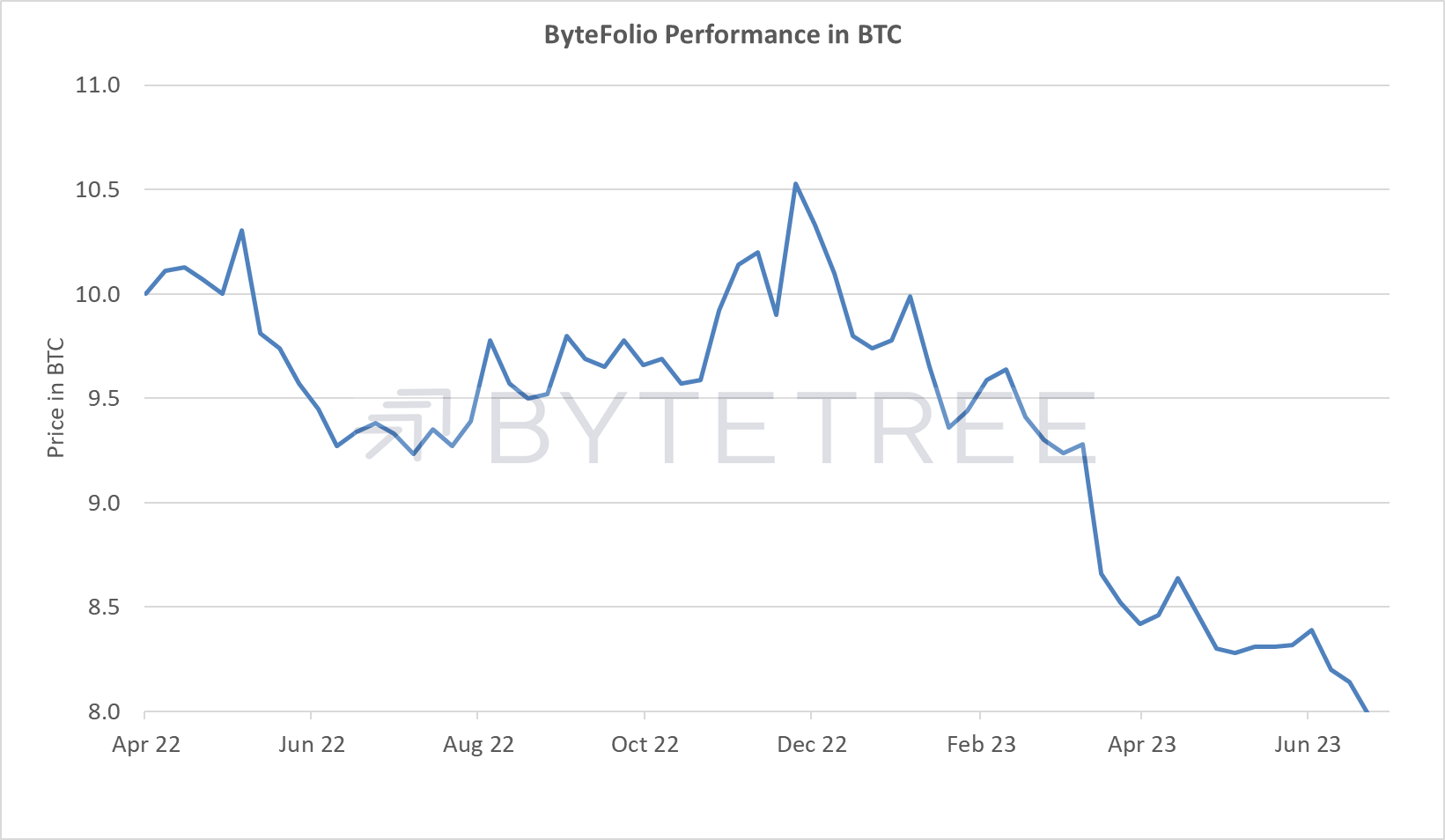 ByteFolio Asset Allocation