Disclaimer: Your capital is at risk. This is not investment advice.
ByteFolio Update 57 | ByteTree's Crypto Leaders
ByteFolio brings together ATOMIC, ByteTrend and Token Takeaway to create ByteTree's model portfolio, known as ByteFolio. This is a selection of crypto tokens, which are weighted according to their risk/reward characteristics. ByteFolio has a modest turnover and will not suit traders. It will appeal to investors who wish to diversify beyond bitcoin, with the aim to beat it.
ByteFolio is unchanged this week. For now, the de-risked nature of the portfolio will mean it trades more closely in line with Bitcoin. Bitcoin itself continues to trade in a relatively narrow band. Quite soon, it will lose its reputation for volatility.
We make no changes to the portfolio this week. It is a shame that the dark blue area on the breadth chart has collapsed again, especially since the start of the year showed promise of something more substantial.
The US Dollar (red) Strengthens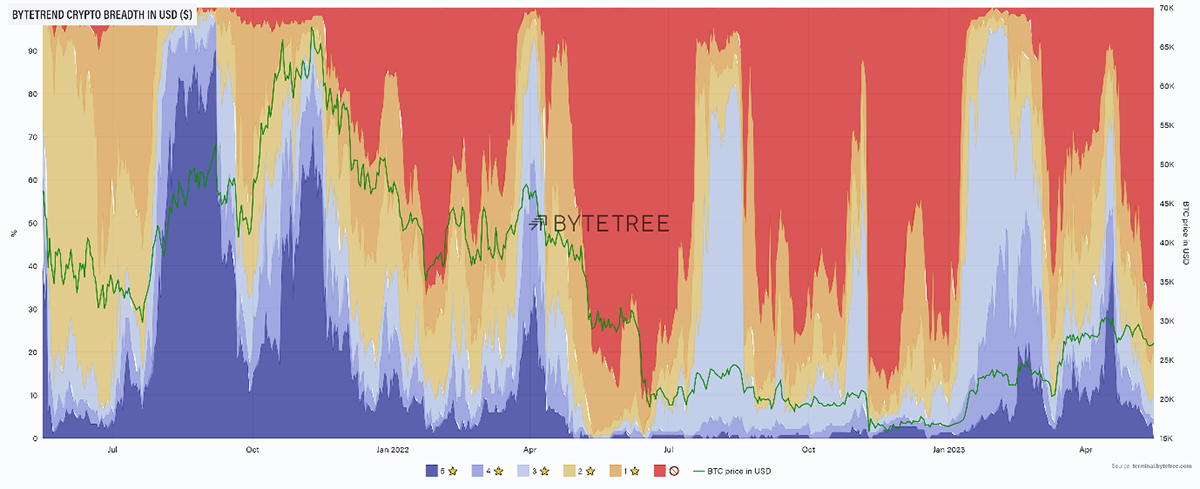 Source: ByteTree Terminal
The combination of regulatory uncertainty and tighter monetary settings (real interest rates are now turning positive in the US, i.e. the Fed Funds Rate at 5.25% is higher than the latest inflation print of 4.9%) are depriving crypto of any sort of tailwind. That's consistent with both the season and the cycle. The second quarter in recent years has recently hovered somewhere between uneventful and dreadful, with the fireworks typically coming towards the back end of the year.
Add in the fact that the next bitcoin halving is less than 12 months away (current ByteTree estimate is 20 April 2024), and a case can be made for saying the next few months are the time to be getting set. This is the time to be doing the hard research work, ready to pounce when the tide turns.
Just before you think that inflation is dead, spare a thought for the people of Argentina, where the April 2023 inflation print is 108.8% YoY, more than double that of the G20's second-placed Turkey, on 43.7%. The final spot on this podium of economic mismanagement, somewhat crushingly, goes to the United Kingdom, where the March number was 10.1%. No wonder people are scoping around for new ways of managing their savings. Hello, crypto.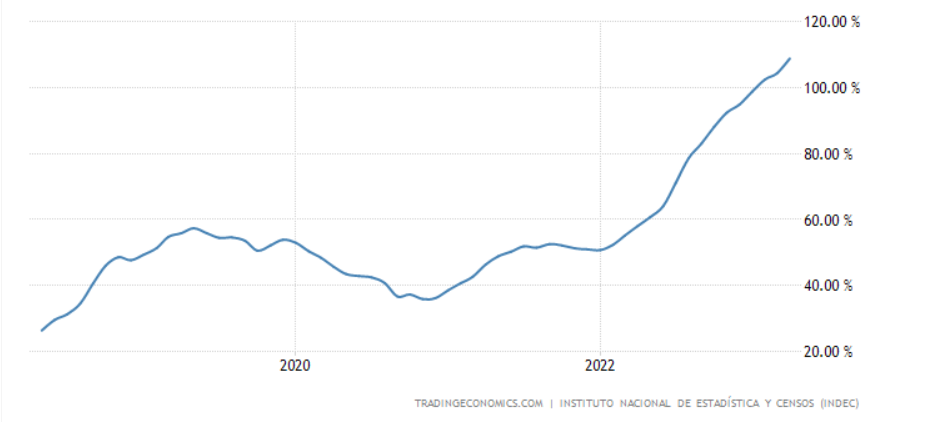 Source: Trading Economics. Argentina Inflation Rate.
Action:
No action
Movers
Bitcoin (BTC)
This excellent CoinDesk article dissects another regulatory attack vector in the US on the bitcoin community. In this case, it is the Digital Asset Mining Energy (DAME) excise tax. It's an extraordinary piece of proposed legislation, which is counter-productive and of questionable legitimacy. Singling out a specific industry for misuse of electricity (even though most of it is now generated from renewables and benefits both the grid and the environment) sets a very uncomfortable precedent.
If you have time, have a look at the linked article as well. It not only gives an excellent description of the role of a proof of work miner in publishing information and protecting the network (i.e. not just "winning" bitcoins, which is the widespread perception) but also makes a compelling case that this sort of legislation contravenes the First Amendment. If that is found to be the case in a court, this attempted use of the law to shut down mining might have precisely the opposite effect, cementing its legitimacy instead.
Ethereum (ETH)
Those wondering whether the move to liquid staking has been a success or not might be interested in visiting rated's "Network Explorer" page. The Network Overview page shows you the following:
You'll see that while the queue to withdraw is around 5.5 days, it's over 28 days to activate. That demonstrates super strong interest. Validation of validation, perhaps.
Binance (BNB)
Binance, the world's largest cryptocurrency exchange, has announced its decision to stop operating in Canada due to challenging regulatory conditions. The company expressed disappointment in the new guidance on stablecoins and investor limits relating to crypto exchanges.
The Canadian Securities Administrators (CSA) introduced the new regulation in February, which requires prior approval from the CSA for crypto asset trading platforms to allow customers to buy or deposit stablecoins, subject to due diligence checks. Binance naturally disagrees with the regulations but expressed a desire to collaborate with Canadian regulators to establish a regulatory framework for cryptocurrencies. Binance has faced increased regulatory scrutiny in North America and had previously considered severing ties with its US business partners.
Shakers
Cosmos (ATOM)
Proposal #791, titled "Launch Neutron on Replicated Security," has been approved by the Cosmos Hub community, making Neutron the first Cosmos blockchain to launch using Replicated Security (RS). With RS, blockchains in the Cosmos ecosystem can rely on the validator set of the Cosmos Hub for their security. Neutron uses CosmWasm (Cosmos Web-Assembly), a technology stack within the Cosmos ecosystem, to provide a platform for issuing smart contracts. The aim is to enable the development of cross-chain smart contract applications for the Cosmos ecosystem.
Cosmos (ATOM) Scores a 2-star on ByteTrend in BTC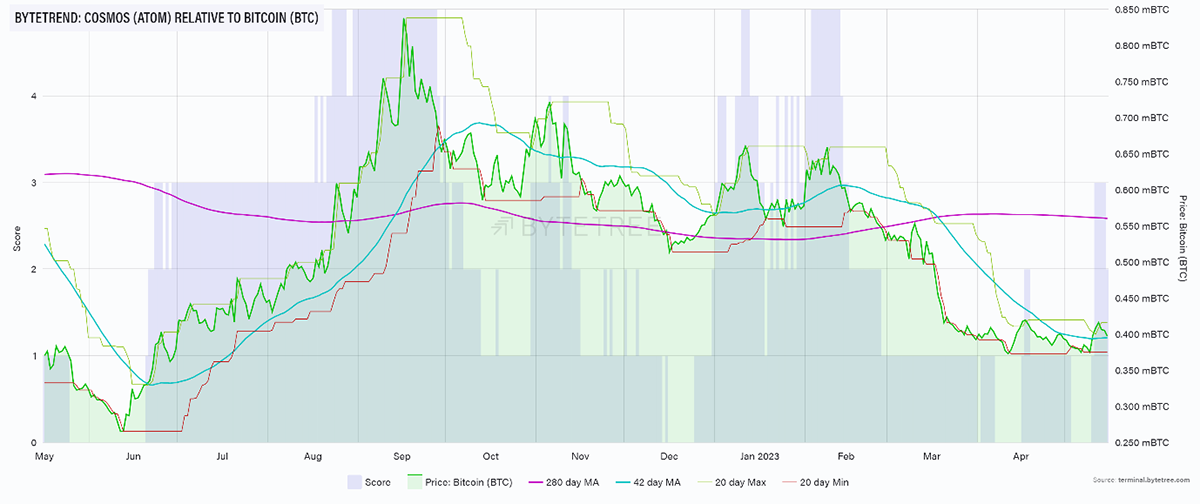 Source: ByteTree Terminal
Through Replicated Security (RS), Neutron can leverage security from Cosmos Hub validators and share its revenue. This is expected to bring in additional revenue to the Cosmos Hub, making staking ATOM more rewarding than before, thus increasing its demand.
Near (NEAR)
Near has been on our radar for some time, but what really caught our attention was the launch of its Blockchain Operating System (BOS). Near BOS allows for the seamless creation and distribution of dApps across various blockchains, including Ethereum. This means that developers can take advantage of Near's speed, low cost, and scalability while simultaneously building on other blockchains.
Near (NEAR) Scores a 0-star on ByteTrend in BTC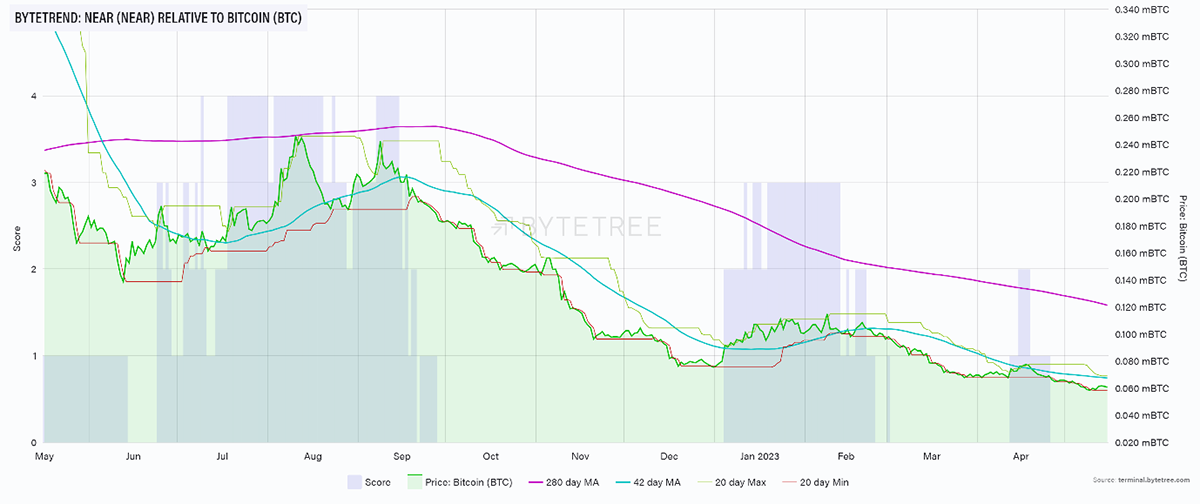 Source: ByteTree Terminal
The developer-friendly environment created by Near BOS has the potential to boost the growth of the Near ecosystem, a crucial factor for the success of any blockchain project. The increase in NEAR's circulating supply and general market uncertainty are the biggest reasons for the recent poor price performance. However, the blockchain's on-chain activity has already shown signs of improvement. With Near BOS attracting more developers and growth to the ecosystem, we expect to see an increase in on-chain activity - potentially a positive catalyst for the price of the NEAR token.
Lukso (LYXE)
Last week's Token Takeaway covered LUKSO, a blockchain platform seeking to revolutionise the fashion and lifestyle industry by providing Universal Profiles for creative professionals to showcase their work. The platform focuses on NFTs and offers transparency, traceability, and accountability, while LUKSO's unique selling point is its tailored architecture for the fashion and lifestyle industry, allowing for the creation and management of digital assets.
LUKSO (LYXE) Scores a 5-star on ByteTrend in BTC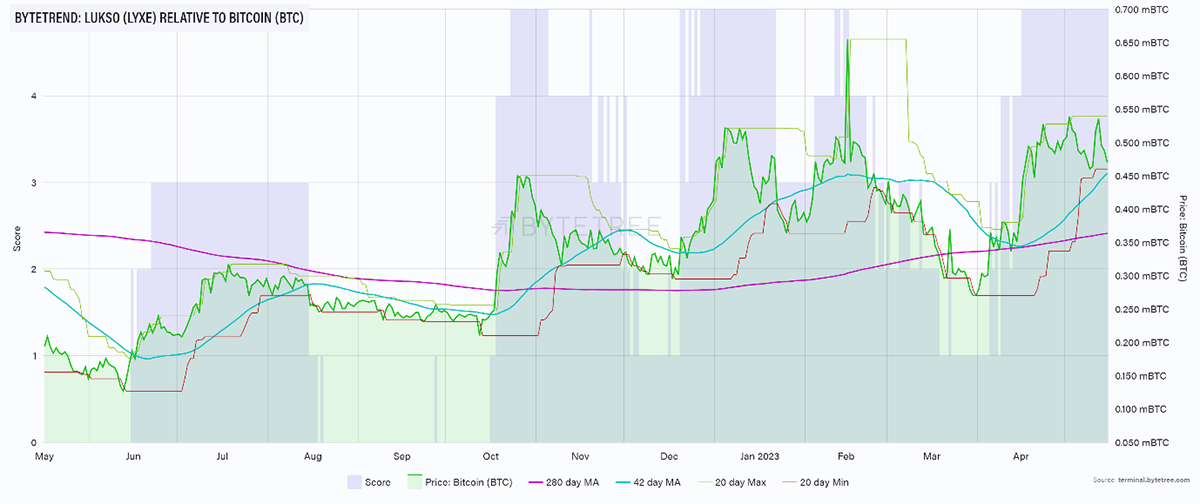 Source: ByteTree Terminal
The LYXe token has been performing well, driven by recent validator deposits ahead of the Mainnet launch. However, the on-chain data for LYXe has been relatively low, which may be attributed to limited utility until the Mainnet goes live. LUKSO faces competition from established players like Polygon and VeChain, and partnerships will be crucial for its success in attracting users and developers. While the platform's potential impact and utility will become clearer after the Mainnet launch (the strong validator participation is a promising sign), LYXE hasn't scored highly enough on our internal assessments to make it onto the Watchlist.
Cardano (ADA)
Cardano's Mainnet has introduced Hydra Head, a scaling node to accelerate transaction speeds on the blockchain. This tool, the first of a series of planned products, operates as an off-chain "mini ledger" shared among a small group of participants. Its purpose is to enhance transaction efficiency while significantly reducing fees.
This release follows a series of DeFi-focused updates on Cardano throughout the year, including the January launch of a decentralised stablecoin, "Djed", and various proposals for improving cross-chain transactions in February. Not that the market is impressed. It's been in a consistent downtrend since September 2021.
Cardano (ADA) Scores a 0-star on ByteTrend in BTC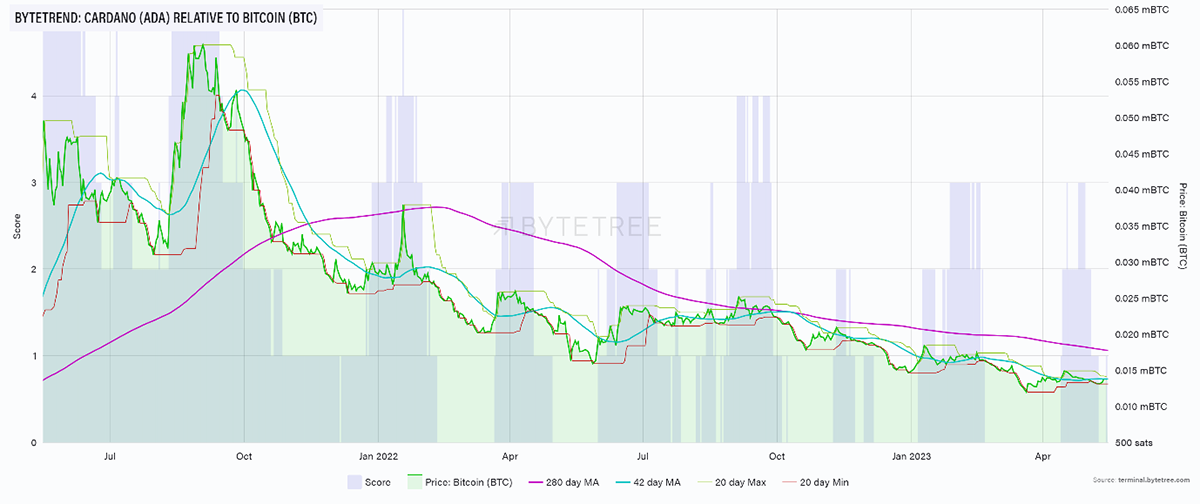 Source: ByteTree Terminal
ByteFolio Performance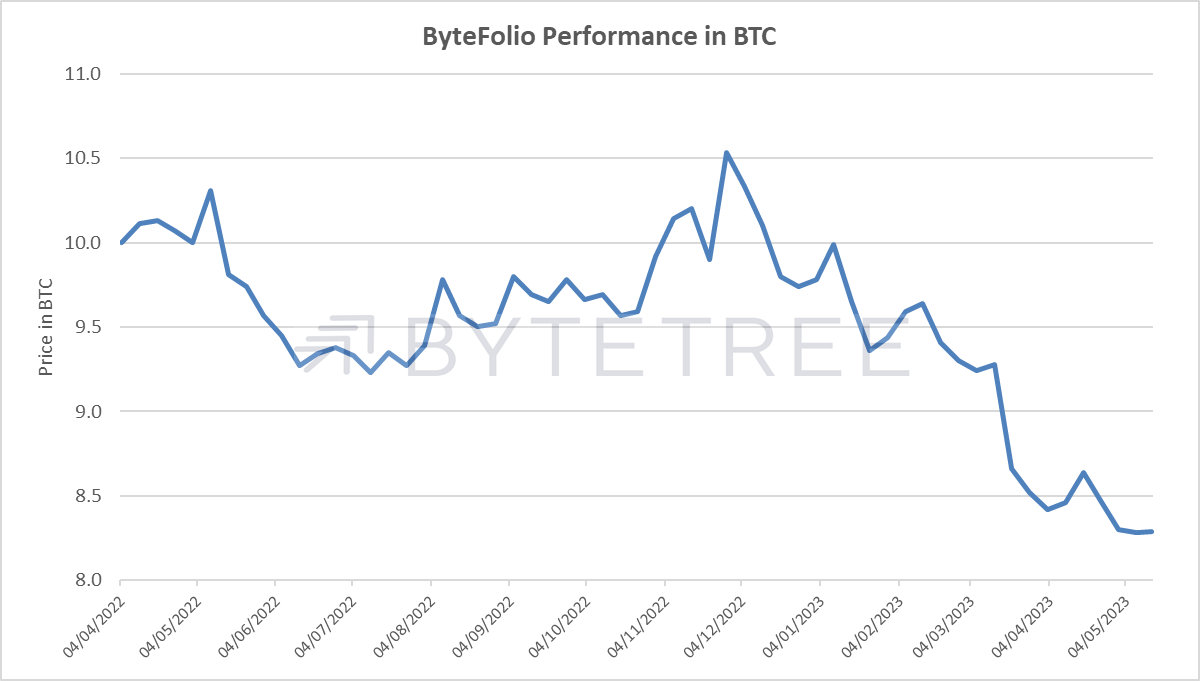 ByteFolio Asset Allocation