Disclaimer: Your capital is at risk. This is not investment advice.
ByteFolio Update 53 | ByteTree's Crypto Leaders
ByteFolio brings together ATOMIC, ByteTrend and Token Takeaway to create ByteTree's model portfolio, known as ByteFolio. This is a selection of crypto tokens, which are weighted according to their risk/reward characteristics. ByteFolio has a modest turnover and will not suit traders. It will appeal to investors who wish to diversify beyond bitcoin, with the aim to beat it.
The success of Ethereum's Shapella upgrade has brought confidence back into the ecosystem and a bounce for ByteFolio. The value of ByteFolio moves from BTC8.46 to BTC8.64. Having added to ETH two weeks ago, ahead of the upgrade, its weighting has moved from 21.9% to 23.0%. BTC's weighting has come down marginally, as has MATIC's, while BNB and ATOM have slightly risen.
We discuss the latest for ETH and its outlook in the Movers section below.
Speculation will be heightened that this bout of altcoin outperformance means we're on the cusp of another so-called "altcoin season". This refers to phases when bitcoin gently underperforms the broader crypto universe, usually culminating in a brief blow-off when quality and price become inversely correlated. The worse something is, the more it goes up.
Anything is possible, of course, but we consider that it's too early in this cycle to assume there will be a major change in direction. While tempting to take a "spray and pray" approach to portfolio construction, we are sticking with a process that aims to identify the highest quality projects and then look for pricing information to help us with timing. As crypto goes through a re-building process after the awful year last year, we see this as the soundest platform for sustained appreciation. In this sense, we are soundly positioned. If altcoin season is upon us, we should do nicely. If it isn't, we still have confidence in our core holdings for the longer term.
We are making a trade this week, which is to sell GateChain (GT) and allocate the proceeds to ETH. This is the consequence of some adjustments we have made to our analytical framework, which tightens up the qualifications for entry. We feel that ETH can continue to rally after recent weakness.
Action
Sell GT to zero, Buy ETH to 27.5%
Movers
Bitcoin (BTC)
Quick heads-up to all you Network Demand Model fans out there. The score has slipped back to 4/6, with the short-term spend and MRI signals turning off. This keeps us in bullish territory and is certainly nothing to get overly agitated about, if only because these are the two most volatile indicators. In a way, the MRI indicator could be interpreted as encouraging because it suggests that the miners are doing well enough from operating income not to have to sell inventory. More on this in ATOMIC on Thursday.
Regulation
The Financial Times reports that the London Stock Exchange Group (LSE) will "begin clearing crypto derivatives" via the Paris arm of its clearing subsidiary, LCH. This is good news in terms of the general direction of regulation, and they wouldn't be doing this if there wasn't demand. Yet it reminds us again that crypto trading is reserved for the rich and privileged in the UK, while ordinary investors remain excluded.
However, for those worried about the prevalence of gambling, there is some good news. Premier League football clubs have agreed to ban sponsorship by gambling companies from shirts. Well, from the front of shirts. In three years' time. And those huge flashing ads by the sides of the pitch can stay. That's draconian, Geoff.
Ethereum (ETH)
With Shapella safely negotiated, what's next on Ethereum's tech roadmap? In a live stream, Vitalik Buterin expressed concerns that unless Ethereum addresses its scaling issues before the next bull run, users could be hit with exorbitant transaction fees of up to $500. While the Shapella upgrade solved some of the issues related to Ethereum's transition from proof-of-work to proof-of-stake, Buterin emphasised that scaling will be the focus moving forward.
Ethereum's next upgrade, known as EIP-4844 or proto-dank sharding, is expected to take place in early 2024. The upgrade aims to reduce the costs associated with transacting on Ethereum Layer-2 by replacing block space-intensive call data with blobs, which do not compete with Ethereum transactions for gas usage. This will significantly reduce the block space needed to process transactions on Layer 2s.
According to Carl Beekhuizen of the Ethereum Foundation, the cost of storing data on-chain is the primary bottleneck restricting scalability gains at Layer 2. EIP-4844 will provide cheap data storage, allowing L2s to provide cheap transactions to their users. Once the upgrade is in effect, the Ethereum network will start deleting historic transaction data that is older than 30 days, with infrastructure providers like Etherscan expected to store older data.
Shakers
Solana (SOL)
Solana has unveiled its debut Android device, the Saga, which will be available for purchase from 8 May in the US, EU, UK, Canada, Switzerland, Australia, and New Zealand. The Saga aims to seamlessly integrate the Web3 experience onto mobile devices, which have become the primary device for most people's daily interactions.
To address the strict rules enforced by Google and Apple app stores around their payment systems, Solana has developed a separate app store that sits alongside native Android apps. The phone is designed with security in mind, and users will be prompted to connect their Web3 wallets or create a new seed vault that is integrated into the phone for secure transactions. At launch, 16 dApps will be available for download on the Solana app store, with the first few users receiving a welcome pack that includes limited edition NFTs.
OpenSea
The most popular NFT marketplace lost its top spot to Blur in February, but it has launched a counter-offensive with the release of OpenSea Pro. This marketplace aggregator allows users to browse listings from over 170 NFT marketplaces and provides tools to help them buy and sell NFTs.
The re-launch has been well-received by the community, with daily active users and new wallets created significantly increasing throughout the week. OpenSea has also announced a new NFT drop called Gemesis, which rewards early adopters of Gem, a platform it acquired in April 2022. NFT enthusiasts are speculating that OpenSea could offer users further freebies, including airdropped NFTs, as a promotional tactic, similar to Blur's "Care Packages".
Arbitrum (ARB)
Following the distribution of ARB tokens through an airdrop, Arbitrum became a Decentralised Autonomous Organisation (DAO), but the very first proposal generated a lot of controversies. The proposal, AIP-1.0, requested 700 million ARB tokens, worth over a billion dollars, for various purposes including special grants and operational expenses, to be managed by the Arbitrum Foundation. However, the community rejected the proposal with 76% of the votes against it. Surprisingly, the Arbitrum team claimed that AIP-1.0 was just a "ratification" and that some of the tokens had already been converted to stablecoins, meaning the DAO had already allocated the tokens regardless of the outcome of the vote.
Additionally, the Arbitrum Foundation loaned 40 million ARB tokens to a financial market participant, with 10 million being converted to fiat for operational expenses. This undermines the value of the ARB token since it only offers governance rights to holders, and if their votes are meaningless, the token has no use. However, the ultimate aim of the proposal was to promote the growth of the Arbitrum ecosystem, which is expected to happen going forward.
FTT
On 12 April, FTXs legal team announcedthat the exchange has recovered around $7.2bn dollars, and is aiming to restart its services sometime in Q2, 2024. Following this news, the FTT token surged over 100% on the same day.
While it's great to hear that the black hole of losses isn't as horrendous as we originally thought, there is almost zero percent chance that this surge has any lasting significance. It's a pump and dump and we wouldn't touch it with a bargepole.
ByteFolio Performance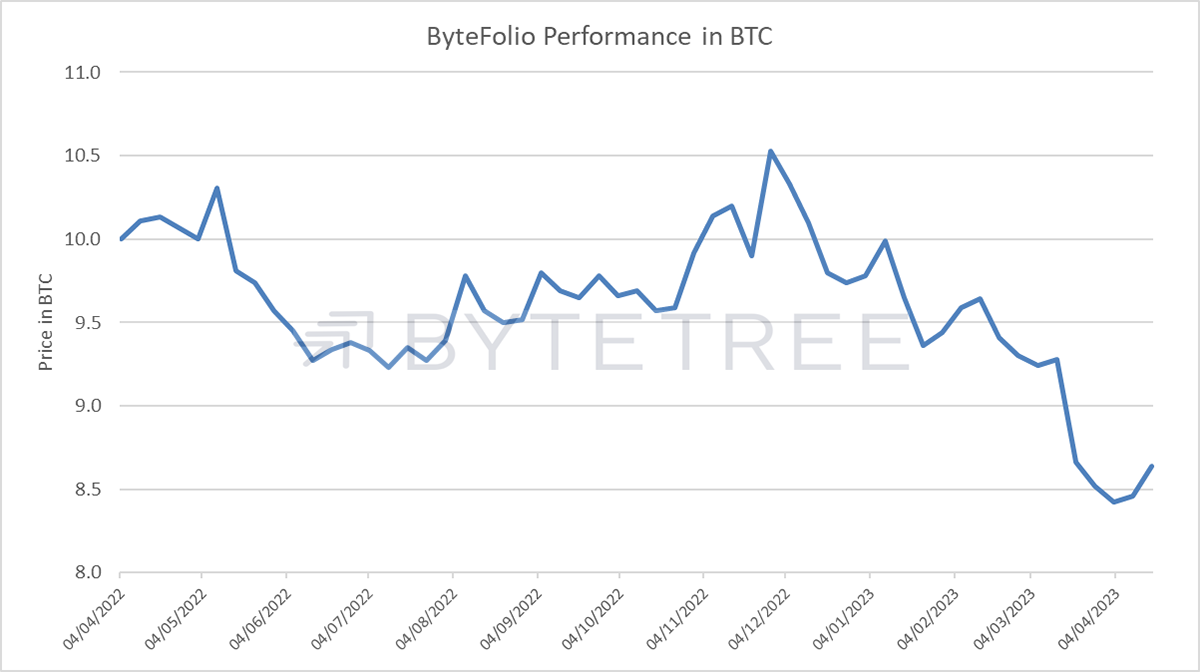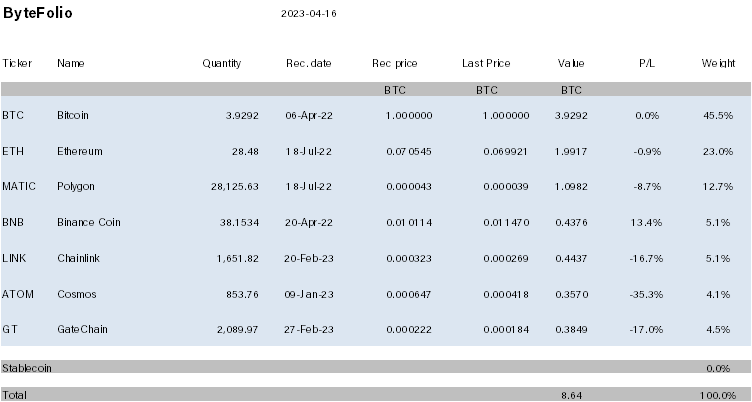 ByteFolio Asset Allocation