bytefolio
Bitcoin's Dominance Is Set to Continue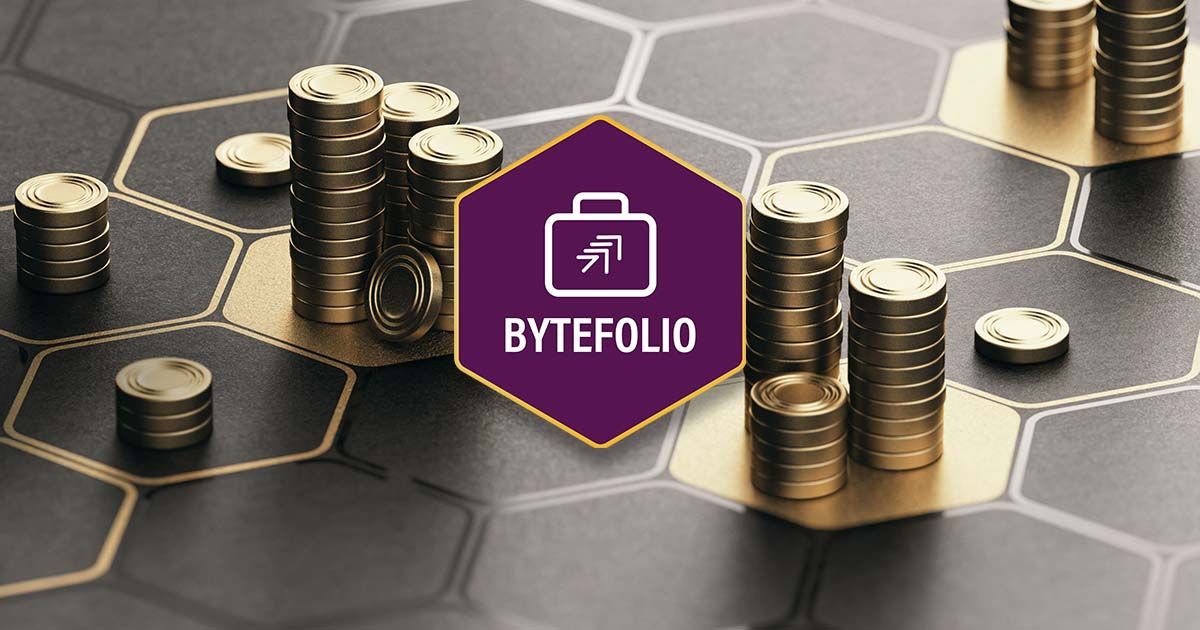 Disclaimer: Your capital is at risk. This is not investment advice.
ByteFolio Update 50 | ByteTree's Crypto Leaders
ByteFolio brings together ATOMIC, ByteTrend and Token Takeaway to create ByteTree's model portfolio, known as ByteFolio. This is a selection of crypto tokens, which are weighted according to their risk/reward characteristics. ByteFolio has a modest turnover and will not suit traders. It will appeal to investors who wish to diversify beyond bitcoin, with the aim to beat it.
As any of you who have been down the digital asset rabbit hole will know, one of the most frustrating things about conversations with newbies is that all cryptos get lumped together. The media is particularly culpable, talking in generic terms: "crypto is up, crypto is down, crypto is a Ponzi, crypto is for criminals, crypto uses more energy than Belgium". How many times have I heard, "I don't understand crypto"?
The reality is more nuanced, however. "Crypto" is a meaningless term. In the digital asset world, there's Bitcoin, and then there's Everything Else.
The reason for mentioning this now is that it looks like something the market is waking up to. Despite being the largest digital asset by a considerable margin, bitcoin has been outperforming the rest of the crypto universe. This is counterintuitive. In a bull market in stocks, you'd expect to see small caps outperforming (well, that used to be the case pre-QE and passive investing, anyway).
This means that the market continues to become more discerning in its treatment of digital assets, and in ByteFolio, we've been on the wrong side of that this year. Although the portfolio has had a decent run higher in US$ terms (up around 17.5% YTD), in BTC (which is the mandate we've created for ourselves), it has been tough. With the benefit of telescopic hindsight, we should have put the whole book into BTC on 1 January and twiddled our thumbs.
So we face the question, does this dominance continue, and should we adjust exposure accordingly?
In the short term, our belief is that, yes, the dominance will continue. This is because bitcoin's price resurgence is being driven largely by macro forces, and those forces aren't going away in a hurry. We see a loss of confidence in the banks, a resumption of government bail-outs (back to QE and currency debasement), sticky inflation and widespread political tension. Bitcoin – along with gold – is the alternative asset "lifeboat" in this environment.
On the other hand, "Everything Else" in the digital asset world is working towards re-inventing, re-imagining and dematerialising existing industries, one of which is banking. While that's a laudable and desirable aim, it's also one fraught with obstacles, is intensely competitive, and makes it substantially harder to identify the longer-term winners. It makes sense for bitcoin to continue to dominate.
The temptation is always to look back at previous market cycles and expect a re-run. For many, that will mean speculating on digital assets with little or no worth in the hope that they become a multi-bagger. But ByteFolio doesn't believe we are at that stage in this market yet, and many will be sorely disappointed. At this stage, we must own the larger cap winners and be patient.
This week we are selling both UNI and QNT and will shift the proceeds into BTC. This brings the BTC weighting more into line with its sectoral weighting. We also have concerns about aspects of each of the models of UNI and QNT. While both platforms are undoubtedly high quality, we have concerns about the value of the tokens in the case of UNI and about the quality of information we can retrieve from QNT. Both tokens have deteriorated substantially on ByteTrend (see below), hence we cut our (relative) losses while also reducing risk.
Uniswap (UNI) Scores 1-star on ByteTrend in BTC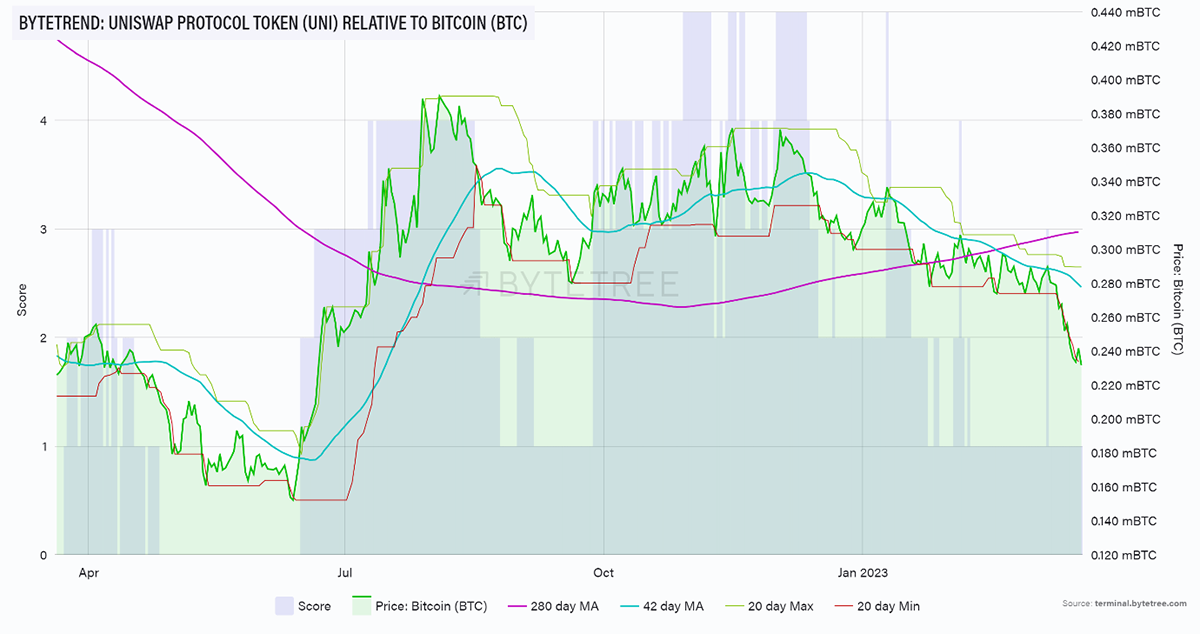 Source: ByteTree
Quant (QNT) Scores 1-star on ByteTrend in BTC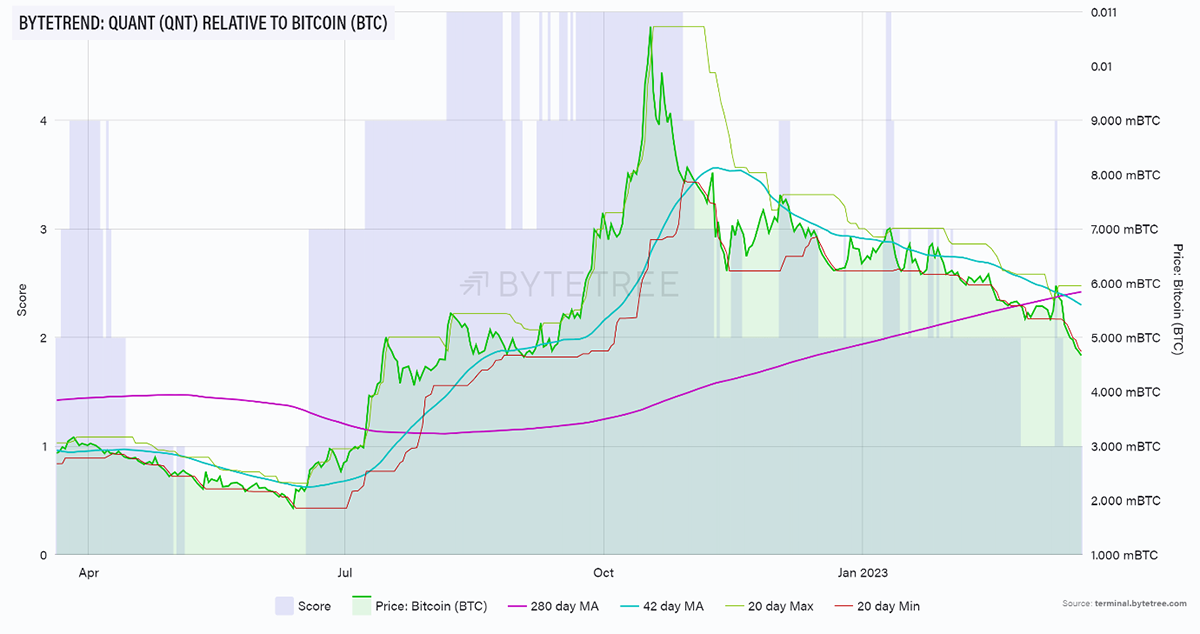 Source: ByteTree
Action:
Sell UNI to zero. Sell QNT to zero. Buy BTC to 43.2%.
MOVERS
Bitcoin (BTC)
The bitcoin ecosystem continues to slowly evolve. Over time we have mentioned projects like the Lightning Network, Stacks and Nostr, not to mention Ordinals, all of which are secured by the Bitcoin Network. It's a reminder that there is much more to bitcoin than a string of numbers and an identity as "digital gold".
In this context, we were interested to see a news articlefor a Lightning Network accelerator called Wolf. As the CEO, Kelly Brewster, commented:
"The volume and quality of applications to Wolf has been simply incredible. From true 'decentralized finance,' to infrastructure, social media, payments and more, the teams joining Wolf are moving Bitcoin forward across a wide variety of frontiers."
It's very early days in so many of these areas, but the possibilities seem almost endless.
Regulation
Keep your eyes on an amicus brief filed by Coinbase as part of its defence of former employee Ishan Wahi against insider trading charges. First, it highlights important questions about what qualifies as an "investment contract". Secondly, as this LinkedIn pieceobserves:
"…the brief argues that the SEC's current approach to regulating digital assets through ad hoc enforcement violates fair notice, due process, and the Administrative Procedure Act."
Lastly, there will be questions about whether the Howey Test is relevant in determining whether or not crypto assets qualify as securities. A lot to unpack, but in the light of Lord VoldeGensler's unilateral bullying of the industry (which has manifestly backfired looking at crypto price action), it's a huge relief to see the arguments being taken into a court of law.
SHAKERS
Arbitrum (ARB)
Arbitrum, a popular Ethereum Layer-2 scaling solution announcedon 16 March, that they are going to launch their native token, ARB, through an airdrop.
Arbitrum is working with the crypto analytics firm, Nansen, to identify the potential eligible users for the airdrop by analysing user activity in February. ARB tokens will provide governance rights to token holders, officially transitioning Arbitrum into a DAO. We believe that governance tokens are not as valuable as some believe and may not perform as well as expected. Although it is still early, it is likely that Arbitrum will need to enhance the ARB tokenomics to generate sustainable demand.
MakerDAO (MKR)
On 16 March, Maker's governance passed a proposal to raise its debt ceiling, which is the maximum amount of DAI that can be minted against the collateral in a vault, by $700m. This proposal is an extension of a current $500m US Treasury allocation managed by the DeFi asset adviser Monetalis Clydesdale since October 2022.
The purpose of this proposal is to increase Maker's exposure to real-world assets by using this amount to invest in US Treasury bonds. The proposal also highlighted that it would:
"allow Maker to take advantage of the current yield environment, and generate further revenue on Maker's PSM (Peg Stability Module) Assets, in a flexible, liquid, manner […] every biweekly this strategy accrues (roughly) yield of 750M x 4.5% x 2/52 = 1.3M to Maker given continued roll-over".
The proposal passed with 77% of the votes being in favour, highlighting strong community support.
ImmutableX (IMX)
ImmutableX is a Web3 gaming platform and NFT marketplace. Its native token, IMX, is currently among the five 5-star token trends on ByteTrend against BTC. In fact, IMX has risen over 280% in US$ YTD. This increase can be attributed to the platform's strong tokenomics.
IMX is primarily used to cover 20% of the trading fees on the platform. If a trader does not own IMX, the equivalent amount of 20% of their fees in any other tokens or currency will be used to purchase IMX from the market. Additionally, IMX holders can stake their tokens to earn 20% of the fees generated on the platform, and the token also offers governance rights to holders.
The platform has advertised four upcoming tokenomics upgrades that will "change the $IMX fundamentals forever", adding a sense of mystery to the developments. However, it is unclear whether these changes are a legitimate attempt to improve the tokenomics or a marketing tactic. Regardless, we are closely monitoring ImmutableX and its upcoming upgrades to determine if it is a suitable candidate for ByteFolio.
Blur (BLUR)
Blur is an NFT marketplace that has recently surpassed OpenSea in terms of trading volume. According to DappRadar, Blur has seen $1.8 billion in transactions over the past 30 days.
The platform is seen as the go-to marketplace for professional traders. Its sleek interface, analytical tools and floor-sweeping capabilities have made it easier to perform frequent trades. In addition, Blur offers zero platform fees and optional royalties, making it a cheaper alternative to its competitors. However, its user base remains niche, comprising a smaller number of more active traders than OpenSea.
Blur's success is for reasons that may not be recurring, so the race to become the largest NFT marketplace rages on. Marketplaces are currently competing intensely for customers, leading to the steady decline in enforcement of royalty fees, a primary source of revenue for many NFT creators who feel betrayed by the marketplaces that once championed them. Additionally, the lack of royalties and marketplace fees on Blur could lead to users "farming" points to earn tokens by buying their own listings using a different wallet, which could lead to artificially propping up sales volume in a disingenuous way.
As of now, OpenSea still remains more popular than Blur, with a larger user base of 237,290 over the last 30 days compared to Blur's 108,920. Despite OpenSea's previous commitment to support royalties, it announced on 17 February that royalties above 0.5% are now optional, for a limited period, to compete with Blur's sudden rise to fame.
ByteFolio Performance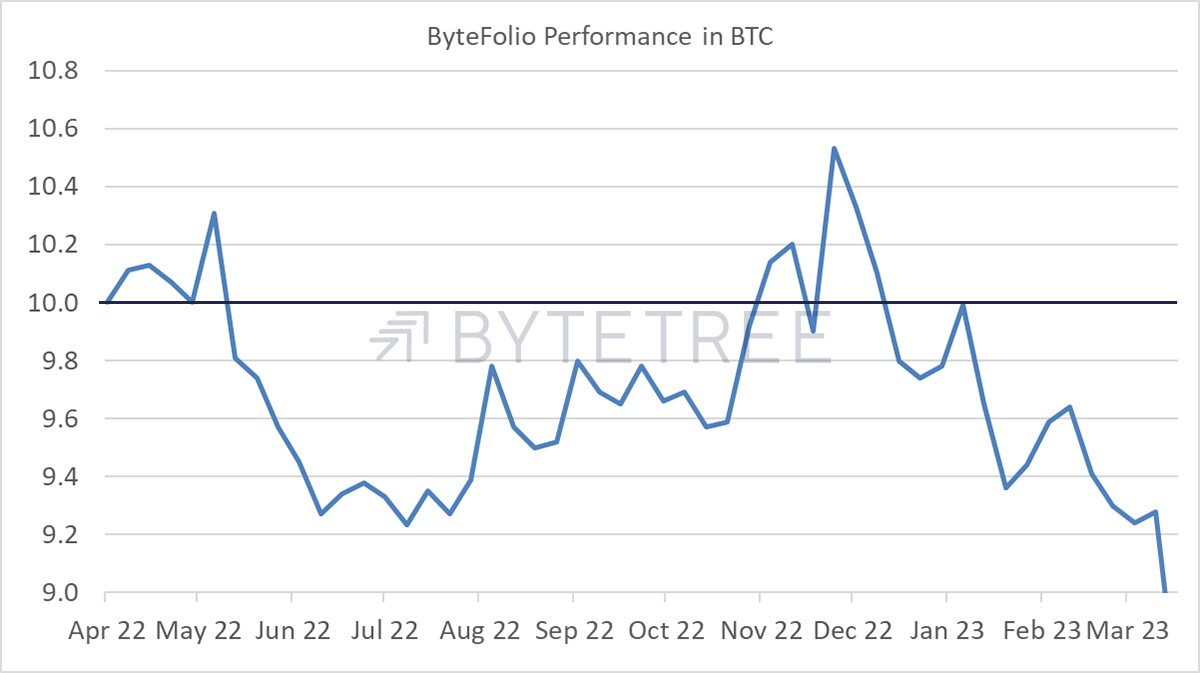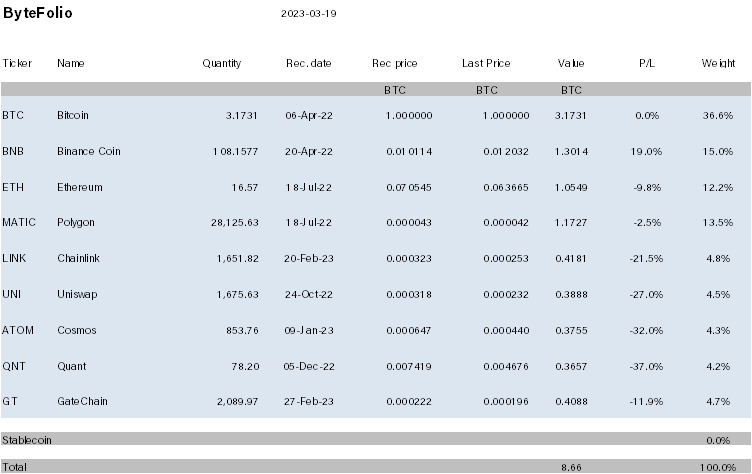 ByteFolio Asset Allocation