Disclaimer: Your capital is at risk. This is not investment advice.
Token Takeaway: OKB Token
The collapse of FTX has developed much uncertainty and security concerns in the crypto industry, particularly among exchanges. However, some exchanges offer high levels of security and transparency for their customers, and OKX is one of them. With over 20 million registered users, OKX is renowned for its wide range of trading tools and services, advanced security measures, and billions in weekly trading volume. In this article, we will examine the fundamentals of OKX and its utility token, OKB, as well as the ecosystem's native blockchain, OKC.
Overview
Launched in 2017 by Star Xu, OKX is one of the largest and most trusted centralised digital asset exchange platforms in the world. Headquartered in Malta, OKX operates in over 100 countries and serves millions of registered users worldwide. OKX aims to eliminate financial and technological barriers by building a blockchain-powered, secure, simple, and efficient financial services and trading ecosystem. The platform offers spot, derivatives, and margin trading for over 350 listed tokens, a secure Web3 wallet, NFTs, bot trading, mining pools and crypto loans.
In addition to the global crypto exchange, the OKX ecosystem also consists of a layer-1 blockchain platform called OKC. OKC is an open-source, multi-purpose decentralised ledger used to build and host complex smart contracts and decentralised applications.
OKC and OKT
The OKC blockchain was built using Cosmos's tech stack. It is 100% compatible with the Ethereum Virtual Machine (EVM) and fully interoperable with the Cosmos Inter‐Blockchain Communication protocol (IBC), allowing it to seamlessly interoperate on the Ethereum and Cosmos ecosystems.
It leverages Tendermint and a Delegated Proof-of-Stake (DPoS) consensus mechanism for network security and provides a throughput of up to 2000 TPS. Tendermint is a unique protocol that provides a consensus engine to validate transactions and an Application Blockchain Interface (ABCI) that connects applications to the generic Tendermint engine. You can read about Cosmos and Tendermint in a previous Token Takeawayon Cosmos.
The native token of the OKC blockchain, OKT, is used to pay transaction fees on the blockchain, gain governance rights, and reward validators and delegators through token inflation. Numerous applications are currently built on OKC in multiple sectors, including DeFi, NFTs, GameFi, Tools, and Bridges.
OKC Ecosystem Projects
| | |
| --- | --- |
| DeFi | CherrySwap, Flux Protocol, WePiggy, Autofarm |
| NFTs | Envelop, AcknoLedger, Flair, tofuNFT |
| GameFi | Celestial, Shambala, CryptoBlades |
| Web3 | Pocket Network, XDAO, X Protocol, Band Protocol |
| Tools | DEXTools, Footprint Analytics, Ankr, Poly Network |
| Bridges | Multichain, Celer cBridge, Li.Fi, Wanchain |
Source: OKC.
According to OKLink explorer, the network has processed over 130 million transactions, valued at over $65m at the current price. The network has just under 90 million addresses, of which only 2.7 million are active, and 3.6 million hold OKT tokens. Moreover, the network is considerably slow-running with a TPS of 0.46 and 3.8 seconds in average block time. The ecosystem's total value locked (TVL) is around $129m, down from $2.1bn, its all-time high, on 4 August 2021.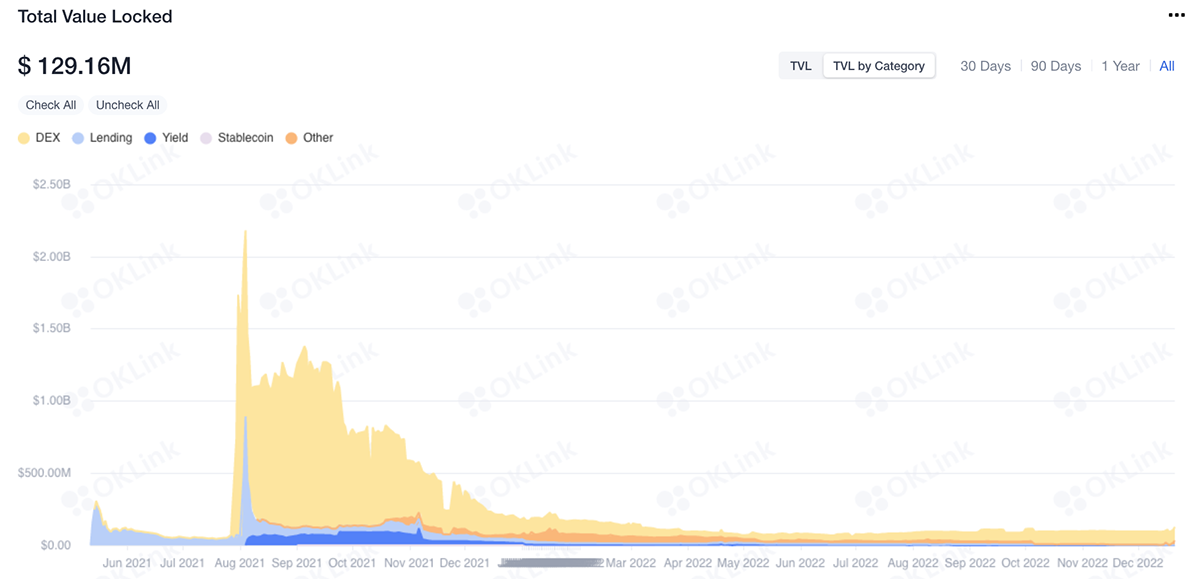 Source: OKLink. OKC TVL.
Security
In November 2022, one of the biggest frauds in the history of crypto was uncovered when global crypto exchange FTX declared bankruptcy following a liquidity crisis caused by insufficient reserves to fulfil withdrawal demand. The main issue was that FTX had misused the customer funds, thereby violating their terms of service. This event caused severe panic, volatility, and uncertainty throughout the market.
David Z. Morris, CoinDesk's chief insights columnist, puts it perfectly:
"Perhaps most perniciously, many outlets have described what happened to FTX as a "bank run" or a "run on deposits," while Bankman-Fried has repeatedly insisted the company was simply overleveraged and disorganized. Both of these attempts to frame the fallout obfuscate the core issue: the misuse of customer funds."
To increase user trust and provide enhanced security, a concept called proof of reserves (PoR) was introduced, where crypto exchanges publicised their reserve assets (wallet addresses and other proofs), which represent a 1:1 reserve of all customer assets on the platform. OKX created a PoR page on their website, which shows its reserve assets and an audit tool to help users verify their assets. Moreover, high net worth and institutional clients on OKX can leverage Independent Custodial Wallet to secure their funds separately from the reserves while being in control of the private keys to their funds.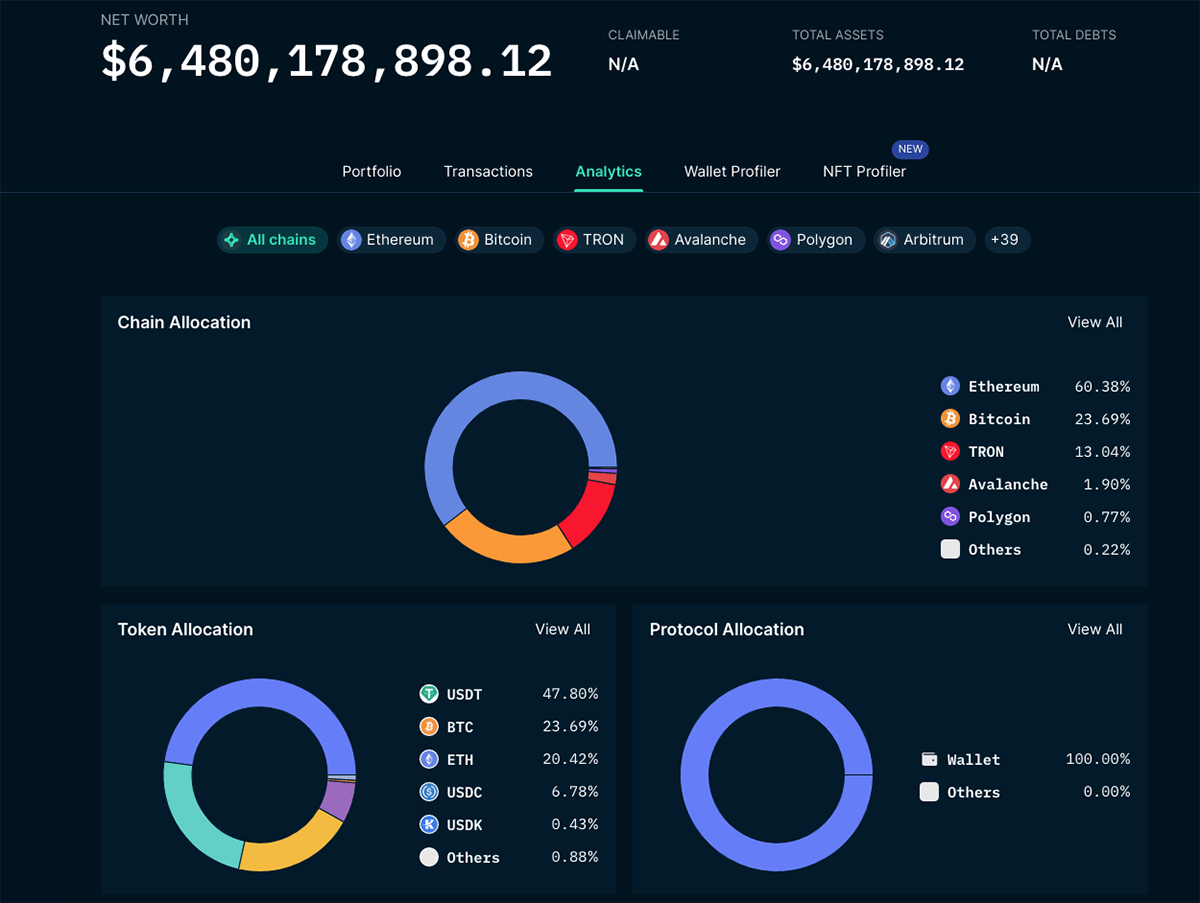 Source: Nansen Portfolio. A comprehensive breakdown of OKX reserves.
As we can see above, OKX has over $6.4bn in reserves, with USDT (47.8%) and BTC (23.6%) being the top holdings. Another point to note; since OKX is a private company, we're still unaware of their liabilities.
According to a blog post published by OKX in March 2021, 95% of the funds on OKX are stored in cold wallets. OKX cold wallets are different from regular cold wallets, as the private keys are kept on computers that are not connected to the internet and do not have any removable storage devices (USB drives). The private keys for OKX cold wallets are encrypted using Advanced Encryption Standard (AES), a type of encryption algorithm that is widely used by governments and financial institutions. This adds an extra layer of security to the wallet, ensuring that the keys cannot be accessed without the proper decryption key. Moreover, these keys are also backed up on paper and stored in different locations to prevent any loss or theft. This combined process ensures the maximum online and offline security of the OKX cold wallets and user funds.
Tokenomics
OKB, the native utility token of the OKX exchange, was launched in March 2018 as an ERC-20 standard. Initially, 300 million of the total 1 billion tokens were released to the public. Subsequently, on 4 May 2019, OKX initiated a token buy-back and burn program to boost OKB's value and demand. Since then, the OKX team has been conducting a quarterly token burn using 30% of all the spot trading fees on the exchange. Currently, 48.3 million OKB tokens, valued over $1bn, have been burned.
In a surprising turn of events in September 2020, Jay Hao, CEO of OKX, announced that the 700 million unreleased OKB tokens would be burnt. This significantly reduced the total OKB supply and officially made the token deflationary. As of now, the OKB circulating supply is around 251 million.
The OKB token provides utility both on and off the OKX exchange. OKB holders can:
receive up to 40% discount on trading fees
participate in the OK Jumpstart Initial Exchange Offering (IEO) platform
gain voting rights to list tokens on OKX
do staking and receive fixed income options on OKX with up to 5% APY
Moreover, OKB can also be used on third-party applications like CertiK, Bitpie, Cobo, BitTorrent, and AIchemy Pay, to name a few.
Despite the current market conditions, the OKB token has performed really well thanks to its strong fundamentals, which include decent utility, a limited supply of tokens due to regular burning, advanced security measures to protect users, and a reserve of over $6.4bn in assets. OKB scores a 5-star on ByteTrend against USD, BTC and ETH, as shown below.

Source: ByteTrend. ByteTrend score for OKB (blue fill) and price (green) in USD.

Source: ByteTrend. ByteTrend score for OKB (blue fill) and price (green) in BTC.

Source: ByteTrend. ByteTrend score for OKB (blue fill) and price (green) in ETH.
As illustrated by the ByteTrend scores, OKB has a strong bullish trend against all three major assets.
Regulatory Limitations
Regulators are more aggressive than ever, particularly in the wake of the FTX collapse. OKX has already faced severe limitations due to global regulatory issues. The exchange is currently banned in the US, Singapore, Cuba, Iran, Malaysia, Syria, Ontario and Quebec (Canadian Jurisdictions), Bangladesh, Bolivia and Malta. Additionally, the exchange also has restrictions in the UK and Hong Kong regarding its derivative services. This drastically limits the exposure of OKX to users in these regions. Although proper regulation could enhance user security, it's not yet clear how regulators around the world will react in the coming months when the extent of the FTX damage is uncovered and evaluated.
Partnerships
Crypto companies often invest heavily in marketing and PR, and OKX is a prime example. In addition to being the official cryptocurrency exchange partner of Manchester City, OKX has also signed a multimillion-dollar deal to sponsor the team's training kit for the 2022-2023 season. This deal, which was reportedby Forbes, is worth over $20 million. Additionally, OKX is also the sponsor and official primary partner of the Formula 1 team, McLaren Racing.
In addition to that, OKX also has high-level partnerships with TOKEN2049, TradingView, the South China Morning Post, Abu Dhabi Finance Week, Scotty James (Australian Olympian), and many more. All these sports and event sponsorships are anticipated to be seen by millions of people around the world, raising OKX brand awareness among viewers.
Conclusion
After the collapse of FTX, security and transparency have become essential to users. OKX focuses on these aspects with unique cold wallets and transparent Proof-of-Reserve mechanisms, which are really attractive to new users. However, regulatory limitations and market uncertainty remain the top concerns. Despite these challenges, and thanks to the strong tokenomics and over $6.4bn in reserves, OKX and its utility token OKB stand prominent in the industry.