Disclaimer: Your capital is at risk. This is not investment advice.
ByteTree's Crypto Leaders
ByteFolio brings together ATOMIC, ByteTrend and Token Takeaway to create ByteTree's model portfolio, known as ByteFolio. This is a selection of crypto tokens, which are weighted according to their risk/reward characteristics. ByteFolio has a modest turnover and will not suit traders. It will appeal to investors who wish to diversify beyond bitcoin, with the aim to beat it.
Steady as she goes
ByteFolio has fractionally lost ground against BTC this week, trading at B10.33. We add a new position for the first time in a while, initiating QNT at 5%.
There have been no outsize moves among our portfolio constituents. ETH, BNB, MATIC, LINK and UNI make up 5 of the top six 5-star ratings vs BTC on ByteTrend (sorted by market cap), with Monero (XMR) in 9th place and CAKE in 14th. It's a strong-looking portfolio. The fewer changes we need to make, the better, as this means the trends are strong, and the process is working.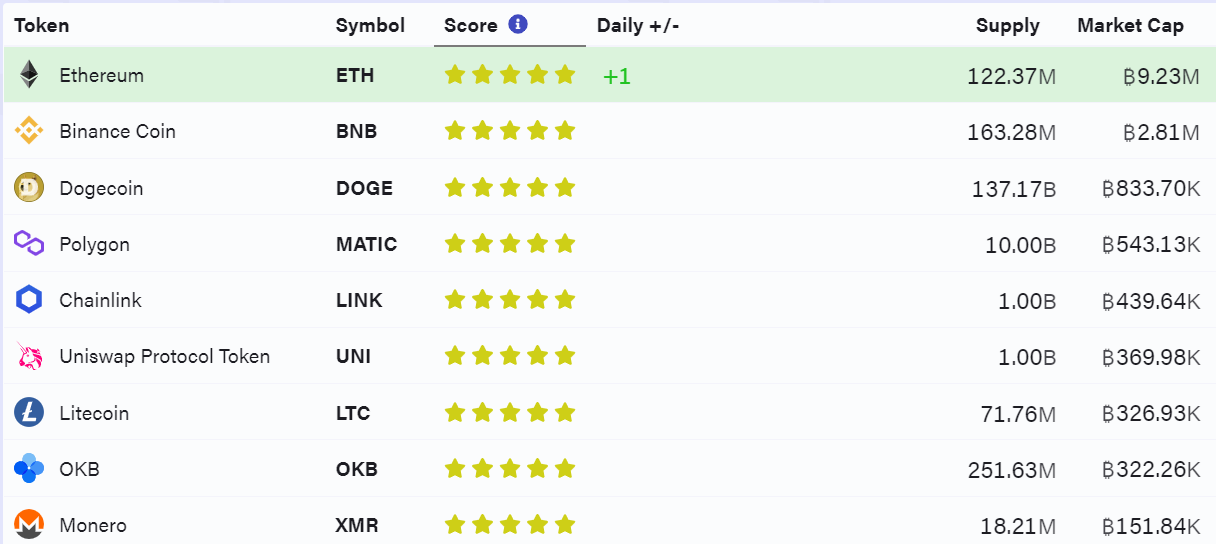 The only holding not on 5 stars in BTC is ATOM, which is on 1 star. We're not overly concerned about it at the moment but, as mentioned last week, are watching closely. The rejection of the 2.0 upgrade has clearly had an impact on sentiment in the short term. Like others, we have concerns about ATOM's ability to monetise and it might be that the community will have to demonstrate that this will happen rather than rely on the presumption that it might.
We also take the opportunity to add QNT into the portfolio, the token of the Quant project. Readers will know that we have been watching QNT closely for a while and like it a lot. You can read more about it here. We felt we had missed it earlier when it spiked to over US$200, but there has been a sharp pull-back, and it is no longer overbought. As can be seen, it has resumed an upward trend and now resides on 4 stars. The purchase will be funded by a reduction in BTC.

Source: ByteTree. ByteTrend for Quant (QNT) relative to Bitcoin.
Movers & Shakers
Movers (inside the portfolio)
Uniswap (UNI). Uniswap, the largest Decentralised Exchange (DEX) in the space, recently acquired Genie, the first NFT marketplace aggregator on Ethereum, and launched its own NFT marketplace. To incentivise new users, Uniswap has announced a $5m USDC airdrop for previous Genie users and a gas rebate for the first 22k Uniswap NFT marketplace users. This is definitely a bullish indicator for Uniswap, given it has penetrated an entirely new market and unlocked the potential to onboard thousands of new users.
Shakers (outside the portfolio)

Source: ByteTree. ByteTrend for Litecoin (LTC) relative to Bitcoin.
Litecoin (LTC). We've been wondering why Litecoin has been experiencing a recent bout of strength. It's not an investment we like, and we suspect it will drift into obscurity over time. Perhaps it's that it is due to undergo its third halving event on August 3, 2023. At the current inflation rate, approximately 5 Litecoins are issued every minute. Eager investors may have started to accumulate the asset, anticipating a repeat of price spikes in previous halvings. Before getting overexcited, it's worth glancing at the long-term performance relative to BTC (above chart). Yes, there were spikes in 2015 and 2019, but they were short-lived, and we've been in a downtrend ever since. We'll pass on LTC, although it's perhaps a good omen for how investors will think as we creep towards the next bitcoin halving in April 2024.
Ripple (XRP). Effective from January 2023, the Coinbase wallet will no longer support Ripple (XRP), Stellar (XLM), Bitcoin Cash (BCH), or Ethereum Classic (ETC) tokens and their respective networks. In the case of BCH (and Litecoin, for that matter) it's a conclusion we reached at ByteTree two years ago. The reason given by Coinbase is "low usage". XRP and XLM are both primarily used as payment tokens, and currently rank 7th and 25th largest, respectively, in terms of market cap. Coinbase is one of the largest and most reputable exchanges in the industry, and if they are right about low usage, it's a concern, especially for Ripple (XRP), given it is worth around a massive $19.7bn.
Crypto breadth is improving. Good to see the red skies retreating in the chart below. This shows the space picking itself off the canvas again after the recent FTX-related drop. That said, it would be good to see the dark blue zones at the bottom of the chart start to pick up, something we haven't seen for a while.

Source: ByteTree. ByteTrend Crypto Breadth in USD.
ByteFolio Performance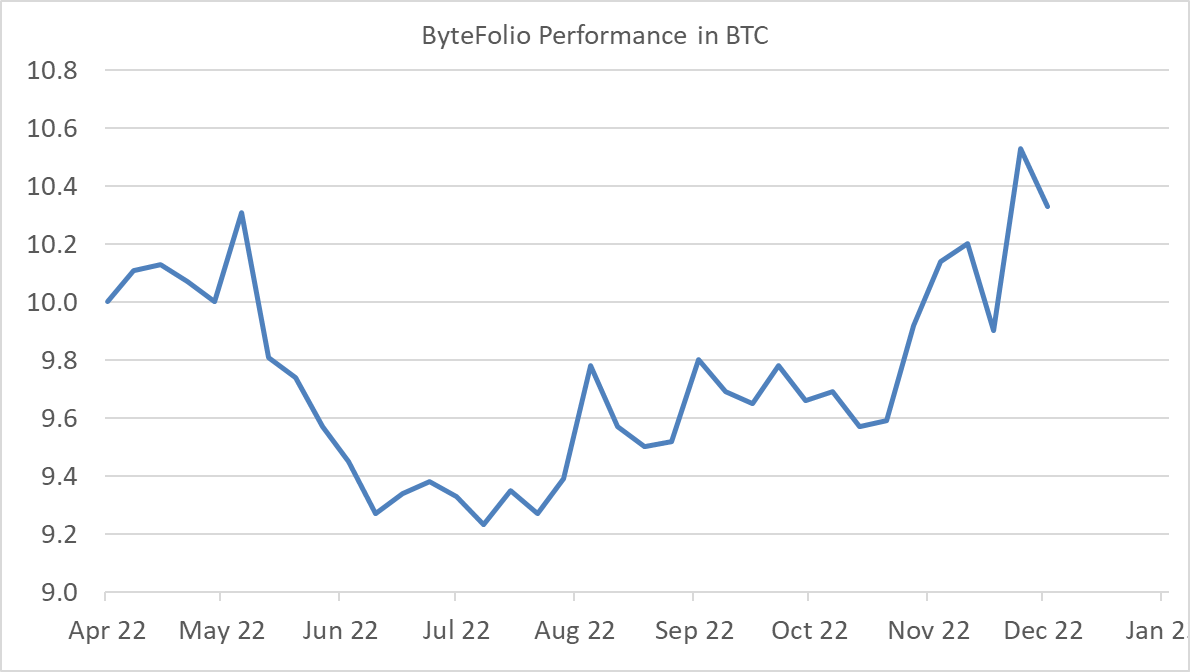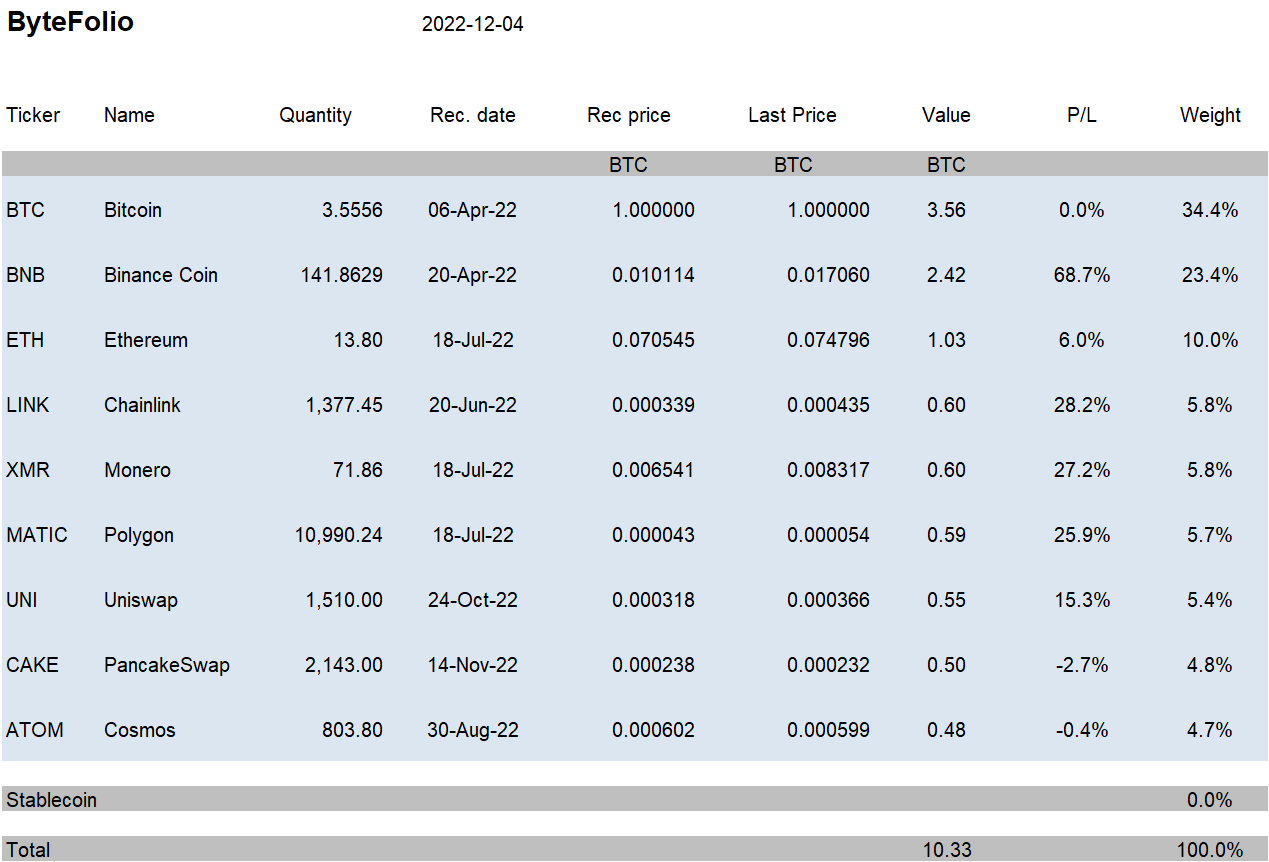 ByteFolio Asset Allocation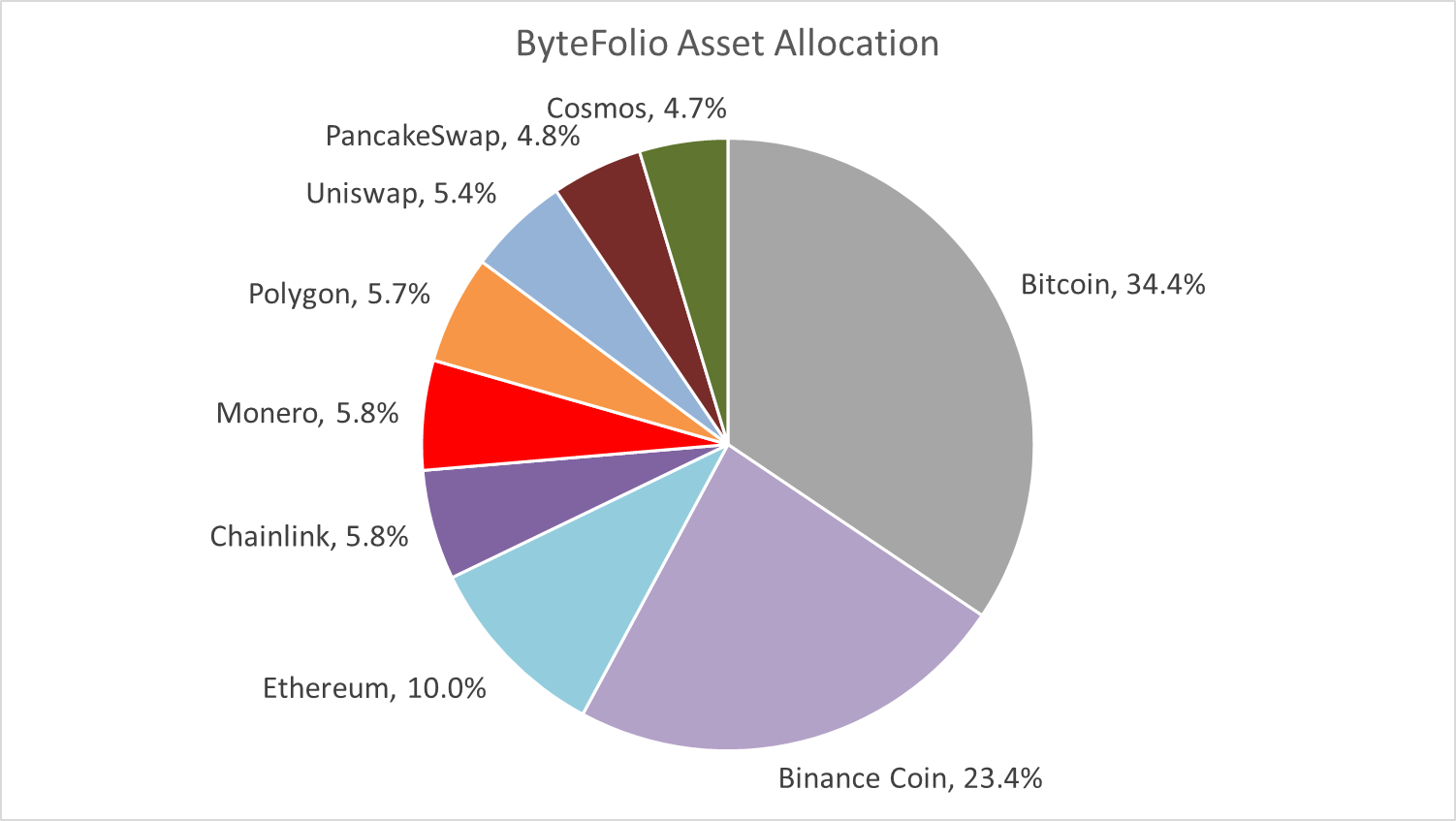 Action: Buy QNT to 5%, sell 5% BTC to 29.4%