Disclaimer: Your capital is at risk. This is not investment advice.
ByteTree's Crypto Leaders
ByteFolio brings together ATOMIC, ByteTrend and Token Takeaway to create ByteTree's model portfolio, known as ByteFolio. This is a selection of crypto tokens, which are weighted according to their risk/reward characteristics. ByteFolio has a modest turnover and will not suit traders. It will appeal to investors who wish to diversify beyond bitcoin, with the aim to beat it.
It's been a good week for ByteFolio, which now sits at 10.53 BTC. It's a healthy sign that despite being in a miserable crypto winter, we are able to find positive dispersion in the space. It's not just about the big two, BTC and ETH. Indeed, the portfolio's real hero has been BNB, the Binance Coin, which has risen 87% in Bitcoin since we introduced it on 20 April. It now makes up 25% of the portfolio and remains in a strong relative uptrend.
No changes to the portfolio this week. Chainlink has regained its 5-star status as news of staking was released, while BNB, ETH, XMR, UNI, CAKE, and MATIC remain on 4-5 stars. The only slight laggard remains ATOM, but there isn't the sort of major breakdown such as the one we saw from FTT a few weeks ago.
Chainlink Regains 5-Star
Source: ByteTree. ByteTrend for Chainlink (LINK), in BTC, over the past six months.
ATOM Is Weak but Not a Major Concern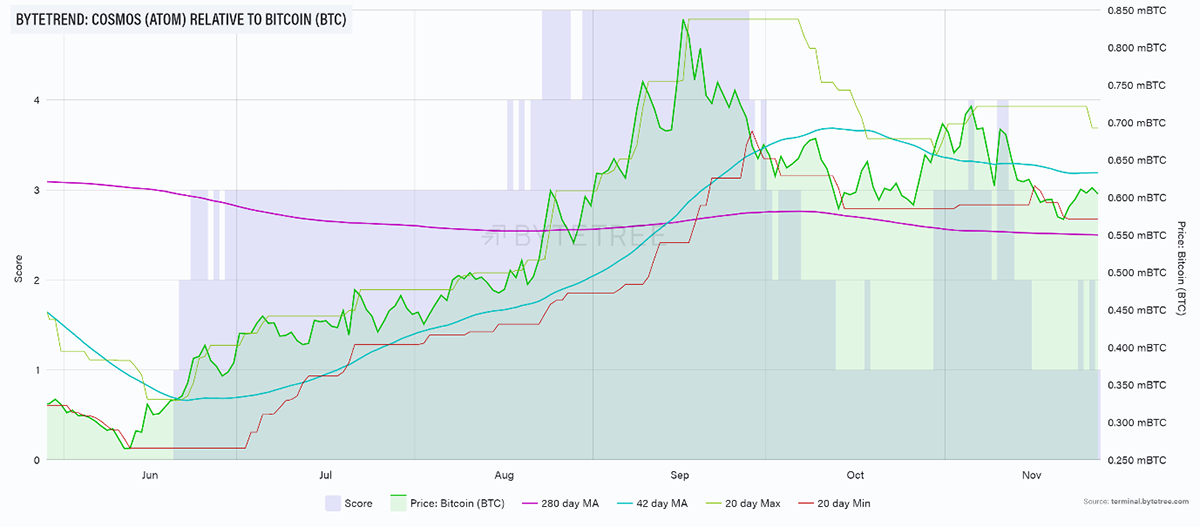 Source: ByteTree. ByteTrend for Cosmos (ATOM), in BTC, over the past six months.
Movers & Shakers
Movers & Shakers draw attention to any important developments to portfolio holdings, as well as any interesting developments that we are drawn to outside the portfolio. It gives you a clearer idea of what we're thinking and why, and how we're expressing that (or not!) in the model portfolio.
Movers (portfolio holdings)
Bitcoin (BTC)
Two things of note in the on-chain activity, both bearish. First, the spike in activity that triggered a move to BULL in the Network Demand Model has failed to follow through. Consequently, the model slips back from 5/6 to 3/6, which is neutral. Second, we see a continued increase in the block interval. This tells us that miners are turning off their machines and walking away. Not really surprising given the falling price and high energy prices. The next difficulty adjustment is expected to be on 6 December, so perhaps that will bring some relief.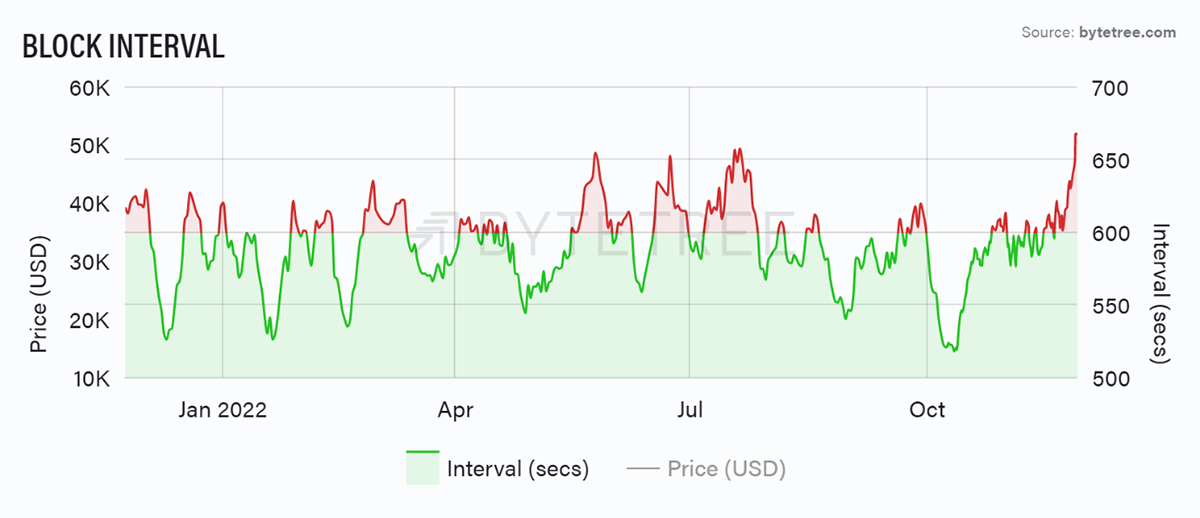 Source: ByteTree. Bitcoin block interval (secs) over the past year.
Ethereum (ETH)
There's been a lot of noise on Twitter this week concerning the date when staked ETH can be withdrawn. The lack of a firm date could obviously become a concern if stakers felt they would be locked in indefinitely. However, this looks much more like a delay (something ETH-watchers are used to) than some entrapment. There is still plenty of discussion around what will be included in the next upgrade, called Shanghai. Still, Tim Beiko of the Ethereum Foundation statedcategorically to CoinDesk that "there hasn't been any change to Withdrawals' status: they are included in the next network upgrade, as can be seen in the specs for both the execution and consensus layer." Basically, it looks like we can ignore the negative rumours and look forward to continued upgrades to the ecosystem. Much better to do these things slowly and properly than hurry and make a mistake.
Chainlink (LINK)
This week, Chainlink announced that staking would be launched on 6 December. Chainlink enthusiasts (or "link marines", as they self-identify) have been waiting for this for a while. If the markets weren't so depressed, one suspects the price reaction might have been more spectacular. Still, in the event, LINK has had a nice bounce relative to BTC and retains its 5-star status. LINK holders will now be able to "earn rewards for helping increase the cryptoeconomic security of oracle services". Although this is a beta launch, it is a significant moment on the Chainlink journey. As the upgrade paper concludes, the launch is "an inflection point for both the Chainlink Networks' security and its economic design". In conjunction with other programmes, it continues by claiming that "the Chainlink ecosystem is entering its next stage of sustainable growth, increased cryptoeconomic security, and entirely new levels of value capture across the network".
Shakers (outside the portfolio)
Tron (TRX)
TRX currently scores 5 stars against BTC on ByteTrend. This performance reflects its strong fundamentals. According to data from TRONSCAN, the daily on-chain transactions on the network have seen gradual growth since October 2021, reaching over 7 million transactions on multiple occasions. With over 124 million active accounts, total transactions have now reached over 4.3 billion.
Moreover, except for one day (11 September 2022), TRX tokens have consistently been burnt since 28 October 2021. The supply has now reached a low of around 92 billion, down from over 101 billion in April 2022. Additionally, the ecosystem has over $4.7bn in TVL and over $2.1bn worth of TRX staked.
Although the network health and TRX supply metrics are impressive, we maintain a view that the risk around USDD and the TRX burn-and-mint mechanism remains. Nevertheless, it might be that we're overly cautious. We'll be keeping a close eye on TRON for any noteworthy events, especially concerning USDD and TRX.
ByteFolio Performance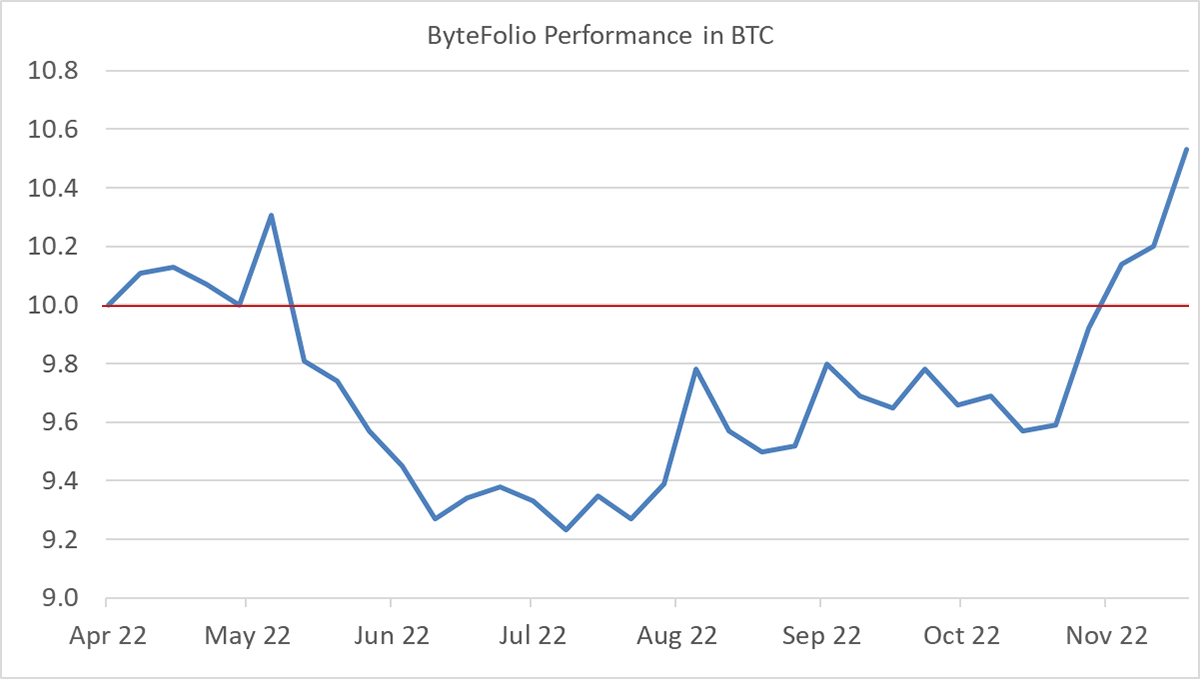 ByteFolio Asset Allocation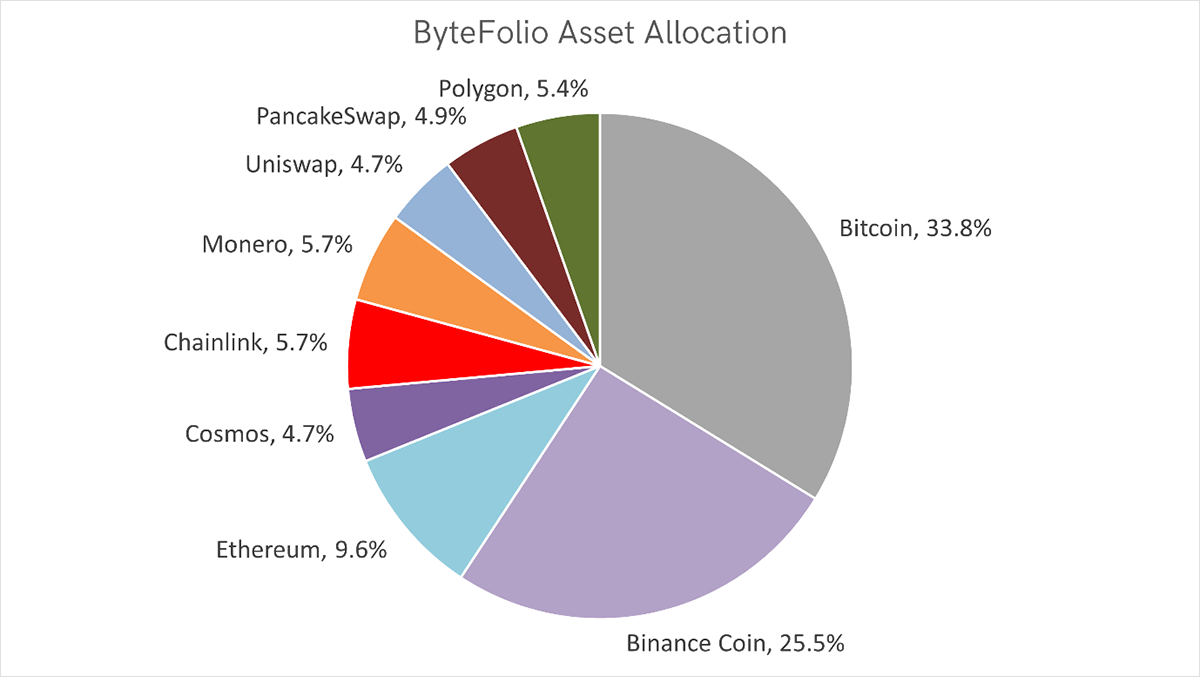 Action: no action