Disclaimer: Your capital is at risk. This is not investment advice.
ByteTree's Crypto Leaders
ByteFolio brings together ATOMIC, ByteTrend and Token Takeaway to create ByteTree's model portfolio, known as ByteFolio. This is a selection of crypto tokens, which are weighted according to their risk/reward characteristics. ByteFolio has a modest turnover and will not suit traders. It will appeal to investors who wish to diversify beyond bitcoin, with the aim to beat it.
From Centralised to Decentralised
Selling GateChain (GT), Buying PancakeSwap (CAKE)
With mayhem continuing on crypto exchanges, we have decided to sell the GateChain Token (GT) in ByteFolio. This is a risk management exercise as the sector comes under increased scrutiny following the collapse of FTT (FTX token). GT has dropped to 2* from 5* in BTC and will probably move lower.

Source: ByteTree. ByteTrend for GateChain Token (GT) in BTC over the past 6 months.
If centralised exchanges are the problem, then decentralised exchanges are the solution as they embrace self-custody. Ali wrote this pieceon PancakeSwap (CAKE) in September. CAKE (5* in BTC) has come out of this crisis stronger, and having deliberated, it is time to move.

Source: ByteTree. ByteTrend for PancakeSwap Token (CAKE) in BTC over the past 6 months.
PancakeSwap is the largest Decentralised Exchange (DEX) on the BNB Smart Chain. The number of trades on the platform in the last 30 days has more than doubled compared to September. This is mostly due to many CEX users shifting towards using DEXs after the FTX collapse.
This is a new theme. The market has spoken, and we are adding 5% CAKE to ByteFolio.
On Bitcoin
Bitcoin has dropped to $16k, which is below June's low. The surprise is how crypto slumped in a week that saw the stockmarket surge. In my opinion, crypto would have been at the forefront of the market rally had the FTX story not broken.
Bitcoin (BTC 0* in USD)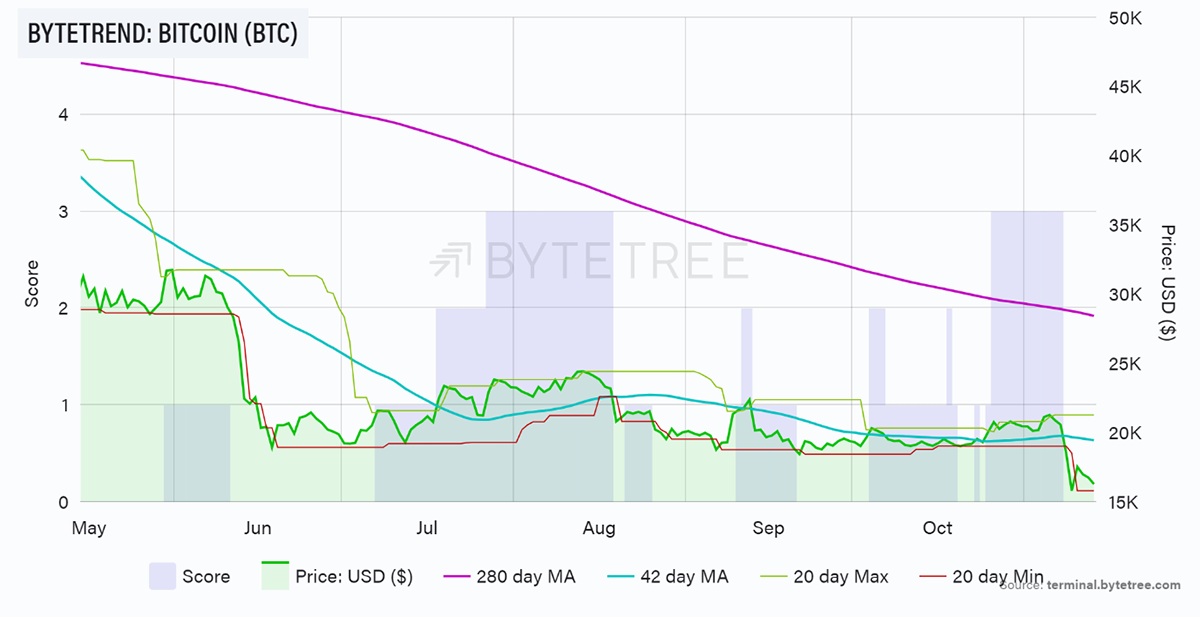 Source: ByteTree. ByteTrend for Bitcoin (BTC) in USD over the past 6 months.
Last week, we had a slumping dollar and a revival of animal spirits with a rally in tech stocks. This would normally be taken well by crypto. Yet the Grayscale discount has widened to 41.7%. This is absurd.
GBTC discount is extreme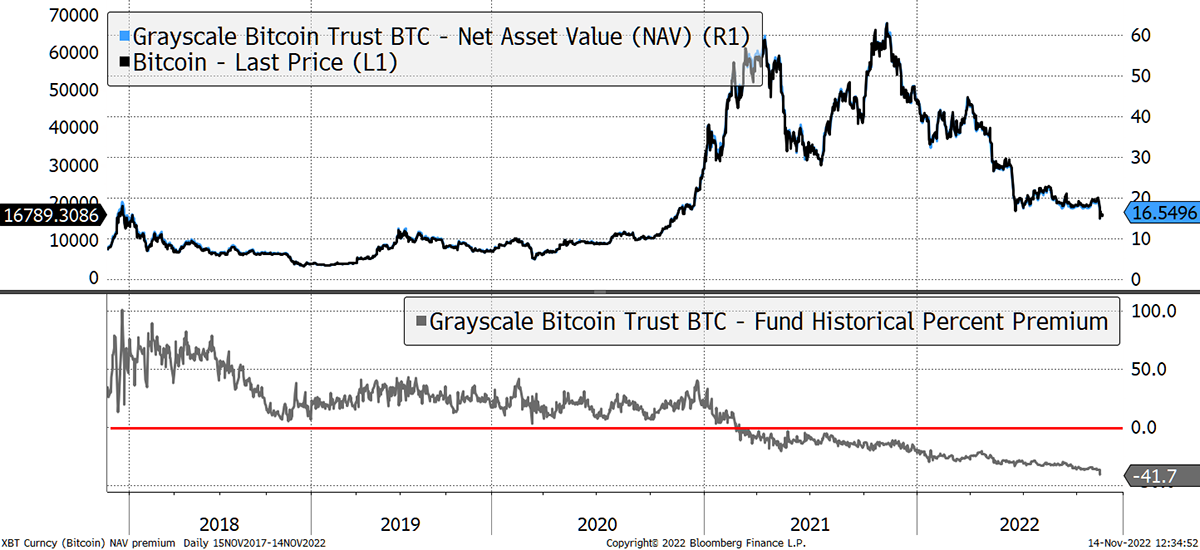 Source: Bloomberg
ByteFolio has done a reasonable job over the past 33 weeks. 10 BTC became 10.2 BTC, which is modest, but there have been three crashes during that short space of time in May (Terra Luna), June (Macro) and last week (FTX).
Nevertheless, it is proof of concept, and when the bull finally returns, the ByteFolio investment process will be ready to roll. We are relieved to be in positive territory.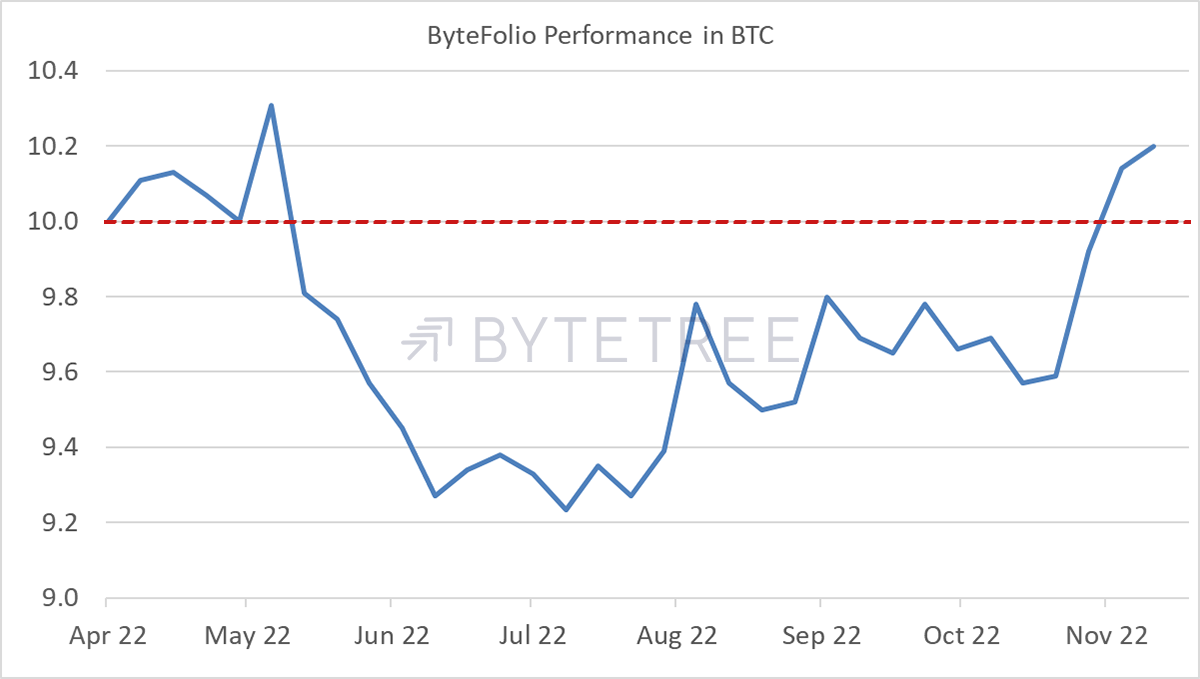 BYTETREND - MOVERS & SHAKERS
Movers:
Cosmos (ATOM) and Chainlink (LINK) have also dropped to 2* in BTC, but given they are not in the line of fire, we will sit tight.
Monero (XMR 5* in BTC) has had a good crisis and is on the verge of a two-year high. There aren't many credible PoW coins left, but XMR seems to be on the list alongside BTC. This chart looks increasingly strong.

Source: ByteTree. ByteTrend for Monero (XMR) in BTC, since 2016.
Shakers:
The fall of FTX has caused its users to lose all of their deposits on the exchange. But in a recent tweet, FTX announced that they have made a special arrangement with TRON's founder, Justin Sun. Users holding TRX, JST, SUN, BTT, and HT (TRON ecosystem tokens) on the FTX exchange, will now be able to redeem these tokens to external wallets. No doubt that this arrangement will also greatly repair Justin Sun's reputation.
On the flip side, USDD, the TRON ecosystem's decentralised stablecoin, lost its peg and made a low of around 97 cents. As a reminder, we sold our ByteFolio TRX holdings on 12 September, 2022, in anticipation of a USDD depeg.
Following the FTX fiasco, Binance's CEO, Changpeng "CZ" Zhao, has called on the crypto community to consider self-custody of their digital assets using Trust Wallet, which has catapulted Trust Wallet's native token, TWT, to a new all-time high. We previously reviewedTWT in August 2022, and it's worth noting that Binance acquired Trust Wallet in 2018.
Speaking of Binance, CZ tweeted that Binance is creating an industry fund that aims to reduce the cascading adverse effects created by the collapse of FTX by helping projects described as "strong, but in a liquidity crisis."
Crypto.com's (CDC) native token, CRO, native token made a low of around 55% in the last 7 days. In fact, it is down around 95% from its all-time high in November 2021. The recent blood bath is mostly due to the allegations of CDC faking its reserves and being in financial trouble. Supposedly, they have "accidentally" transferred 85% (around $400m) of their ETH reserves to Gate.io, which definitely seems very suspicious. Moreover, the exchange's second largest reserve holding, 20% of their portfolio, is a "Meme Coin", Shiba Inu (SHIB). Having such a large exposure to a meme coin which surges and plummets following tweets from Elon Musk, is a risky choice.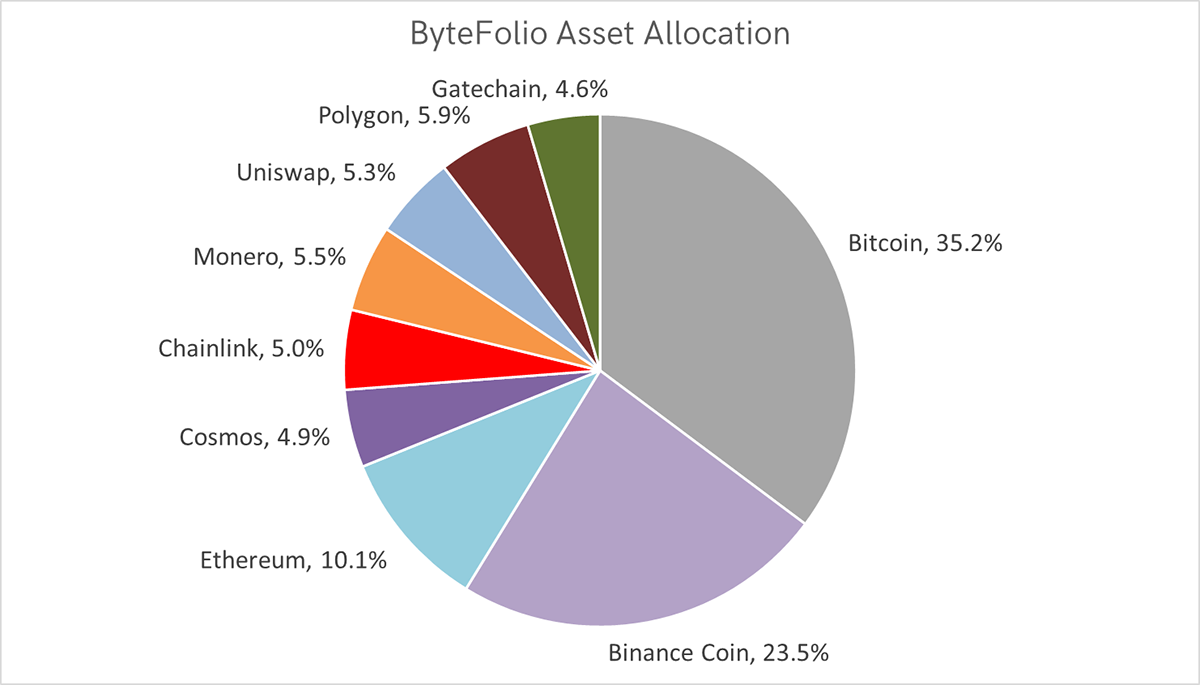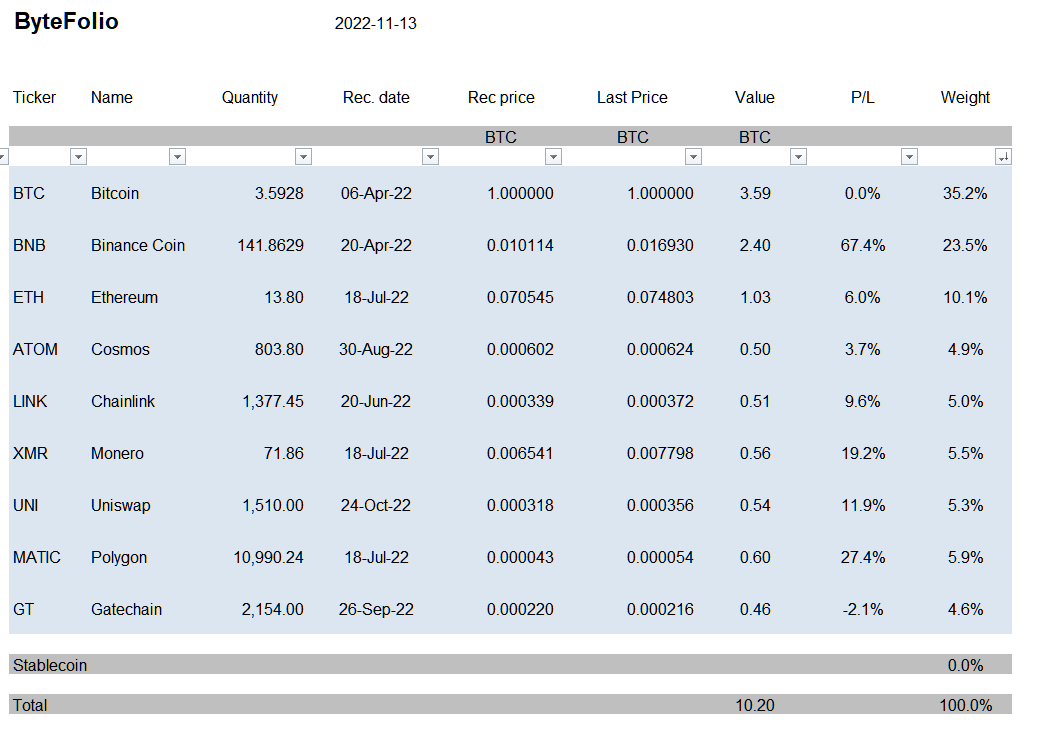 Action: ByteFolio sells GateChain Token (GT) and buys 5% PancakeSwap (CAKE)