Disclaimer: Your capital is at risk. This is not investment advice.
ByteTree's Crypto Leaders
This week we introduce "Movers & Shakers" to ByteFolio. Movers & Shakers will draw attention to any important developments to portfolio holdings, as well as any interesting developments that we are drawn to outside the portfolio. It will enable us to give you a clearer idea of what we're thinking and why, and how we're expressing that (or not!) in the model portfolio.
This week, FTT, the token of the FTX Exchange, will be sold, the proceeds going back into BTC. Relative to bitcoin, the price has broken down nastily and moved to zero stars. We see that Binance has elected to sell its FTT holdings, and while fans of FTX will doubtless argue its case, we are happy to step aside for the time being.
A big part of the ByteFolio process is risk management. We don't pretend to be all-seeing. If the process is telling us to sell, we will do that and happily return again if things pick up.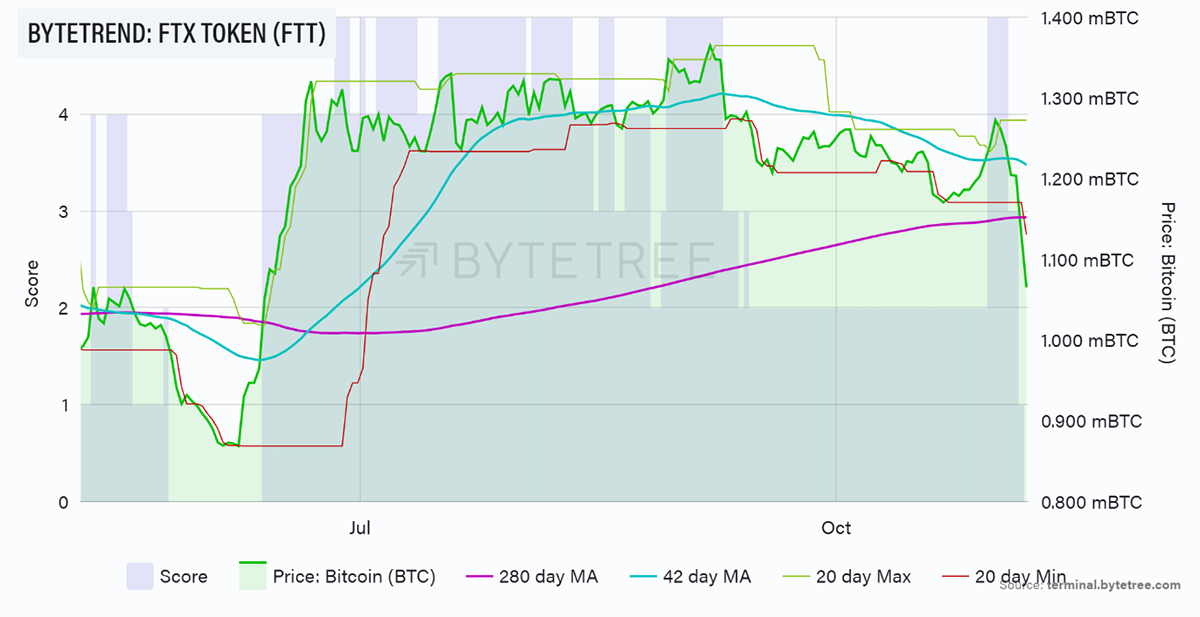 Source: ByteTree
Meanwhile, the portfolio has had a great couple of weeks, and we are now back in the black, with our original 10 BTC now at 10.14. Remember, the sole aim here is to outperform bitcoin. The recent jump has been helped by a hefty move higher by MATIC (discussed in M&S, below), continued strong performance from BNB, and decent recoveries from both ATOM and LINK.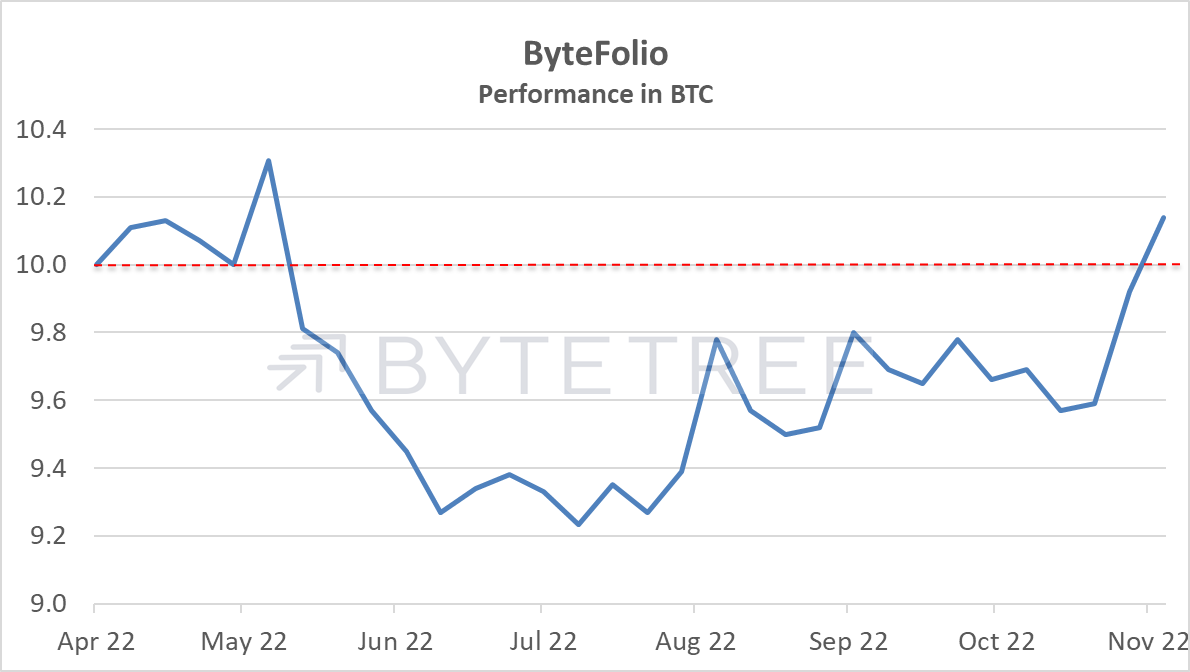 Source: ByteTree
ByteFolio's first 6 months have coincided with a grim bear market, so it's pleasing to see that the process is finally delivering positive results after a rocky start. Perhaps it's also a sign that the worst of the cycle is behind us?
ByteTrend - Movers & Shakers
Movers:
Polygon (MATIC, 5* in BTC) has had a super strong week, rising from 94c to US$1.20. The move seems to have been triggered by a couple of announcements. First, Meta announced that Instagram would be using the Polygon network for its upcoming in-app NFT minting feature, and secondly, JP Morgan executed its first live trade on a public blockchain, utilising an Aave fork on Polygon. Hats off to the Polygon new business team; they seem to appear on the ticket of every major announcement. With the dominance of Ethereum, Polygon will continue to grow as it is the market leader in Ethereum scaling solutions. Polygon has its own scaling solution in the form of layer-2, ZK-stark, ZK- rollup, or deploying your own sidechain.
GateChain (GT, 4* in BTC) Gate.io is performing well against BTC without any fireworks, which is what we love to see. Strong and stealthy rather than mad and weedy. By way of an update, the exchange had an average of around $1.7bn in daily volumes every single day for the last 365 days. Gate.io provides a vast suite of services for its 12+ million registered users. Most of these users are from Russia, Ukraine, Japan, Turkey and India. Recently, the Gate.io exchange signed a memorandum of understanding (MoU) with Busan, the second-largest city in South Korea, to help develop its blockchain infrastructure. Moreover, the GateChain blockchain now has 20 dApps on its network, which serve in various sectors such as DeFi, NFTs, Metaverse and Infrastructure. We're very happy with the holding.
Ethereum (ETH, 5* in BTC) remains on a solid 5 stars against BTC, although the chart over the last year would grace the scary ride section at Disney World.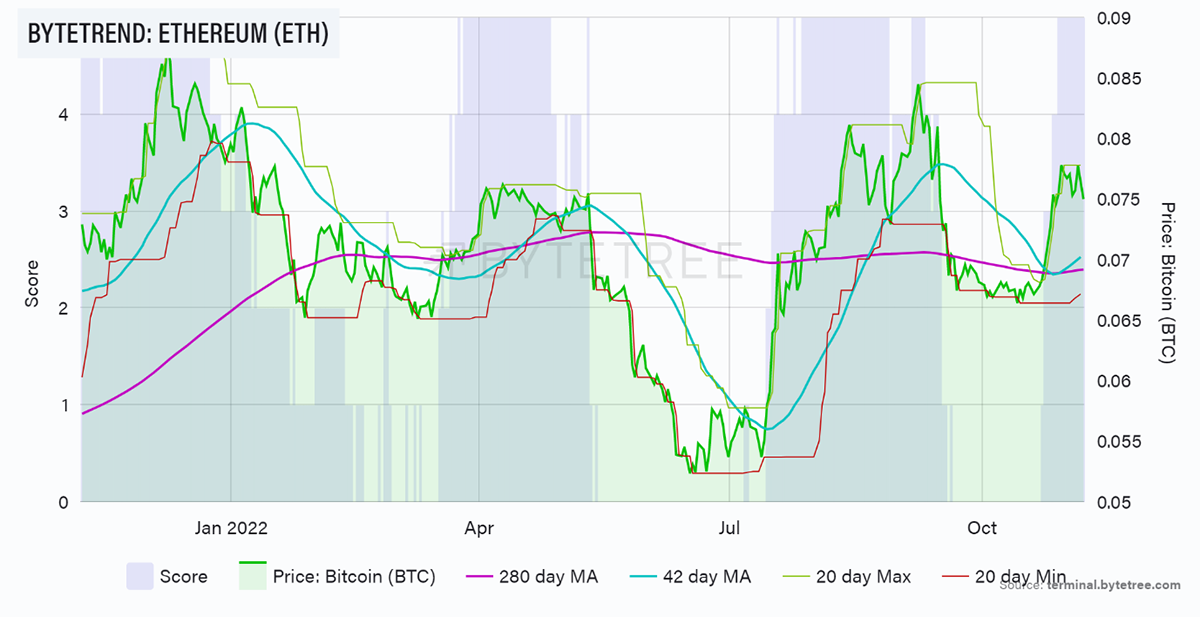 Source: ByteTree
After the successful upgrade from Proof of Work to Proof of Stake ("The Merge"), Ethereum entered into the second stage, i.e. "The Surge". This stage focuses on the network to reach over 100k transactions per second using "roll-ups*". The roadmap originally had 5 stages, but on 5th November, Vitalik Buterin posted an updated version which added a new stage called "The Scourge". This upgrade will ensure the reliability and credibility of neutral transactions while avoiding centralisation and other similar risks, benefitting the blockchain and its ecosystem.
*This has nothing to do with teenage tobacco consumption. In the simplest terms roll-ups execute transactions outside the Ethereum blockchain and then send the data back to the main Ethereum Network, which means they can be done much faster and quicker.
Shakers:
Chiliz (CHZ, 4* in BTC). Why don't we own it? Mainly because we see the strong performance as highly faddish. There's huge enthusiasm as we head into the Football World Cup, as fans collect and trade NFTs. But with the event only a couple of weeks away, and having missed the run-up, we don't want to chase it. Incidentally, the same would apply to Algorand, (ALGO, 3* in BTC), which is sponsoring the World Cup. Makes one wonder how Tezos (XTZ, 0* in BTC) is feeling about its sponsorship of Manchester United because, according to ByteTrend, it's not turning many heads.
Dogecoin (DOGE, 5* in BTC) has had a massive run since Elon Musk bought Twitter. We've missed it as it doesn't meet our investment criteria but good on you if you jumped on board in time. It will be interesting to see how sustainable this latest bounce is, as it's already coming off the boil, following stories that Twitter has stopped working on a crypto wallet.  You'd expect new leadership in a fresh bull market, as opposed to a replay of the previous one. DOGE is not the future in our view - we'll continue to steer clear.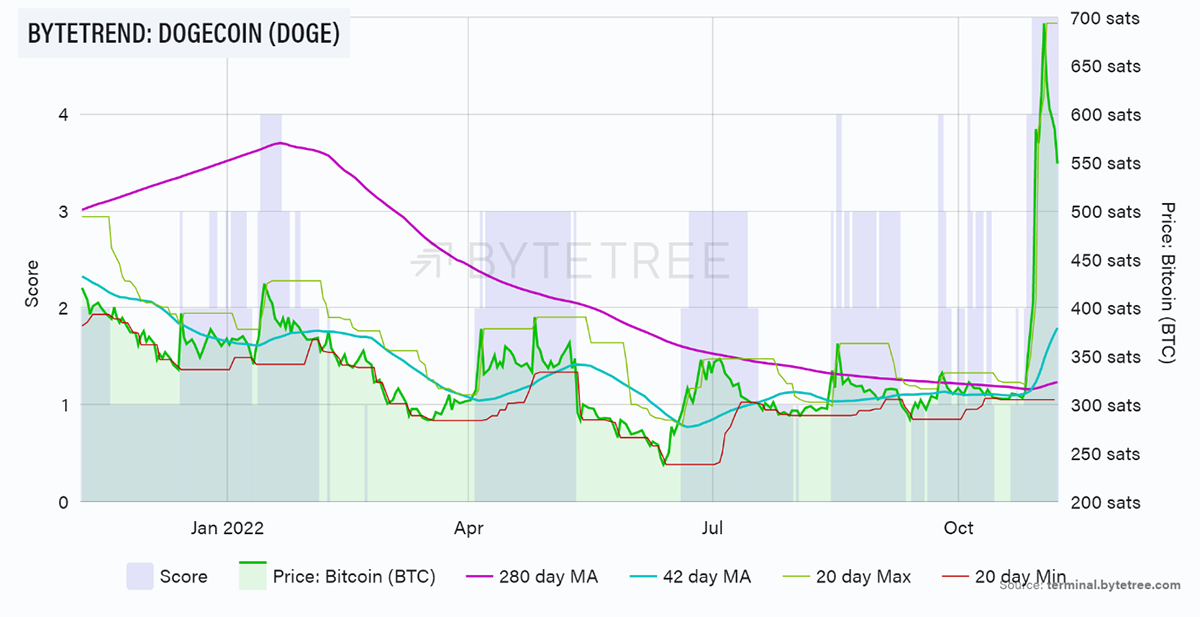 Source: ByteTree