Disclaimer: Your capital is at risk. This is not investment advice.
Token Takeaway: EOS
With Ethereum successfully transitioning to a Proof of Stake, many 'ETH killers' will now face an uphill battle to compete with Ethereum's bustling ecosystem. One 'ETH killer' trying to diversify is EOS. Its delegated proof of stake enables users to process transactions with zero gas fees. This Token Takeaway looks at EOS and whether it still has any competitive edge over POS Ethereum.
Overview
EOS.IO is a subsidiary of a Cayman Island-based company, Block.One.The project was spearheaded by Daniel Larimer, who was a pivotal figure in the launch of Bitshares and Steemit. The EOS whitepaper was published in 2017, and the protocol was released as open-source software in June 2018.
Ahead of the launch, Block.One held an ICO for the EOS token, raising a mind-boggling $4.1billion. To ensure that the fundraiser was a fair, auditable, and trustless process, Block.One decided to run the ICO on Ethereum, the largest and most popular smart contract platform. The EOS ICO ran for one year, a significantly longer time frame than other token ICOs.
During the early years of the project, many members of the EOS community believed EOS was an abbreviation for 'Ethereum on Steroids' as the blockchain promised more efficiency and throughput than any other blockchain available at the time.
Since its launch, EOS has had its fair share of scandals but is currently among the top 50 crypto asset by market cap.
What is EOS?
The EOS ecosystem can be separated into three distinct sectors: EOS.IO, EOS blockchain, and EOS Token.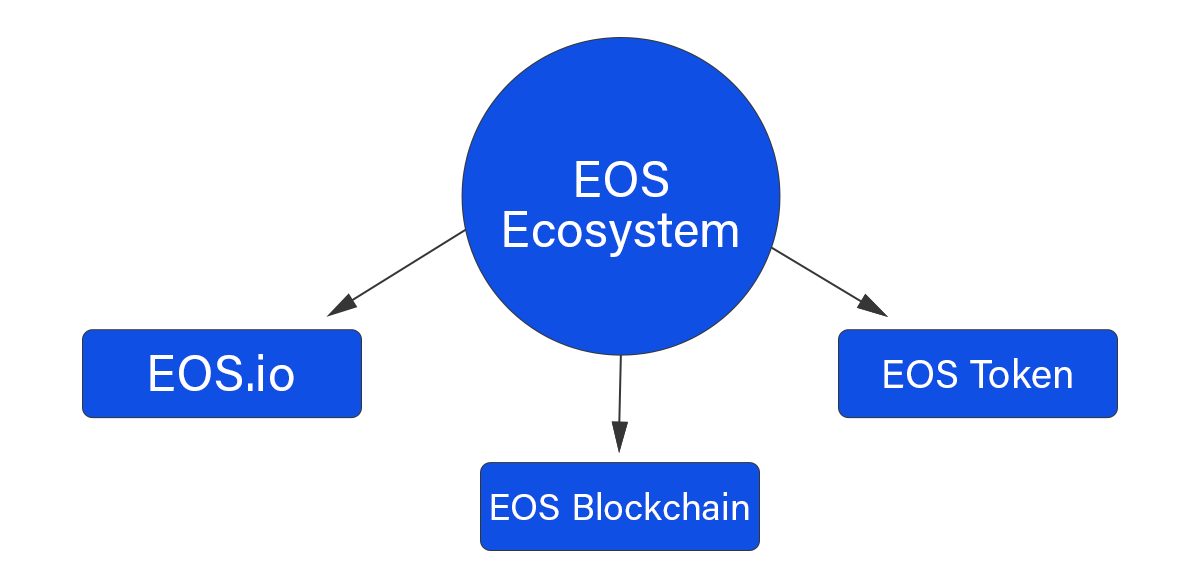 Source: ByteTree. The EOS ecosystem.
EOS.io is an operating system that provides developers with a development kit that enables the development of dApps on the EOS blockchain. The EOS blockchain is an open-source blockchain platform that supports public and private networks alike. The blockchain utilises a delegated proof of stake (DPOS) consensus method that enables the blockchain to achieve a theoretical 10,000 TPS, making it among the faster blockchains available on the market.
| | | | | |
| --- | --- | --- | --- | --- |
| | Consensus Method | Current TPS | Theoretical TPS | Time to Finality |
| Ethereum | POS | 15 | 100,000 | Up to 60 seconds |
| Solana | HPOS/POS | 50,000 | 710,000 | 6 seconds |
| Fantom | DAG | 25,000 | - | 1-2 seconds |
| EOS | DPOS | 4,000 | 10,000 | 2-3 seconds |
Source: Bybit, CoinMarketCap, Fantom  Foundation. Blockchains boasting high TPS.
Finally, the last part of the ecosystem is its native token, EOS. Unlike many other native tokens, EOS is unique as it is not required to process transactions. Instead, its utility is derived from economic activity, governance, and staking on the blockchain.
The EOS blockchain can process gasless transactions through the Delegated Proof of Stake (DPoS) consensus method. DPoS is an evolution of the PoS consensus method, where network users vote for block producers. Using DPoS, users can vote for block producers by staking their tokens into a staking pool linked to a particular block producer.
Leveraging the DPoS consensus, EOS can transfer the burden of network costs from the users to the network. The staking of EOS tokens covers any incidental charges by giving those who stake access to a proportional share of system resources. This makes EOS one of the most cost-effective blockchains for processing transactions.
EOS Holders Statistics (MainNet)
| | |
| --- | --- |
| Holders | 5,537,389 |
| Top 10 Holders | 67.80% |
| Top 20 Holders | 74.82% |
| Top 50 Holders | 84.39% |
| Top 100 Holders | 90.91% |
Source: CoinCarp. EOS Holders Statistics.
However, the costless transactions come with a caveat as only 21 block producers are allowed at one time, giving these block producers inherent control over the direction of the network. The small entity of block producers controlling the majority of the EOS token supply, and the top 100 holders collectively hold 90.91% of the overall supply, makes EOS a highly centralised protocol.
In 2018, the block producers froze a total of 34 wallets that were suspected of holding stolen coins. This decision sparked outrage among the EOS community as it went against the decentralised nature of blockchains. Notably, a special authority, EOS Core Arbitration Forum (ECAF), exists to resolve these types of disputes. However, the decision to freeze suspected wallets was taken without informing the ECAF, making users question the decentralisation of the blockchain.
Troubles with the Law
In 2019, The U.S. Securities and Exchange Commission (SEC) fined Block.One for $24 million for failing to register the ICO and token holders. The SEC alleged that Block.One had violated the securities laws by making false and misleading statements about EOS, which artificially inflated the token price.
In 2021, researchers from the University of Texas published a report, which found ETH and EOS were repeatedly recycled during the ICO, causing the token price to rally. According to the report, EOS was allegedly wash-traded on the Binance and Bitfinex exchanges in an effort to artificially inflate the prices. This report undoubtedly damaged any relationship with the EOS community.
Goodbye Block.One
In September 2022, EOS effectively rebranded to EOSIO following the Mandel upgrade. The rebranding and community improvements represent EOSIO's symbolic separation from its parent company Block.One. The separation of EOS and Block.One was done through a community consensus, where the EOS community voted to stop paying Block.One 67 million EOSfor supporting the network. This community vote may very well change the direction of EOS as the EOS community stood up to a multi-billion-dollar corporation and won.
Yves La Rose, CEO of the EOS Network Foundation, a nonprofit organisation that oversees the growth and development of the EOS blockchain, tweeted that the network upgrade would be delivered via a hard fork, which would effectively make the upgraded blockchain incompatible with the original chain. This will require all block producers to update their firmware. Those who do not comply will be replaced by new block producers via community consensus. This community-led approach will undoubtedly set EOS down a path of a more decentralised future, which will directly tackle one of the major issues plaguing the network.
Tokenomics
The circulating supply of EOS is currently 1 billion, with an uncapped max supply and an inflation rate of 2%, which means the token supply will be diluted over time. However, EOS holders can vote to change features of the tokenomics if consensus is met. At the time of publication, EOS has a market cap of approximately $1.18 billion and is among the top 50 crypto projects by market cap.

Source: ByteTree. ByteTrend for EOS with price performance in BTC since October 2021.
From the graph above, we can see the price action for EOS since late September 2021 has been quite lacklustre, to say the very least. This bearish price movement has been prevalent throughout 2022, with a bullish movement in August 2022. The bullish price action can be attributed to the rebranding to EOSIO and Mandel upgrade, which was delivered via a hard fork.
Additionally, the EOS Network Foundation opened registrations for its upcoming Yield+ incentive program. This program enables users to generate passive income for staking EOS tokens, which created a temporary spike in demand for EOS tokens. However, this upward price action was short-lived, which may be attributed to the highly centralised nature of the token, as it would only require a single holder from the top 100 EOS holders to abruptly stop any bullish price action. This statement is further cemented by the ByteTrend score, where EOS rated five stars in September and a month later scored one star when compared relatively to Bitcoin.
DeFi Ecosystem
One way of assessing the health of a blockchain's ecosystem is by assessing the number of dApps deployed and the Total value locked (TVL) across the ecosystem.

Source: DefiLlama. TVL on EOS.
According to Defillama, EOS has a total of 22 dApps deployed with a TVL of $108.5 million.

Source: DefiLlama. TVL on Ethereum.
Comparing these figures to Ethereum's 533 dApps and $31.87 billion in TVL makes this comparison non-sensical.

Source: DefiLlama. TVL on Moonbeam.
Instead, the closest competitor in these figures would be Moonbeam, a smart contract para-chain on Polkadot. Moonbeam launched on the Polkadot blockchain in January 2022 and has had 29 dApps deployed and a TVL of $65.44 million.

Source: DefiLlama. TVL on Cardano.
This shows that EOS was struggling with adoption under Block.One's umbrella. That might soon change as the community-led approach will undoubtedly attract more users to the ecosystem - only time will tell. On the bright side, the EOS community can still brag about having a more thriving ecosystem than Cardano.
Conclusion
The price action for the EOS token has been plagued by previous issues with the SEC and the shady ICO practices used by Block.One to artificially inflate prices. However, the novel DPoS consensus method that powers the EOS blockchain is undoubtedly among the better consensus methods available on the market, as the blockchain is able to have high throughput and short transaction finality. Now EOSIO, free from Block.One's shackles, there are undoubtedly better days ahead with its new community-led approach.
But whether that is enough remains to be seen. With Ethereum's massive DeFi ecosystem with over 500 deployed dApps and Binance's BNB Chain, Avalanche, and Solana offering their own compelling DeFi ecosystem and competing in the same sector, EOS has some tough competition. However, this may change if EOS can attract more developers and users alike. As we all know, the crypto space is ever-evolving.