token-takeaway
Cardano: Competing in the Most Competitive Crypto Sector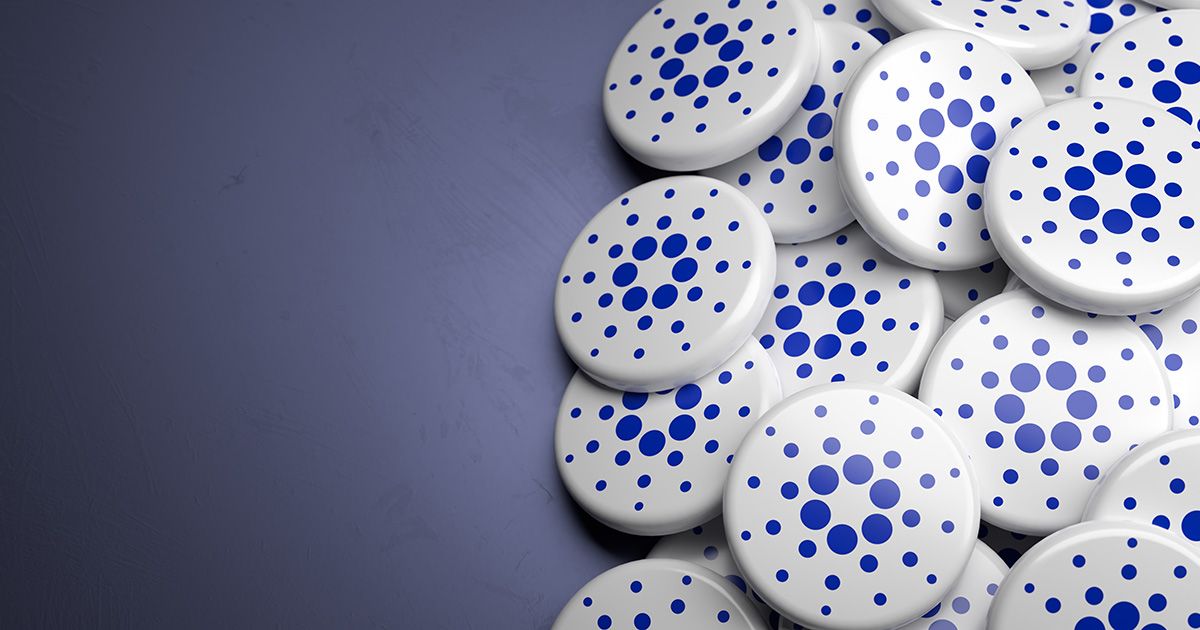 Disclaimer: Your capital is at risk. This is not investment advice.
Token Takeaway: ADA Token
Following a massive surge in the last altcoin season, Cardano, a blockchain platform used to build dApps and smart contracts, has continued to be a dominant force in the crypto world. However, with mainstream presence came a lot of criticism and competition. Nevertheless, with multiple upcoming innovative upgrades and 100s of new projects being built on the network, Cardano continues to hold its position in the top 10 cryptos. In this article, we will examine the fundamentals of the Cardano blockchain and its native token, ADA.
Overview
Cardano is an open-source, decentralised applications (dApps) platform with a multi-asset ledger and verifiable smart contracts. It was originally created to serve as a better alternative to blockchains with Proof of Work (PoW) consensus, like Bitcoin and Ethereum, by offering improved scalability, interoperability and sustainability.
According to Cardano Docs, Cardano uses a consensus protocol called Ouroboros, a first verified secure Proof of Stake (PoS) consensus mechanism based on peer-reviewed academic research. Cardano can currently handle around 500 TPS but has the ambition to process millions of TPS in the near future. More onto that later.
At its height, Cardano had over $95bn in market cap and was ranked the 3rd largest crypto, behind Bitcoin and Ethereum. However, following the current bear market, it ranks 9th largest among all and 3rd largest in the smart contracts sector with $14.8bn in market cap.
History and Tokenomics
Charles Hoskinson, the founder of Cardano, is also the co-founder of the Ethereum blockchain. While working on Ethereum, he recognised the implications and limitations of a PoW blockchain and consequently began developing Cardano and its native token ADA in 2015. ADA was distributed via multiple public sales in 2015, 2016 and 2017, raising around $62m.
The Cardano blockchain was finally launched in 2017, but basic user features like ADA staking were not available yet. Instead, it took over two years after the launch for this feature to be active. Until then, only the team behind Cardano (the Cardano Foundation and IOG) were allowed to stake and validate transactions on the network. With high expectations, the founder claimed to have 1000s of dApps on the blockchain in a tweet in July 2020, but later admitted he was wrong by a long shot and used the hashtag "SlowAndSteady".
ADA was launched with a max supply (hard cap) of 45 billion tokens, with the initial distribution of 25.9 billion ADA to the sale participants and project team. ADA can be used for staking and delegating, incentivised by an annual yield (reward), i.e. newly minted ADA. With an inflation rate of around 1.95%, the current circulating supply of ADA is around 33.7 billion. With over 1.18 million stakers, 71% of the total circulating supply, i.e., $11.1bn, is being staked on the network.
Additionally, there were rumours that Cardano developers were considering a burning mechanism for ADA. However, Hoskinson is not in favour to this idea and many users believe it will bring disadvantages to the network. Consequently, there is unlikely to be a burning mechanism for ADA, at least in the near future.
As we can see in the below chart, the ADA price and supply are inversely proportional to each other. With the increase in ADA supply, the price has gradually been declining since October 2021.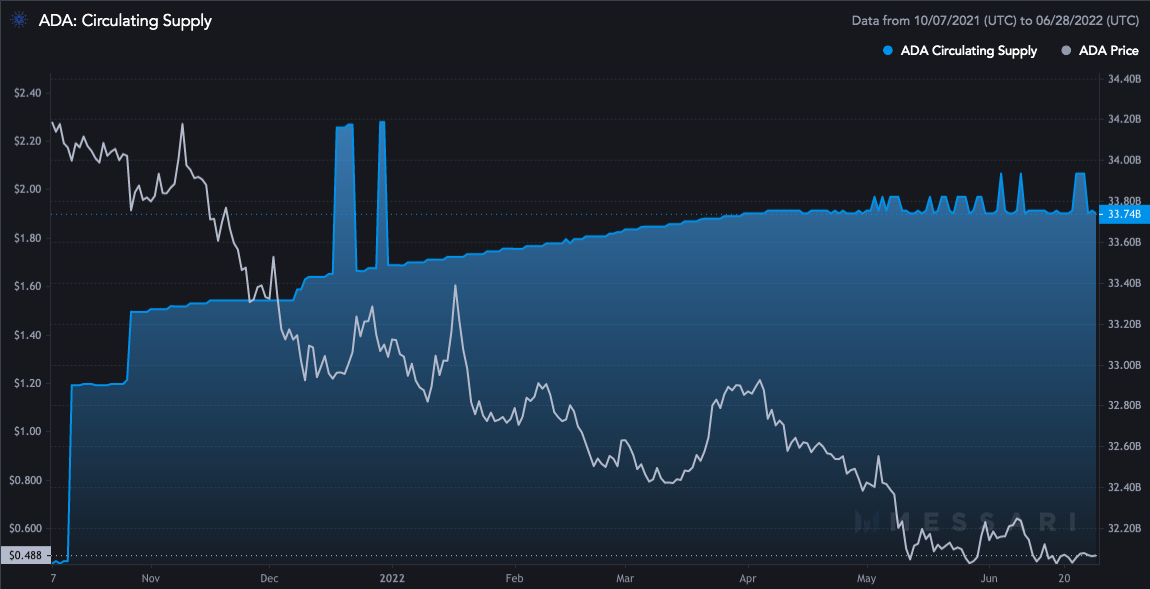 Source: Messari. Correlation of ADA supply with its price.
Network Roadmap and Governance
The Cardano blockchain is being developed in five phases: BYRON (Foundation), SHELLEY (Decentralisation), GOGUEN (Smart Contracts), BASHO (Scaling) and VOLTAIRE (Governance) - each focusing on a specific aspect to reach and build their desired platform. Earlier this year, Cardano entered the Basho era, which highly focuses on scalability.
In January 2022, its blockchain load hit an ATH of almost 95% multiple times, making scalability a high priority. Consequently, Basho is introducing pipelining, off-chain computing, sidechains (including EVM compatibility), project Hydra, and more. Notably, project Hydra is a revolutionary layer-2 solution for Cardano, which will theoretically increase the throughput by millions of TPS. The newest upgrade, Vasil, was set to be implemented by June 2022 to increase the network performance and smart contract capabilities but has been postponedfor a month.
The final phase, Voltaire, focuses on governance. Currently, proposals for any upgrade/change can be made via Cardano Improvement Proposals (CIPs), which are available for the users to discuss on Cardano Foundation's GitHub CIPs Repository. Funding Proposals (FPs) are used to help dictate the funds in the treasury. Users can vote on FPs by using an application which is currently being developed and will be available in the near future. Before implementation, each proposal/change is developed, reviewed and agreed upon by academics.
Finally, Project Catalyst is an experiment to improve governance and innovation on Cardano through a community-driven mechanism. Proposals can be submitted by the users, which solves a challenge given by the project Catalyst team or community. After a voting round, selected proposals receive funds in the form of ADA.
Ecosystem
According to the weekly development report, there are over 5850 NFT projects, 5.2 million native tokens/assets, and over 1000 projects being built on the network.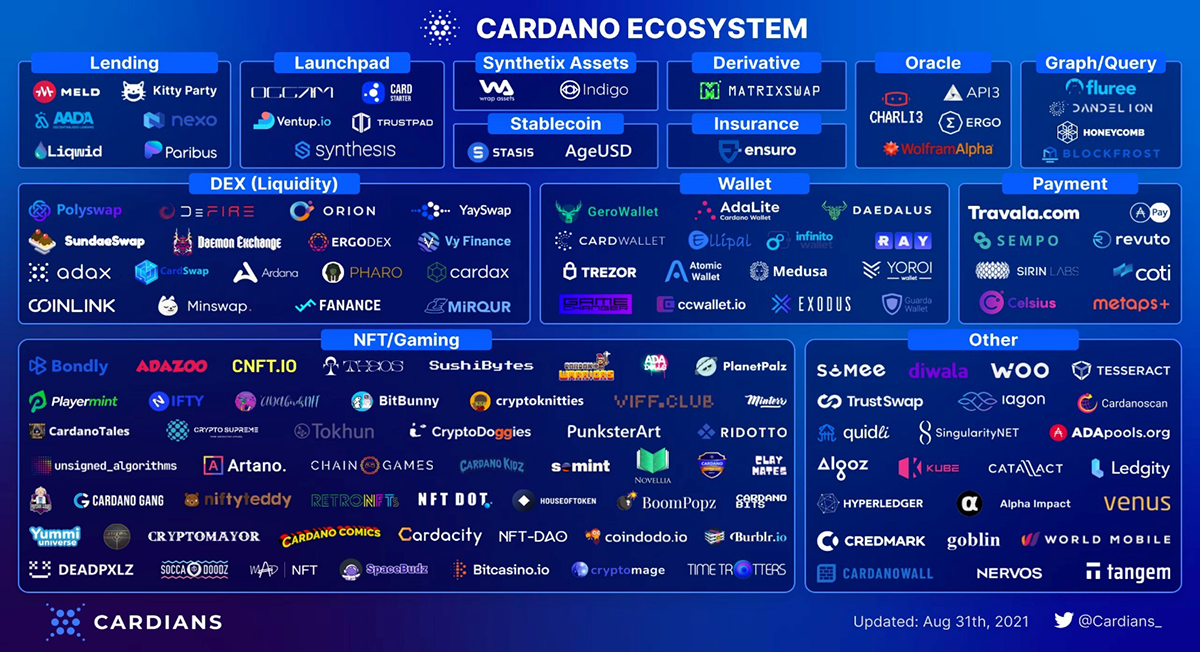 Source: CARDIANS. Cardano ecosystem projects.
On the other hand, according to CardanoCrowd, there are only around 73 functional dApps on the Cardano blockchain. Notably, Sandaeswap and MinSwap, one of the largest dApps on the platform, have receivedsevere user criticism from the start due to network congestion and concurrency issues.
Cardano ranks as the 22nd largest chain with $142m in TVL, which is surprising considering the size of its market cap. Other popular chains like Ethereum, BSC and Tron have $37.6bn, $5.8bn, and $3.8bn in TVL, respectively. However, if we factor in that Cardano had $822k in TVL in early January 2022, the 14,000% growth is very impressive in such a short period of time.
Network Analysis
According to crypto intelligence firm IntoTheBlock, large transactions on the Cardano blockchain surged by 50x in early 2022. The on-chain transactions over $100k alone accounted for 69 billion ADA on 28 March.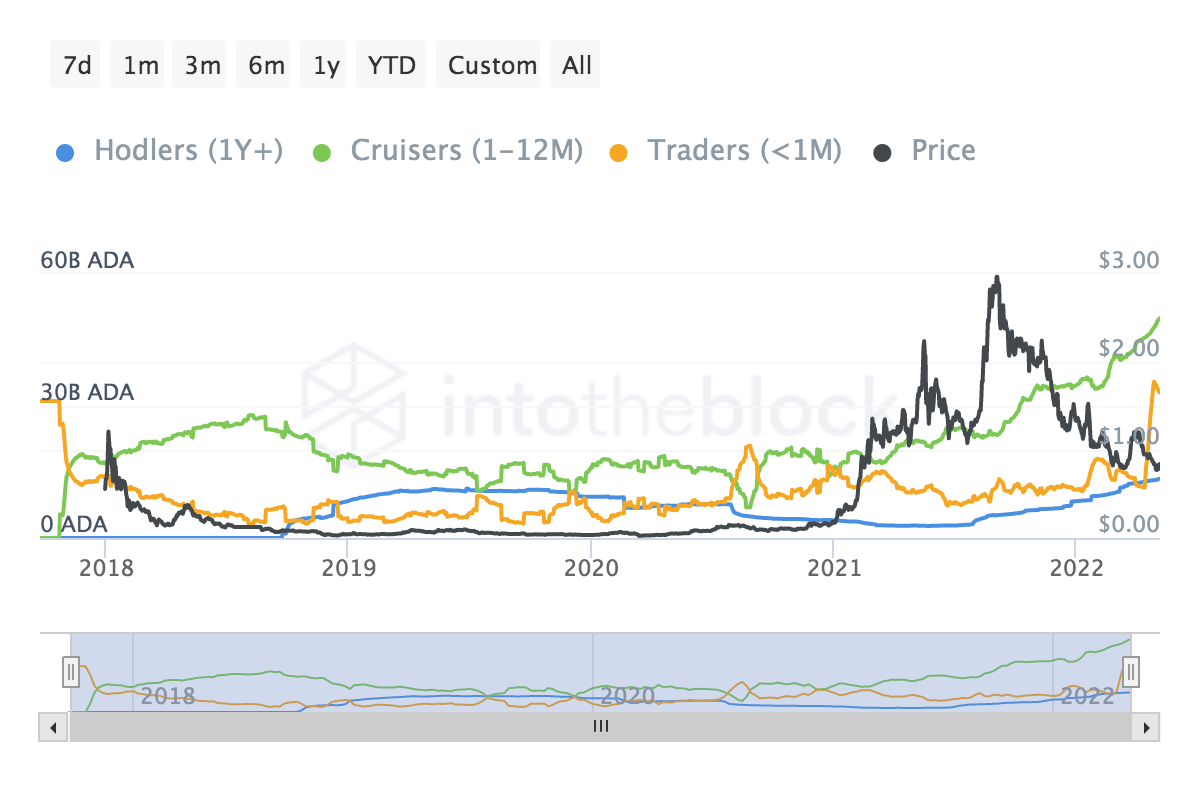 Source: IntoTheBlock. The number of wallets holding ADA, separated by holding duration (12+, 1-12, <1 month/s), until May 2022.
The number of wallets holding ADA for longer than 30 days has increasedby over 180% at the start of May this year. Additionally, the top 1% and 10% of the ADA wallets hold a massive 29 billion and 32.6 billion ADA, respectively. This is highly concerning as they have an unfair advantage over the price.
Furthermore, the ADA price and its average transaction fees are highly correlated. The transaction fees are calculated based on a simple mechanism, a + b * Tx, where a and b are two constants (a fixed ADA amount and an ADA cost per Byte), and Tx is the transaction size.
Source: Messari. Correlation between ADA price and average transaction fees.
Additionally, data from Santiment shows that Cardano was the most developed crypto project on GitHub in 2021 with over 140,000 events.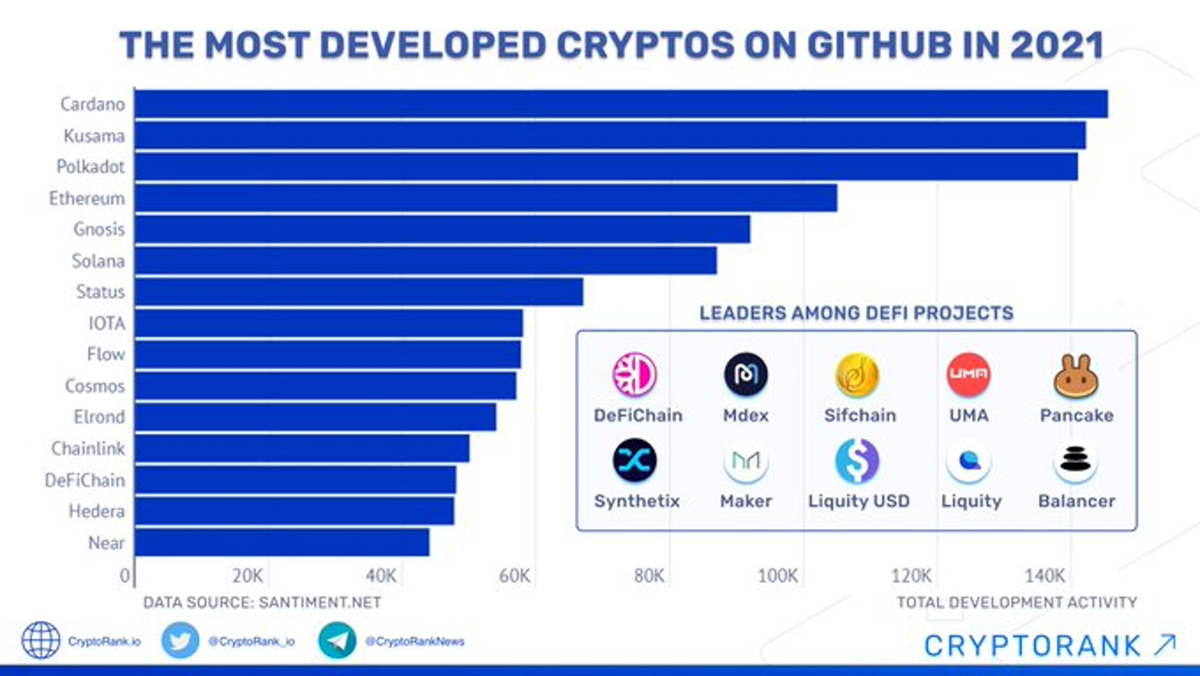 Source: CryptoRank. Most developed cryptos on Github in 2021.
Conclusion
Cardano is one of the longest-running layer-1 blockchains but fell short on network TVL compared to its competitors, especially considering the size of its market cap. Although Cardano has a lot going on in terms of innovation, growth and development, it is often characterised as over-valued and carries a risk of being left behind.
However, Cardano has steadily held its position in the top 10 cryptos for a long time, showcasing sustainability and growth potential. With new upgrades introducing significant scalability solutions and high developer activity, Cardano has real potential to show similarly impressive performance as seen in the last altcoin season.