Disclaimer: Your capital is at risk. This is not investment advice.
ByteTree's Crypto Leaders
ByteFolio brings together ATOMIC, ByteTrend and Token Takeaway to create ByteTree's model portfolio, known as ByteFolio. This is a selection of crypto tokens, which are weighted according to their risk/reward characteristics. ByteFolio has a modest turnover and will not suit traders. It will appeal to investors who wish to diversify beyond bitcoin, with the aim to beat it.ByteFolio
ByteFolio will make two adjustments this week.
The position in ETH will be taken to 10.0%, from 4.8%. We have been waiting for the heat to come out of the market following the price spike ahead of the Merge. Relative to BTC, we see the ByteTrend score for ETH moving from zero to three stars in the last couple of days, which suggests that we are through the worst of this latest bout of profit-taking.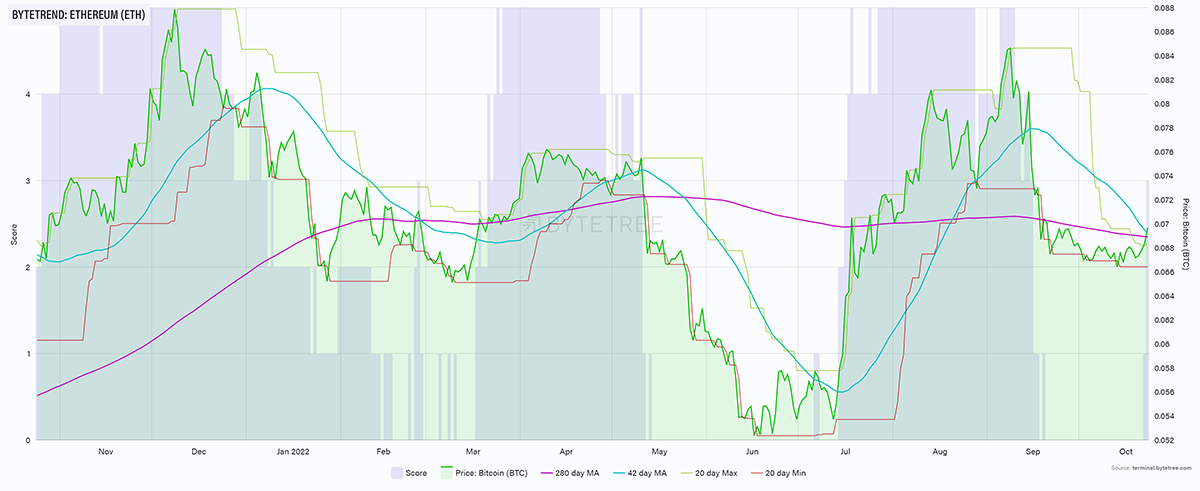 Source: ByteTree. ETH ByteTrend, relative to BTC, over the past year.
We also introduce a position in Uniswap at 5% of the portfolio. Uniswap is the leading Decentralised Exchange (DEX) in the crypto space. Built on the Ethereum blockchain, it provides a decentralised, peer-to-peer trading platform where trades occur directly between users without intermediaries. With a market share of over 65%, it serves millions of users worldwide and has processed over $1.2tn in total volume. Uniswap currently has low volatility, and the trend against BTC remains a solid four stars. This is a good moment to make a start.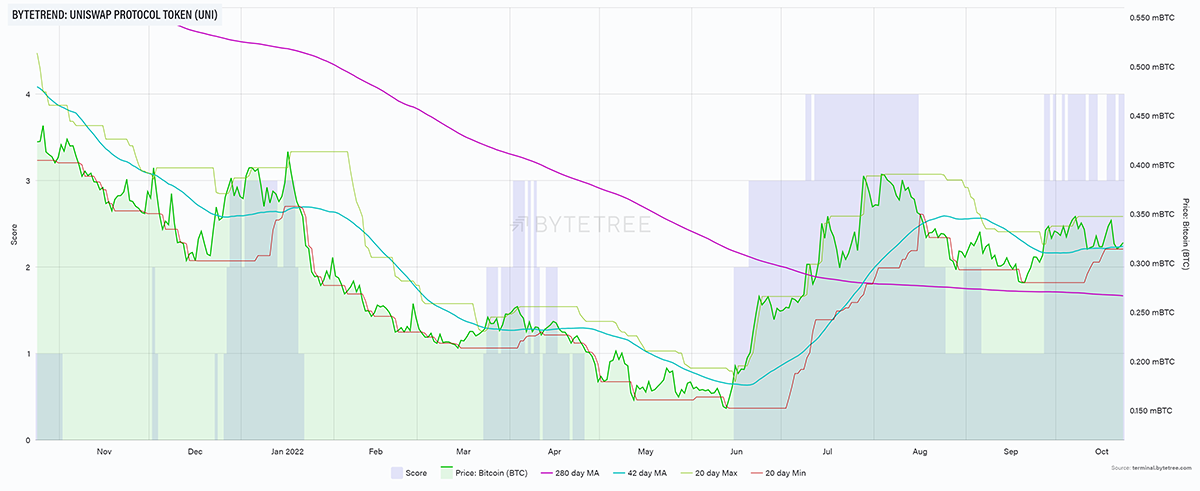 Source: ByteTree. UNI ByteTrend, relative to BTC, over the past year.
The above trades will be funded by the sale of bitcoin.
Quick Notes on Quant (QNT) & Polygon (MATIC)
QNT remains on five stars relative to both BTC and the US$, but has recently exploded and remains at a standard deviation above trend. We think it is likely to pull back further, and for that reason, we're holding off for the time being. We missed it the first time around, but there's nothing worse than compounding the miss by chasing at the wrong price.
We also note the set-up in MATIC, with a 5.3% position in ByteFolio. MATIC is the native token of Polygon, the layer-2 scaling solution that runs alongside the Ethereum mainnet. This would previously have been seen as a high beta way of playing ETH, but we note that MATIC's volatility has recently dropped sharply. It has just posted a move higher to four stars on ByteTrend, relative to BTC, as well as a new relative high since the mid-summer slump. Promising.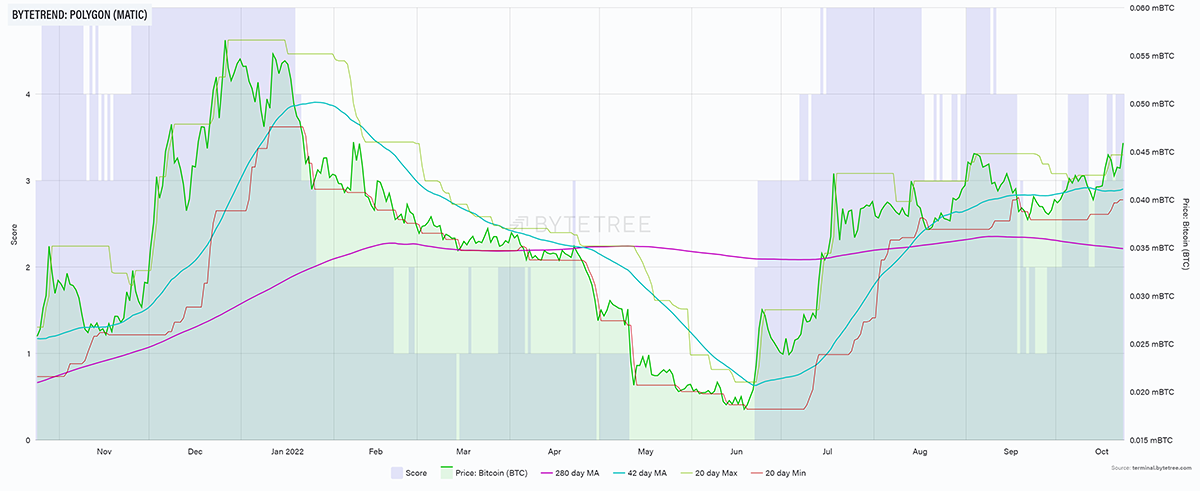 Source: ByteTree. MATIC ByteTrend, relative to BTC, over the past year.
ByteFolio
The portfolio is down marginally this week against BTC. The FTX token has been weak, possibly because of increased regulatory attention being attracted by the FTX Exchange and its founder Sam Bankman-Fried. Monero's XMR has stalled over the last month and a half and looks due a move. Similarly, ATOM has been shedding stars since the end of September. For the tokens to remain in the portfolio, it will be important to see a resumption of trend strength soon.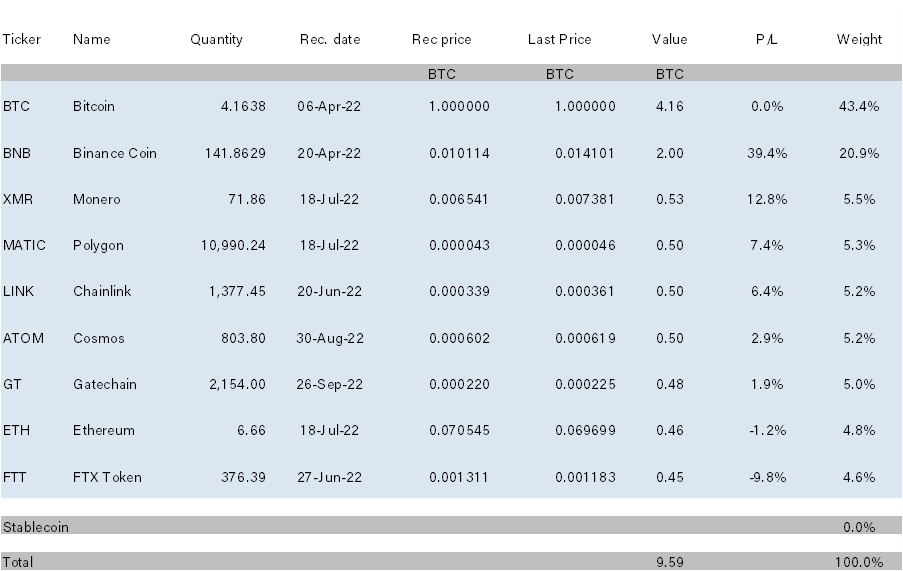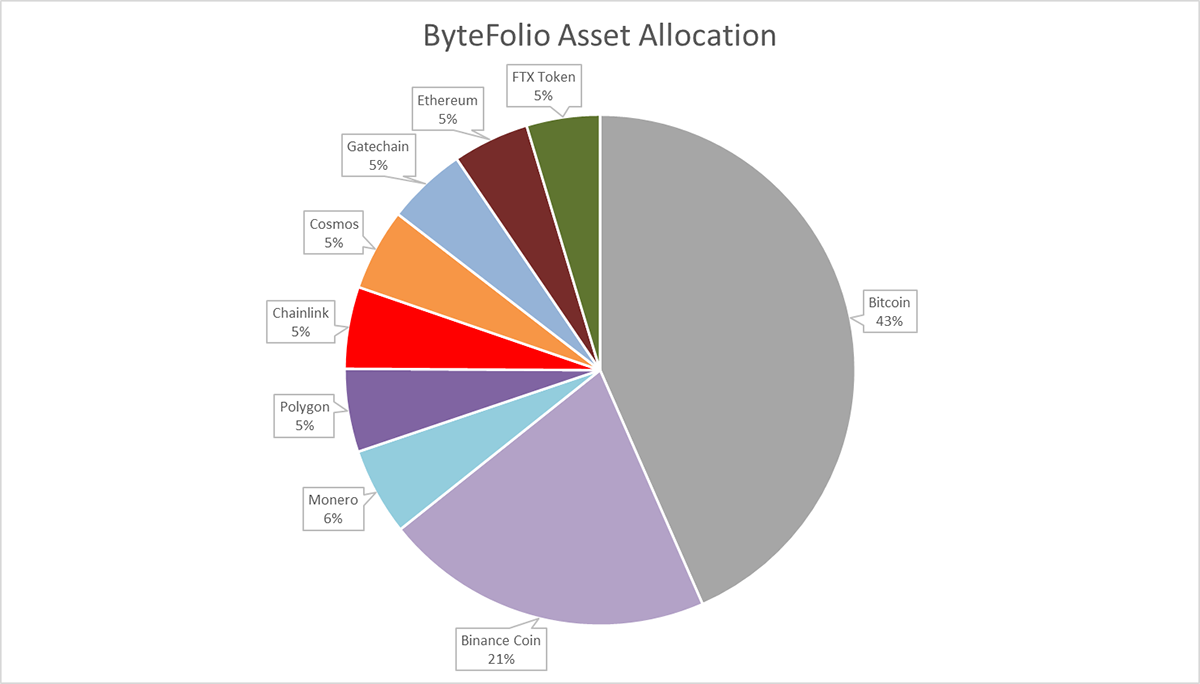 ByteFolio Track Record in BTC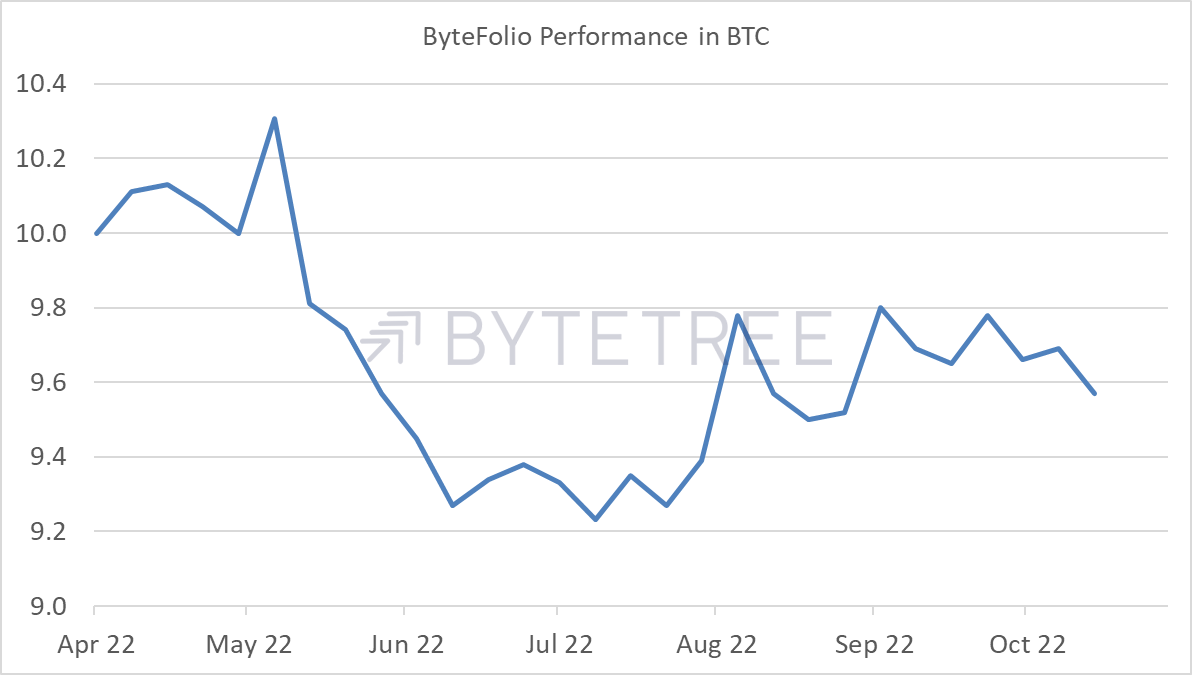 ByteFolio Action:
ETH increased from 4.8% to 10.0%
UNI bought to 5.0%
BTC reduced from 43.4% to 33.2%