Disclaimer: Your capital is at risk. This is not investment advice.
ByteTree's Crypto Leaders
ByteFolio brings together ATOMIC, ByteTrend and Token Takeaway to create ByteTree's model portfolio, known as ByteFolio. This is a selection of crypto tokens, which are weighted according to their risk/reward characteristics. ByteFolio has a modest turnover and will not suit traders. It will appeal to investors who wish to diversify beyond bitcoin, with the aim to beat it.
ByteFolio will switch Polkadot (DOT) and Tron (TRX) into Bitcoin (BTC)
Finally, some strength in bitcoin again, which was well received. Since last week, the trend has jumped from a 0-star to 2-star. Expect to see a 3-star next week.
A five-star is unlikely to happen this year because the 280-day moving average is 50% above current prices and headed south. Price would need to be well above $33,900 to turn it around. More likely, bitcoin returns to 5-star early next year – which is fine by us.
Bitcoin 2-star trend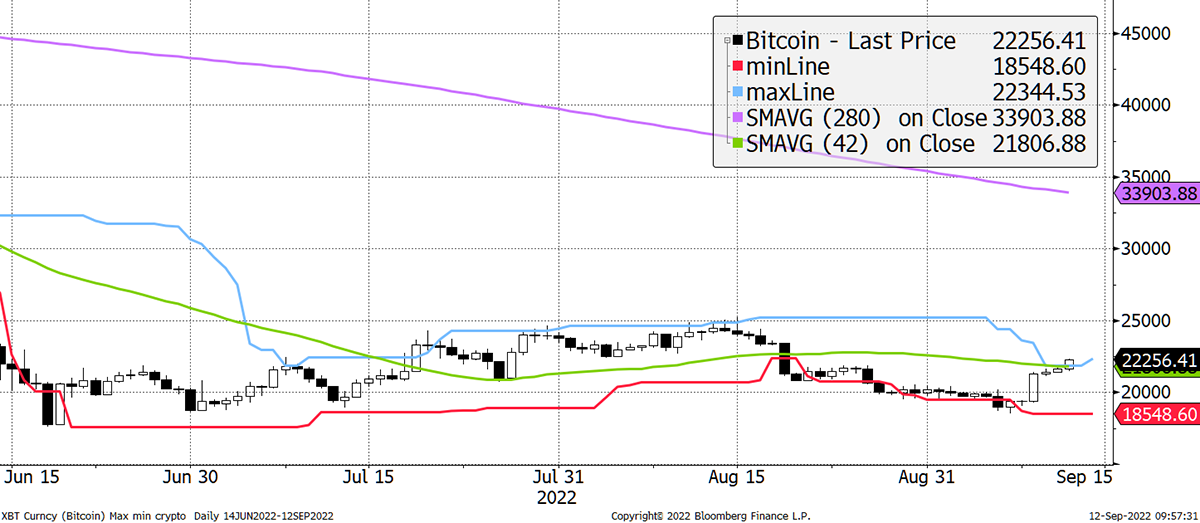 Source: Bloomberg
However, if bitcoin is strengthening, then any token we hold with the aim of beating bitcoin has to stack up. In that regard, TRN and DOT have turned down when priced in BTC.
DOT was selected in June after the market correction. It was deemed to be cheap and good, and was included at a low price. However, it has failed to show strength in either price or, more fundamentally, via its network activity, and we deem it prudent to return to bitcoin.

Source: ByteTree. ByteTrend for Polkadot (DOT), relative to BTC, over the past year.
TRX performed well during the correction in May and June following almost a year of continued burns every day. However, it cooled off and had a net increase in its supply on 11 September, where over 22k TRX were added to its circulation. Although it is negligible considering its massive supply of over 92 billion, the UST peg maintenance mechanism carries a risk of causing hyperinflation in the network (LUNA-UST situation).
Moreover, the number of on-chain transactions, and active accounts, on TRON have also started a downward move. Nevertheless, we are a long way from bearish, but given the improved outlook for bitcoin, we are not taking any chances.

Source: ByteTree. ByteTrend for Tron (TRX), relative to BTC, over the past year.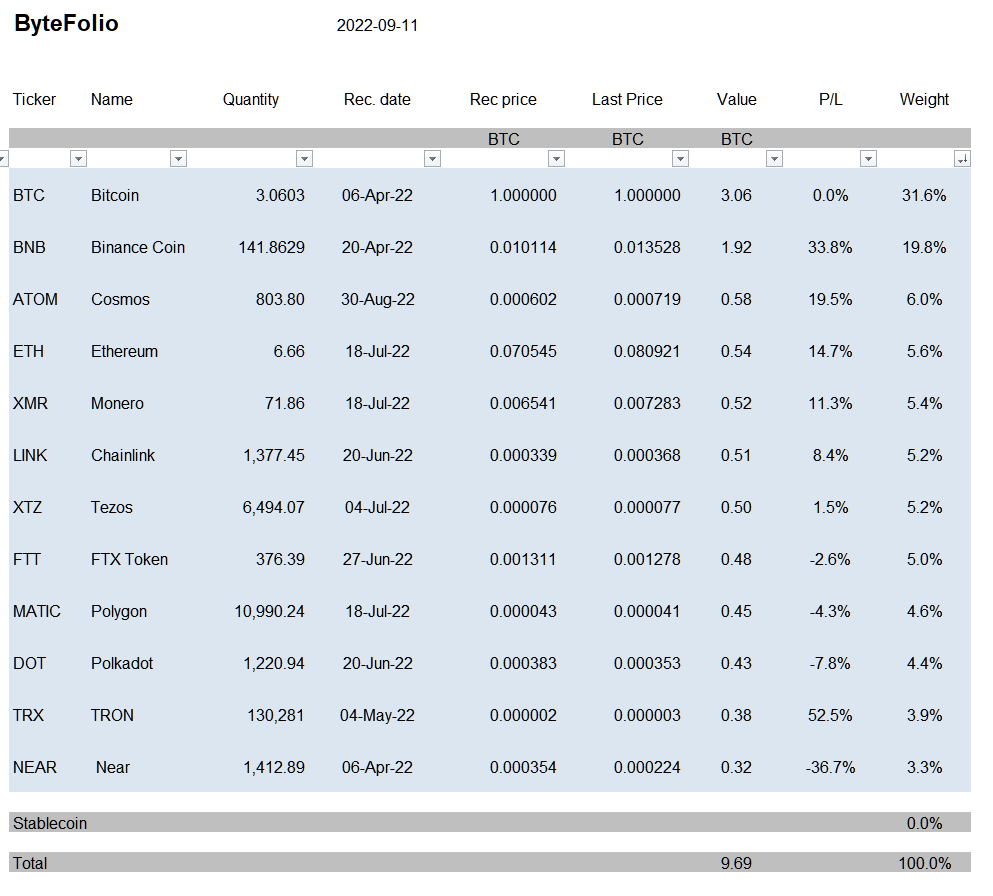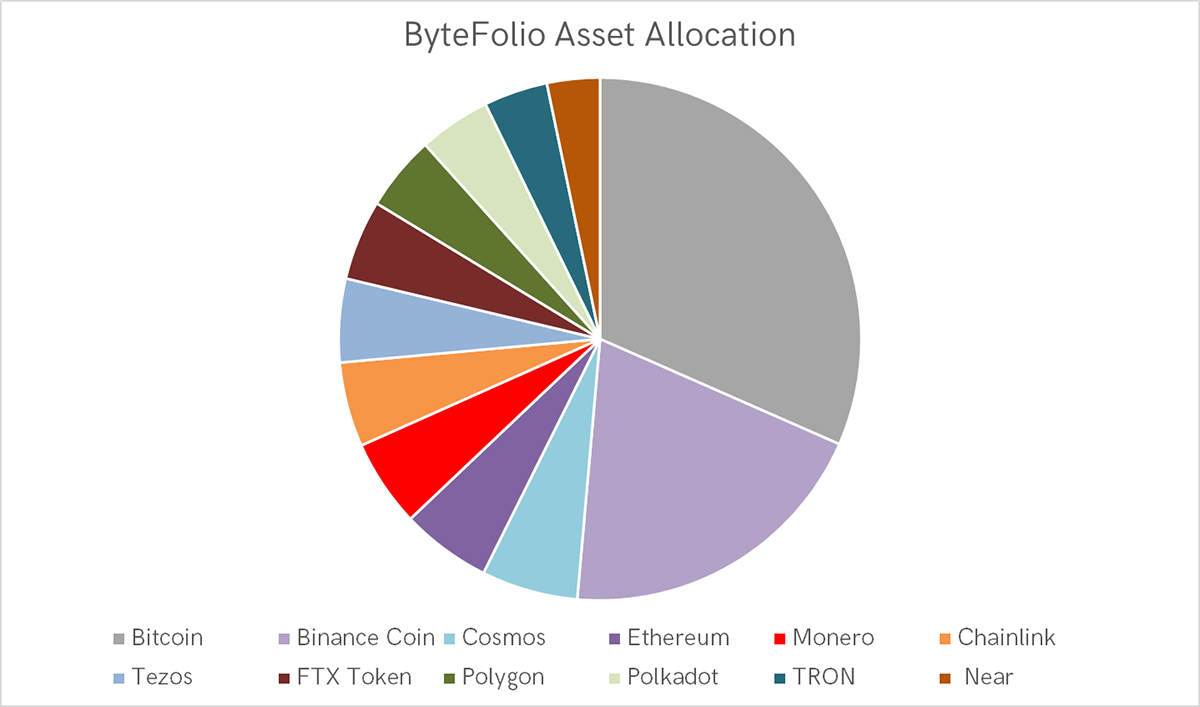 ByteFolio started on 6 April 2022 with 10 BTC. Prices bought or sold are recorded at the end of the day after publication. Historical ByteFolio trades have been recorded as follows:
Purchases and sales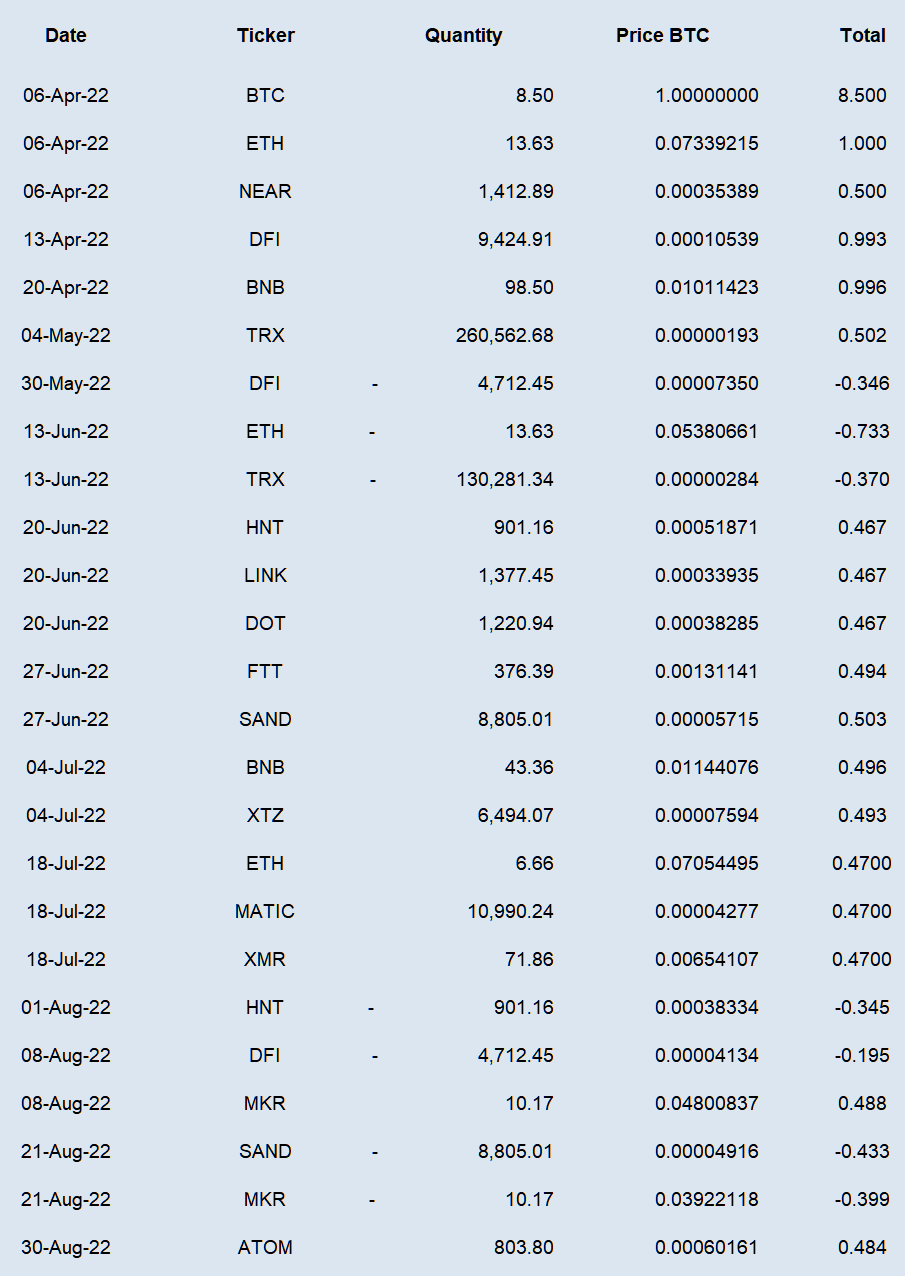 Action: ByteFolio sells Polkadot (DOT) and Tron (TRX) for Bitcoin (BTC)