Disclaimer: Your capital is at risk. This is not investment advice.
ByteTree's Crypto Leaders
ByteFolio brings together ATOMIC, ByteTrend and Token Takeaway to create ByteTree's model portfolio, known as ByteFolio. This is a selection of crypto tokens, which are weighted according to their risk/reward characteristics. ByteFolio has a modest turnover and will not suit traders. It will appeal to investors who wish to diversify beyond bitcoin, with the aim to beat it.
ByteFolio will remain unchanged this week
The portfolio continues to make a healthy recovery as the leading tokens lock in their trends and beat bitcoin. Nearly 30% of the top 100 tokens are now in 4 or 5-star trends in BTC, while the number of laggards (0 or 1-star) has also grown to over 40%.
Source: ByteTree
This means the level of dispersion is rising as a token is decisively either strong or weak, with few ranking neutral.
Looking at the ByteTree Crypto Average (BCA), an equally weighted daily price change aggregate, that comes out a little stronger, with the number of strong and weak trends rising at the expense of neutral trends. We last saw this in January 2021, which led to a strong alt season.

Source: ByteTree
However, this time, the macro is weak, and the number of strong trends in USD is low. If we are lucky, the recent red spike, which is less severe than seen in the spring, will continue to retreat. We might not have a super-strong alt season anytime soon, but we could see more buoyant conditions for the leaders.

Source: ByteTree
Looking at the 5-star leaders, it is nice to see we own the larger projects. Most of the ones we don't own are exchanges, where we will be doing a deep dive. The plan is to own the best, and with FTX and BNB, we believe we already do. Still, we'll do the research to be sure.
Chiliz (CHZ) is under review for inclusion, and Ethereum Classic (ETC) has been rejected. The miners have jumped over to ETC from ETH as they have nowhere else to go. The blockchain will get improved security, but without the network, it is a wasted effort.
We discussed increasing Polygon (MATIC), which is a layer-2 solution for ETH. It's a nice idea but the on-chain metrics aren't yet strong enough to go for a high conviction position.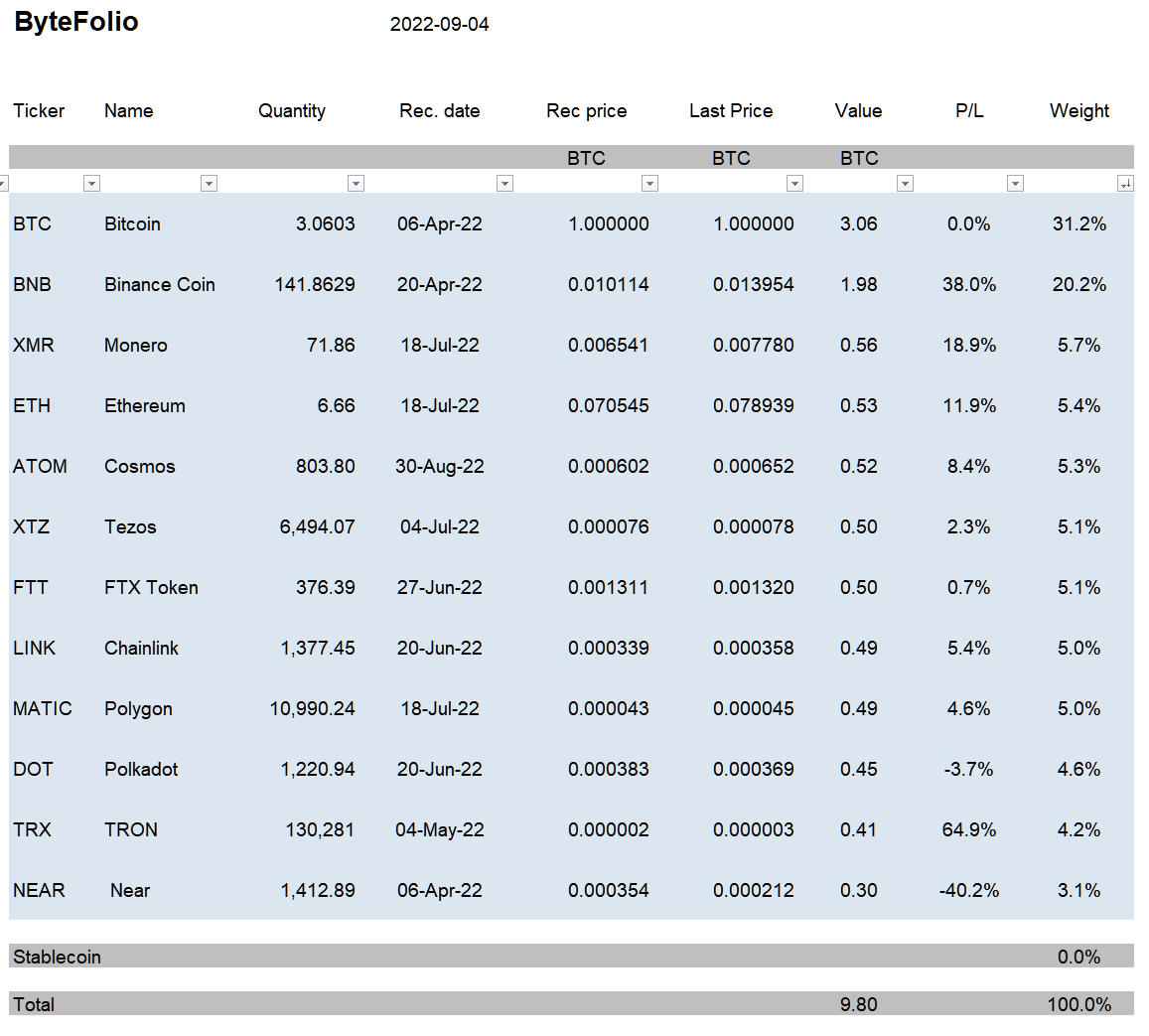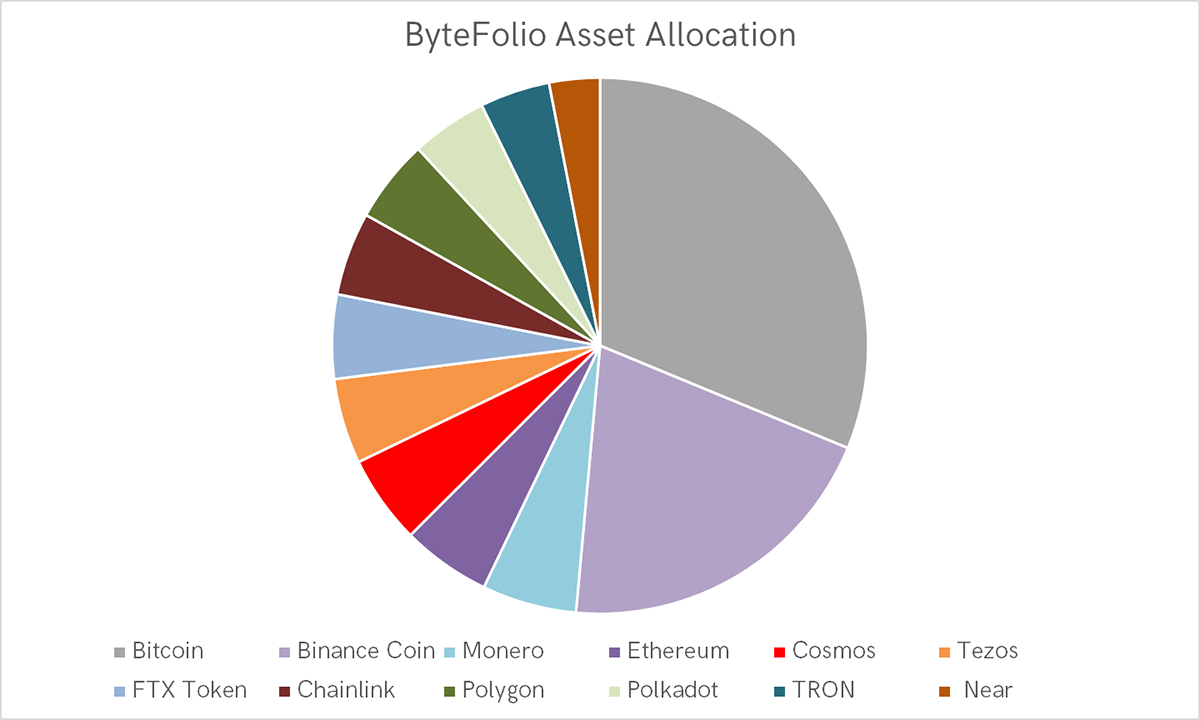 ByteFolio started on 6 April 2022 with 10 BTC. Prices bought or sold are recorded at the end of the day after publication. Historical ByteFolio trades have been recorded as follows:
Purchases and sales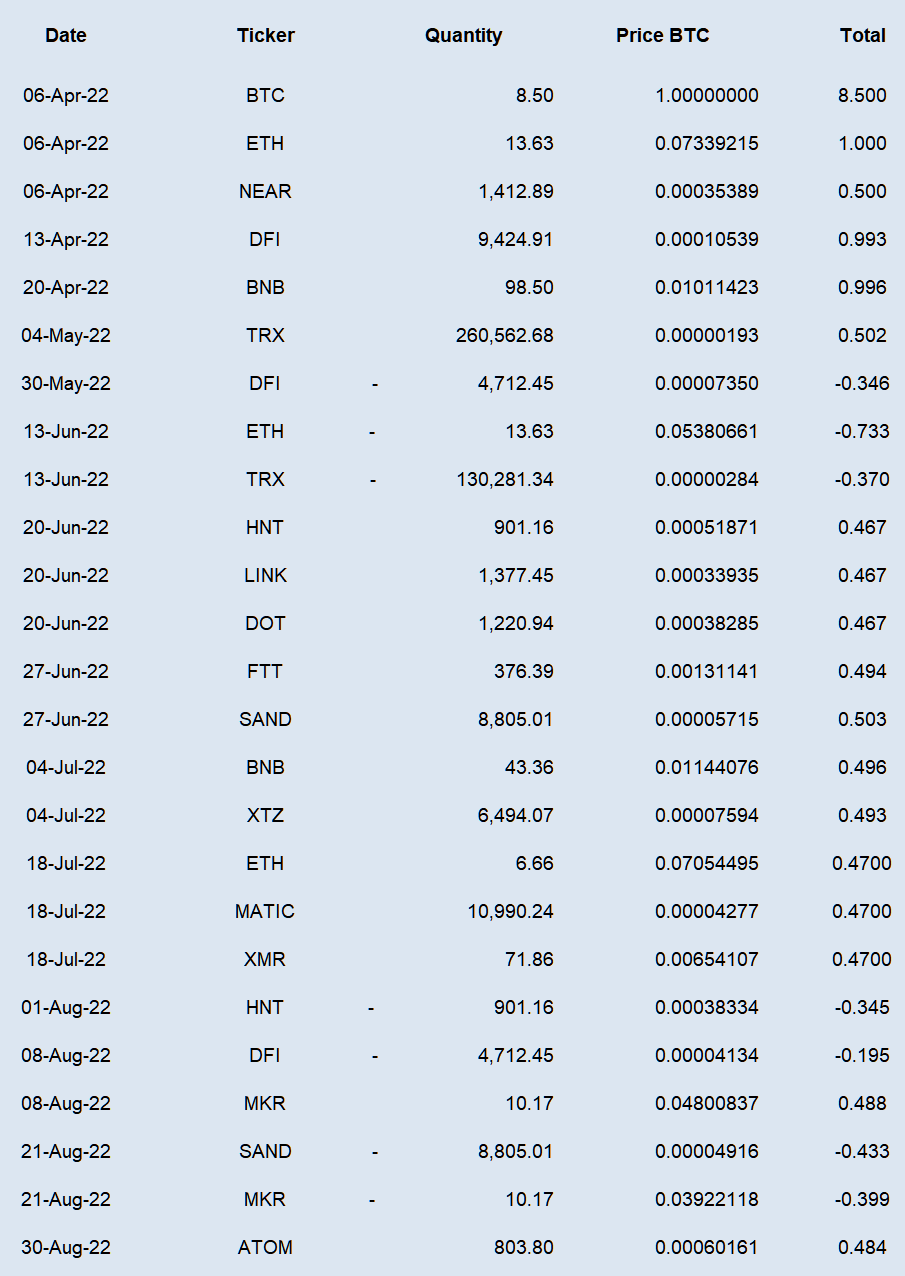 Action: ByteFolio remains unchanged