Disclaimer: Your capital is at risk. This is not investment advice.
ByteTree's Crypto Leaders
ByteFolio brings together ATOMIC, ByteTrend and Token Takeaway to create ByteTree's model portfolio, known as ByteFolio. This is a selection of crypto tokens, which are weighted according to their risk/reward characteristics. ByteFolio has a modest turnover and will not suit traders. It will appeal to investors who wish to diversify beyond bitcoin, with the aim to beat it.
The breadth charts show the broad weakness in crypto, as 70% of tokens are now in downtrends in USD terms.

Source: ByteTree. ByteTrend breadth chart relative to USD over the past 12 weeks.
But bitcoin has recently taken a hit, and when measured in BTC, there is a divergence appearing with a growing number of strong trends (dark blue) and an even larger group of laggards (red). That means some projects are proving more resilient than bitcoin itself, which contrasts with what happened in Q2.

Source: ByteTree. ByteTrend breadth chart relative to BTC over the past six months.
Back in April, as the price of bitcoin fell, the number of tokens lagging bitcoin exploded. Bitcoin fell, but most tokens fell by more. Something then changed in June. Bitcoin kept falling, but this time the red skies retreated, meaning a growing list of tokens had started to stabilise.
The leading trends that have emerged in recent months have one thing in common - they are revenue-generating business models. There are numerous crypto projects, and some of them will change the world. Those that do are guaranteed to pass through the 5-star ByteTrend filter as they beat the market. This approach is designed to identify and lock on to the future leaders.
This week, the 5-star trends in BTC are dominated by exchanges, which generate revenue. ByteFolio holds Binance (BNB) and FTX (FTT), which are deemed to be the best two. But there are others and ByteTree will look at all of the major exchanges and compare them. This will be an interesting exercise.
In addition, there was ATOM with a 4-star trend, having been 5-star yesterday. The 280-day moving average turned down, but this relates more to prices late last year than it does today.
ByteFolio will add 5% COSMOS (ATOM)
Liam Connor wrote about ATOM for ByteTree in January before ByteFolio was launched. It is an ecosystem of connected blockchains and is often dubbed the 'Internet of Blockchains'. It allows different blockchains to communicate with each other in a frictionless manner.
Each chain is independent and custom-built to service the needs of specific applications or, in some cases, generically built to power ecosystems. What they all have in common is that they are all built with the Cosmos technology stack - a group of technologies that allows a developer to quickly and easily deploy a custom blockchain ready to interoperate within the Cosmos ecosystem.
ATOM supported Terra (LUNA), the algorithmic stablecoin project which failed spectacularly in May. That link shouldn't impact ATOM as it was a service provider, but it unquestionably damaged sentiment at the time. ATOM in BTC is back to the price before LUNA failed. It was in an uptrend then, as it is again today.

Source: ByteTree. ByteTrend chart for Cosmos (ATOM), relative to BTC, over the past year.
The risk here is not holding ATOM because it is clearly an interesting and resilient project with good long-term potential.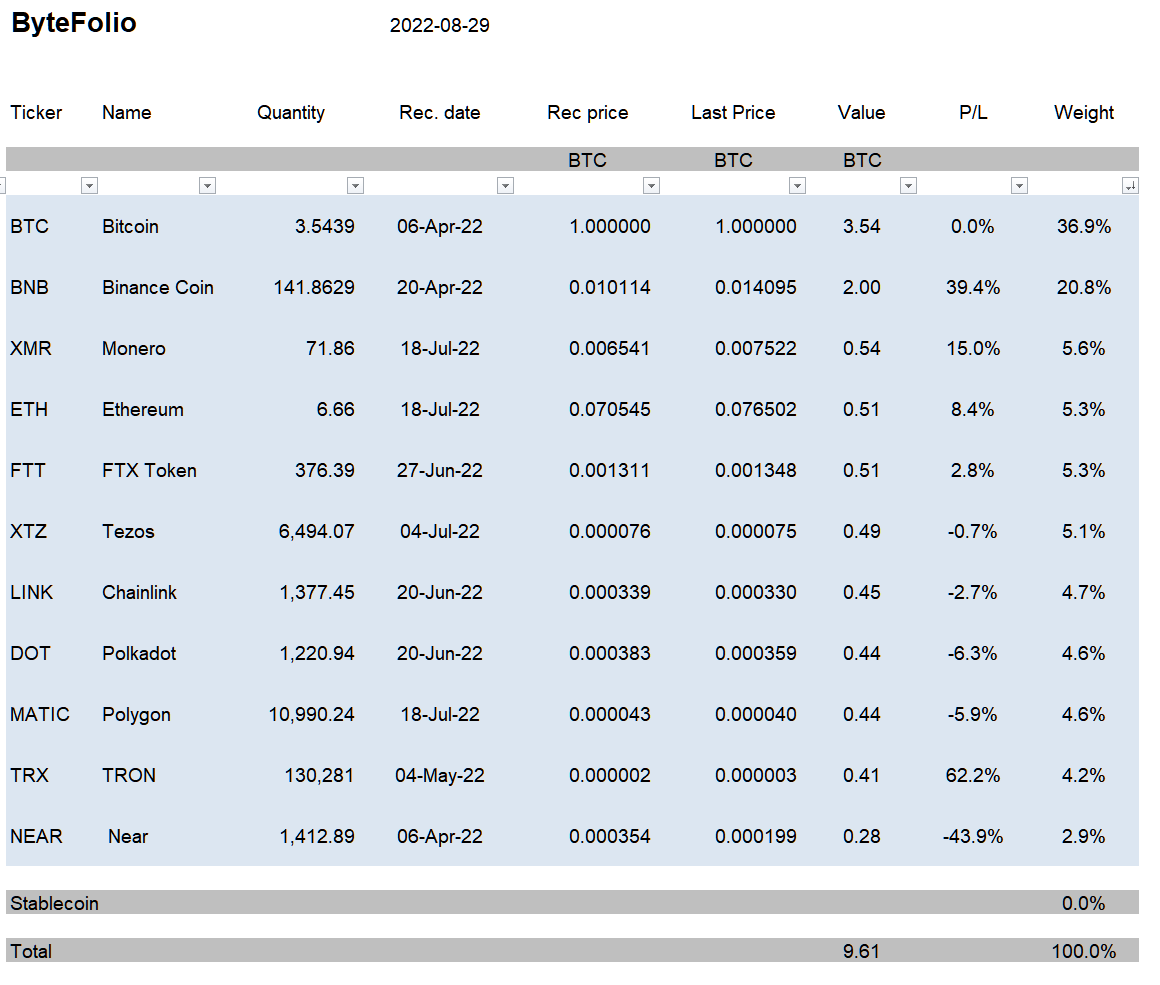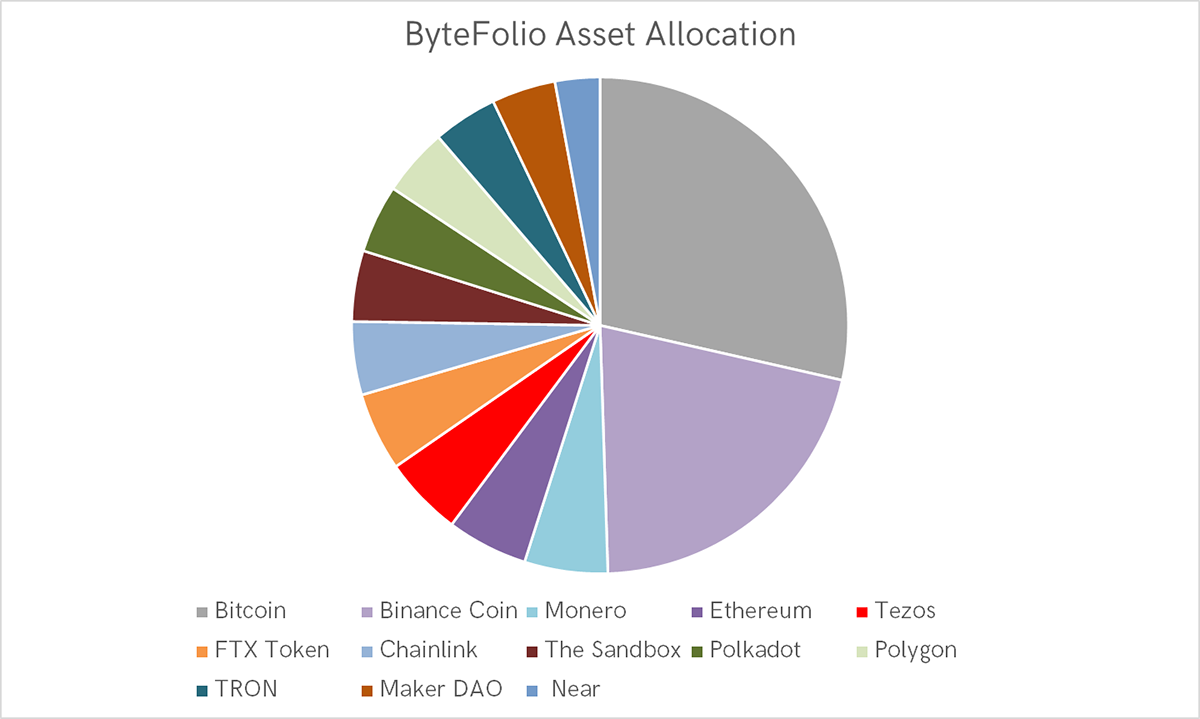 ByteFolio started on 6 April 2022 with 10 BTC. Prices bought or sold are recorded at the end of the day after publication. Historical ByteFolio trades have been recorded as follows:
Purchases and sales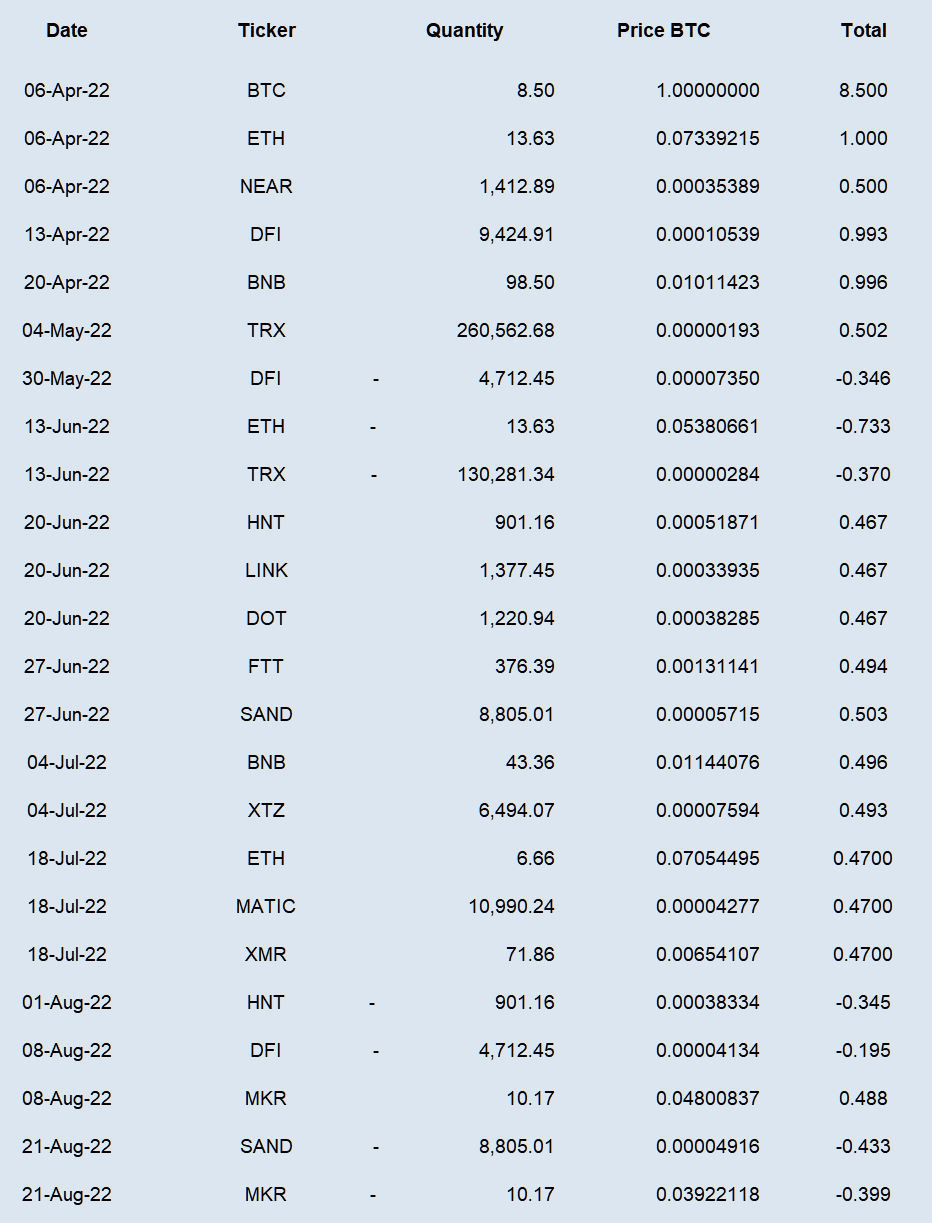 Action: ByteFolio will buy 5% ATOM