Disclaimer: Your capital is at risk. This is not investment advice.
ByteTree's Crypto Leaders
ByteFolio brings together ATOMIC, ByteTrend and Token Takeaway to create ByteTree's model portfolio, known as ByteFolio. This is a selection of crypto tokens, which are weighted according to their risk/reward characteristics. ByteFolio has a modest turnover and will not suit traders. It will appeal to investors who wish to diversify beyond bitcoin, with the aim to beat it.
Buying MAKER (MKR)
MakerDAO is a DeFi protocol launched in 2014 that hosts the largest collateral-backed stablecoin, DAI. It uses smart contracts, where users can lock up select ERC-20 tokens and mint DAI. The collateralisation ratio is 150%, and given the age of MakerDAO, it has proven to be a very secure way to back a decentralised stablecoin. The project has a decent reputation in terms of maintaining the DAI peg and showcasing sustainability, stability and security.
We wrote a research piece on Maker DAO (MKR) in May. Given DAI's high collateral, it has held its peg through the recent market turbulence. Better still, it has grown to $7bn.

Source: CoinGecko. DAI to USD since January 2020.
In May, we were waiting to see if the trend would improve, and it has, managing to turn the 280-day moving average positive, when priced in BTC. Since 2019, the price has been remarkably stable in BTC, which means this isn't particularly risky (at least in BTC). Considering the strong growth in DAI, it seems likely to only get stronger from here.

Source: ByteTree. ByteTrend for Maker (MKR) since May 2018.
Selling DefiChain (DFI)
We liked the story, but the price action is weak. We gave it the benefit of the doubt to enjoy the July rally, but that has now failed. Sometimes the market knows something we don't, and this will be sold from the model.

Source: ByteTree. ByteTrend for DefiChain (DFI) over the past 52 weeks.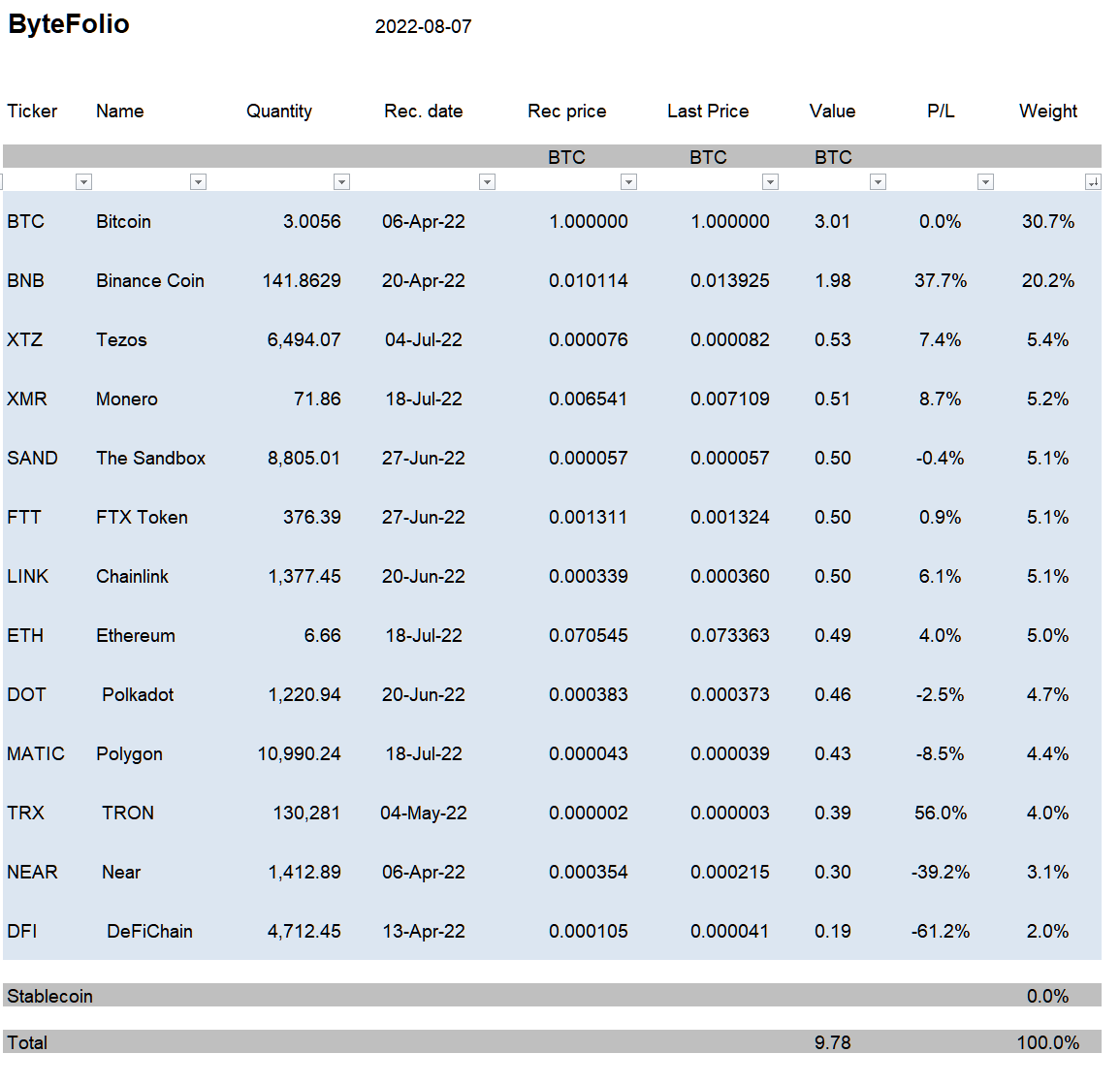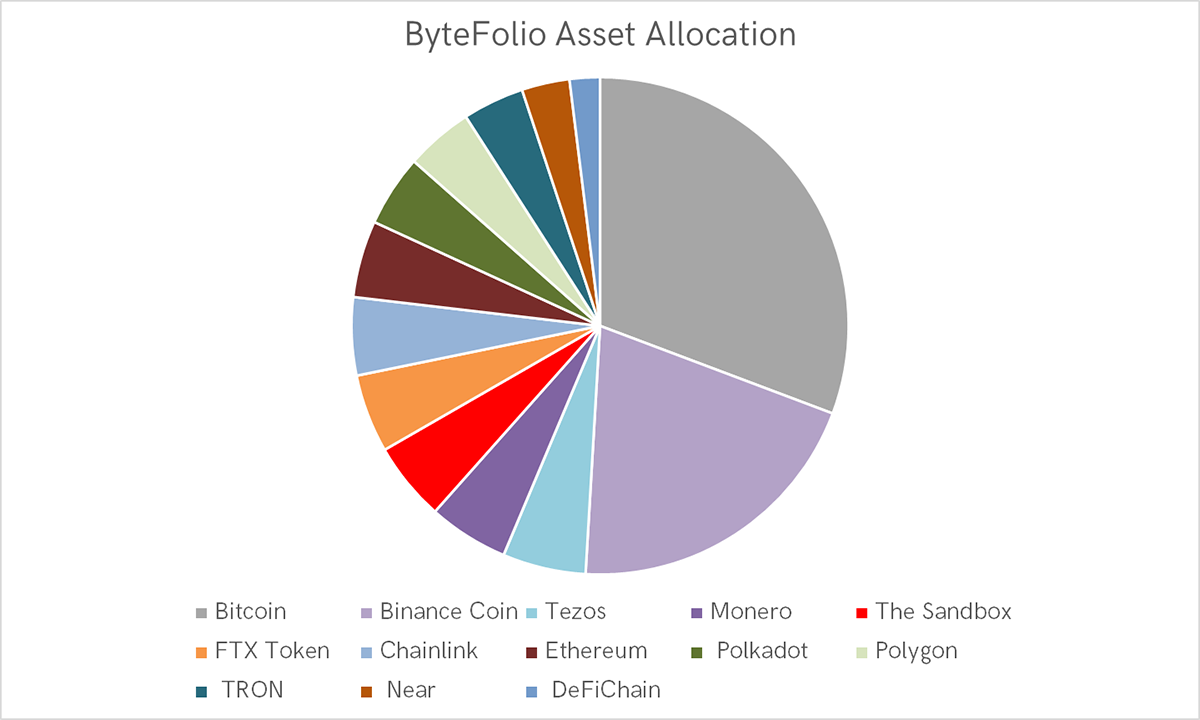 ByteFolio started on 6 April 2022 with 10 BTC. Prices bought or sold are recorded at the end of the day after publication. Historical ByteFolio trades have been recorded as follows:
Purchases and sales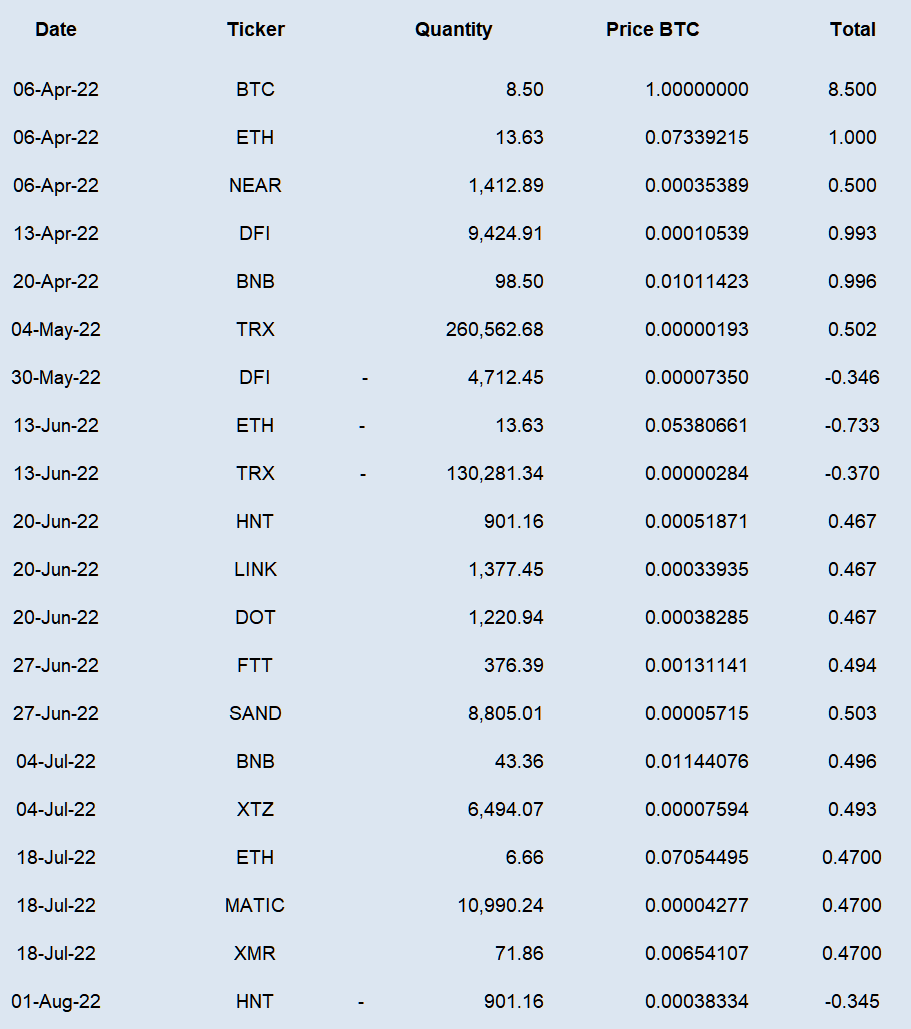 Action: ByteFolio will buy 5% Maker (MKR) and sell DefiChain (DFI)