Disclaimer: Your capital is at risk. This is not investment advice.
ByteTree's Model Portfolio
ByteFolio brings together ATOMIC, ByteTrend and Token Takeaway to create ByteTree's model portfolio, known as ByteFolio. This is a selection of crypto tokens, which are weighted according to their risk/reward characteristics. ByteFolio has a modest turnover and will not suit traders. It will appeal to investors who wish to diversify beyond bitcoin, with the aim to beat it.
Today, ByteFolio will add Tezos (XTZ) and will increase the position in Binance (BNB).
There are now 10 five-star trends in the system when priced in BTC. ByteFolio holds BNB and TRX.
LEO, OKB and MX are exchange tokens. These are proving to be stable, but we already hold BNB and FTX. How many exchanges should ByteFolio be exposed to remains a question. We believe we hold the best of the bunch.
LEO is linked to Bitfinex, which has fairly low liquidity. We can't see the bullish case. It is a similar story for OKB and MX, which aren't busy enough to warrant an investment.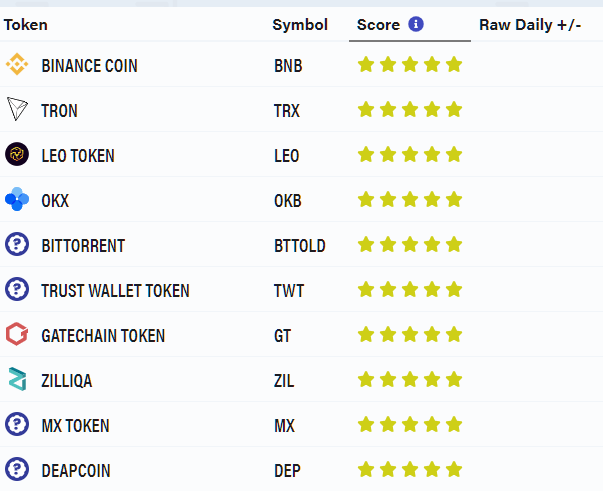 Source: ByteTree. Crypto tokens with a 5-star ByteTrend in BTC on 4 July 2022.
BTTOLD is linked to TRX, so there is already exposure.
TWT is a good wallet, but again is linked to BNB, where there is already exposure, and now even more.
The analysts are looking into GT, a bridge between blockchains, and DEP, a media platform. We will await the outcome of their research.
Having reviewed the ByteFolio trends, all seem to be in recovery mode, with just DFI looking sick. The analysts remain happy with DFI. It has strong tokenomics and a staking yield of 26%, which is quite something. They say it needs a catalyst, so we'll hold the faith. All other trends are either positive or in recovery mode.

Source: ByteTree. ByteTrend for DFI in BTC.
Adding 5% to BNB to make the new total 17%
BNB serves two purposes: as a native token to the BNB chain (BNB smart chain and BNB beacon chain) and as an exchange token (Binance).
It was initially launched in 2017 as a utility token for the Binance exchange, with 200 million in total supply. The exchange currently has a high of $76bn in 24hrs trading volume and can facilitate 1.4+ million transactions per second with <0.1% in transaction fees.
In the current bear market, where other exchanges are barely surviving, Binance looks unaffected. In fact, they're hiring thousands of new employees and partnering with popular personalities like CR7 and others. Additionally, BSC is the 2nd largest chain in terms of TVL, and BNB is set to halve its total supply to 100 million, making it a deflationary token.
Adding 5% to Tezos (XTZ)
Tezos is a multi-purpose decentralised blockchain platform that can be used to build complex smart contracts and decentralised applications.
Currently, there are around 90 projects built on the network, including music, fashion, gaming and art, which are driving the surge in its on-chain activity. Additionally, Tezos Foundation holds $1.1bn in assets to contribute to the enhancement of the Tezos ecosystem. With the implementation of Ithaca-II (the latest upgrade), Tezos is set to have significant scalability solutions and is on the path to becoming an emerging contender in the blockchain space.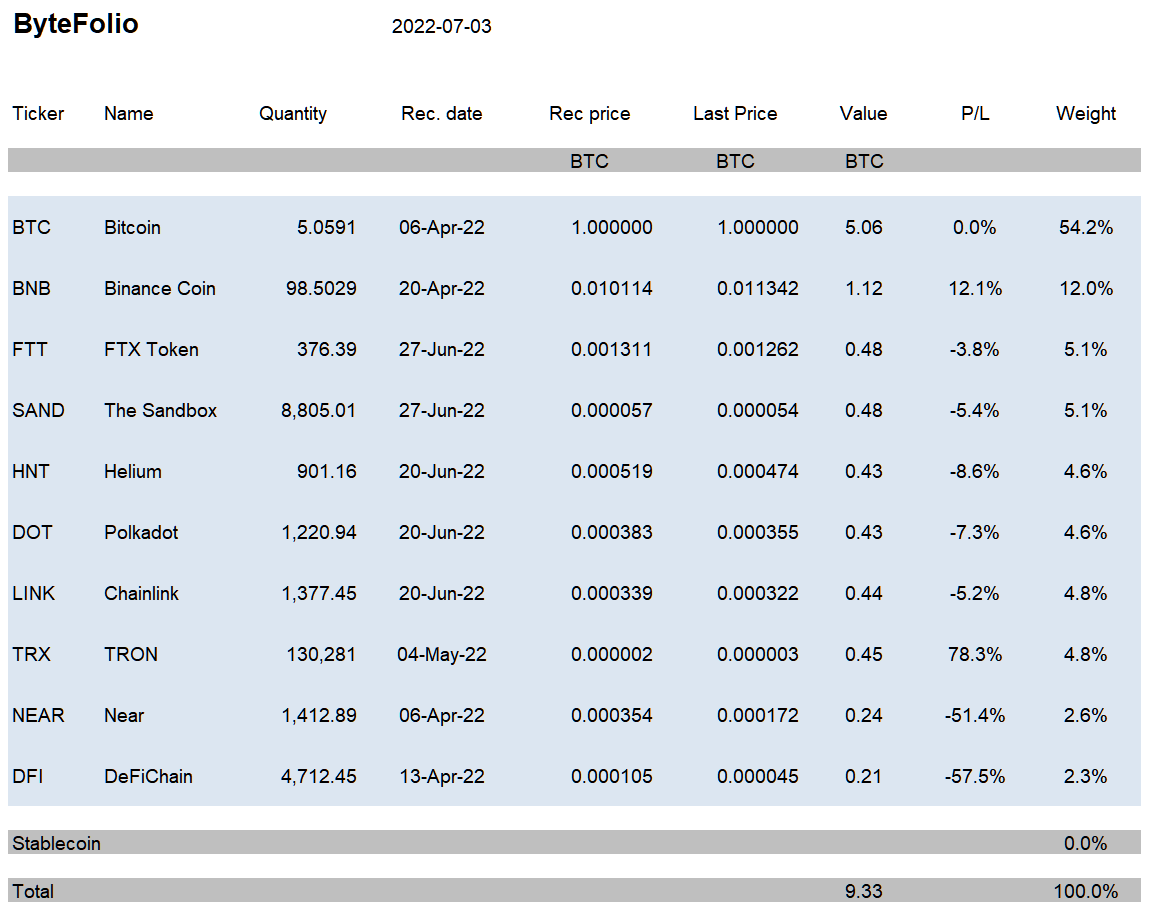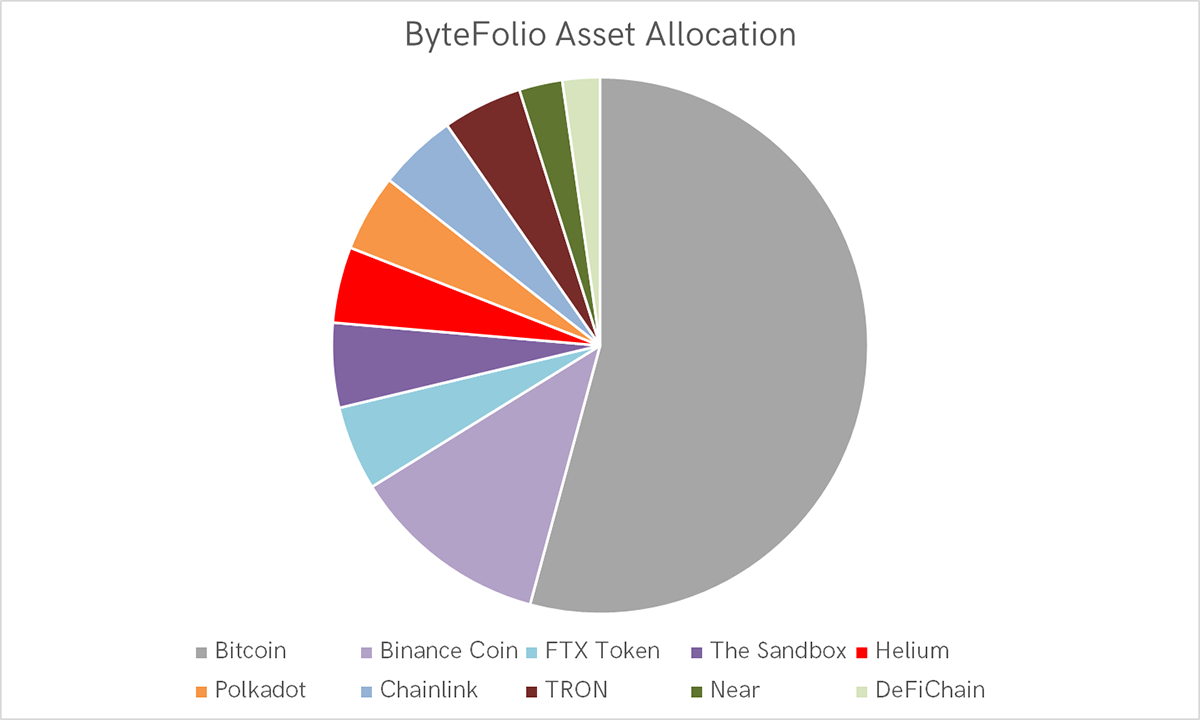 ByteFolio started on 6 April 2022 with 10 BTC. Prices bought or sold are recorded at the end of the day after publication. Historical ByteFolio trades have been recorded as follows:
Purchases and sales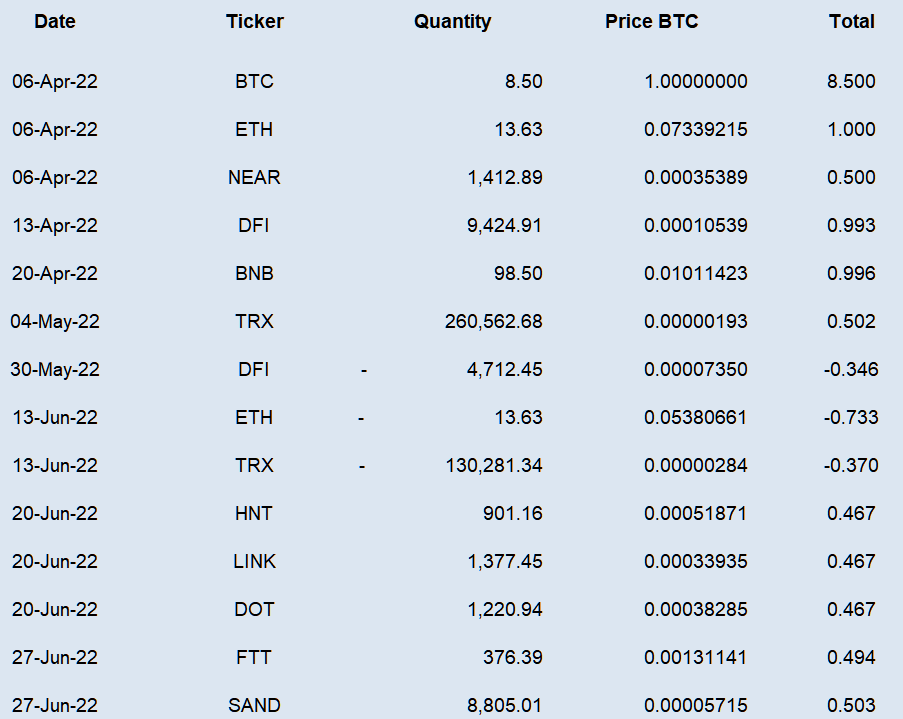 Action: ByteFolio will add 5% to both BNB and XTZ.