Disclaimer: Your capital is at risk. This is not investment advice.
ByteTree's Model Portfolio
ByteFolio brings together ATOMIC, ByteTrend and Token Takeaway to create ByteTree's model portfolio, known as ByteFolio. This is a selection of crypto tokens, which are weighted according to their risk/reward characteristics. ByteFolio has modest turnover and will not suit traders. It will appeal to investors who wish to diversify beyond bitcoin, with the aim to beat it.
This week ByteFolio will add Ethereum (ETH), Polygon (MATIC) and Monero (XMR).
Ethereum Reawakens
The story of the week is ETH which has exploded as they have announced the long-awaited date for the merge on 19 September.
I describe ETH as the crypto post office as that is where you go to send things such as NFTs, stablecoins or defi applications. To send $10,000 of USDC, currently costs $30, when it was $80 last autumn. It isn't cheap.
Proof of work blockchains are secure and decentralised, but that makes them clunky and slow. As ETH moves to proof of stake (PoS), it will have much more capacity and fees are likely to collapse as they no longer need to incentivise miners. Estimates look to Binance Coin (BNB) where fees are around 95% lower than ETH.
On the one hand, it is hugely bullish that ETH can scale, but on the other, the lower fees will mean fewer ETH need to be bought to facilitate transactions. This may reduce the demand for ETH in the marketplace.
But then the move to PoS, will see the quantity of staked ETH rise significantly from the current 10%, as investors receive a 5% staking yield. Estimates can be as high as 80%, and this will reduce the active supply in circulation, which will be price supportive.
The forecast balance between supply and demand is complex and we will have to wait and see, but the news has been well received. I have no doubt that a larger network is bullish in the long-term but recognise the short-term may prove volatile.
In addition, ETH hasn't made a new high versus BTC since the summer of 2017. While I see it going higher in the short term, I question the idea of "flippening" whereby ETH grows larger than BTC.

Finally, ETH has a very high market cap. On the basis that elephants don't gallop, I considered how large this position should be. Being a crypto blue-chip, 10% makes sense. But given the uncertainties, ByteFolio will start with 5% as there are other angles.
This brings in the ETH ecosystem. Polygon (MATIC) is a layer 2 ETH solution that is already PoS with fees between 2 and 5 cents. In a discussion with the analysts, MATIC was deemed to be the best layer -2 scaling solution for ETH.
MATIC has a five-star trend in ETH which means it is already outperforming BTC, while it has also jumped to 5 stars in ETH. This is hard to ignore. ETH and MATIC are highly correlated (91%) and so both benefit from the same underlying trend.

Finally MATIC is valued at $8bn while ETH is $171bn. These numbers are 21x apart and are keen too embrace the natural gearing offered by MATIC.
There are also Loopring (LRC) and Lido Dao (LDO) in the ETH gang. LRC is 2 stars in ETH and headed south while LDO is 5 stars and looks strong. It is interesting as it provides a staking solution for ETH. We will look into this more closely in future updates but were not convinced we should add it this week.
ByteFolio will be adding 5% to ETH and 5% to MATIC to cover off this move in the space. We expect this combination to behave similar to a 12% ETH position, with less capital at risk.
Monero (XMR) is looking serious
XMR has moved to five-star in BTC. The chart is attractive as the price in BTC has consolidated for over a year, following an 80% + collapse from the 2018 high. Now we have a breakout.

XMR is a PoW privacy coin. There is literally no way to track transactions, and that means it does its job as described. It is a simple coin, like BTC, which is primarily used for discreet payments. The blockchain is slow, but secure.
Given the privacy, there are few network statistics available for XMR but you can see the number of transactions, which are growing nicely. XMR looks like a winner.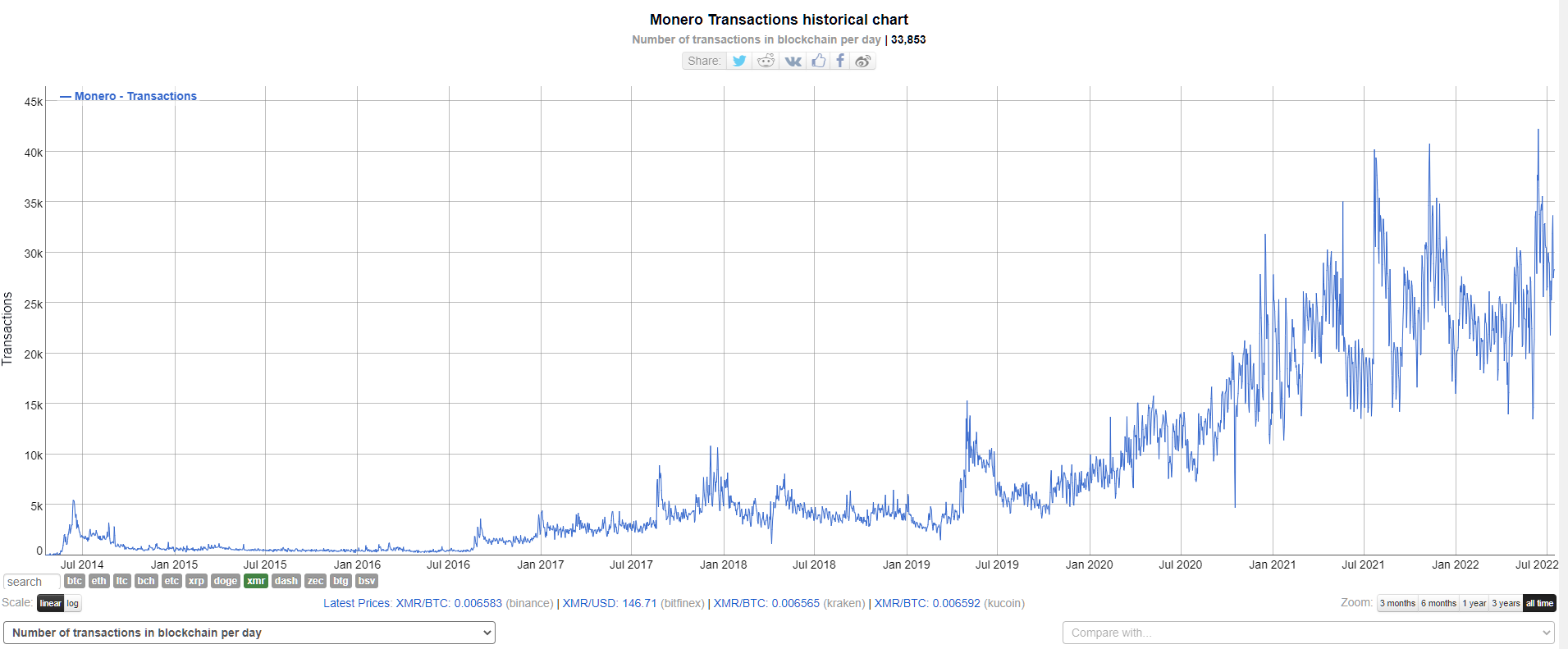 Source: https://bitinfocharts.com/
To some, privacy is a legitimate use case, whereas for others it is morally reprehensible. Being advocates of financial freedom, we do not have an opinion on this.
ByteFolio will add 5% in XMR.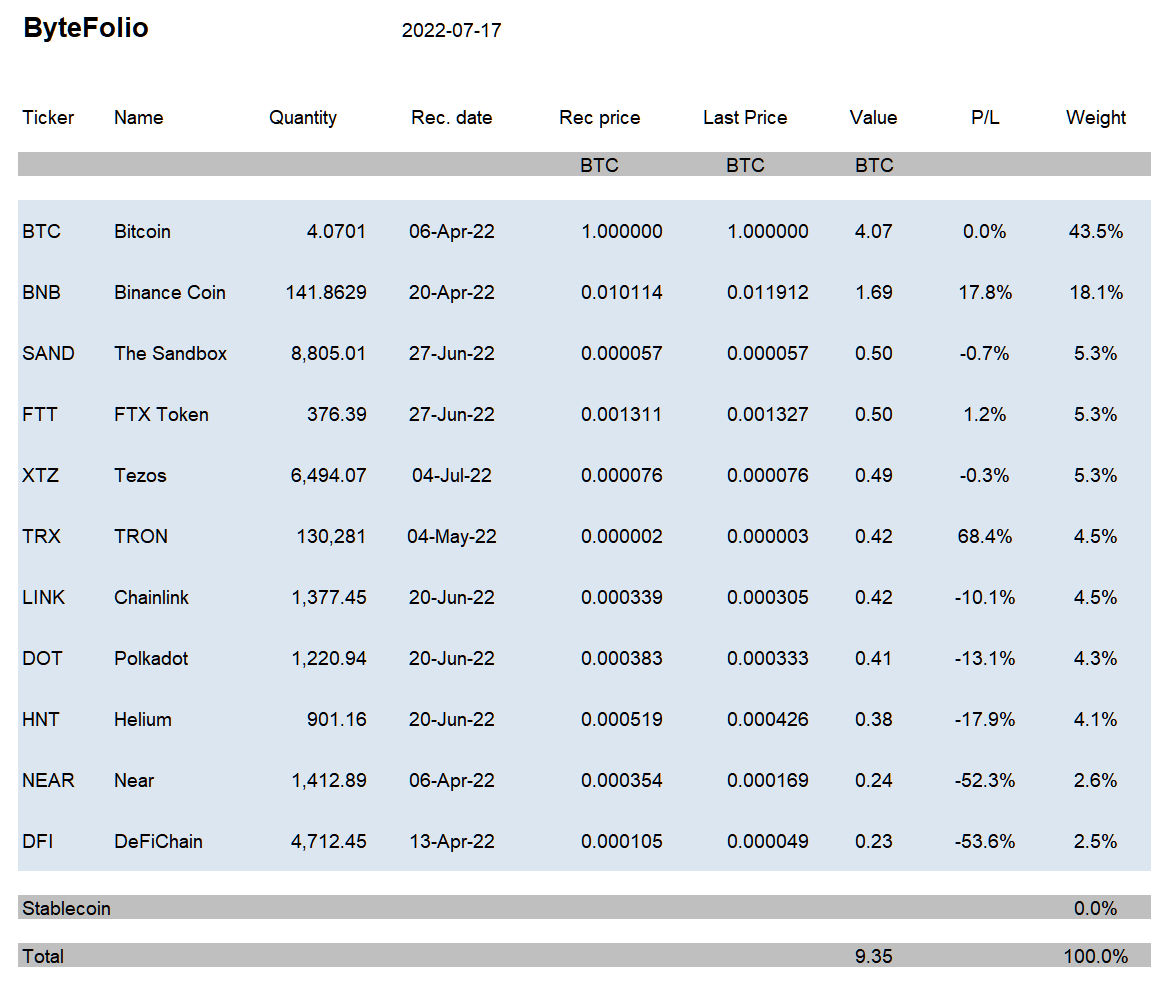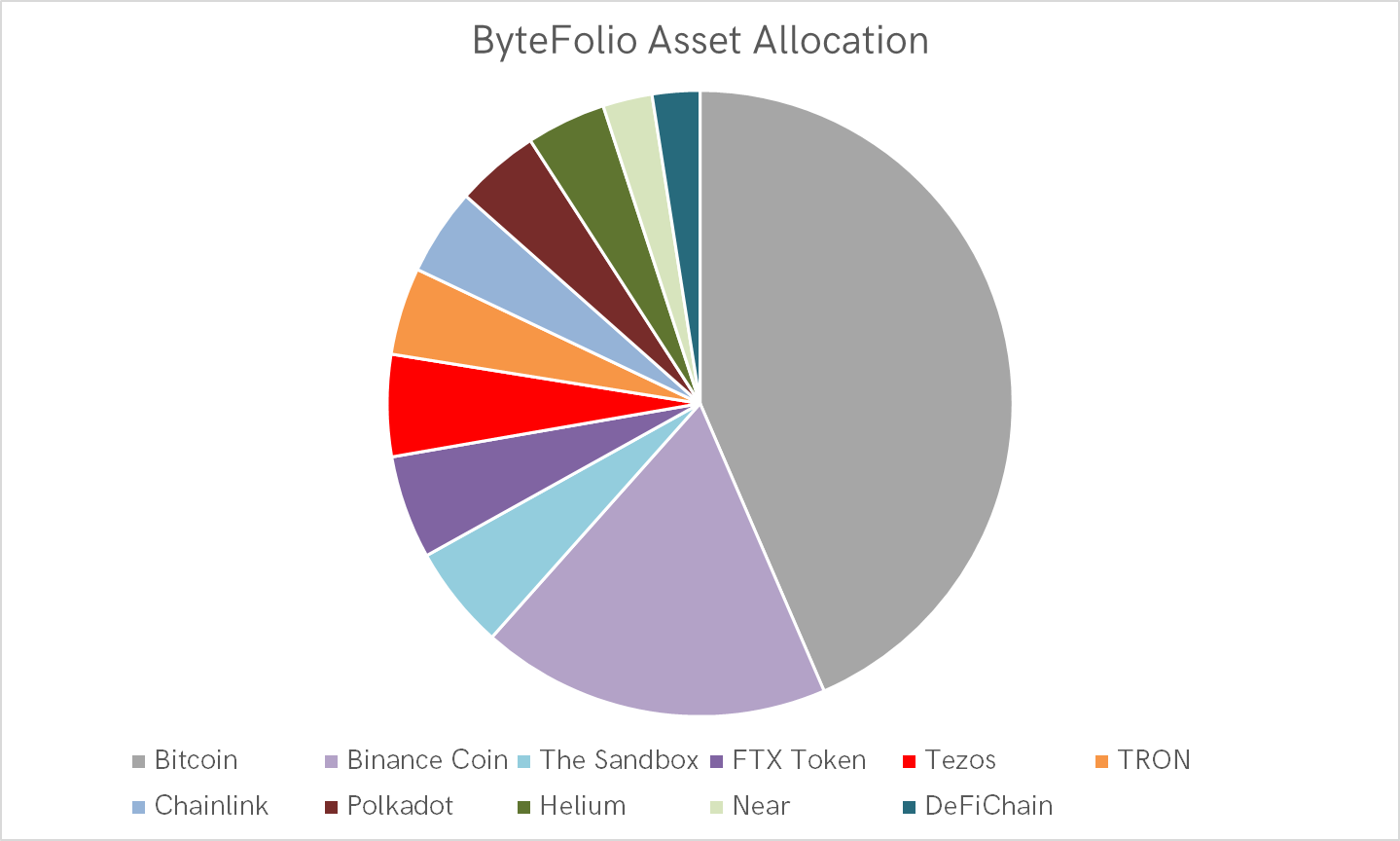 ByteFolio started on 6 April 2022 with 10 BTC. Prices bought or sold are recorded at the end of the day after publication. Historical ByteFolio trades have been recorded as follows:
Purchases and sales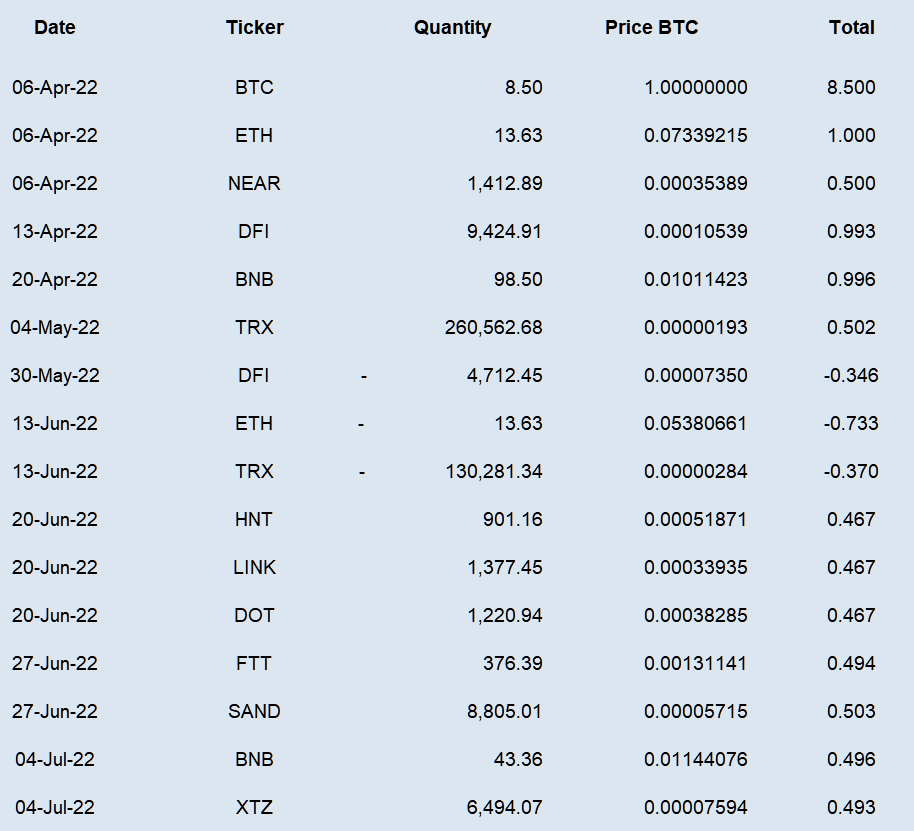 Action: ByteFolio will add 5% to each of Ethereum (ETH), Polygon (MATIC) and Monero (XMR).