Disclaimer: Your capital is at risk. This is not investment advice.
Token Takeaway: XTZ Token
With Solana being a 2021 darling, it comes as no surprise that investors are on the hunt for the next ETH killer. We had a look at Tezos, just to check if it has risen from the dead. What we discovered surprised us.
Smart contract blockchains have been the overarching market focus in recent weeks. Perhaps this is due to the somewhat underwhelming results from Ethereum's "London Hard Fork". The big contenders, Solana and Cardano, have also both had issues.
Most notably, Solana's blockchain went offline for around a day, which is extremely distressing. This event barely affected the market price of SOL (-10%), which is equally worrying and shows how speculative SOL is. Furthermore, Ethereum has had issues with its layer 2 Abritum, which also went offline briefly.
On the flip side, a long-standing contender is beginning to gain well-deserved attention - Tezos (XTZ). Tezos launched in 2017 and is a smart contract blockchain with a strong investment case. As we will explore, it is well-funded, active in grant programs, and has recently seen its blockchain awake from slumber.
Tezos's Proof-of-Stake History
Bitcoin has often come under criticism for its proof-of-work consensus method, which is known for its energy-intensive mining process. With increased awareness around green energy and protecting the planet's ecosystem, Bitcoin has often been used as the scapegoat in the crypto space.
The next best alternative is the less energy-intensive method, Proof-of-Stake (PoS). With PoS, market participants stake their tokens to validate transactions. Peercoin, released in 2012, was the first hybrid-PoS method. However, it still required users to use proof-of-work to mint tokens.
Apart from Decred in 2016, it was not until the 2017 Initial Coin Offerings bubble that the first wave of PoS blockchains emerged. These included Cosmos, Polkadot, EOS, Tron, Tezos and VeChain. Tezos was one of the largest fundraisers with over $230m. Since then, Tezos has kept its head down and focused on upgrading its protocol. Since 2019, six significant network upgrades have been carried out.
Not Just Another Proof-of-Stake
Tezos differentiates itself from other blockchains through its chosen method of governance. The founders, Andrew and Kathleen Breitman, highlighted an issue with Bitcoin's method of network upgrade, called forking. This is referring to Bitcoin relying on off-chain consensus to agree on network proposals being passed. Tezos has an answer. It implements a formalised and automated on-chain governance mechanism that empowers stakeholders to coordinate upgrades. This is a form of stake-based governance that is considered more inclusive.
The Team, Funding, Partnerships
As mentioned, the two most significant team members are husband and wife Arthur and Kathleen Breitman. Arthur previously worked at Morgan Stanley but first came across Bitcoin in the cryptography mailing list when the digital asset was first announced. Before Tezos, Kathleen, who holds a degree from Cornell University, worked at R3 (a consortium of more than 70 financial firms), Accenture, and Bridgewater.
The Tezos Foundation makes up the rest of the team. This Swiss organisation is supervised by the Swiss Federal Foundation Supervisory Authority and aims to promote the Tezos protocol through grants and other capital deployment vehicles.
| Facts | Figures |
| --- | --- |
| Network Upgrades (Past 6 Months) | 2 |
| Foundation Assets | $1.1bn |
| Value of New Grants | $51.3m |
| Countries Where New Grants Are Committed | 27 |
Source: Tezos Foundation Biannual Update
Foundation Grants
When it comes to smart contract blockchains, their foundations play a pivotal part in the success of the network. These organisations often incentivise developers and protocols to build on their blockchains to make the underlying network activity boom.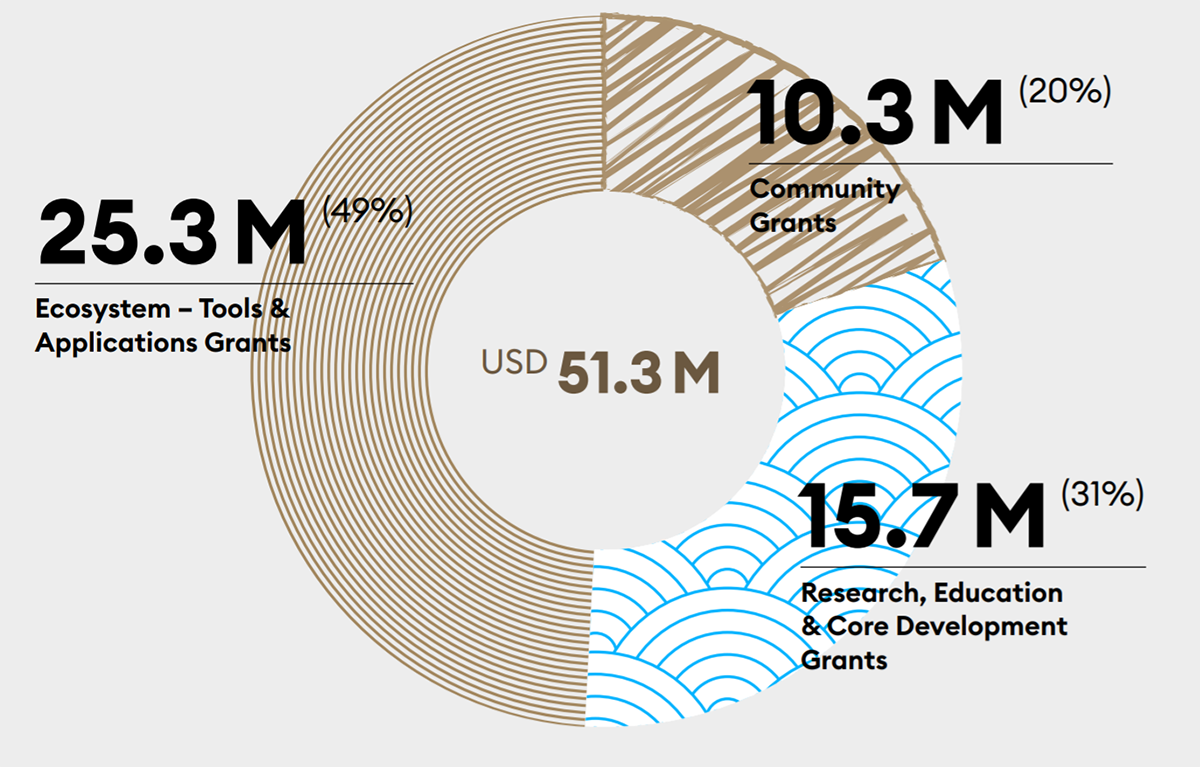 Source: Tezos Foundation. Total Grants Committed In Last Six Months.
In the case of Tezos, the last six months have seen them commit over $50m in new grants. In comparison, Consensys, who commit grants for Ethereum, have committed around $550,000 in total (spanning three years). This means Tezos have committed 100x that of Consensys in just six months.
Further analysis into the Ethereum Foundation shows that they are not as active in funding new development. In September last year, they committed nearly $4m to 28 different companies, some of which would be allocated to ETH 2.0.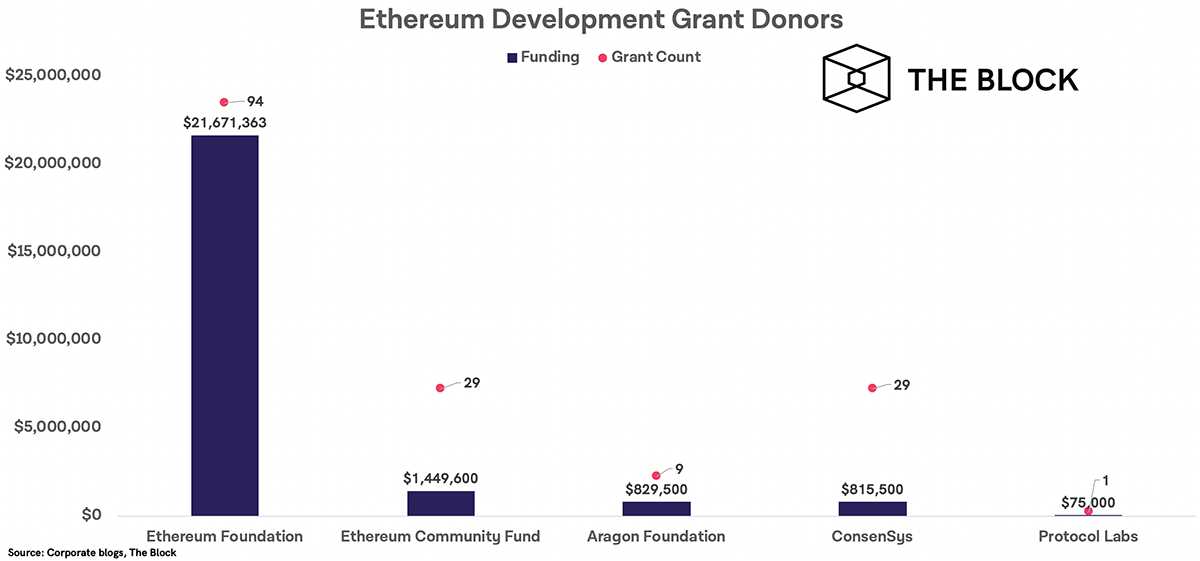 Source: The Block. Total Ethereum Grants till May 2020.
Along with the $23m granted between 2016 and May 2020, the foundation granted $5m in Q1 2021. It looks likely that Tezos committed more grants in the last six months than Ethereum has since its inception.
Tezos Foundations Balance Sheet
Before jumping into the make-up of the Tezos Foundation's war chest, I would like to talk about Bill Gates and his expert investments over the years. Bill Gates owned 47% of Microsoft when it IPO'd in 1986; now, he owns around 1.5%. What happened? Diversification.
Gates took the view that having his wealth concentrated in Microsoft shares was too big a risk. He now owns shares in waste management, Berkshire Hathaway, Walmart, Coca-Cola etc. This has led to him having a well-balanced personal net worth of $130bn, with $58 bn in listed equities.
In the crypto-sphere, it is very easy to become heavily exposed to a certain digital asset. Bitcoin has skyrocketed 200 times to $48k (currently) in just six years. Once wealth is created, the smart investor diversifies. We are impressed how the Tezos Foundation have managed their portfolio.

Source: Tezos Foundation. Foundation Assets
In January 2021, the Tezos Foundation had nearly $1.2bn in assets, a 57% increase since July 2020. Tezos have this money due to fundraising in BTC and ETH at their ICO in 2017, where they raised 66,000BTC and 360,000ETH.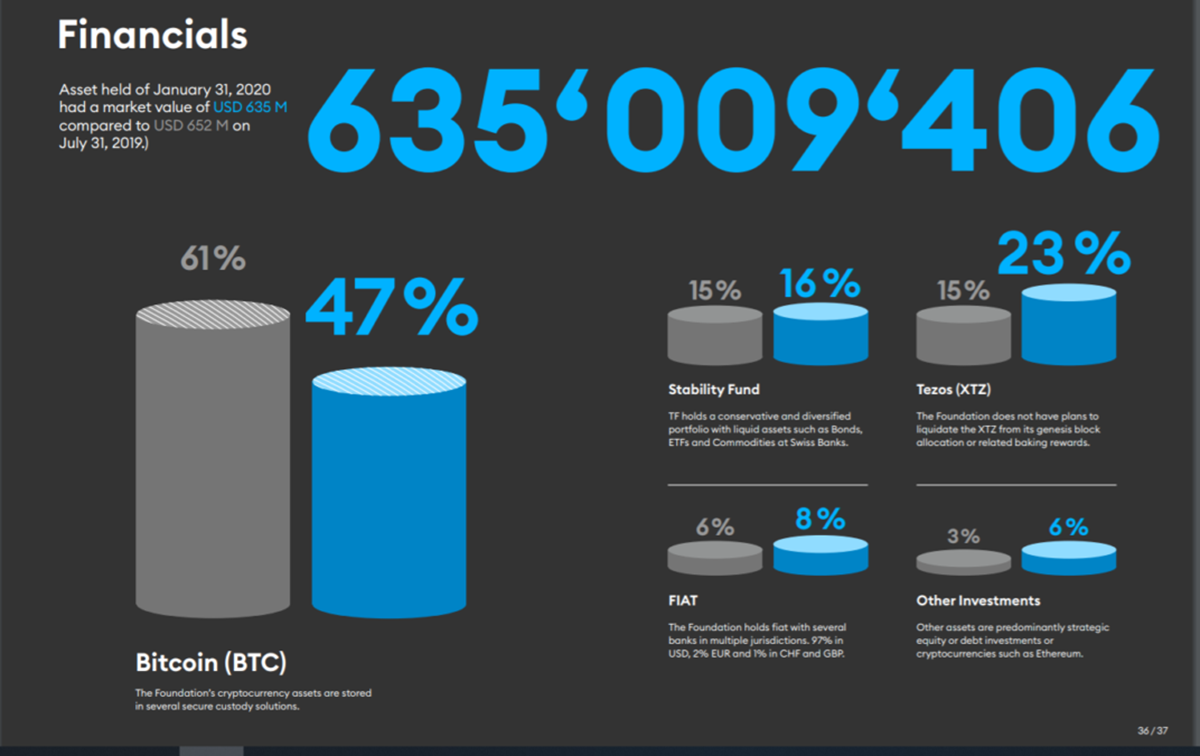 Source: Tezos Foundation. Tezos Foundation's Diversified Portfolio in January 2020. Current figures are not available.
Just like Bill Gates, Tezos have gradually diversified their portfolio into a well-rounded basket of digital and traditional assets. One suggestion would be for them to look at investing in the energy and gas sectors. In an environment of rising energy prices, the conversation surrounding the issues with Bitcoin's energy-intensive consensus method should be something they would hedge against.
Tezos Network Analysis
Tezos is well-funded, active in the community and technologically advanced, but what about the network? Tezos first appeared on our radar when we were looking at a huge spike in network activity. Most notably, weekly transactions took off like a rocket. A seasoned blockchain analyst is thinking - this is alive and kicking, having been a sleeping beast.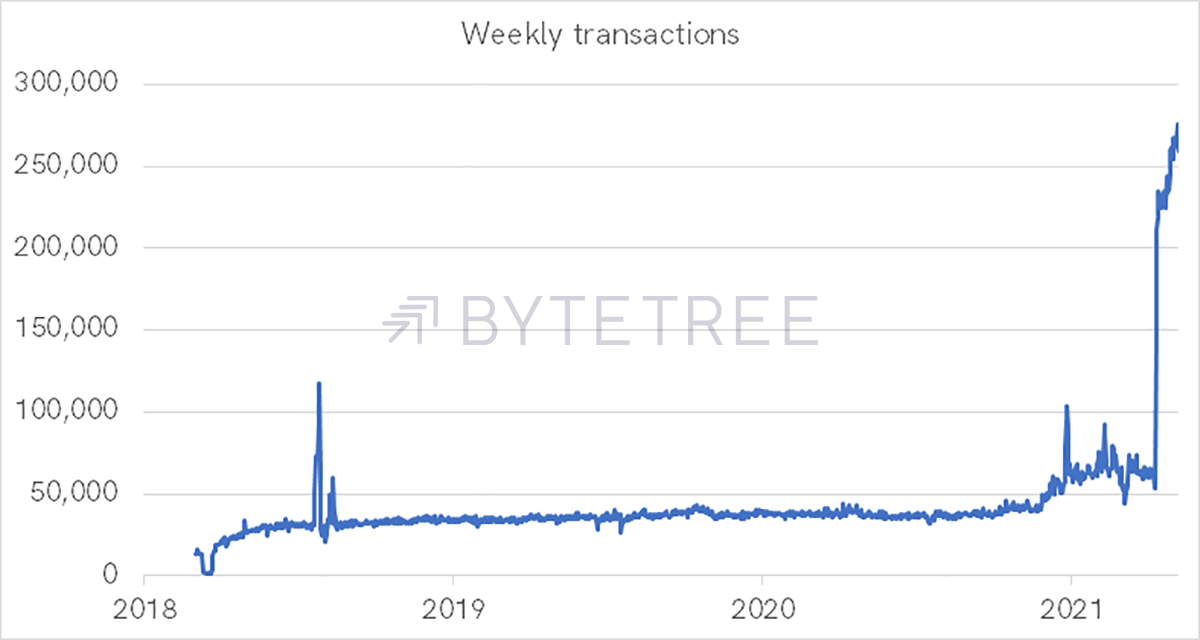 Source: ByteTree. Tezos Weekly Transactions.
With a huge balance sheet, which provides long-term security for the project, and tens of millions invested in development, this sudden breakout in network activity should be taken seriously. We believe some of it can be attributed to NFTs, but so what? The rabbit is out of the hat.
XTZ Technicals
XTZ is Tezos's native token, and over the last 10-months, it has been in a slump relative to BTC. However, the recent spike in weekly transactions has seen XTZ make an 11-month relative high against BTC. That is a sign of strength.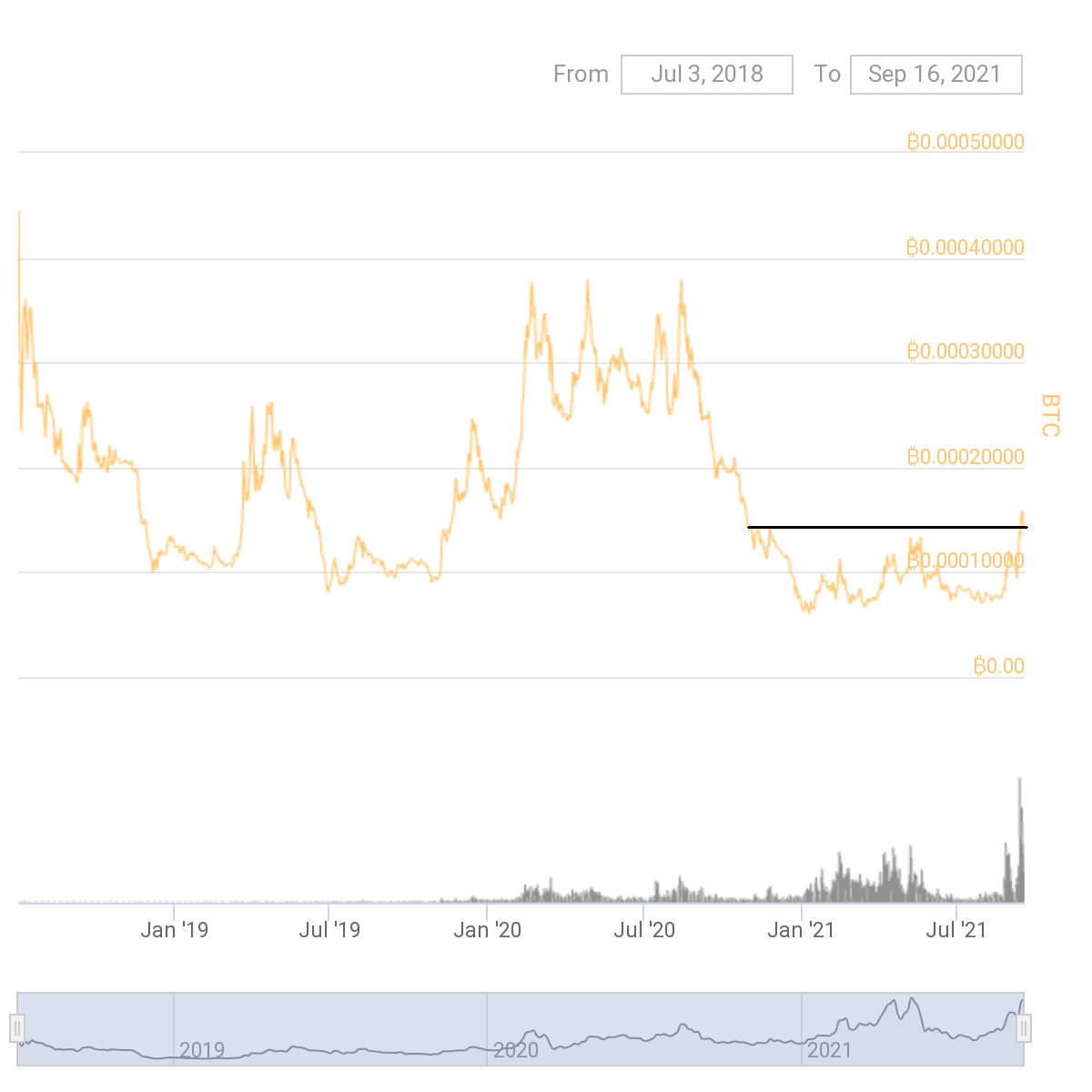 Source: Coingecko. XTZ Rel. BTC Price Chart.
Summary
Tezos has been engaged in the digital asset space for over eight years, founded as one of the first contenders to Bitcoin's Proof-Of-Work consensus method.
Its funding is unparalleled, with one of the largest ICO token sales ($232m), which has slowly grown into a gigantic portfolio of $1.2bn of traditional and digital assets. This places it in a strong position for development.
Despite this, the market has let the beast slip under the radar with ten months of poor network activity and token performance. With a sudden network spike and the release of NFT based smart contracts, Tezos is looking undervalued, being outside the top 30 digital assets.
XTZ CONVICTION SCORE
Digital Asset Market: On-chain still weak. NFTs look to be cooling off.
Hype Vs. Reality: Reality.
Trade or Trend: Investment case for both. With such a well-funded foundation, it looks likely XTZ will be around for a while. A definite trend to be had with the blockchain waking up and weekly transaction spiking.
Market Outperformance: Just broke out of a 10-month slump to make a new 11 month high. Underperformance against hyped up competition, vastly undervalued being outside of the top 30 cryptos.
Competitive Advantage: Unparalleled funding and technological advantage. It needs to see continued development in its financial stack.
Token Takeaway Score: 4/5