Disclaimer: Your capital is at risk. This is not investment advice.
ByteTree's Model Portfolio
ByteFolio brings together ATOMIC, ByteTrend and Token Takeaway to create ByteTree's model portfolio, known as ByteFolio. This is a selection of crypto tokens, which are weighted according to their risk/reward characteristics. ByteFolio has a modest turnover and will not suit traders. It will appeal to investors who wish to diversify beyond bitcoin, with the aim to beat it.
Today, ByteFolio will add the FTX Token (FTT) and The Sandbox (SAND)
As stated last week, the 280-day moving average can take months to turn. As a result, the leading projects, which have already demonstrated a survivor bias, will have a pass, and we are looking at 3-star trends in BTC. They can make it into Byte Folio if the analysts like the project.
This week we discussed Polygon (MATIC) and Uniswap (UNI), which have both recovered to 3 stars in BTC. They have been rejected at this point, not because they aren't good projects, but because they are linked to ETH, which remains weak. We acknowledged that for them to perform, ETH must be in play and, as a result, have decided to wait.
FTX Token (FTT) 5 stars in BTC

Source: ByteTree. ByteTrend for FTT over the past year.
FTT is an ERC-20 token and is the backbone of the FTX ecosystem. In 2022, FTX raised $400m from large investors like SoftBank, Paradigm and Tiger Global, valuing the platform at $32 billion. FTT holders are eligible for discounted trading fees on the FTX platform, and these discounts range from 3% to 60%, depending on the amount of FTT held. FTT is a deflationary asset as FTX aims to burn 50% of all FTT in the long run, which can lead to bullish price action.
The Sandbox (SAND) 4 stars in BTC

Source: ByteTree. ByteTrend for SAND over the past year.
The Sandbox can be seen as a crypto version of 'Minecraft' and is a community-driven platform where players can build, own, and monetise their gaming experiences in the form of Non-Fungible Tokens (NFTs) on the Ethereum blockchain. SAND is an ERC-20 utility token and allows holders to purchase digital assets and governance rights within the Sandbox ecosystem. The circulating supply for SAND is at 1,260,000,00, with the total supply being capped at 3,000,000,000 tokens.
ByteFolio holds 8 tokens, and after tonight, 10. I am mindful that any of these could materially outperform bitcoin when market conditions return. After these two additions, the bitcoin weight will be down to around 55%, which is a good place to be after the recent selloff.
ByteFolio started on 6 April 2022 with 10 BTC. Prices bought or sold are recorded at the end of the day after publication. Historical ByteFolio trades have been recorded as follows:
Purchases and sales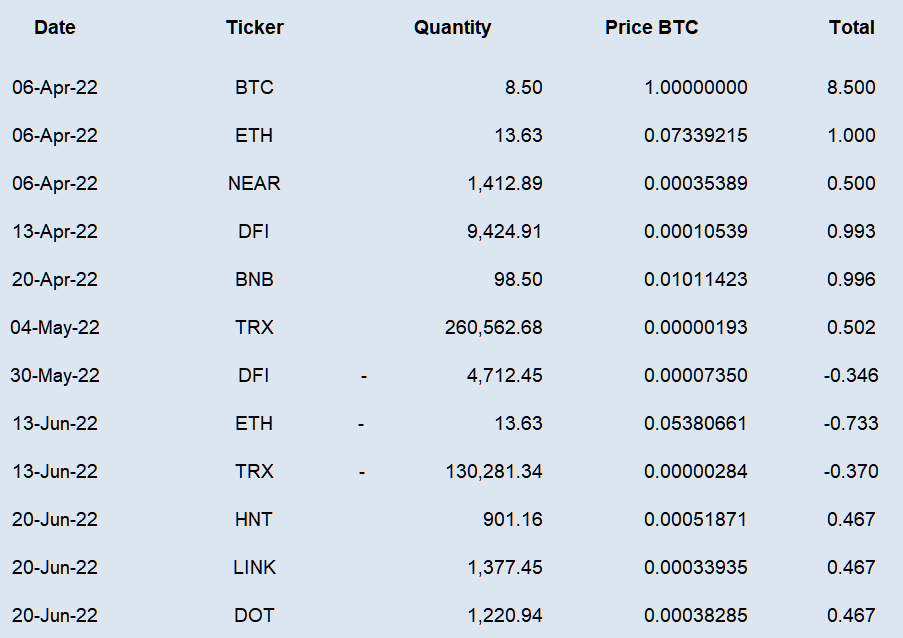 Action: ByteFolio will add 5% to both FTT and SAND.