Disclaimer: Your capital is at risk. This is not investment advice.
ByteTree's Model Portfolio
ByteFolio brings together ATOMIC, ByteTrend and Token Takeaway to create ByteTree's model portfolio, known as ByteFolio. This is a selection of crypto tokens, which are weighted according to their risk/reward characteristics. ByteFolio has a modest turnover and will not suit traders. It will appeal to investors who wish to diversify beyond bitcoin, with the aim to beat it.
Today, ByteFolio will add Helium (HNT), Chainlink (LINK) and Polkadot (DOT)
Long-term trend following is a discipline that works best when the market is in a steady state. This is most definitely not where crypto is today. As a result, a three-star trend is the new five. This is an exception we must make following the price correction, at least for the more established larger projects.
After a crash on the scale we have just seen, it can take a long time for an asset to regain five stars because it takes several months, at least, to turn a 280-day moving average. While I will stick with five stars for smaller projects, larger projects can be considered on three stars, as the earliest recoveries often turn out to be the strongest in the next cycle.
These early movers could turn out to be a steal. HNT has turned five-star while LINK and DOT are three-star.
Helium (HNT) 5 star in BTC
Helium is a peer-to-peer wireless network that utilises the Proof of Coverage consensus mechanism to provide long-range connection to Internet of Things (IoT) devices, like smart watches, smart door locks, pet trackers etc. Users use hotspots to provide the coverage and, in return, are awarded HNT tokens. With over 865k hotspots based on all seven continents, Helium is indeed building a revolutionary wireless infrastructure.

Source: ByteTree. ByteTrend for Helium (HNT), measured in BTC, over the past year.
Chainlink (LINK)
Chainlink is the crypto world's dominant "Decentralised Oracle Network". In its simplest form, an oracle takes data from the real world – for example, pricing, weather statistics or random number generation – and feeds this information into smart contracts in a manner that has to be absolutely reliable and trustless. As the ecosystem expands, LINK's essential role will continue to grow. The launch of the Cross-Chain Interoperability Protocol (CCIP) and staking should be catalysts for the token.

Source: ByteTree. ByteTrend for Chainlink (LINK), measured in BTC, since June 2018.
Polkadot (DOT)
Polkadot is often referred to as a layer-0 blockchain, built to connect private and consortium chains, public and permissionless networks and oracles. Polkadot facilitates an internet where independent blockchains can exchange information and transactions in a trustless way via the Polkadot Relay Chain. Currently, almost 130 million DOT tokens are locked up in Polkadot's crowd loan services for the next two years, effectively reducing the supply of DOT.

Source: ByteTree. ByteTrend for Polkadot (DOT), measured in BTC, over the past year.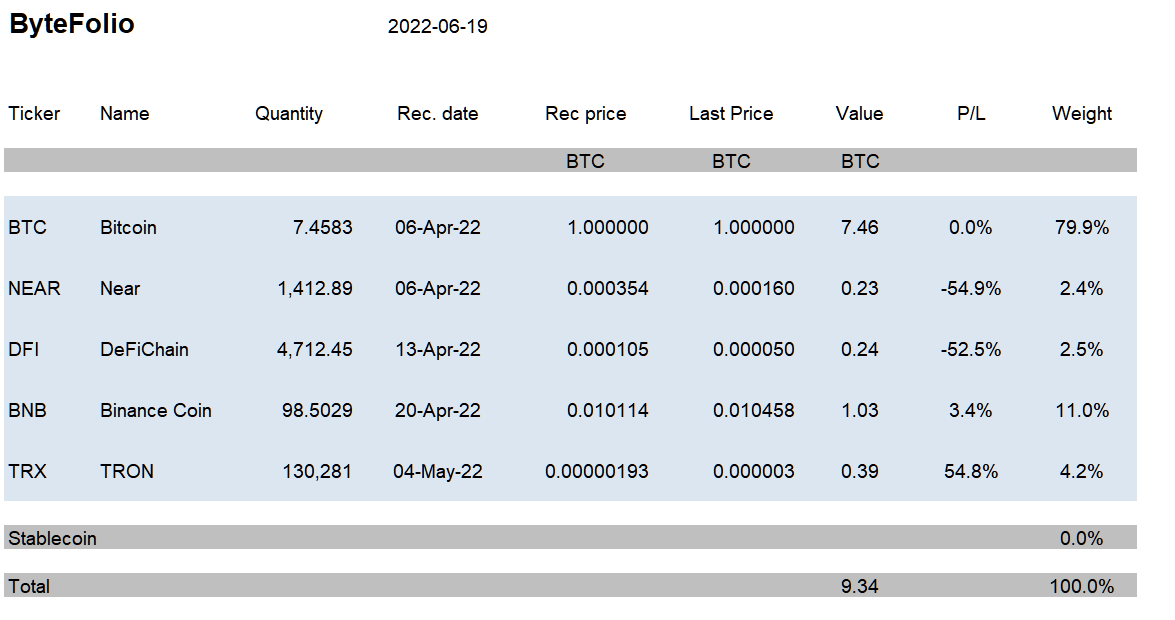 ByteFolio started on 6 April 2022 with 10 BTC. Prices bought or sold are recorded at the end of the day after publication. Historical ByteFolio trades have been recorded as follows:
Purchases and sales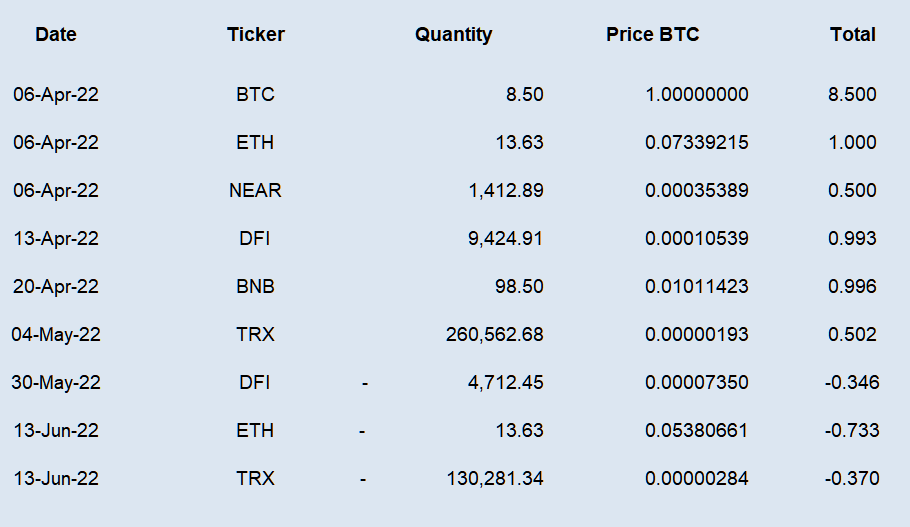 Action: ByteFolio will add 5% to each of HNT, DOT and LINK.