Disclaimer: Your capital is at risk. This is not investment advice.
ByteTree's Model Portfolio
ByteFolio brings together ATOMIC, ByteTrend and Token Takeaway to create ByteTree's model portfolio, known as ByteFolio. This is a selection of crypto tokens, which are weighted according to their risk/reward characteristics. ByteFolio has a modest turnover and will not suit traders. It will appeal to investors who wish to diversify beyond bitcoin, with the aim to beat it.
Today, ByteFolio makes no changes.
It is nice to see bitcoin breakout, and the red skies are beginning to retreat, but bitcoin is still very much leading the way.

Source: ByteTree. ByteTrend crypto breadth chart in USD ($) over the past six months.
Looking at the trends in BTC, the list is starting to expand, which is good news as it means the opportunities are coming. I continue to avoid exchange tokens (BNB excepted), not because I don't like them, but because I see them as having limited upside in a bull market in comparison to the coins driven by network growth. That knocks out LEO and KCS.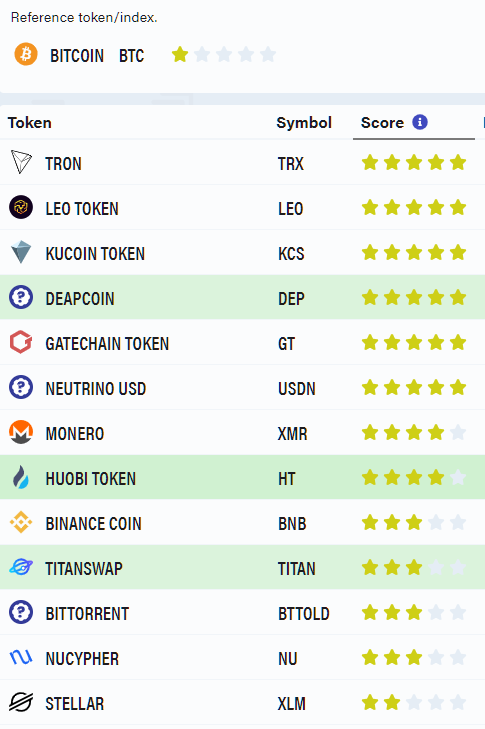 Source: ByteTree. ByteTrend 5-star trends in BTC.
Gatechain is behaving well and has lower volatility than bitcoin. Unfortunately, no one seems to know much about it. We'll fix that and get back to you.
Monero is volatile, and we cannot see evidence of network growth, so we will skip that for the time being.
TitanSwap has 350% volatility, which means I dare not go near it.
One area of interest is the larger coins that are gaining early stars. Stellar is a good example, and the analysts are digging in. Early stars can go onto great things, but only if a strong bull emerges in the near term. We live in hope, but there are no guarantees.
With trend following, it is prudent to focus on five stars in BTC, but it is also true that it can take several months for a 0-star trend to become a 5-star trend. That is because the 280-day moving average takes time to turn, and so it can pay to move early, but only if the underlying investment case remains large and credible.
In that sense, the large early movers will get a pass. We may add 2- or 3-star coins if the case is strong enough.
Overview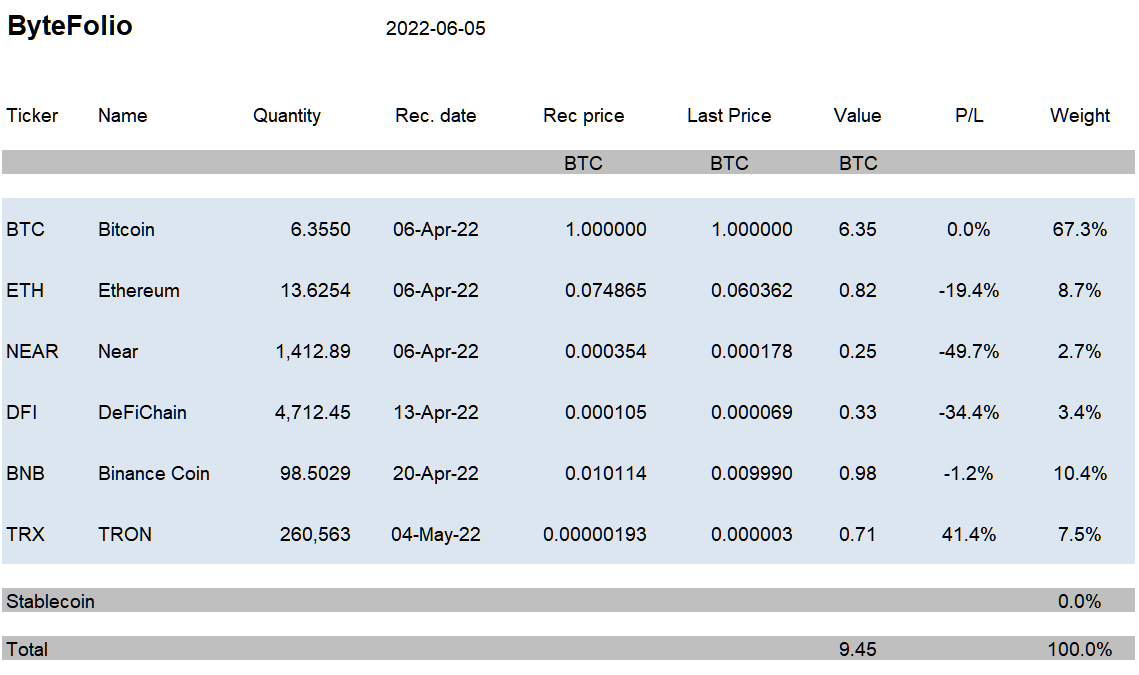 ByteFolio started on 6 April 2022 with 10 BTC. Prices bought or sold are recorded at the end of the day after publication. Historical ByteFolio trades have been recorded as follows:
Purchases and sales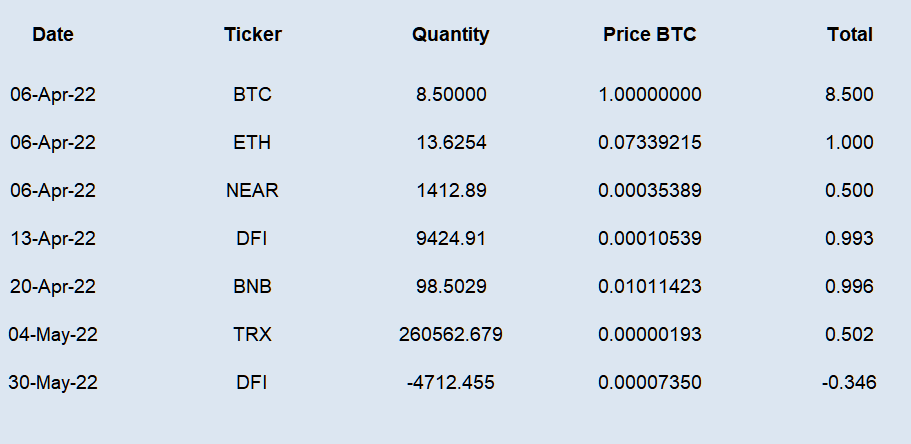 Action: nil