Disclaimer: Your capital is at risk. This is not investment advice.
ByteTree's Model Portfolio
ByteFolio brings together ATOMIC, ByteTrend and Token Takeaway to create ByteTree's model portfolio, known as ByteFolio. This is a selection of crypto tokens, which are weighted according to their risk/reward characteristics. ByteFolio has a modest turnover and will not suit traders. It will appeal to investors who wish to diversify beyond bitcoin, with the aim to beat it.
There are no new trades today, but I am interested in Monero (XMR). It is volatile, so I don't want to jump the gun. The analysts are on the case.

Source: ByteTree. ByteTrend for Monero (XMR), measured in BTC, over the past year.
BTC is back above $30,000, and I am bullish.
The ByteTree Crypto Average (BCA) is useful in sensing the strength of the space. Interestingly, the trend has found support at the low from last summer, and it seems to have improved over the weekend.

Source: ByteTree. The ByteTree Crypto Average (BCA) on ByteTrend over the past year.
While I can't yet find much to buy, I am happy with holding a large share in BTC, and I am reluctant to sell underperforming tokens as recovery seems underway. As and when winners appear, I will add new tokens to the portfolio or even upsize existing ones.
ETH, NEAR and DFI are all underwater. ETH is not a concern at this point, as the on-chain data is strong.
NEAR has slowed down, which might be a cause for concern. But the damage is already done, and with just 3% exposure left, it is late to panic.
We discussed it on our morning team call, and I said NEAR was advertising on the Crypto Breakdown podcast, and I felt that was odd. Our tech guru, Mark Griffiths, made a good point, "that sounds very centralised."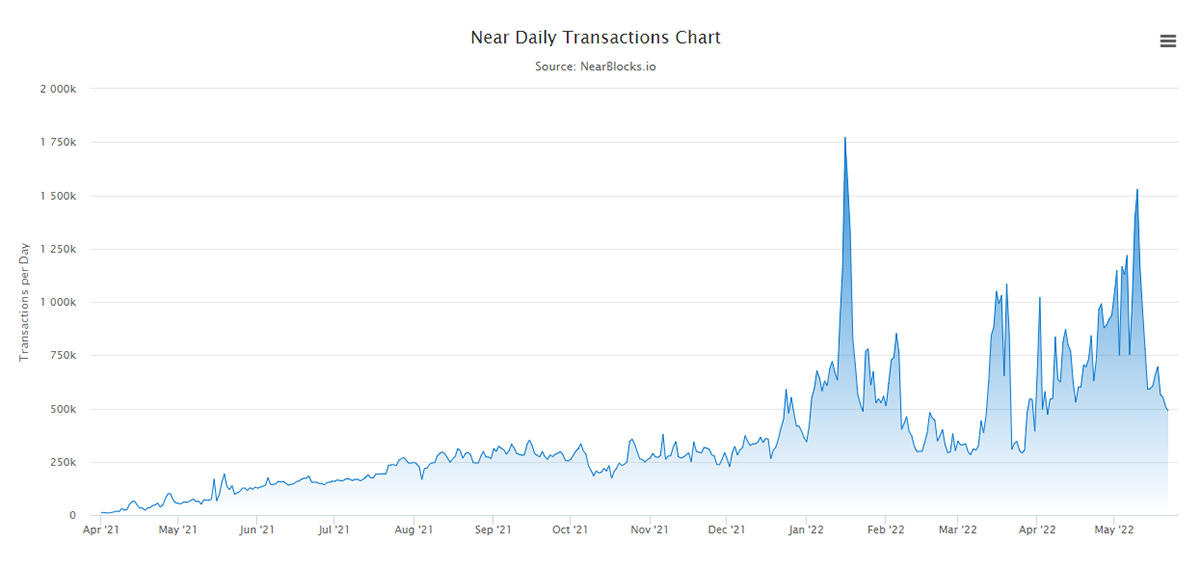 Source: Near Blocks. NEAR daily transactions over the past year.
It is important to distinguish between centralised and decentralised tokens in the analysis. Centralised tokens should be viewed as businesses with the value creation expressed through tokenomics. A heavy pre-mine is an overhang which will weigh on performance. Nevertheless, growing demand will still see higher prices. It's all about adoption.
Transactions have fallen but still remain higher than a few months ago. This is heavily oversold and a hold.
The other coin we do not own that is heavily oversold is Avalanche (AVAX), which is down over 50% in BTC. Perhaps we should take a closer look.

Source: ByteTree. ByteTrend for Avalanche (AVAX), measured in BTC, over the past year.
DefiChain (DFI) is also offside, but the network is alive and well.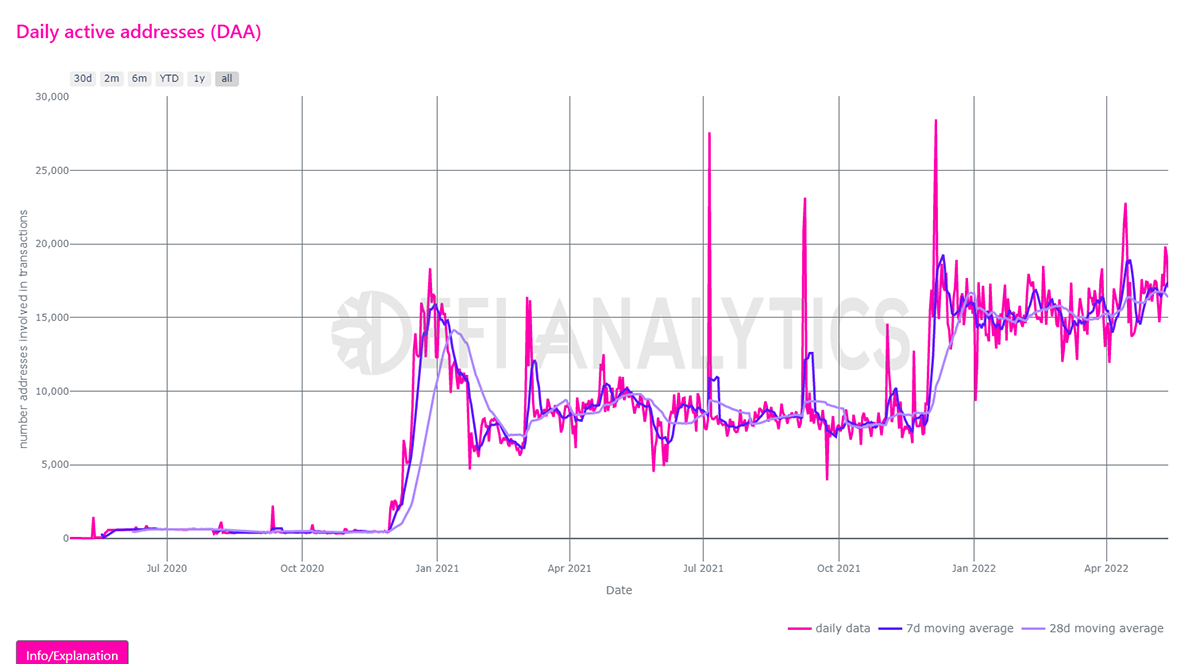 Source: DeFi Analytics. DeFiChain (DFI) daily active addresses since April 2020.
Finally, Seran wrote a piece on Curve Finance (CRV).
Overview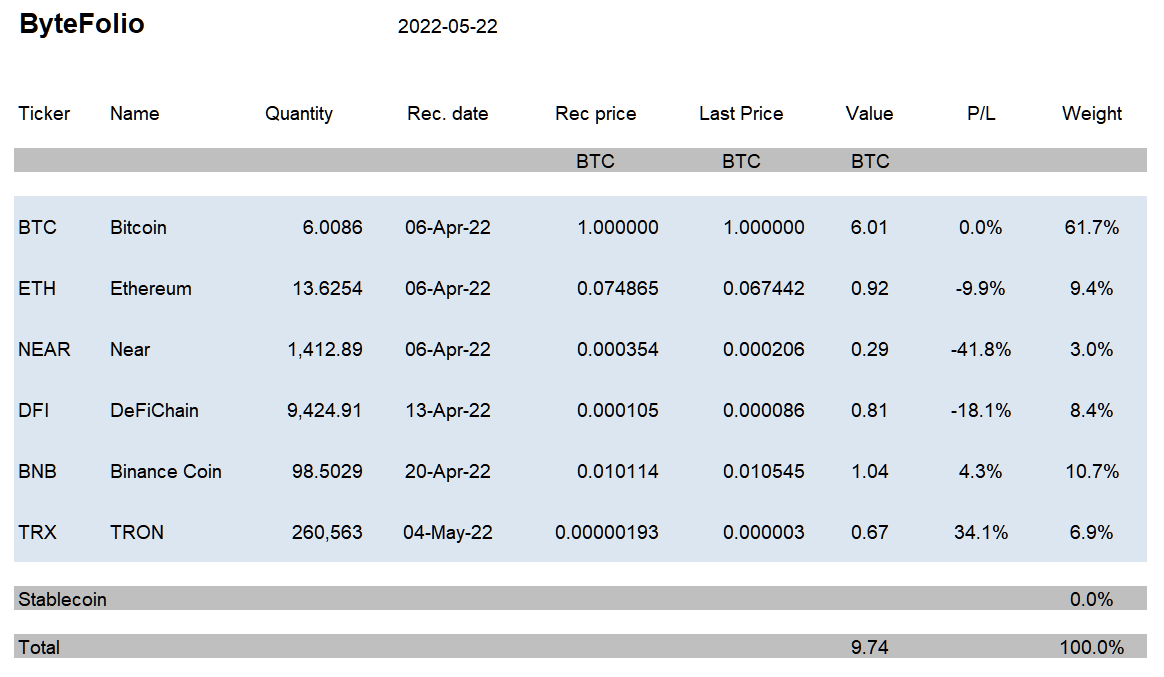 ByteFolio started on 6 April 2022 with 10 BTC. Prices bought or sold are recorded at the end of the day after publication. Historical ByteFolio trades have been recorded as follows:
Purchases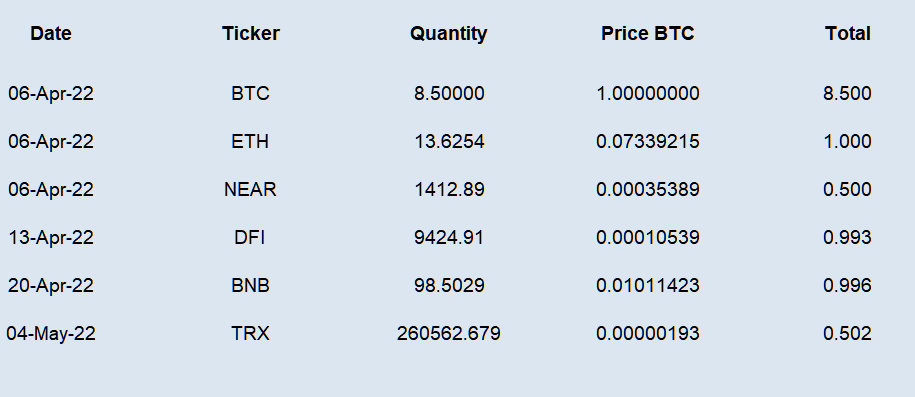 Action: nil