Disclaimer: Your capital is at risk. This is not investment advice.
ByteTree's Model Portfolio
ByteFolio brings together ATOMIC, ByteTrend and Token Takeaway to create ByteTree's model portfolio, known as ByteFolio. This is a selection of crypto tokens, which are weighted according to their risk/reward characteristics. ByteFolio has a modest turnover and will not suit traders. It will appeal to investors who wish to diversify beyond bitcoin, with the aim to beat it.
There are no new trades today.
Last week was a crypto trainwreck, as $600bn was wiped off valuations. ByteFolio fell from 10.31 BTC to 9.7 BTC, but as of last night, it had recovered to 9.81 BTC. I am not happy that it is below 10 BTC, where we started, but given the carnage, I am delighted with the result.
Above all, I am pleased that Terra (LUNA) was rejected by our analysts, despite being a 5-star trend a few weeks ago.

One problem with crypto, outside of the likes of BTC and ETH, is that valuation anchors don't really exist, and things can change quickly. The majority of tokens have no value at all, but there will be some big winners, and our job is to find them.
The best thing about crashes is that they bring a new round of opportunities. Prices are down, and new trends will emerge in the coming weeks and months.
There is nothing to do this week, but I will go through the existing ByteFolio holdings.
ETH has dropped to 0/5 in BTC, which is uncomfortable, but we have confidence in ETH. I would likely reduce this holding if the March low was challenged in BTC.

Source: ByteTrend. Ethereum ByteTrend measured in BTC.
NEAR was the worst performer, but it is volatile and is deeply oversold from the 42-day moving average.

Source: ByteTrend. NEAR ByteTrend measured in BTC.
DFI is a rockstar.

Source: ByteTrend. DeFiChain ByteTrend measured in BTC.
BNB is crypto quality and held up well.

Source: ByteTrend. Binance Coin ByteTrend measured in BTC.
TRX showed strong outperformance during the crisis. It is overbought, but the best things always are.

Source: ByteTrend. TRON ByteTrend measured in BTC.
Overview
Ali wrote a note on Tron (TRX), which was excellent. We are focused on USDD and will follow events closely.
ByteFolio started on 6 April 2022 with 10 BTC. Prices bought or sold are recorded at the end of the day after publication. Historical ByteFolio trades have been recorded as follows:
Purchases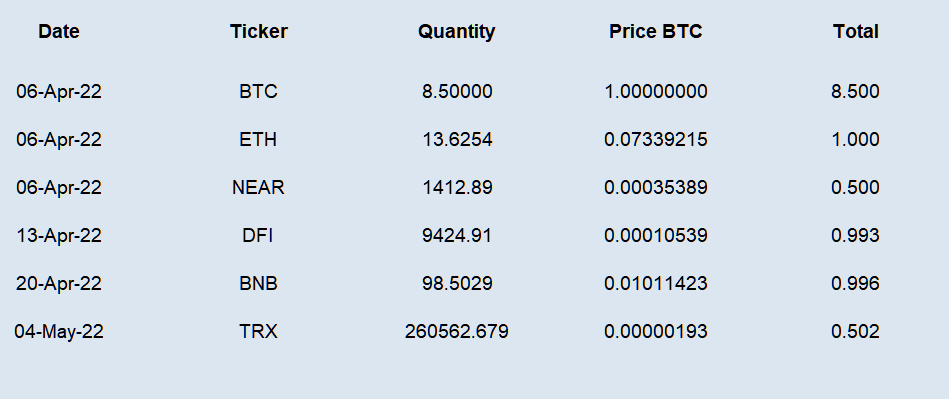 Action: nil