Disclaimer: Your capital is at risk. This is not investment advice.
ByteTree's Model Portfolio
ByteFolio brings together ATOMIC, ByteTrend and Token Takeaway to create ByteTree's model portfolio, known as ByteFolio. This is a selection of crypto tokens, which are weighted according to their risk/reward characteristics. ByteFolio has a modest turnover and will not suit traders. It will appeal to investors who wish to diversify beyond bitcoin, with the aim to beat it.
Today, I am adding TRON (TRX).
Overview
In a choppy week, NEAR fell quite substantially. The allocation was 5% because it is volatile, and that has just been proven. 90-day volatility is still 129%, compared to 67% for BTC. One reason for the weakness was that its stablecoin may be overhyped, and when the market came under pressure, the price sold off. I put it down to noise, as the trend is still strong while the price is oversold.

Source: ByteTree. ByteTrend for NEAR, measured in BTC, since July 2021.
Going back to crypto 101 and how I analysed bitcoin back in 2014, we turn to the blockchain. Daily transactions are rising, which means NEAR has increased adoption, which means we stay long. Should we add? Possibly, but not yet.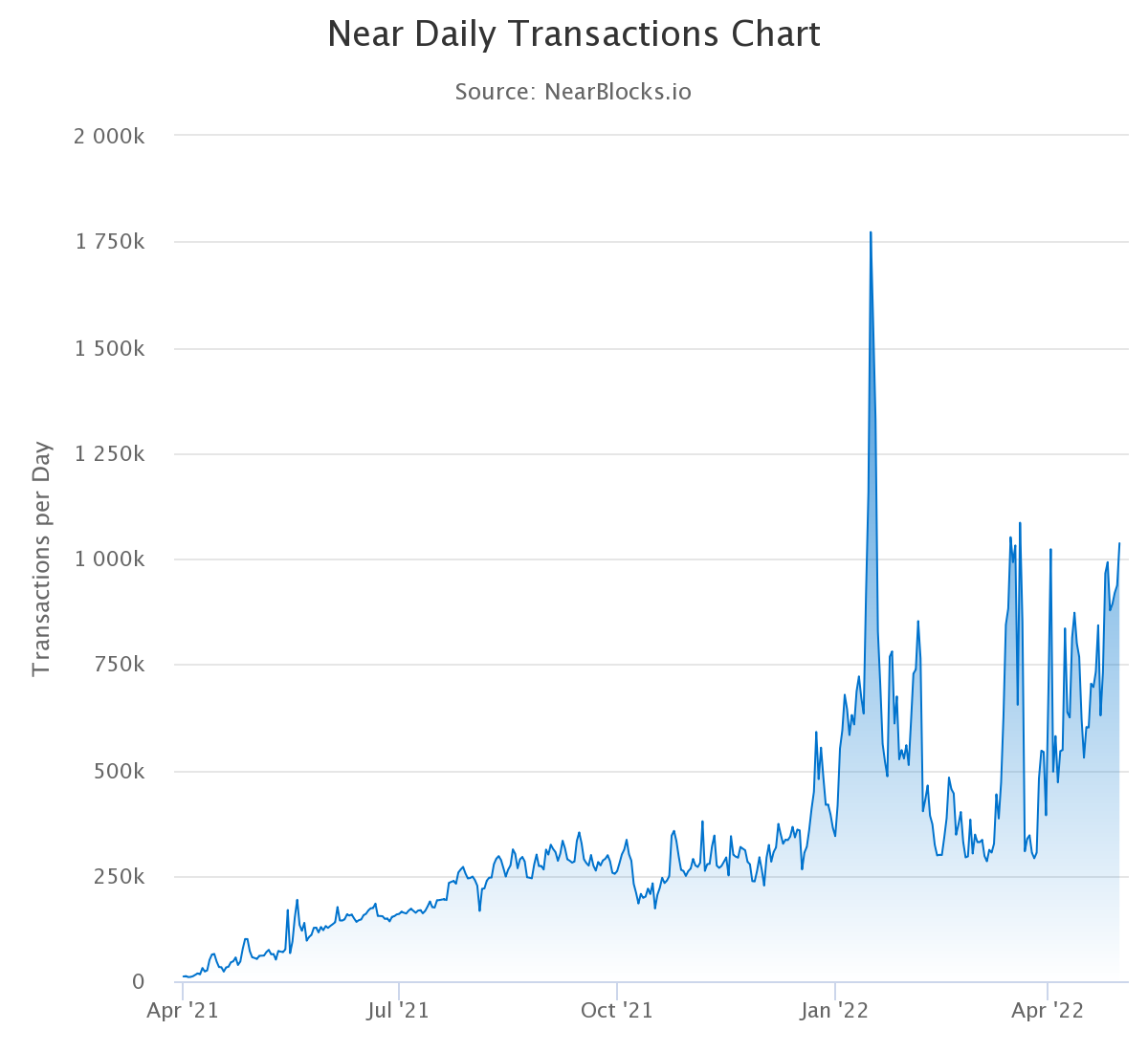 Source: NearBlocks.io. The number of daily transactions for NEAR since April 2021.
I hope you saw the note on BNB following its addition to ByteFolio. It is a great project.
Adding Tron (TRX)
TRX has the same volatility as BTC and has traded in a relatively tight range against BTC for 2.5 years. That should bring some confidence that it is unlikely to materially disappoint. It has jumped to 5/5 in BTC on a few occasions, but so far, not one has followed through and turned into sustained outperformance.

Source: ByteTree. ByteTrend for TRX, measured in BTC, since June 2018.
The network is buoyant, with a steady recovery in new users. In other words, both the price action and the on-chain activity pass the test.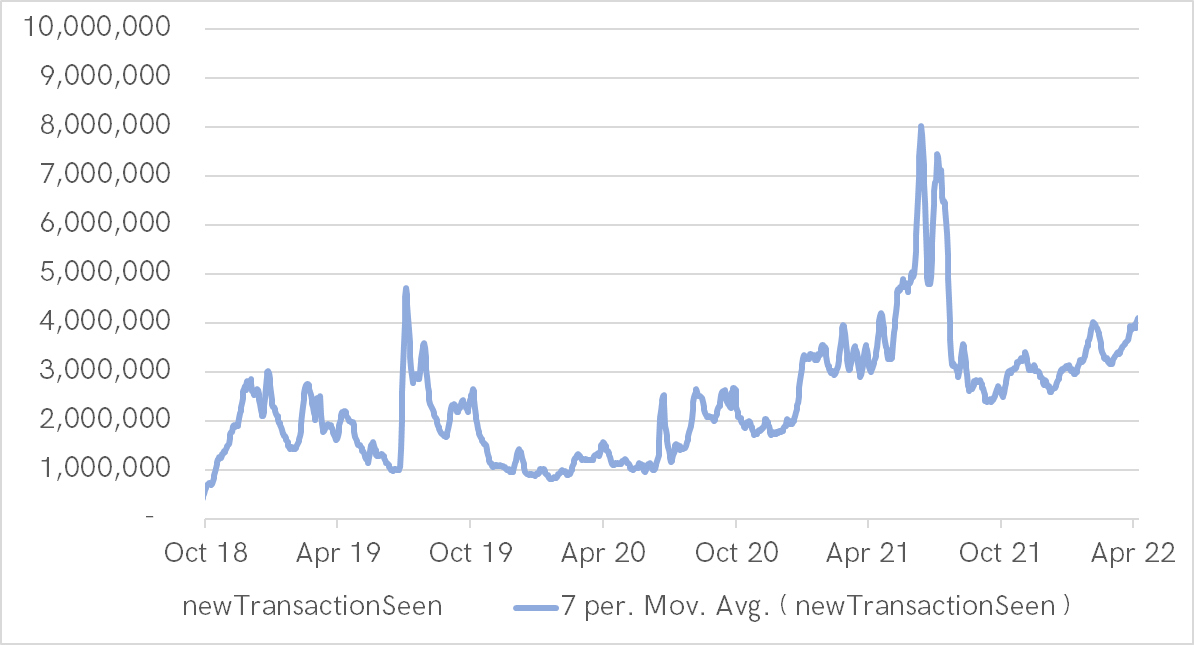 Source: TRONSCAN.
Ahead of a note, I spoke about TRX with our analysts this morning, who are on the case.
It is an Asian project with links to China and South Korea, where it's all happening.
TRON suffers from some historical community distrust because the team have been disingenuous, but it seems the project is maturing and becoming more professional. In 2018, they were criticised for plagiarising their white paper, but I suspect they weren't the only ones.
The tokenomics (future supply etc.) have also been an issue as there has been the potential for unlimited issuance. However, they have burning coins, and so this is now being taken seriously.
They also plan to issue an algorithmic stablecoin along the lines of Terra (LUNA) with $10 billion. You have to love how these guys stumble on the billions and make capital raising look so easy.
With the strong price action and lowish volatility, with decent on-chain data, against some typical crypto shenanigans, ByteFolio will be adding a 5% weight at this point. I take comfort that material underperformance seems unlikely.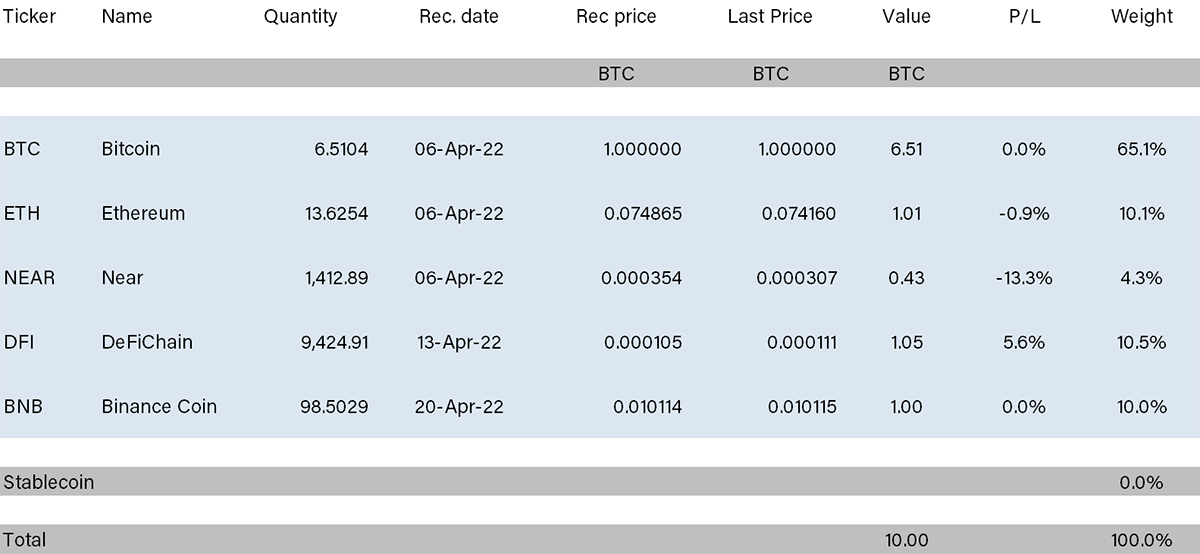 ByteFolio started on 6 April 2022 with 10 BTC. Prices bought or sold are recorded at the end of the day after publication. Historical ByteFolio trades have been recorded as follows:
Purchases

Action: ByteFolio will be selling 5% BTC, and buying 5% TRX