Disclaimer: Your capital is at risk. This is not investment advice.
ByteTree's Model Portfolio
ByteFolio brings together ATOMIC, ByteTrend and Token Takeaway to create ByteTree's model portfolio, known as ByteFolio. This is a selection of crypto tokens, which are weighted according to their risk/reward characteristics. ByteFolio has a modest turnover and will not suit traders. It will appeal to investors who wish to diversify beyond bitcoin, with the aim to beat it.
Today, I am adding Binance (BNB).
Crypto has enjoyed a modest rebound from last week's low, but the market remains soft. ByteFolio has gained 0.13 BTC or 1.3% since inception. This is a good start, given ByteFolio is only 25% invested in non-BTC crypto.
I am deliberately taking my time to allow a portfolio to naturally evolve over the coming weeks. I would move more quickly in a strong market, and more slowly if weak. Rushing this process will lead to bad decisions, so the pace is important. After today's trade, 35% of ByteFolio will be non-BTC.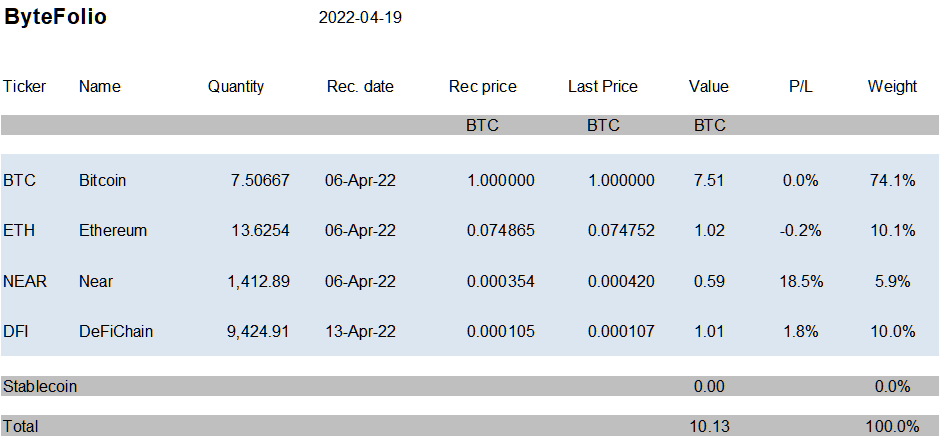 ByteFolio started on 6 April 2022 with 10 BTC. 10% (1 BTC) was invested into ETH, 5% (0.5 BTC) into NEAR and 10% (0.9933 BTC because the portfolio had grown) into DFI. Prices bought or sold are recorded at the end of the day after publication. Historical ByteFolio trades have been recorded as follows:
Purchases

Adding Binance (BNB)
Binance is best explained by Binance itself, and this piece from 2017 was updated last month. I'll summarise.
BNB was launched through an Initial Coin Offering (or ICO) in mid-2017. BNB stresses that it did not provide users with a claim on Binance profits and does not represent an investment in Binance. BNB is the native coin of the BNB Beacon Chain and BNB Smart Chain, and has several use cases:
Reduced trading fees on the Binance exchange
Pay for trading fees on Binance DEX (Decentralized Exchange)
Pay for transaction fees on the BNB Beacon Chain
Pay for transaction fees on the BNB Smart Chain
Pay for goods and services for both online and in-store purchases (e.g., using Binance Card or Binance Pay)
Book hotels, flights, and more at Travala.com
Community utility token on the BNB Chain ecosystem (such as games and DApps)
Participate in token sales hosted on the Binance Launchpad
Donate on Binance Charity
Provide liquidity on Binance Liquid Swap
We first covered BNB a year ago. It will be updated shortly.
In short, BNB is an all-encompassing gateway to crypto. One reason I do not hesitate in recommending a 10% position is because it has just 38% volatility when measured in BTC. The other reason to favour BNB is the founder is a demigod.
In March, I had dinner with Changpeng Zhao (CZ, pronounced "See Zee") in a restaurant in Westminster, London. The Centre for Policy Studies (CPS), the UK's pre-eminent centre-right think tank, invited me along with some senior politicians and other crypto-related businesspeople.
He was thoughtful, understated, intelligent and visionary. He founded Binance in 2017, much later than many other exchanges, yet ended up on top. His CV explains why:
Born in Jiangsu, China, in 1977
His father, a teacher, was branded a "pro-bourgeois intellect" and exiled
The family moved to Vancouver, Canada
CZ attended McGill University, Montreal, where he studied computer science
First job at the Tokyo stock exchange as coder matching orders
Then Bloomberg Tradebook developing software for futures
In Shanghai in 2005, he founded Fusion Systems for high-frequency trading
In 2013, he worked for Blockchain.info and was the CTO at OK Coin where he learned about crypto and blockchains
In 2017, he founded Binance
CZ is bright and followed the path that made him an expert in the engine that sits behind financial markets. When Binance was launched, they made it easier and faster and offered many more coins to trade. Binance made crypto fun and accessible.
Today, CZ is one of the world's richest men, but neither has a superyacht, nor a Lambo, as is custom in flaunting crypto success. He's on a mission that will see the world embrace crypto. When we shared bread, he had arrived from Paris where he met Macron, trying to charm the French establishment. I believe he succeeded.
He had come to London to do the same and had caught the attention of some pretty serious people. I hope he wins them over.
BNB is a BTC+ situation. It ought to outperform over time, but given its size, not massively so. As a result, the weight is 10%.
Action: ByteFolio will sell 10% BTC and buy 10% BNB