Disclaimer: Your capital is at risk. This is not investment advice.
ByteTree's Model Portfolio
ByteFolio brings together ATOMIC, ByteTrend and Token Takeaway to create ByteTree's model portfolio, known as ByteFolio. This is a selection of crypto tokens, which are weighted according to their risk/reward characteristics. ByteFolio has a modest turnover and will not suit traders. It will appeal to investors who wish to diversify beyond bitcoin, with the aim to beat it.
Today, I am adding DeFiChain (DFI) to ByteFolio.
It has been a rough week for crypto, as the stockmarket panics about surging rates, inflation and financial meltdown. The simple premise behind ByteFolio is that crypto has great potential, although most of the 18,000+ coins are worthless. We hunt for the winners.
Last week, having started with 10 BTC, we put 10% into ETH and 5% into NEAR. These first two trades were booked on Wednesday night, with prices recorded after publication. The ByteFolio trades were as follows:
Purchases
| Date | Ticker | Quantity | Price BTC | Total |
| --- | --- | --- | --- | --- |
| 06 April 2022 | BTC | 8.5 | 1.0000000 | 8.5000 |
| 06 April 2022 | ETH | 13.6254 | 0.0733921 | 1.0000 |
| 06 April 2022 | NEAR | 1412.89 | 1.0003539 | 0.5000 |
NEAR rallied last week as news spread of their new stablecoin. This has been a good start, with ByteFolio gaining 0.11 BTC or 1.1%.

Adding DeFiChain (DFI)
DFI is a layer 2 protocol that sits on the bitcoin blockchain. That makes it decentralised. They are basically building a stockmarket for the old world, in crypto. You can trade various tech stocks and ETFs on their DEX.
DFI has a 5-star ByteTrend when measured in USD, ETH and BTC. That is always going to catch our eye for further investigation. Two weeks ago, our analyst, Md Shehriyar Ali initiated coverage with this note, and part 2 of that will be published tomorrow. Jumping to his conclusion:
The DeFi sector grows more interesting with every new development. After all, DeFi was born from the mistakes of TradFi and Fintech. DeFiChain is positioning itself as a bridge between financial servicesand users, removing intermediaries. If DeFiChain continues to take market share and grow at a similar pace, I believe it will quickly catch up with its competitors. Their services will not only benefit users in first-world countries but especially in developing countries where financial services are unfamiliar privileges to most.
ByteFolio finds the trends, analyses the protocol and uses portfolio construction techniques to size the position. This is a simple yet effective process that will identify and capture the future winners in crypto.
Measuring the network for signs of growth is an important discipline in crypto, and DFI comes out of this well. Their blockchain is growing, which is something I want to see.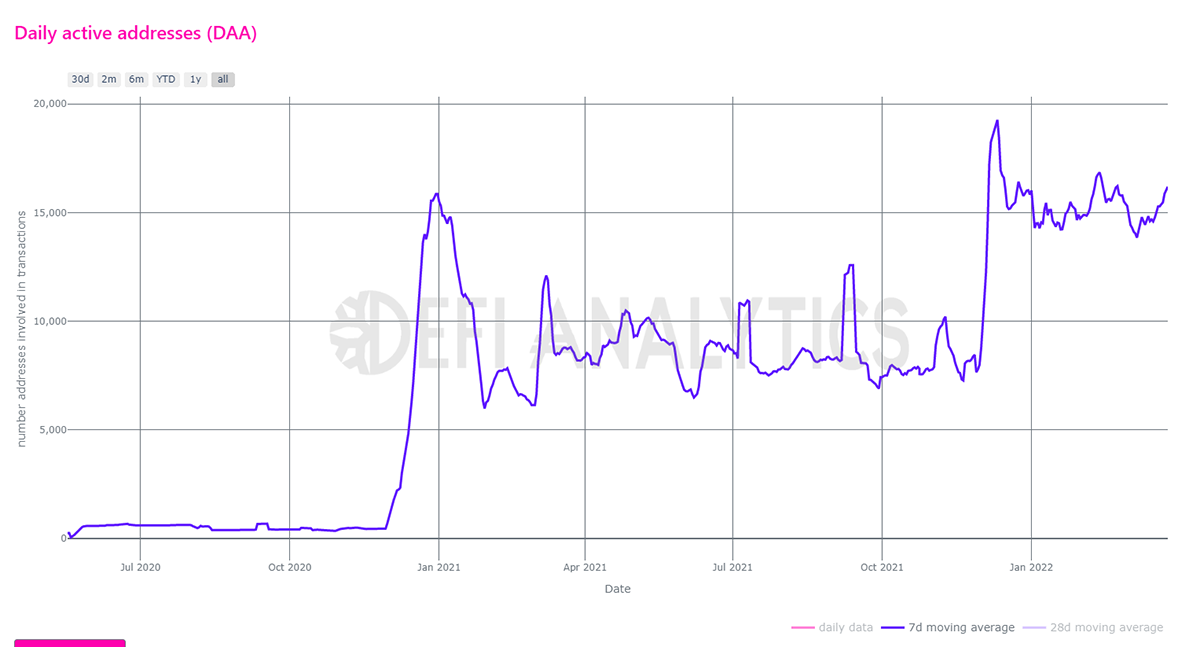 Source: DeFiChain Analytics
The position in NEAR was modest last week because it is volatile (138% 90 days). DFI is much less volatile (72%) and even more favourable when measured in BTC. As a result, DFI will have a 10% weight in ByteFolio.
Action: ByteFolio will sell 10% BTC and buy 10% DFI