token-takeaway
The Risk-Off Environment: Aavegotchi and the Gotchiverse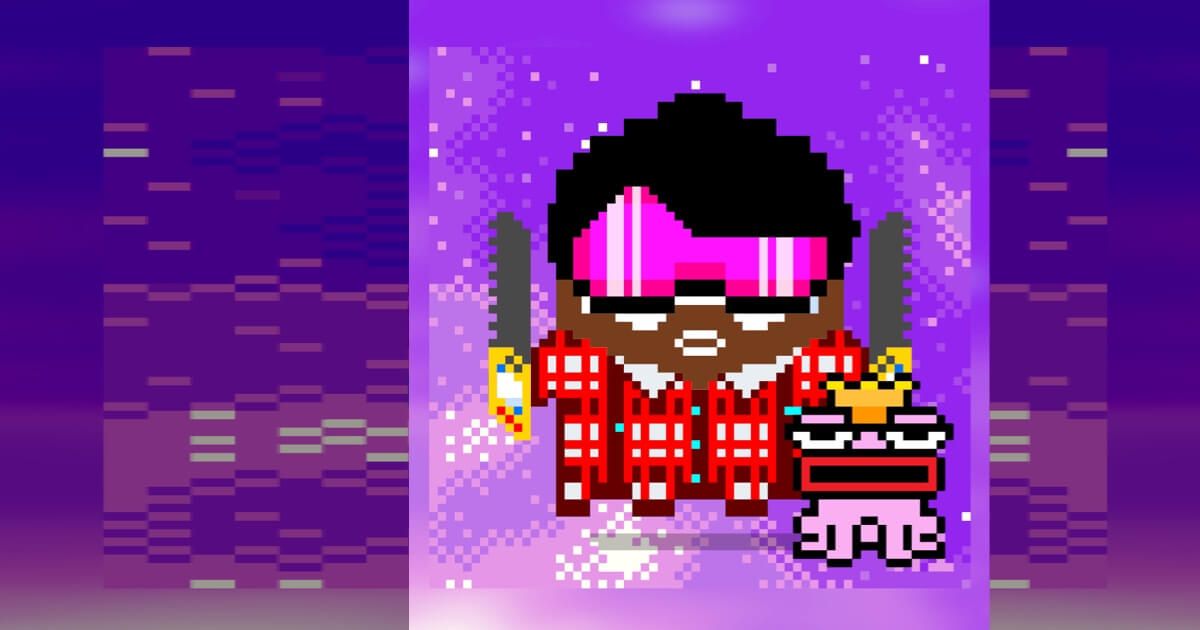 Disclaimer: Your capital is at risk. This is not investment advice.
Token Takeaway: GHST Token
This week, we will be recapping and updating our readers on Aavegotchi and the health of the Gotchiverse. The truth is, the opportunities highlighted by our quantitative models currently don't look that appealing.
Disclaimer: ByteTree and Aun Abbas personally own GHST tokens. Tom Salter has exposure to both the GHST and land in the Gotchiverse.
The Wider Market's Situation
Firstly, I will introduce my thoughts around why readers should consider erring on the side of caution in risky times like these.
There are two events which I would like readers to bear in mind:
The Tesla Effect
Inflation Expectations
The Tesla Effect
Elon Musk has completed his first Tesla stock ($TSLA) sell-order by shifting $5bn of previously untouched $TSLA, which is just a fifth of the $25bn he pledged to sell to his Twitter followers. We are starting to see a picture of what this sell-off might do to $TSLA holding, and perhaps the wider market.

Source:TradingView. $TSLA Stock Price.
The FAANG's have followed suit, and perhaps this is signalling a potential short-term risk-on asset sell-off.

Source: TradingView. FAANG index stock price.
What are the implications for crypto? In my opinion, not all digital assets will act the same way in a risk-off world. Bitcoin is a hybrid, part inflation hedge and part growth asset, meaning it is likely to outperform most crypto assets due to its fundamentally different characteristics. The rest are at more risk of being sold off. Remember, the key in the 'off-season' (i.e. a bear market) is to preserve wealth; not sure I would back XRP or ADA in that situation.
Inflation Expectations Look Bleak
We've already seen 10-year treasury bonds drop to negative rates, in real terms. This means that positive real yields are completely unattainable in traditional markets. Indeed, this has been a major factor in causing such a liquidity influx into crypto.
Now, bond market inflation expectations have hit a century high. Ultimately, this perfectly highlights how frail traditional markets are - the risk-free fallacy is at large here, and altcoins are not exempt from the downfall.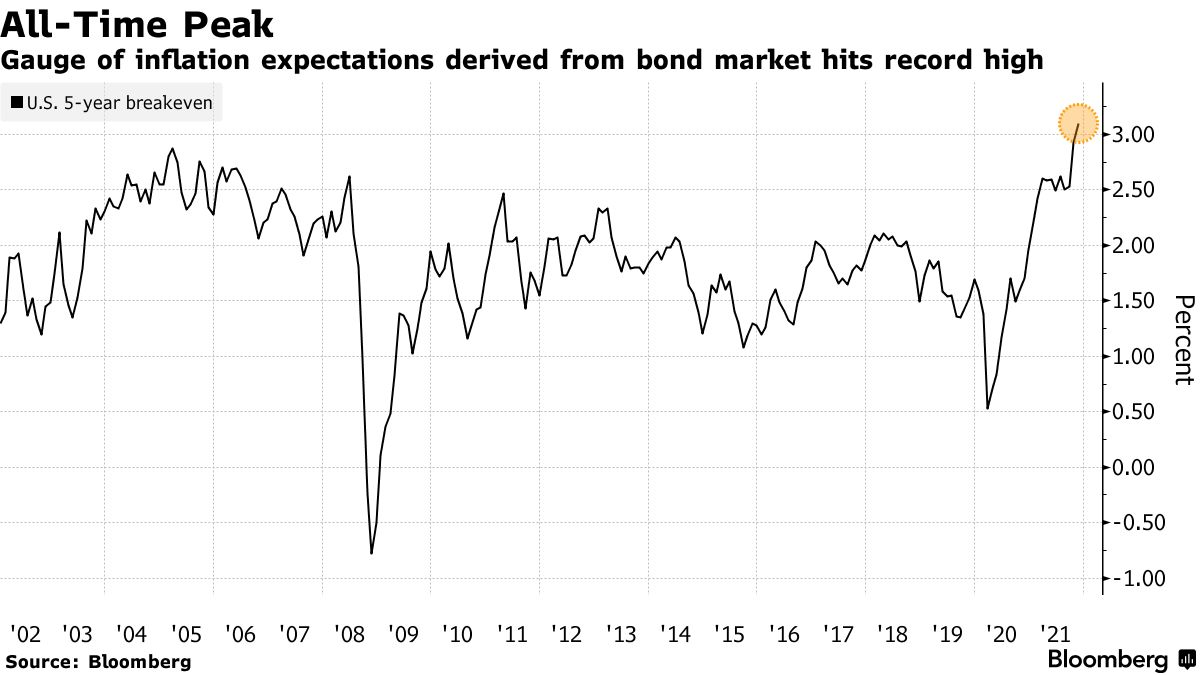 Source: Bloomberg. Bond Market Inflation Expectations.
Does Aavegotchi Have a Chance?
Two weeks ago, Token Takeawayawarded Aavegotchi a rare 4/5 score. Historically, this score has corresponded with strong investment outperformance - think Axie Infinity. This week, we believe it's appropriate to delve deeper into the Gotchiverse to detail recent events and why we consider GHST, the protocol's native token, to be a winner.
To recap, Aavegotchi is primarily a descendant of the play-to-earn (P2E) model that has been accruing significant interest across the digital asset sector. This protocol hangs on the coattails of Aave (unofficially) while incorporating the famed Tamagotchi brand that most millennials are familiar with.
In summary, Aavegotchi combines the brands of Aave and Tamagotchi while bridging DeFi to the NFT and gaming markets: this is exactly where the excitement comes from.
The Gotchiverse: Land
The Gotchiverse is made up of different plots of land, each in a different locality with diverse benefits. Land ownership comes with yield-generating opportunities via the mining of four different in-game currencies that differ in scarcity: FUD, FOMO, ALPHA and KEK.
The first land auction occurred in the midst of Halloween, generating 100m GHST worth of volume in bids. The protocol incentivised players to bid via an innovative bid-to-earn mechanism wherein the out-bid would receive GHST as compensation for their failed bids; $2.3m worth of rewards were distributed for participating in the auction.
The land up for grabs was located in the 'Citaadel', where Aavegotchis can seek a safe haven from the evil 'Lickquidators' and generate maximum yield. It is the Gotchiverse's prime real estate. Readers should also note that Yield Guild Games (YGG) committed a total of $800k to the protocol, securing exclusive YGG-themed land plots in the process.
Following the land sale was the land raffle. This gave investors the chance to win one of 4,000 unique plots of land by entering with 'drop tickets'. Over 100,000 drop tickets were entered, the average price floor per ticket was 11GHST or $24, meaning that around $2.5m was committed to this raffle. A very promising turnout. Users could also purchase drop tickets with FREN tokens, which can be minted through staking GHST. This mechanism enabled users to arbitrage the cost of staking and selling drop tickets on the secondary market.
Rarity farming is one of the many innovative in-game mechanics pioneered by Aavegotchi. I would go as far as saying it is the most thoughtful rewards system for gotchi-players who considerately engage with the platform. Without going into the technical details, each Aavegotchi monster has a rarity score. In the case of the current rarity farming event, the owners of the rarest monsters are rewarded in the form of GHST tokens.
The rewards are not minuscule either, 40% of all GHST spent on wearables, consumables, and other game items are redirected into the Rarity Farming rewards pool. The available rewards pool is worth 2.4m GHST or $5m.
Does Aavegotchi Have a Future?
One thing is for certain, the long-term survivors in this space will be some of the most valuable assets across both traditional and digital markets. So how can one measure the likelihood of an altcoin's longevity when the main case study is initial coin offerings? We know how they ended.
Development is the main factor when trying to gauge the life expectancy of a token. Aavegotchi ticks more than one box in this category.
Firstly, Aavegotchi is building all upgrades and features on the Polygon Network, which is a very popular layer-two scalability solution for Ethereum. It has taken the Ethereum community by storm and has just made a 5-month relative high against BTC, which signals strength. Building on Polygon helps in two ways:
Cheap and boundless platform development capabilities
Easy and accessible network for Ethereum users
Secondly, the Gotchiverse is set to release a game that utilises the four in-game currencies and will undoubtedly provide a more immersive and rewarding Aavegotchi experience. More utility can never be a bad thing. Alongside the game, we will see the Gotchiverse open more parcels of land for sale, along with more incentives to boost the awareness of the platform.
Conclusion
Aavegotchi provides a favourable investment play, it is well funded, and has a clear development path. Additionally, it has not experienced its hype cycle yet and is about to release an immersive game. There are many digital assets ranked higher with much worse situations going into a potential risk-off scenario.
Make sure to stay up to date on ByteTree Premium. Be sure to keep an eye out for a piece as and when the Gotchiverse releases.