Disclaimer: Your capital is at risk. This is not investment advice.
Token Takeaway: GHST Token
Bitcoin's performance has slowed in the wake of the recent hyped-up ETF listing, paving the way for altcoins to outperform the market. It looks like meme coins are driving this Alt rally, most notably Shiba Inu, which is now worth $6bn more than Barclays Bank, after trading for only 14 months.
So, where are the next opportunities? Typically, the answer would be a single sector, i.e. NFTs or DeFi. However, this week is different as the opportunity combines both. Aavegotchi is the game, and Aave protocol is the name.
Time for a disclosure, ByteTree and Tom Salter, Digital Asset Analyst, personally hold GHST tokens.
The Ghosts of Liquidated Yield Farmers
Aavegotchis are 'DeFi-Staked Crypto Collectibles', meaning they can generate real yield for their holders. These crypto-Tamagotchis are built as ERC-721 compliant (the universal NFT token standard) and are looking to drive innovation within the blockchain gaming sphere.
Aavegotchi ghosts are considered a bridge between NFTs and DeFi because of two factors. Firstly, they are NFTs due to their ERC-721 token standard, which contains unique characteristics, traits and other features. Secondly, Aavegotchis have "atokens" associated with them. Atokens are Aave protocol's yield generating tokens which means that users can put their Aavegotchi to work by simply owning them.
The Team, Funding and Partnerships
Being a recipient of an Aave Protocol grant gives the Gotchi project several perks. First and foremost, access to cash, which is key to the longevity of any dApp. Secondly, they have a constant advisory channel with the Aave Protocol, the largest DeFi protocol with nearly $20bn Total Value Locked (TVL). Furthermore, Stani Kulechov, Founder of Aave, is named as a direct advisor, which is super bullish.
The team behind Aavegotchi were a very crypto-native bunch until last week when ex-World of Warcraft game designer, David Fried, joined. This brings some professionalism to the project while confirming that the company is real and not just an anonymous "0x" name. This part of Aavegotchi needs improvement, but that will come in due course.
Aavegotchi's partnerships are fantastic, considering its current rank of 390th (by market cap). Its recent financial agreement with the NFT titan Yield Guild Gamessaw the entity purchase $800k Aavegotchi assets for their treasury.
Furthermore, a $500k GHST/YGG token swap was agreed between the parties, and a pre-sale agreement for Yield Guild to have a specific area of land in the Gotchiverse, an NFT play-to-earn metaverse that is currently gamifying Aavegotchi.
Relative to its market cap, Aavegotchi is very well funded. In September 2020, Aavegotchi completed its DAO-controlled token sale, which raised $9.5m. Add this to the undisclosed Aave Protocol Grant, and we could be looking at $10m raised.
The Aavegotchi Treasury has been accruing fees from its marketplace and currently holds 1.85m DAI and 1.8m GHST, which totals $5.6m. Substantial stuff.
Lastly, the project's vision is growing at a considerable rate. This is not just a single-pronged NFT collectable marketplace enabling the trading of yield generating collectables, as well as staking capacities; it is developing into a more interactive game. This is proven by the impending release of Gotchiverse and the Aavegotchi Grant Program, sponsored by Polygon. It aims to reward developers who can be incentivised to build associated dApps and features in the Aavegotchi metaverse.
This is big news. It shows a development path that not even some top 100 cryptos have. For example, in my previous article on STX, I highlighted the lack of visible on-chain metrics as a risk factor. In Aavegotchi's case, they have portioned a section of their grant program specifically for developers to help them create an on-chain dashboard. It is visionary and something we would like to see more platforms doing.
Sure, there are no partnerships with Ubisoft, unlike Axie Infinity, but Aavegotchi's partnerships, grants, funding, team and advisory figures show immense promise. It couldn't really get better for such a small cap crypto.
The Gotchiverse
Source: Aavegotchi. The Gotchiverse.
The Gotchiverse could be the catalyst that Aavegotchi needs to jump up the ranks. It is the next step for the Aavegotchi Metaverse. The full game will launch as a play-to-earn universe in December. The Gotchiverse is a land map that contains a series of plots, each differing slightly and all separate ERC-721's. Think Clash of Clans.
The Gotchiverse will financially empower its users by giving active members and landowners the opportunity to generate in-game currencies called Alchemica. Each Alchemica is a digital asset (ERC-20), with four elements differing in scarcity:
FUD
FOMO
ALPHA
KEK
This means that not only are Aavegotchi's the first DeFi-Backed NFTs, but in-game land will be the world's first yield-bearing land parcels. All land can be upgraded through spending ERC-20 Alchemicas, meaning a yield can be made more lucrative.
GHST Token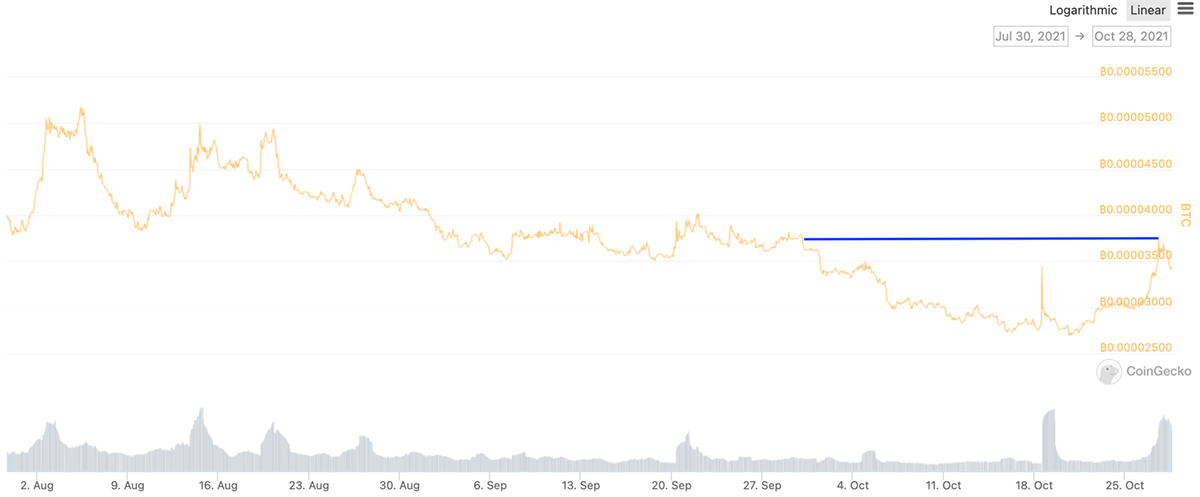 Source: CoinGecko. GHST relative to Bitcoin.
GHST is the native token for the Aavegotchi game universe. It is used to purchase land, marketplace items and staking opportunities on the platform. Think of it as the lifeblood for the Gotchi metaverse. It is essential, which means that future success will attribute positively to GHST.
GHST also has additional utility in the form of platform staking; lock your tokens on the Aavegotchi site and receive FREN tokens as a reward. FREN is a non-transferable currency, meaning it is exclusively for GHST stakers. The token is used two-fold. Firstly, to enter raffles where users can win wearables. Secondly, FREN can purchase NFT raffles where users can win portal and REALM Parcels, which are the token word for land. Both of these utility cases are value-generating for investors, and therefore, their importance shouldn't be underestimated.
Technicals
In recent days, GHST has made a 30-day relative high against BTC, which is a bullish momentum trend. This is likely due to the REALM land token sale, which is happening over the next few days. Coupled with the announced grant program, we could see a continuation of this trend.
According to CoinGecko, GHST has recently experienced huge trading volumes. Indeed, the market just flipped the entire market cap of GHST in a single 24hr period. One reason for this spike could be the listing of AAVE's token on the Korean exchange Upbit. This caused a spike in trading volume and the price of AAVE when the rest of the market was weak. It is possible that GHST has benefitted by association.
Conclusion
The growth potential of Aavegotchi, and its weird and wonderful Gotchiverse, is clear to see. Add in $15m of funding and a grants programme, and it is remarkable how GHST is only ranked 390th. Clearly, the token is in infancy and hasn't experienced a hype cycle yet, but there is no point in waiting for the cycle to begin, as the most alpha is generated when buying early.
Where to Buy
| | |
| --- | --- |
| Centralised | Binance, Crypto.com, Kraken |
| Decentralised | Uniswap, Quickswap, Swapper |
Conviction Score
Digital Asset Market: Speculation seems to be a major factor in the current Bitcoin market. The on-chain is far from the driving factor.
Hype vs Reality: Reality.
Trade or Trend: Trend. Blockchain gaming is the future, and an original metaverse idea is hard to come by, especially one with these credentials. The 24hr trading volumes of GHST are simply incredible.
Market Outperformance: The 30-day relative high against Bitcoin, sparked by the Korean listing of AAVE, is a positive signal.
Competitive Advantage: The market cap relative to funding is bullish. A $5m Treasury, with a total raise of $10m, shows longevity. Funding will only increase as the platform develops.
Token Takeaway Score: 4/5