Disclaimer: Your capital is at risk. This is not investment advice.
ByteTree Market Health Update; Issue 31
Over the past week, Bitcoin transaction value (brown line) has picked up again, which comes as a relief. The average level over the past week, 5 weeks and 12 weeks has been $16 billion per week.

Source: ByteTree.
There is one thing we can be quite sure of, if people lose interest in Bitcoin, its value will plummet. That's why halving hype is so dangerous, because it brings in people in search of a quick buck. Once they realise that halving is a technical blockchain event, with no short-term (or even medium-term) economic impact, there is a real risk of mass selling. All halving does, from a financial perspective, is ensure long-term scarcity, and therefore it promotes supply-side confidence. That avoids value destruction associated with poor supply-side measures, but is not value creating in itself.
Two weeks ago, ByteTree indicators forecast a storm approaching. So far, the storm has been relatively mild, but we were prepared for worse. The link between transaction value and price is shown below using annual averages for price and the total transaction value over the year.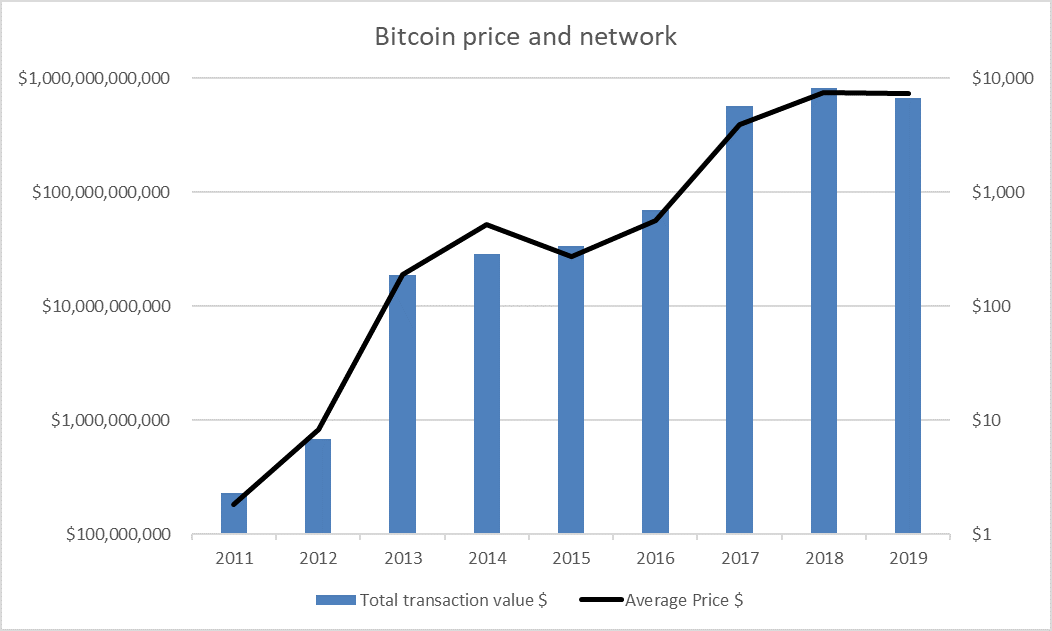 Source: ByteTree.
We still haven't seen a trillion dollars moved over the network over a calendar year, but one did sneak in between mid 2017 and mid 2018. The link between price and activity is so strong, that it surprises us that this isn't more widely known.
Those miners are at it again
Another reason for forecasting a storm was the behaviour of the miners. They have been holding back sales, and as a result, growing inventory, which often means the market bid is weak. Like all miners, they sell when they can, and don't necessarily have a view.
That said, in the last few hours, the miners have unleashed hell on the market by dumping three days of coin generation in just two hours. That can be seen in the next chart using the purple verticals. That's a massive dump, and it strikes me that they took advantage of the $300 rally since yesterday.

Source: ByteTree.
Summary
In my opinion, Bitcoin and the crypto space in general, will surge in the future. But this area remains volatile, and that presents an opportunity. The hype cycles are frequent, and it pays to understand the risks and opportunities that go with them. At ByteTree, our aim is to gain a deeper insight by harnessing the data, and broadening the scope and depth of coverage. We have grand plans. If you like what we do, then please join us as a shareholder. For more information, email us on investors[at]bytetree.com.