weekly-roundup
Wall Street Drives Bitcoin (and why we sold it last week)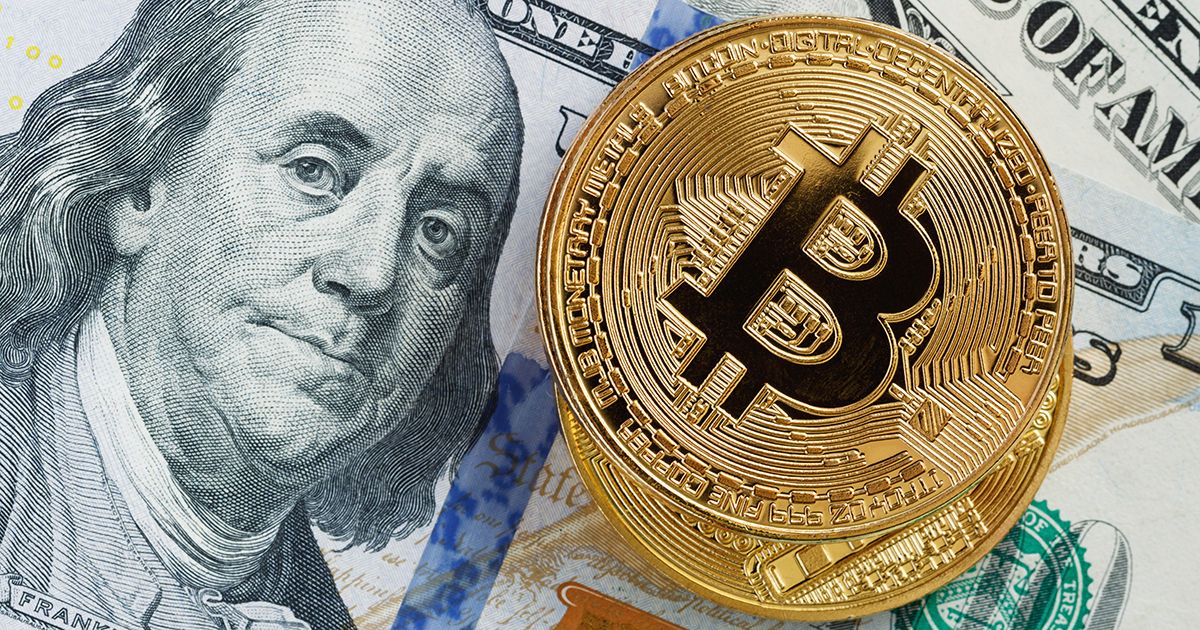 Disclaimer: Your capital is at risk. This is not investment advice.
ByteTree Market Health Update; Issue 30
At ByteTree, we ignore the narratives, whether they are bullish or bearish, and simply follow the treasure trove of data from the blockchain. A sell signal was generated on Wednesday at midnight (UTC) as the network indicators turned down.
Bitcoin intraday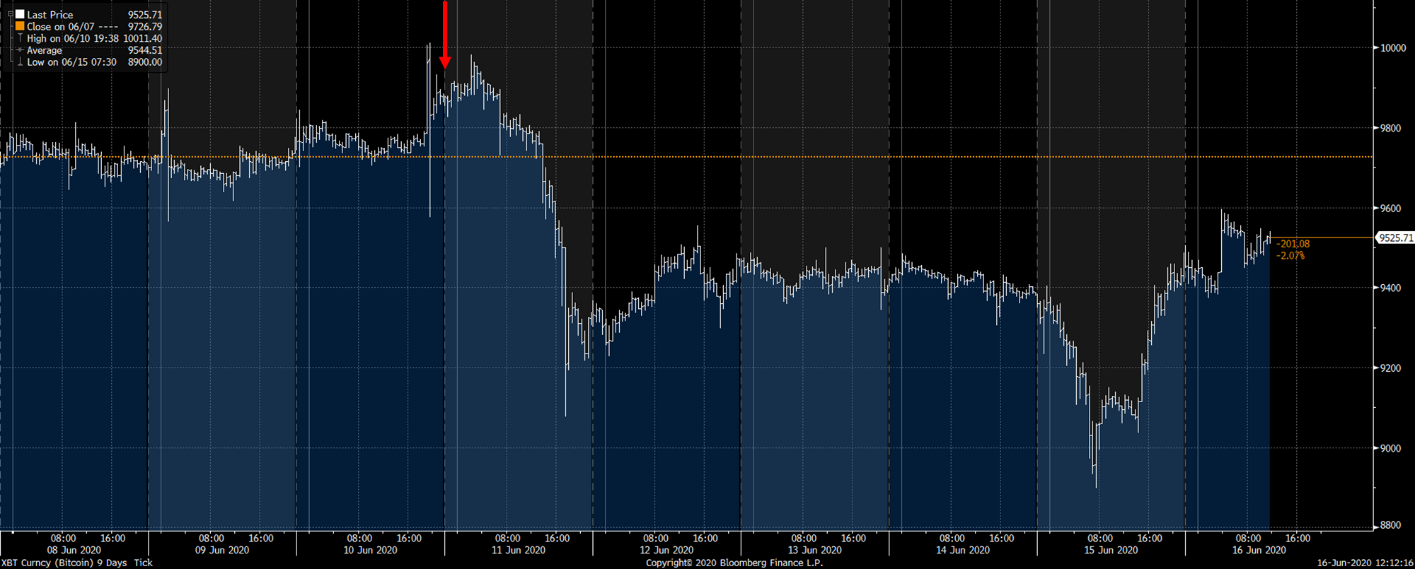 Source: Bloomberg. Bitcoin 6 June 2020 to 16 June 2020 in USD.
The price had just tested $10,000 and quickly rejected it. We would add that with the current network seeing $14bn change hands in a week, the $10k level is stretching valuations to their upper limits. We want to see $10k broken to the upside, but for that to happen, there needs to be much greater network activity.
It is not only Bitcoin flirting with 10k, the Nasdaq 100 (NDX) is too. Yet again, the link to general risk asset prices is strong as both Bitcoin and NDX turned down in sync. The NDX then closed for the weekend, and they dipped on Monday morning, only to recover in sync. To suggest that Bitcoin isn't correlated sounds increasingly ridiculous.
Bitcoin and the Nasdaq futures short term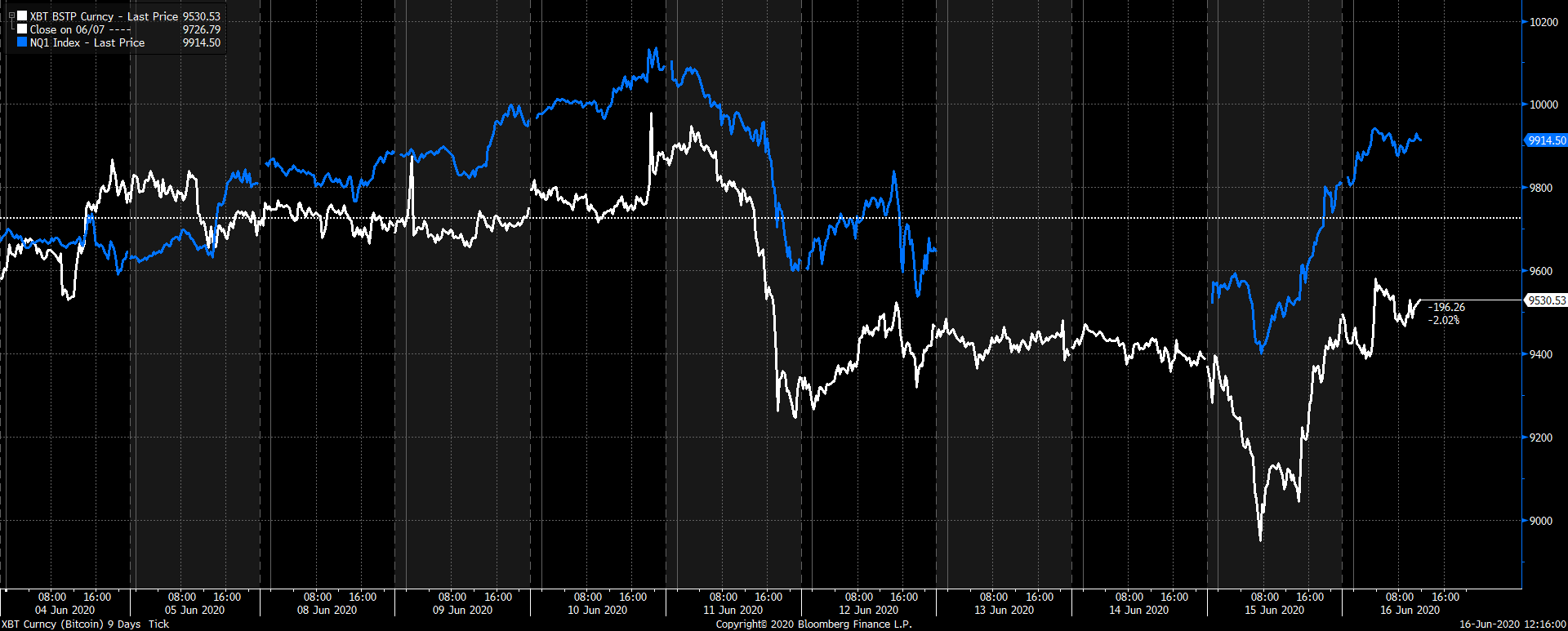 Source: Bloomberg. Bitcoin (white), Nasdaq 100 future (blue) 6 June 2020 to 16 June 2020 in USD.
Next, I'll zoom out and look over the past two years. While obviously, BTC has been more volatile than the NDX, they are gaining similarity. What's more, is they have both enjoyed the same two-year return (circa 40%) and have converged towards the same number – 10k. What could possibly be behind this other than a link to the real money on Wall Street?
10k and the same return over 2 years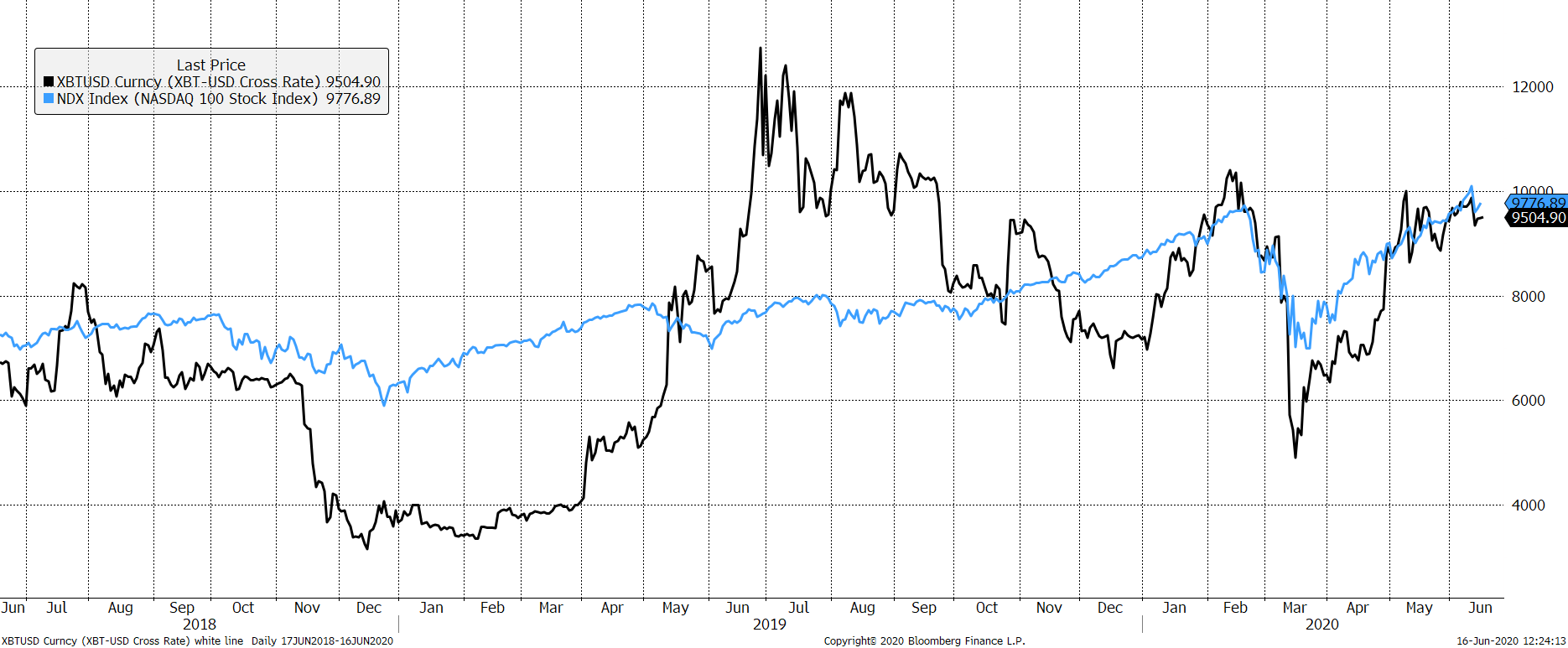 Source: Bloomberg. Bitcoin (black), Nasdaq 100 future (blue) past two years in USD.
I did a little digging to see which funds might hold the Grayscale Bitcoin Trust (GBTC).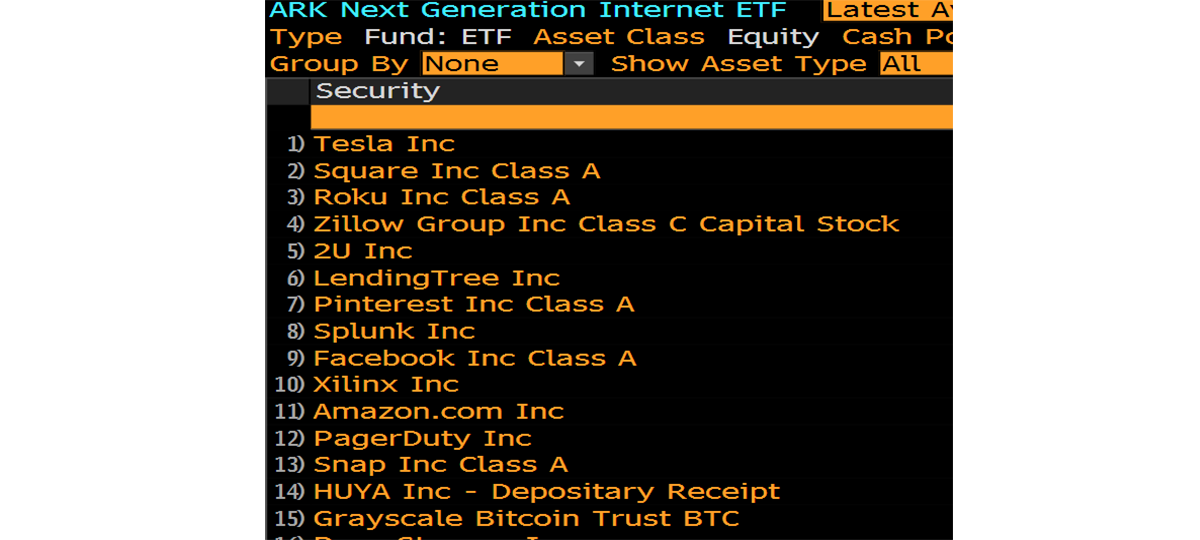 Source: Bloomberg.
Unfortunately, I can only see 7.7% of ownership, but found an interesting holder. One holding grabbed my attention, which was 0.75% of GBTC, worth $25m, is held by the ARK Next Generation Internet ETF (ARKW). That makes up around 2.3% of their ARKW's assets and is their 15th largest holding as shown above (bottom of the list).
The link between ARKW and NDX is unsurprising as it invests in tech stocks. But seeing how Bitcoin and ARKW have converged is remarkable.
Next Generation driving Bitcoin?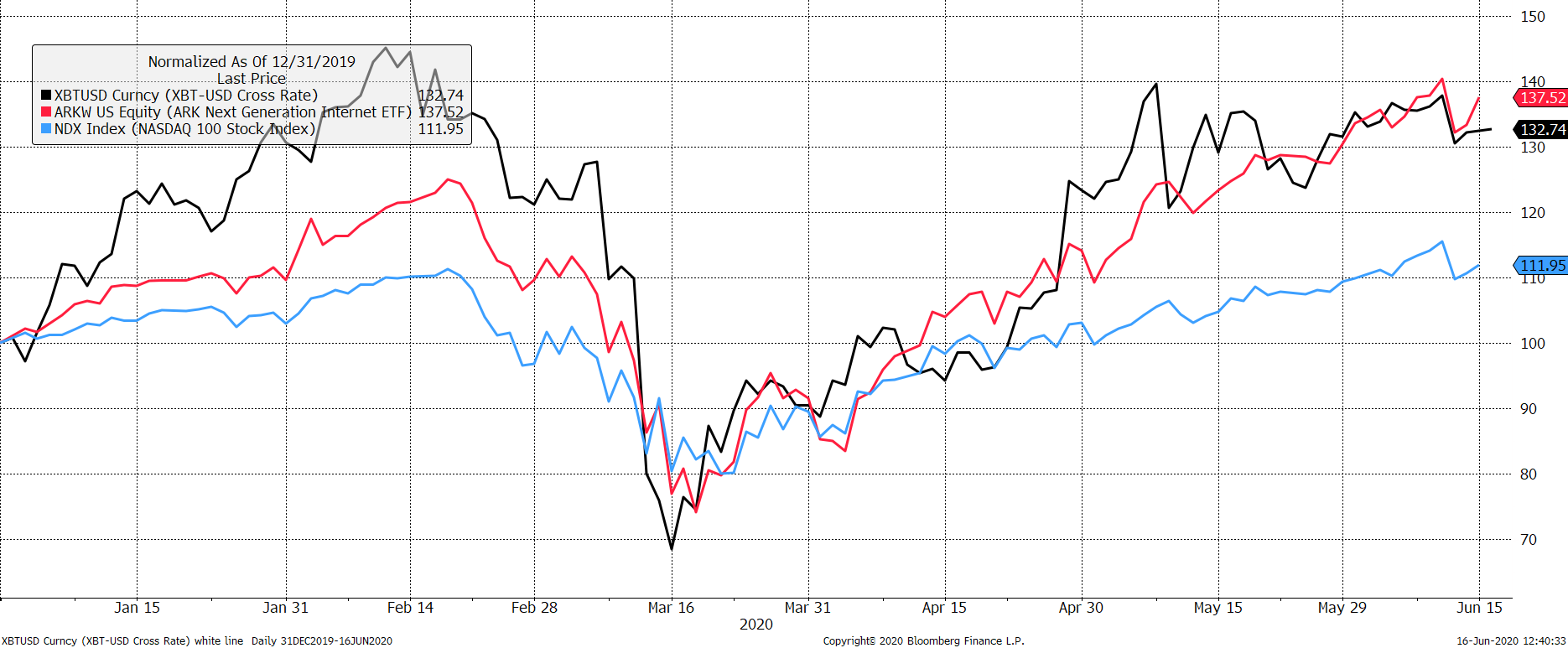 Source: Bloomberg. Bitcoin (black), Nasdaq 100 future (blue), ARKW US (red) 2020 year to date rebased to $100.
Furthermore, investors can't get enough of it. ARKW's assets dipped to $350m last October, but since the COVID crisis has ballooned to over a billion.
Money floods in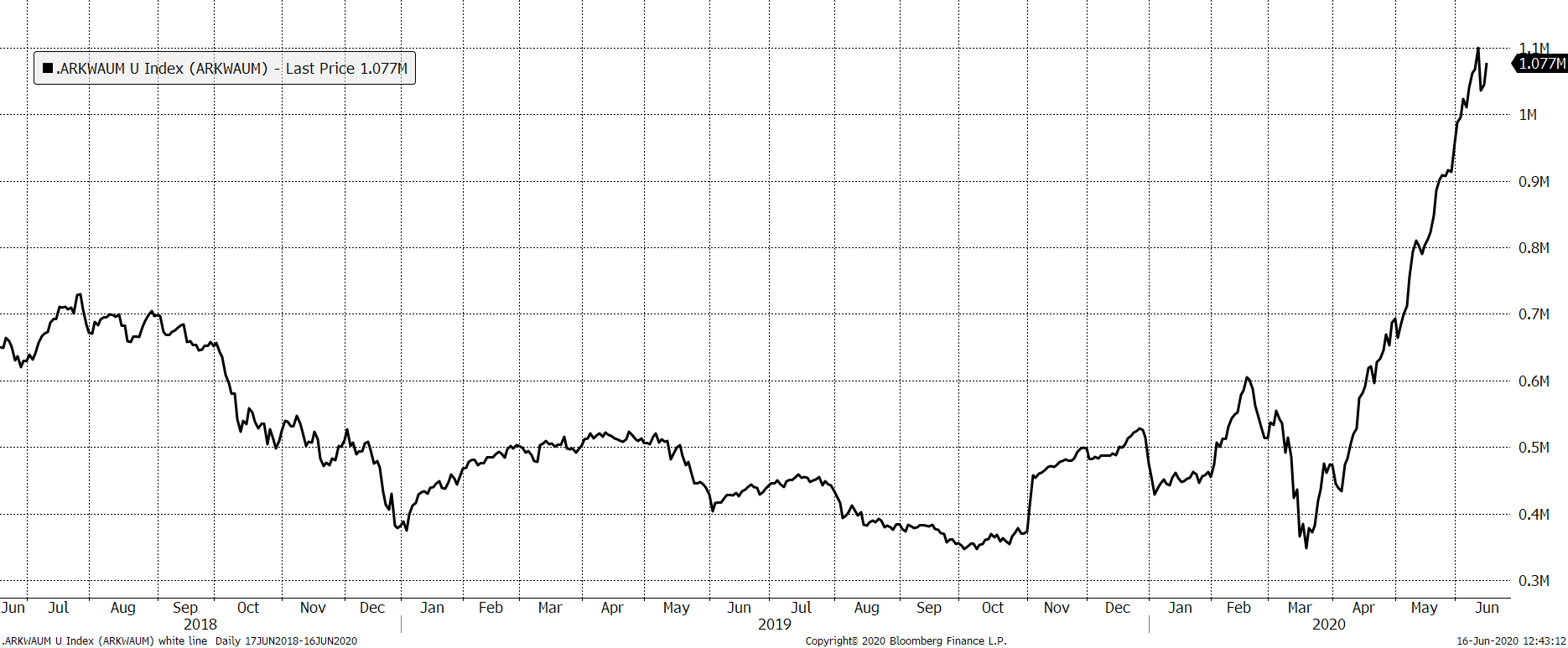 Source: Bloomberg. ARKW US assets under management past two years in USD.
I'm not saying that ARKW's $25m holding in GBTC is the driving force behind Bitcoin, but it explains a lot. I can only see a small portion of GBTC's register, and assume there are many other funds doing a similar thing. Other than futures, I imagine GBTC is the only way for US institutions to access Bitcoin. Yet, it amazes me how a professional investor would pay a 25% premium to hold Bitcoin (GBTC price is 25% higher than Bitcoin).
Just imagine what will happen when more US funds are able to hop aboard the train en masse. In the meantime, it is starting to make sense why Bitcoin and NDX are so correlated. Finally, we have a connection between the old world and the new.
We don't have the NDX, or any other external macro data in the ByteTree models, just pure blockchain data. As Keynes said, which has been tediously quoted by people like me ever since;
"markets can remain irrational, longer than you can remain solvent."
It is a reminder that fundamental models will always fail when there is a tsunami of cash chasing the price.
ByteTree's models have turned cautious
Blockchain network transaction value is down to $14bn.

Source: ByteTree.
Fees are still cooling off post-halving network congestion

Source: ByteTree.
The miners are generating over 7k BTC per week, yet only "selling" (or transferring) less than 6k per week. The resulting 1k BTC per week is being hoarding by the miners, and as a result, MRI is low. Our take is this reflects a weak market to sell into. Perhaps they should call ARKW.

Source: ByteTree.
Finally, the 12-week velocity has fallen below 600%. The chart shows you the outcome since 2014 when you invest in BTC when velocity is above and below 600%. Above is better.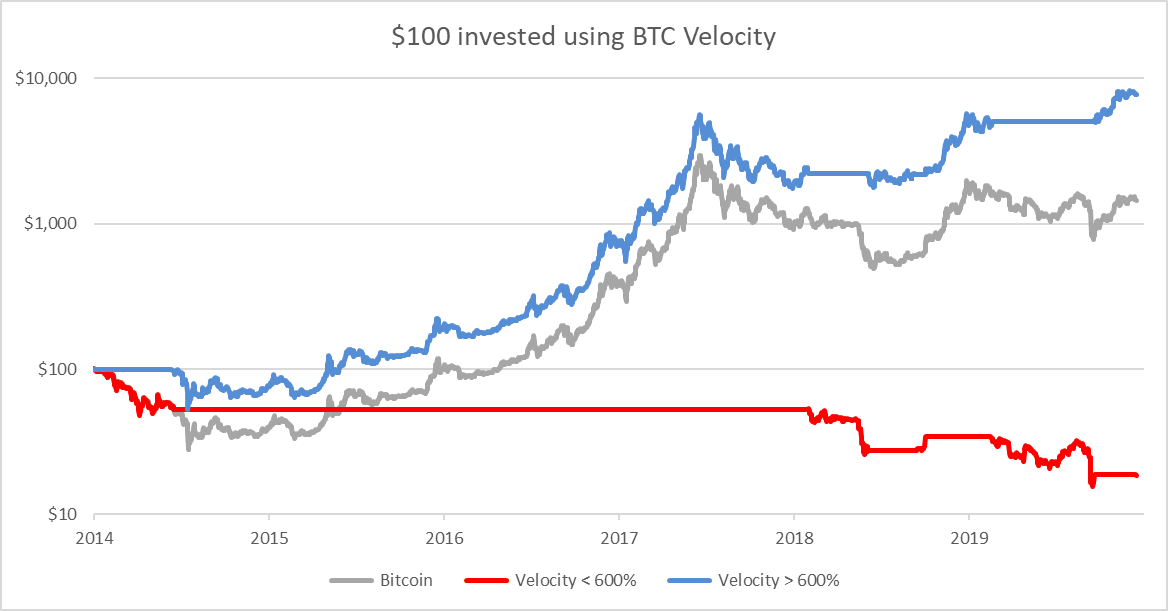 Source: ByteTree.
Summary
Bitcoin network fundamentals point towards lower prices. Yet the correlation to the Nasdaq is becoming increasingly clear. Tech investors are allocating to Bitcoin, and this is perhaps the new dominant factor driving the price. The tsunami of cash will support Bitcoin for the time being, but when the tech hullabaloo ends, the blockchain facts will matter again. Most importantly, remember the rule of cockroaches (there is never a single cockroach). They always bring their friends.
Our models say sell. How much do you trust the Nasdaq?