atomic
ByteTree ATOMIC
ATOMIC, the Analysis of Technical, On-chain, Macro, Investment Flows and Crypto Stocks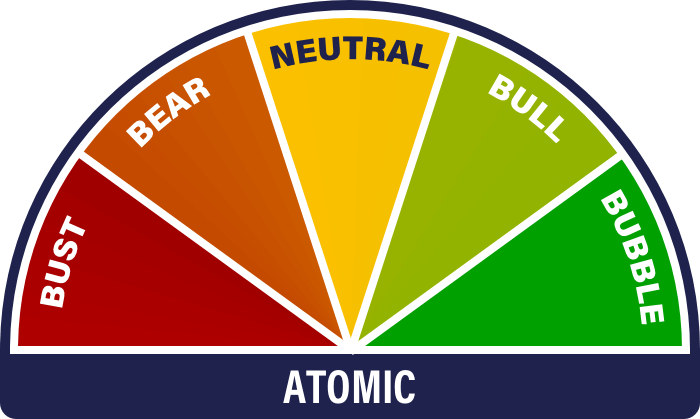 About ATOMIC
Our deep understanding of Bitcoin, crypto and traditional financial markets are brought together in ATOMIC, the Analysis of Technical, On-chain, Macro, Investment Flows and Crypto Stocks.
Technicals study the historical price. We measure the trends across the crypto space to measure strength and weakness, which helps us gauge risk.
It is well known that bitcoin has limited supply, but what about demand? A blockchain that is vibrant is valuable, in contrast to one that isn't. Our live data from the blockchain measures the strength of the network, and therefore demand.
The impact from external macroeconomic factors cannot be ignored. Bitcoin tends to do better when the dollar is falling, and inflation is rising. It is also surprisingly correlated to stockmarkets, especially technology. It is important not just to understand bitcoin, but the world around it.
Investment flows measure demand from institutional investors. When they are buying, that tightens the market and prices tend to rise. The risk comes when they are selling.
Finally, we look at events in the crypto space. These include crypto companies, regulation, and new developments.
ATOMIC brings together these five disciplines to help our clients better understand the major forces that drive the price of bitcoin.
About the Editor
Charlie Morris is the Editor and Creator of ATOMIC. Fascinated by the emergence of a new asset class, but unsure how to make sense of it, he started to analyse the Bitcoin blockchain in 2013. He is also the Chairman and Chief Investment Officer of ByteTree, which he founded in 2014 as a platform to deliver independent, robust and thought-provoking market analysis.
Prior to ByteTree, Charlie has 25 years of fund management experience and is a pioneer of multi-asset investing. At HSBC Global Asset Management, he launched the Absolute Return Service in 2002, which grew to over $3 billion. Much of that success came from moving away from the crowd and embracing a wider range of asset classes that traditional investors were not familiar with at the time.
Subsequently, Charlie managed the Total Return Fund at Atlantic House Fund Management until June 2020, at which point it was ranked number 1 out of 48 funds in the Trustnet Target Absolute Return Sector. He sits on the investment committee for the Society of Technical Analysis and on the Board of Halkin Services, a renowned investment think tank. He has regularly been featured in leading news publications and has given numerous presentations to investment bodies and Universities.
Prior to a career in finance, Charlie served as an officer in the Grenadier Guards, British Army, having graduated from the Royal Academy Sandhurst in 1994.
Subscribe to ATOMIC
ATOMIC is included in our Crypto, Morris on Markets, Professional Investor and Corporate bundles. Click 'Subscribe' in the menu to get started or change your existing plan in your account settings.
---