Thank you for signing up for our free research. You will now receive my monthly Atlas Pulse Gold Report and the BOLD Rebalancing Report, as well as the Weekly Roundup. Please make sure that you've opted in to receive these newsletters in your account settings.
About ByteTree
A quick introduction. I'm Charlie Morris, and I have been managing multi-asset portfolios for the best part of 25 years, mostly with HSBC. In order to bring my knowledge and experience to a wider audience, in 2016, I started writing the Fleet Street Letter, which is now distributed to our Premium subscribers as The Multi-Asset Investor. I want to empower ordinary savers to learn about markets and manage their own portfolios at a genuinely affordable cost.
Let me tell you a bit more about what our ByteTree Premium subscribers receive in addition to the free research.
I'm a firm believer that a "value" investing approach is the best way to nurture and grow wealth over the long term. I'm also a believer that a properly balanced portfolio – one which adjusts for risk and embraces multiple asset classes - is the best way to protect capital through different economic cycles.
That's why I created the Whisky and Soda portfolios, which I share in The Multi-Asset Investor letter. They are there to help ordinary investors manage their savings themselves and not rely on faceless robots or herd-following private wealth managers. It's been a great success, as you can see from the performance (please visit Trustpilot to see what our subscribers say).
From inception in January 2016 to the end 2022:
Soda, a medium-risk portfolio, rose by 102% (vs FTSE UK Private Investor Balanced Index +59.5% (Bloomberg))
Whisky, a medium-to-high-risk portfolio, rose by 130%
That includes gains of 3.5% in Soda and 8.0% in Whisky in 2022, a tough year in markets when the ability to take a disciplined, contrarian view really mattered. And all done with an approach that tries to minimise risk.
I believe savers across the board should have access to our institutional quality portfolios for a fraction of the cost they would usually pay. Many of our subscribers have told me how poorly they have been served by their advisors (both human and robot!) over the years, and I wanted to be able to offer an alternative. It won't always be amazing, but it's a rigorous process, and it has worked so far. Slow and steady, avoid big mistakes, and size positions according to their riskiness - that's what you'll get from me.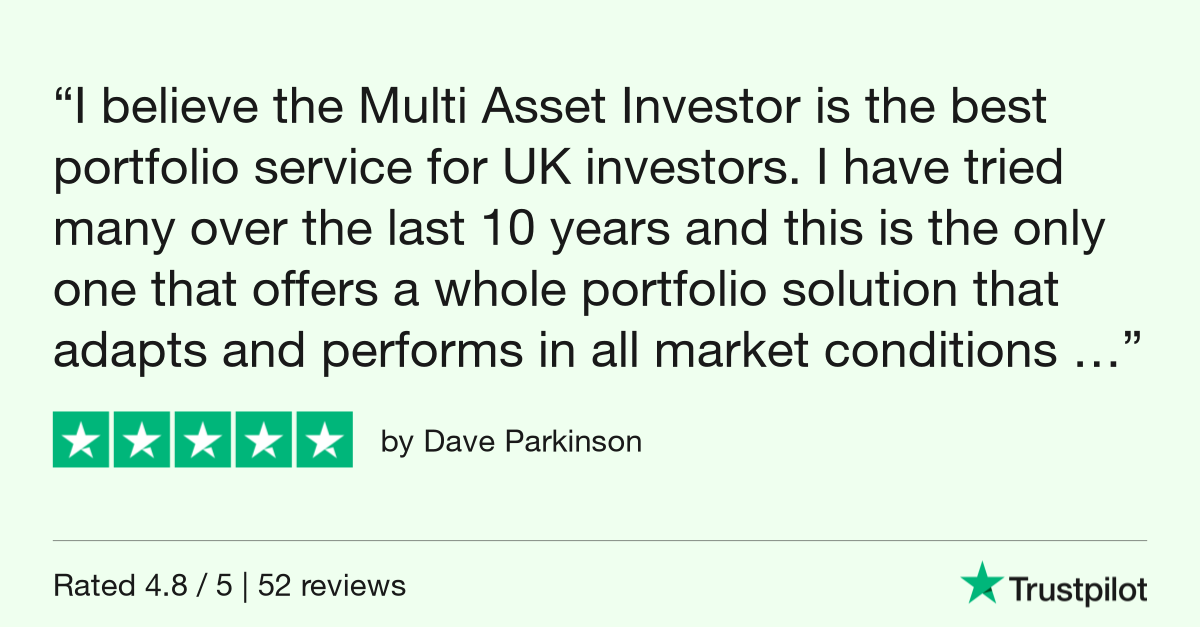 But it's not just me.
Here at ByteTree, we also have the Adaptive Asset Allocation Report (AAA) from financial legend Robin Griffiths and his partner Rashpal Sohan. They are pioneers in understanding the power of trends in making outsize returns, and their portfolio track record has been superb over a long timeframe. You will learn so much from them.
The AAA Report gives an excellent high-level overview for investors who want to know what's going on but don't want to get too involved. Robin has an excellent reputation in financial circles and shares his knowledge from charting the markets to institutions since the 1970s. Rashpal is the quant genius who drives the analysis.
We also cover Bitcoin with ATOMIC and Gold with Atlas Pulse, which I have been writing since 2012. Atlas Pulse made some great calls on Gold, including selling it in early 2013 and buying it back in 2018, ahead of a 65% surge. It is a must-read for gold investors as it keeps them on top of the ever-changing risks and rewards.
Better still, Bitcoin was first mentioned in Atlas Pulse in late 2013 when the price was $1,000. The opening remark was, "this was interesting, but let it fall 80% first". It did, and I recommended it in 2015 at a price of around $250. That's over 100x since. Bitcoin became so important that I decided to spin off coverage in ATOMIC so it gets the focus it deserves.
Alongside my co-founder Mark Griffiths, we have pioneered analysis of the Bitcoin blockchain since 2013. We continue to push into the wider space. This is a fascinating new technology and, whatever you read, it's not going away. Our ByteFolio newsletter shows you how we would construct a crypto portfolio on top of more detailed work on individual tokens and coins covered by Token Takeaway.
I'll leave it there for the moment. We also frequently comment on LinkedIn and Twitter, so please follow us there.
I hope you enjoy what you find at ByteTree. If you do, I invite you to join the rapidly growing list of Premium subscribers who are benefitting from our work.
Yours faithfully,
Charlie Morris
Founder, ByteTree