Disclaimer: Your capital is at risk. This is not investment advice.
My good friend, John Reade, chief strategist of the World Gold Council, picked up the latest Shanghai Gold Premium, something we haven't seen for a while. Gold on the Shanghai Futures Exchange normally trades at the same price as in the global market, but occasionally it deviates. Currently, gold trades at $2,027 in Shanghai and $1,918 elsewhere. That's a record 5% premium.
The Shanghai Gold Premium is Back
What does it mean?
In short, it's bullish. We saw a small premium last year, which turned the gold price around and marked the low. In mid-2020, we saw a discount signalling that gold was cheaper in Shanghai than elsewhere, which marked the peak. In this case, China was no longer such an active buyer of foreign gold because it was cheaper at home.
This time, world gold is cheaper than Chinese gold, and so demand has picked up. This latest premium is the highest ever seen and could be the catalyst for a significant move back above $2,000 and beyond. Got gold? You should. And probably some silver too.
Physical Gold and Silver
If you are interested in buying physical gold or silver and would like to do so before China buys it all, my recommended bullion dealer is The Pure Gold Company. You can take delivery of your metal in the UK, US, Canada and Europe or leave it in their safe custody. The trading costs are low, while the quality of service is high, as shown on Trustpilot. For more details on The Pure Gold Company, please visit their website.
Uranium Squeeze
With Niger raising uranium export prices, it's back in the news. It's been a lacklustre 15 years with wind and solar taking centre stage. Just like in oil, the uranium market has seen a sustained lack of investment. Kazakhstan faces higher costs, Russia is persona non grata, and so it becomes a sellers' market. I was told by a former colleague, Robert Craufurd, the co-manager of the Geiger Counter Investment Trust (GCP 15% discount), that the new supply squeeze is the "equivalent of taking OPEC out of the oil market".
Moreover, on the demand side, there is structural growth. Japan is back, and many governments have extended the lives of nuclear plants to reach emissions targets. There are also plans to build new nuclear plants, which give high visibility for future growth.
This chart shows that prices are roughly the same as they were 43 years ago. It's been a slog. The uranium bubble of 2007 was linked to exponential demand from China and India, coinciding with the flooding of the Cigar Lake in Canada, a mining hotspot. It didn't last, but it finally looks like a new bull market.
Uranium Prices Rising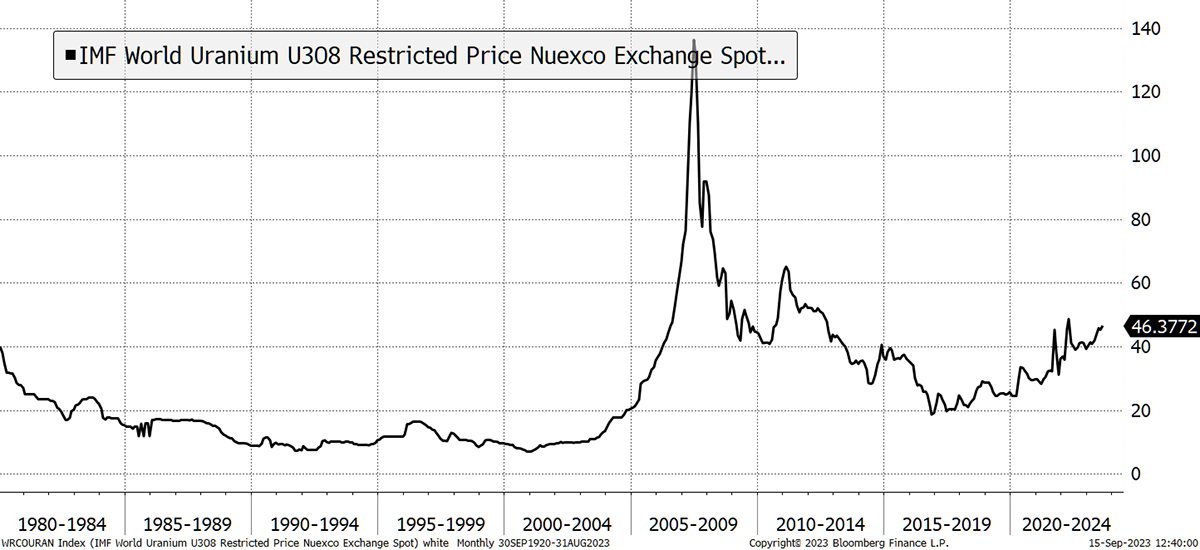 There are two ways to invest in uranium: mining shares and the commodity where you get to own a slice of U308; just don't stroke it. The leading miner is Cameco (CCO Canada), but the shares are super expensive. There are others, but the quality is low, and the volatility is high. If you want the miners, then Craufurd's GCP trades at a discount but gives the ETFs a wide berth.
If you want the element, then London's Yellow Cake (YCA) is a good choice, as is Sprott's Uranium Trust (U-U Canada). In both cases, their discounts have narrowed in recent weeks, so trade close to fair value.
Uranium Choices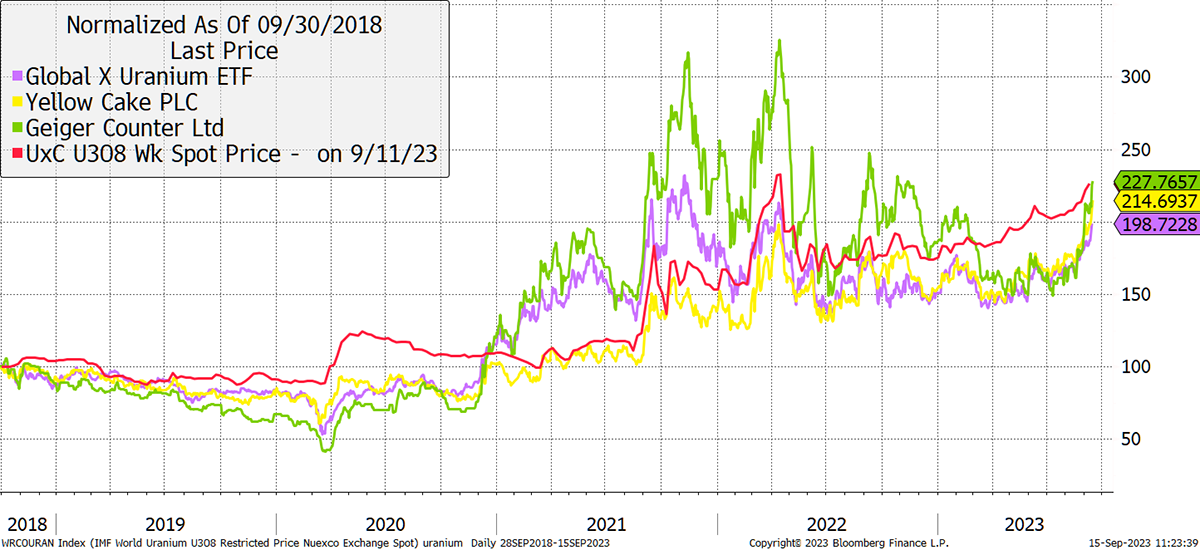 I think it's interesting, and I would think there's more to go, but I doubt it goes to the moon. Commodity shortage stories rarely play out, but this one has a chance, certainly until the world becomes friendly again.
I'm a nuclear fan to keep the lights on, but for investment, I am more focused on the tremendous opportunity in UK value stocks. Many people are talking about it, and the UK has too many good quality and undervalued companies. Their biggest problem is they lack liquidity, which has become a chicken and egg situation.
Break the egg.
Venture's Three
My new publication, Venture, delivered two more ideas last week. One, a cheap consumer discretionary stock, and the other, a growing tech stock. That brings the total to three! Sooner or later, there will be around 30.
I'm loving this new adventure. In recent weeks, I have been through all the cheap UK stocks and graded them. Slowly but surely, I will add them to the Venture list. Crucially, this is an unapologetic tip sheet as opposed to a portfolio. That means I can live on the edge and highlight interesting situations far and wide. I do not try to balance the portfolio, just deliver ideas that will result in profits.
In contrast, the other equity portfolio at ByteTree is Whisky. It's had another good year, but here I ensure the companies have good liquidity and there's a quality threshold with a value bias. That makes it harder to find good ideas, and as a result, the ideas are less frequent. That said, I did recommend a Spanish company this week; buybacks, dividend, upgrades, undervalued and so on. A Whisky classic.
Like Whisky, Venture will find its way overseas before too long. But there are too many good ideas at home before we cross La Manche.
Have a great weekend,
Charlie Morris
Founder, ByteTree
---
Would you like to receive our weekly research updates? Create an account and opt-in to receive our newsletters in your account settings.