Disclaimer: Your capital is at risk. This is not investment advice.
The message from the charts can be powerful, especially when it comes to finding new trends. In this short piece, I have found ten ideas from ByteTrend which show how leadership in financial markets evolves. Few understand ByteTrend, even some professional technical analysts. That's because it's not about the moving averages or even the charts themselves. It's all about the rankings. It shows how different countries, sectors, themes and currencies evolve and interact. Welcome to trend following.
Poland had been lagging the world index since 2020. That is until recently. With the Polish stock market now rising faster than the World Index (WI), the situation has improved. The green line is above the 30-day and 200-day moving averages, which are both upward sloping. It also recently touched the max line. With 5 good things going on, this trend is awarded 5 stars, which are highlighted by the blue fill in the background.
Perky Poland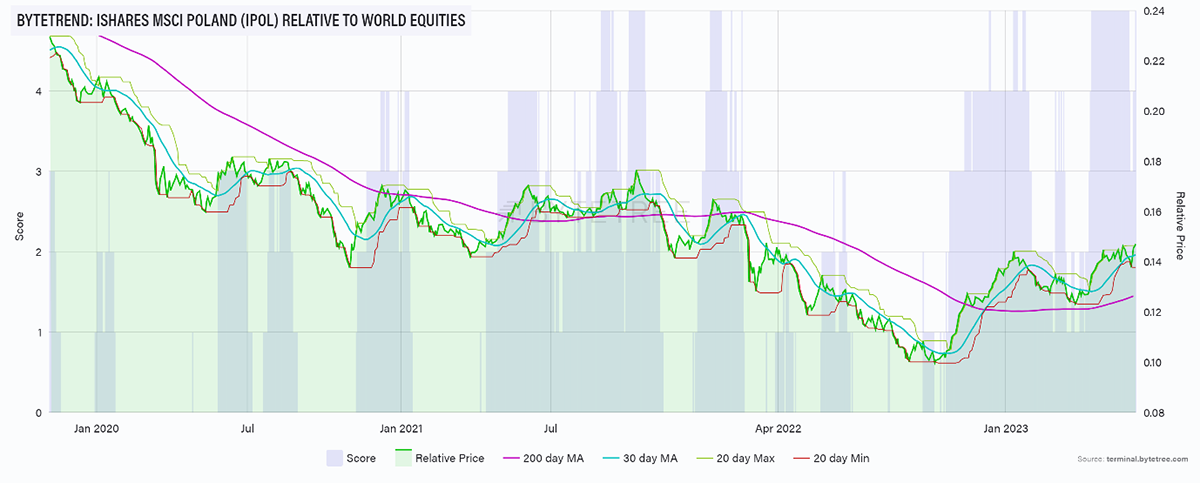 There are no guarantees that Polish stocks will go to the moon, but if they do, they will have to have a 5-star trend at some point. That is why screening for strong trends is an essential exercise for successful active investors. As I said, it's not about the chart, but the screening. Not everything can be a winner.
There are losers too. China A Shares have made a post-pandemic relative low versus WI. The green price relative line is below the moving averages, which are negatively sloping, and it recently touched the min line. China scores nil points and hence the chart background is white. China is not definitely facing a crisis, but if it was, the chart might look like this. Conversely, a country with a stronger chart relative to WI is unlikely to be facing a crisis.
A Candidate for the Next Crisis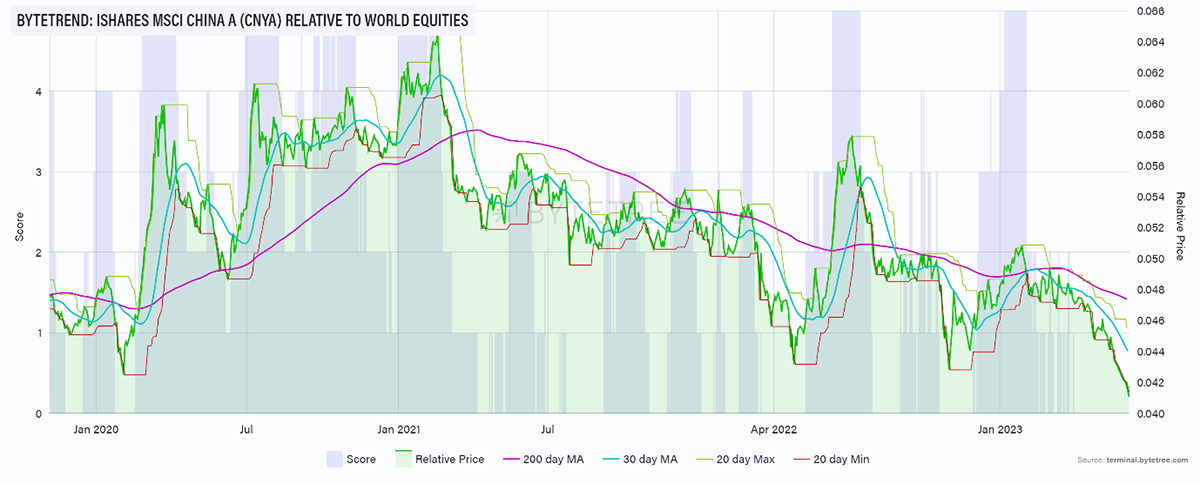 Click on any chart link, and there's a fuller explanation at the top of the page.
Tech has enjoyed a great run over the past decade or so, but to those new to the markets, it hasn't always been that way. The last major peak versus WI occurred in late 2021. There was a bear market in 2022 before kicking off 2023 with a rocket-fueled rally. This chart shouldn't surprise you as it's been all over the news.
The Tech Rocketship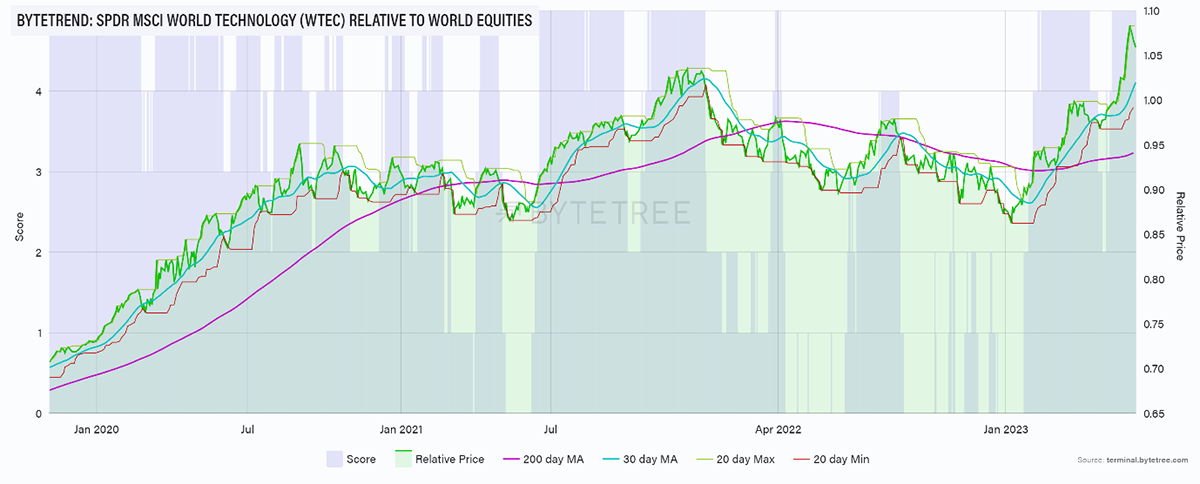 Artificial Intelligence is the new game in town. What's most interesting about this is that the fund (shown below) isn't heavily comprised of big tech like the one above, but smaller AI stocks. The other point is that when tech started to rally, AI moved ahead of many competing themes such as cloud computing, EVs and so on. Often in market rallies, the early leaders keep on going.
Aye Aye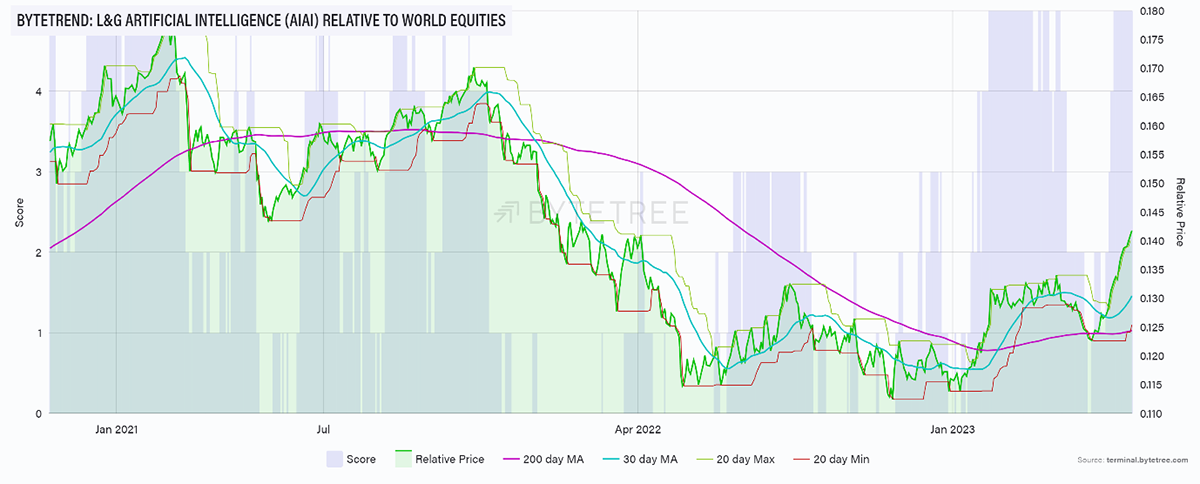 As I said, not everything can be a winner. When you measure trends versus WI, some can win, but others must lose. In this cycle, it's property. Not only is there too much of it, but no one seems to want to go to the office anymore. I'm not surprised; the coffee is terrible.
Taking a Sicky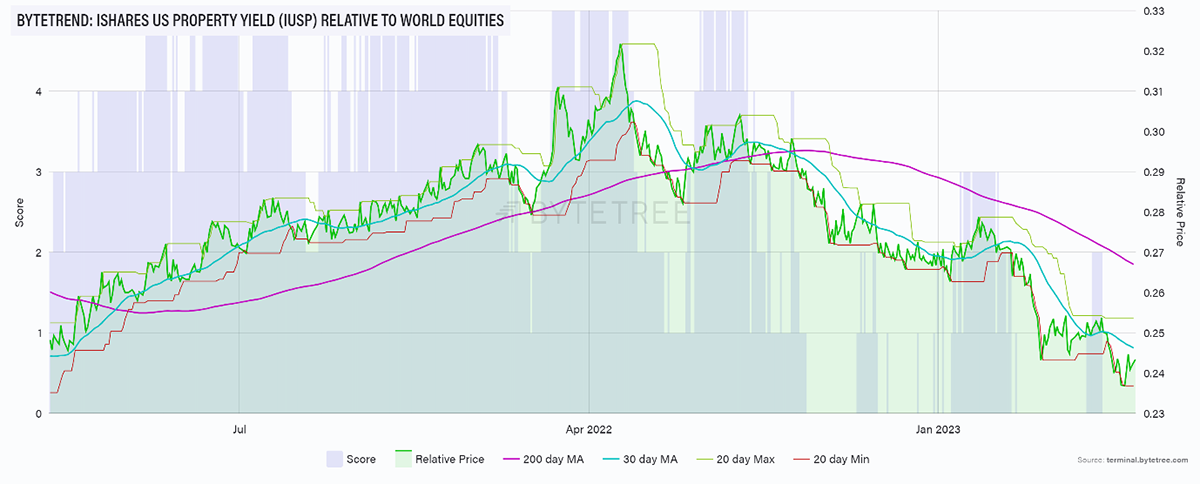 Source: ByteTree Terminal
I mentioned EVs, but the story I really like is hydrogen, as it is such a promising way to store surplus alternative energy. Not only that, but fuel cells are much lighter than batteries. Most car companies are racing towards EVs, leaving the likes of Toyota and JCB more focused on hydrogen. I can't wait to buy hydrogen stocks, but the 0-star trend is a very good reason to wait. In the meantime, find some stronger trends.
Hindenburg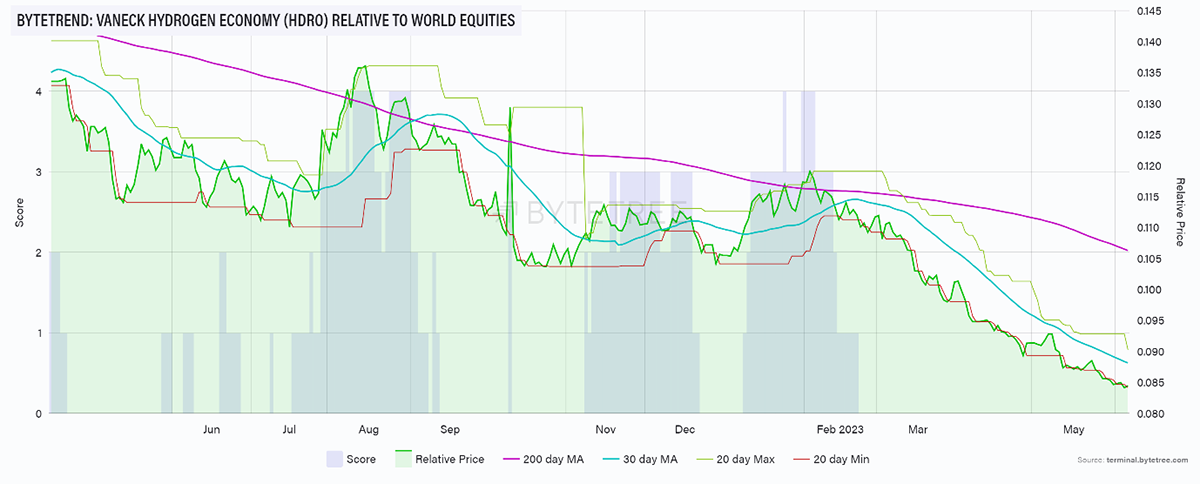 Cocoa is the strongest trend in commodities, which have come under pressure since peaking after the war in Ukraine. Sooner or later, more commodities will have strong trends, which will make it a safer place to invest.
Sweet Tooth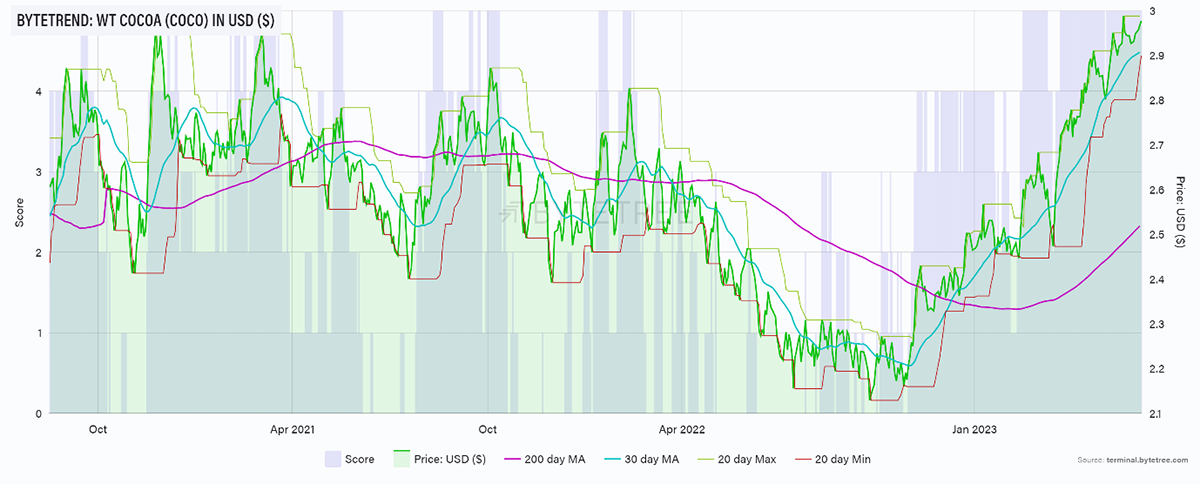 In FX, the strongest currencies are in Latin America, with the Chilean Peso leading the way.
Cueca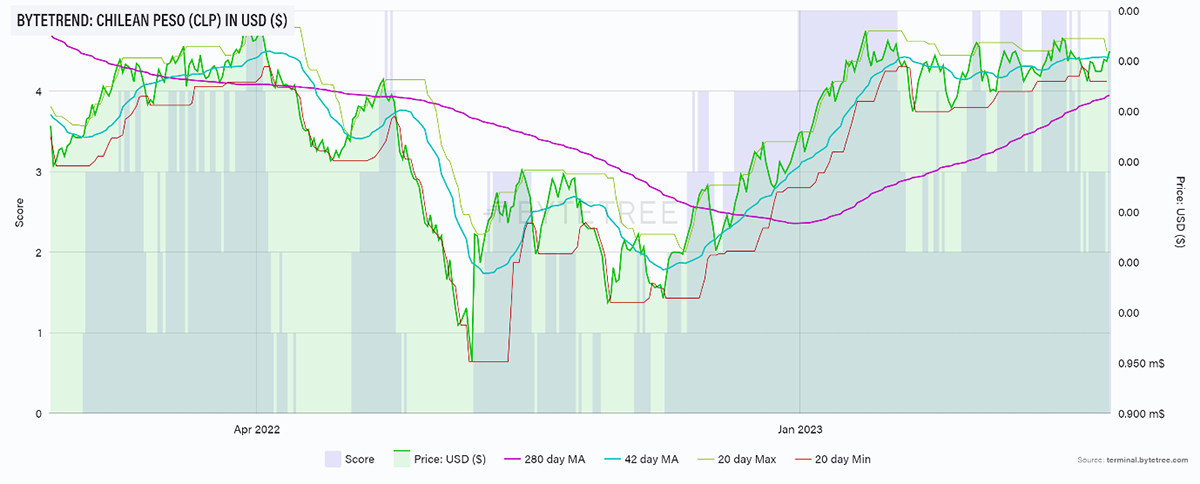 The Chilean Peso is accompanied by the Brazilian Real and the Mexican Peso.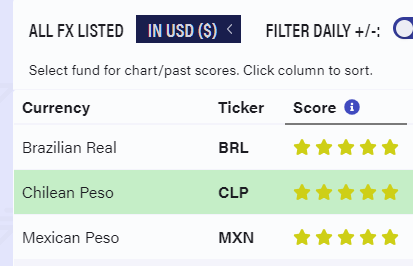 So far, I have focused on strong and weak trends. I will finish with a two-star trend in BOLD, which tracks ByteTree's BOLD Index (bitcoin and gold plus some magic). This peaked versus WI in March and is now easing back. What's amazing is how frequently it has been a 5-star trend versus WI. It has lost stars during stockmarket rallies, only to regain them during stockmarket corrections.
Buy the Dips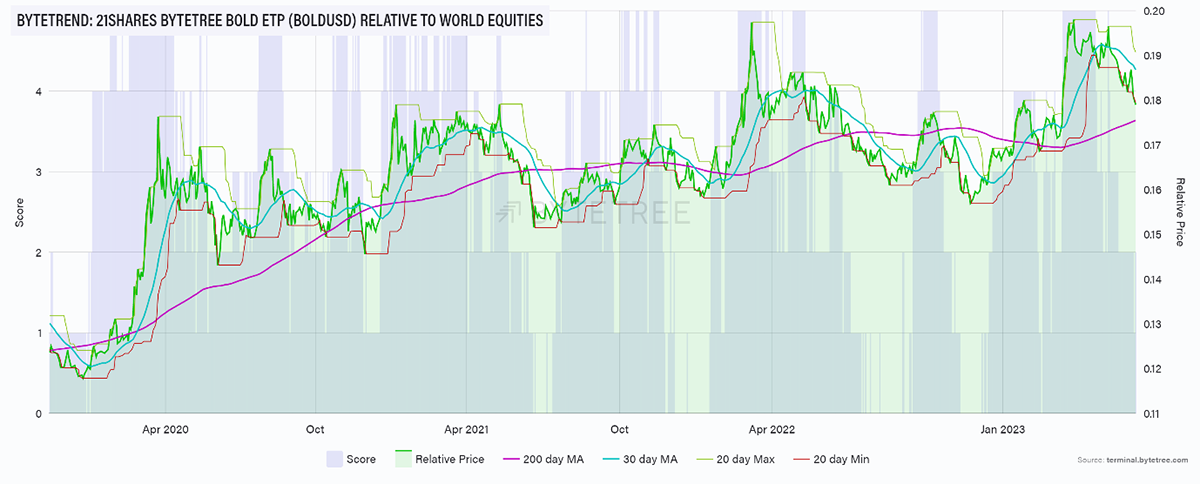 BOLD versus WI seems to work in reverse to WI itself, despite delivering higher returns over time. That means it is an alpha-generating portfolio diversifier. Back up the truck.
A Compelling Diversifier
There's one more thing about BOLD, it can predict the future global money supply more closely than any other asset or combination. That might be shrinking in the short term, but they always say the only two certainties in life are death and taxes. If I were to add a third, it would be printing money.
When Will Global M2 Start Rising Again?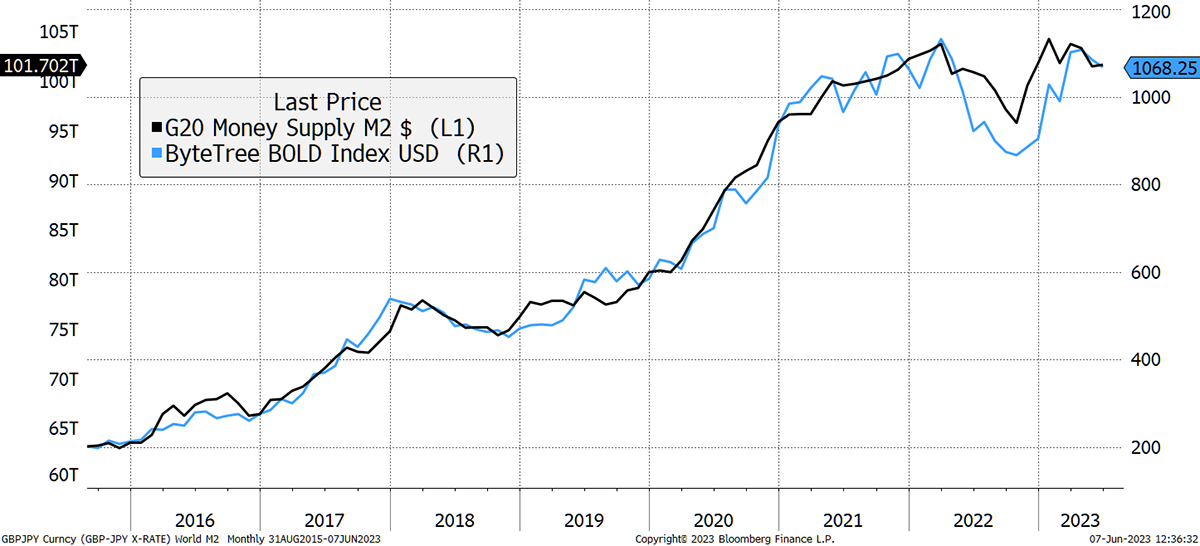 ByteTrend is a powerful tool for identifying trends. It's not about the charts; it's about the rankings. BTW there's crypto coverage too.
Have a great weekend,
Charlie Morris
Founder, ByteTree