Disclaimer: Your capital is at risk. This is not investment advice.
Token Takeaway: VET Token;
VeChain is a blockchain platform that aims to improve the efficiency of supply chain management and enterprise operations. With its institutional partnerships, VeChain has demonstrated its potential to be used in various industries while promoting sustainability and social responsibility. It employs a controversial dual-token system to maintain stable on-chain costs. This Token Takeaway will take a deep dive into VeChain, and examine its importance in the space and the value proposition of its native tokens, VET and VTHO.
Overview
The VeChain blockchain platform was created in 2015 by Sunny Lu, former CIO of Louis Vuitton China, and Jay Zhang. It was designed to improve supply chain management and business processes using Distributed Ledger Technology (DLT). VeChain provides various blockchain-based Software-as-a-Service (SaaS) and Platform-as-a-Service (PaaS) products, aiming for a wider enterprise blockchain adoption to enhance the supply chain industry.
Originally, VeChain focused on improving data transparency, security, and immutability in the supply chain industry, but the company has since broadened its horizons to include sustainability and sustainable development. In 2018, VeChain launched VeChainThor, a public blockchain that uses a Proof-of-Authority (PoA) consensus mechanism to establish a bedrock for a sustainable and scalable blockchain ecosystem. VeChain and VeChainThor are often used interchangeably, but technically they are two separate components of the same blockchain ecosystem. VeChain is the platform, while VeChainThor is the blockchain protocol that powers it.
VeChainThor Blockchain
VeChainThor is a Layer-1 smart contracts blockchain platform built by VeChain. It allows developers to build dApps and run complex smart contracts without worrying about volatile gas fees or network congestion. VeChainThor achieves that by utilising a dual-token economy, where the primary token is used to store and transfer value and the secondary token is solely used to pay for the gas fees on the network. This model is designed to isolate the price volatility of the primary token from the gas fees to boost economic stability and enterprise acceptance. More on that in the Tokenomics section.
A community-elected governing body, the Steering Committee, oversees decision-making in the VeChain ecosystem. This committee represents the stakeholders and brings rapid, efficient and informed decision-making to VeChain's governance. Moreover, only 101 pre-selected nodes, i.e. Authority Nodes, that underwent a KYC verification are authorised for transaction validation on VeChainThor.
Furthermore, VeChainThor has a distinctive feature called Meta-transaction, which enhances its user and developer friendliness by introducing a controllable transaction lifecycle, fee delegation, multi-task transaction (MTT), and transaction dependency. These features allow users to customise parameters for a transaction's lifecycle, facilitate easier onboarding of new users, enable multi-functional transactions, and manage the order of transaction execution to align with specific business needs.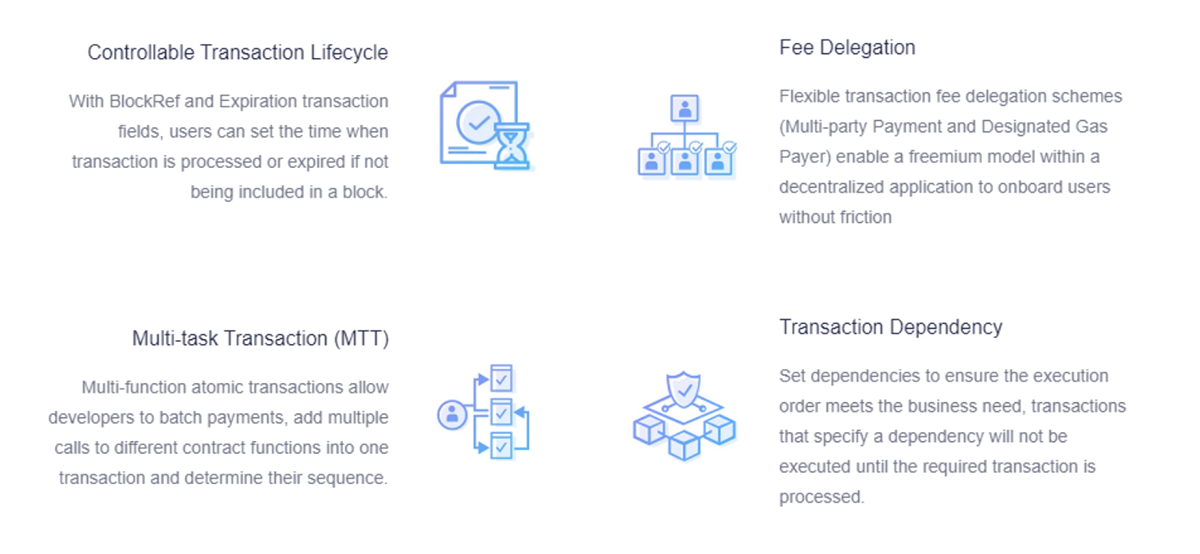 As illustrated in the below chart, VeChainThor has seen steady growth in the number of unique addresses on the platform, reaching over 2 million in 2023.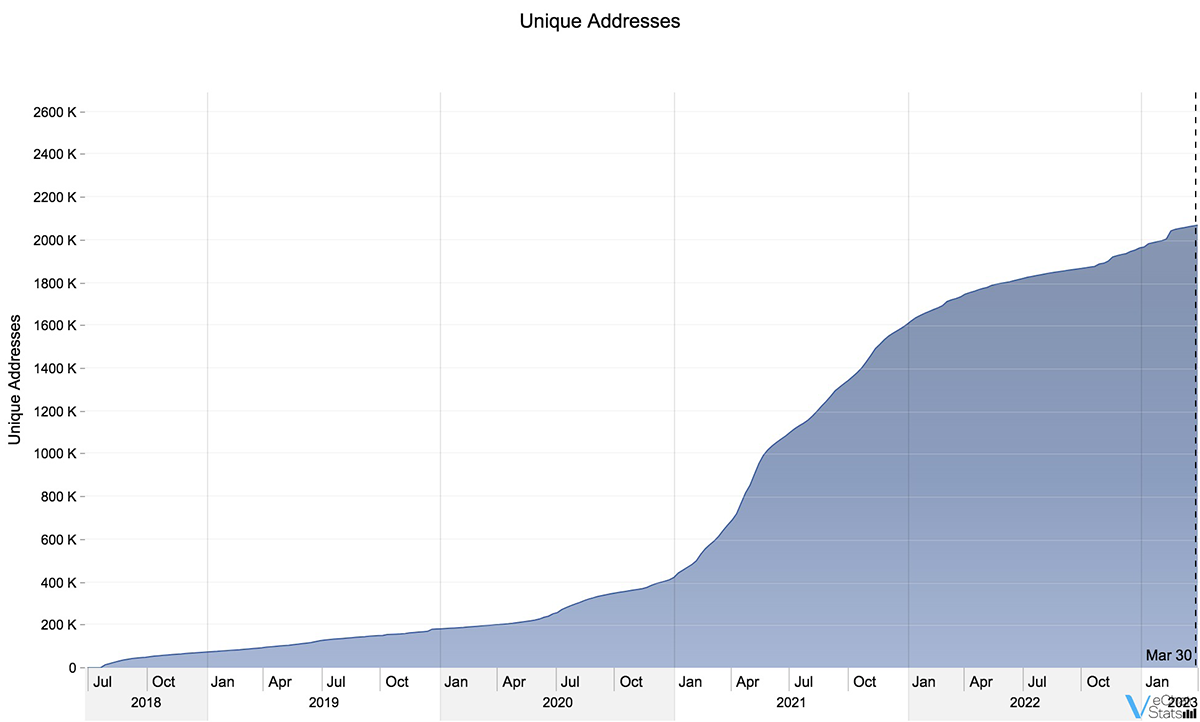 Furthermore, according to VeChain App Hub, the VeChain ecosystem has around 116 dApps in sectors including NFT, DeFi and Marketplace.
VeChain Toolchain
VeChain ToolChain is a blockchain application platform developed by VeChain specifically for Enterprises. As VeChain's flagship offering, it provides a foundation for enterprises to collaborate and build products and services. Features built on the VeChain Toolchain provide trustless product life cycle insights and develop new ways to benefit consumers and streamline supply chain processes.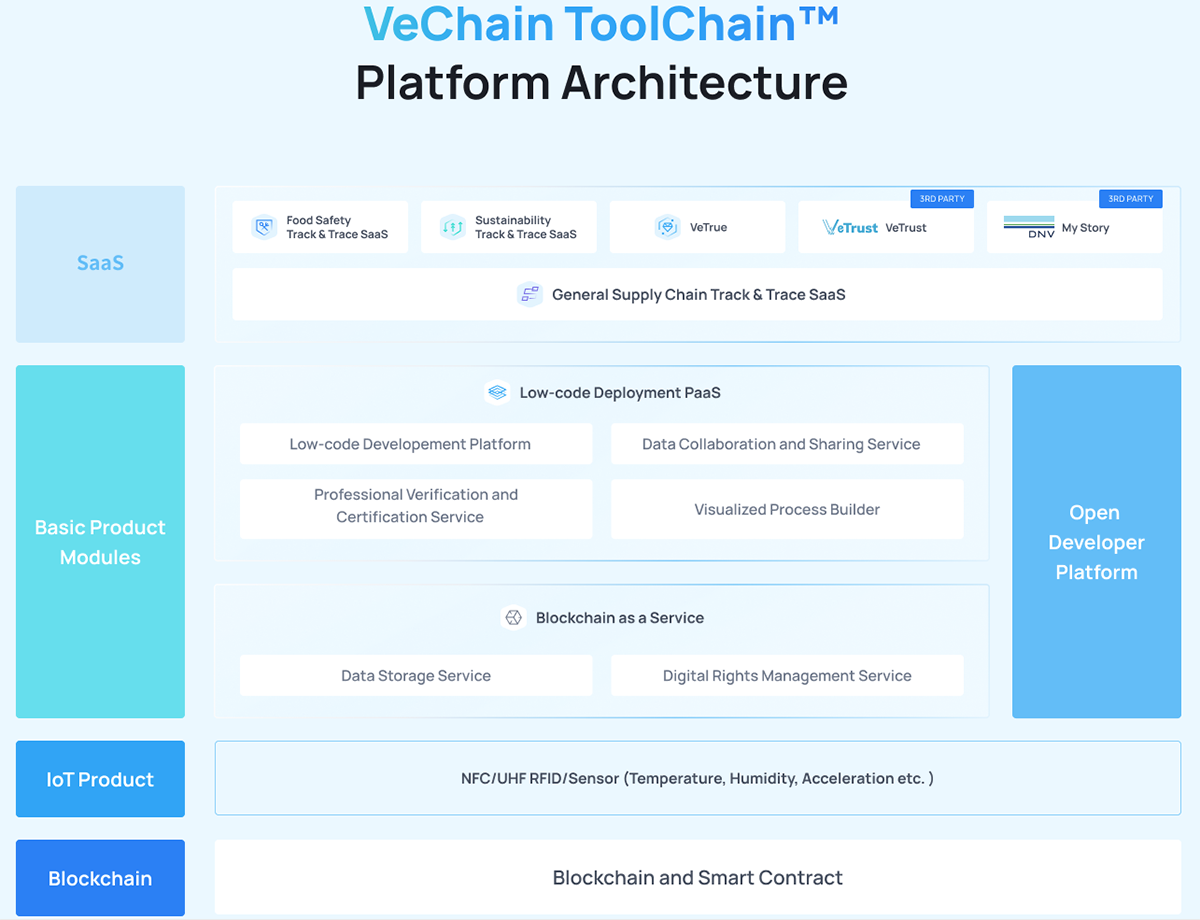 VeChain Products
VeChain currently offers six different product solutions for various issues, including sustainability and carbon emissions management, blockchain storage, anti-counterfeiting and general track and trace. These products mainly fall under five different categories, as highlighted below.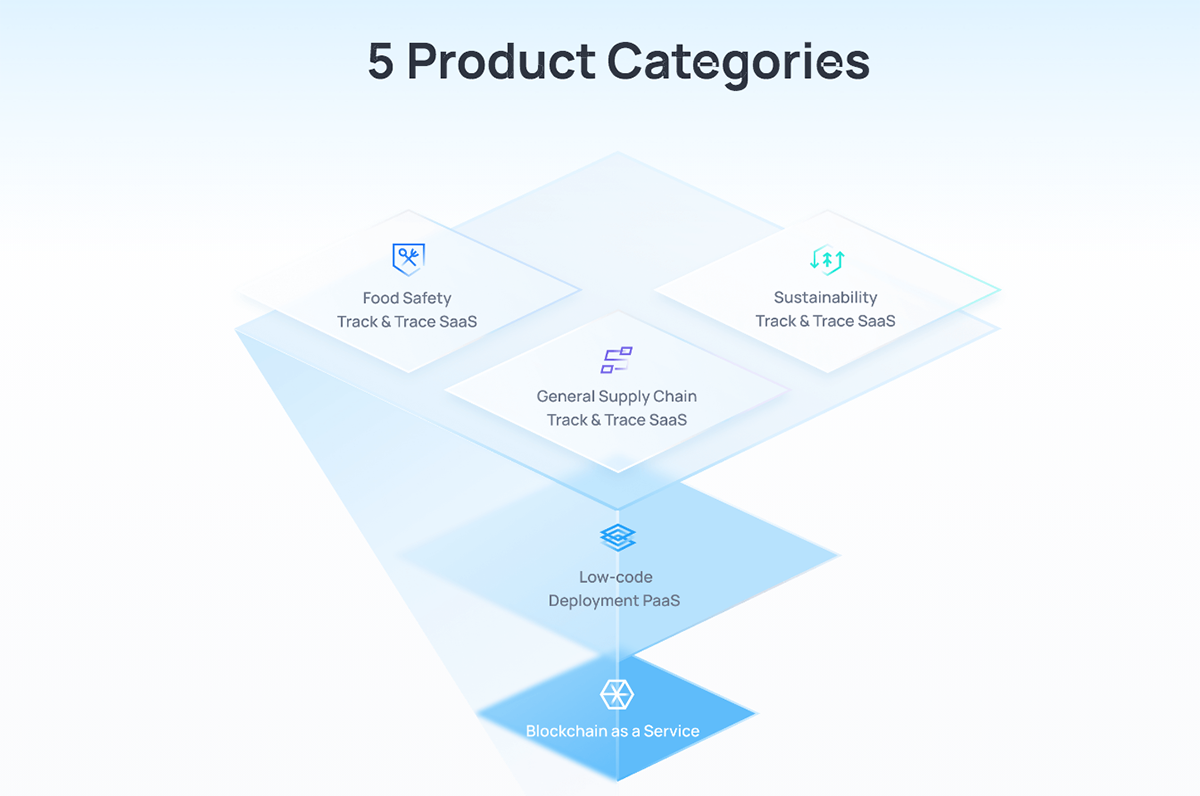 The below table lists each product category in further detail, application, and real-world utility.
| Product Name | Description | Application | Real-world Utility |
| --- | --- | --- | --- |
| Food Safety Track & Trace | A blockchain-based track and trace platform for food products. | Data, including the source, nutrition ratios and production, can be recorded on the blockchain, instilling consumer trust. | VeChain uses blockchain and IoT for DIG's wine supply chain management. |
| Sustainability Track & Trace SaaS | Sustainable traceability for easy brand supply chain documentation of green practices. | Eco-friendly processes, recycled materials, and carbon footprint tracking for sustainable products. | The sustainable winter collection at Frank and Oak's Shanghai store was traced by VeChain. |
| General Supply Chain Track & Trace SaaS | This product aims to meet the traceability requirements of different industries and business scenarios. | All the above applications, but for a wider range of products and industries. | In a partnership with VeChain, BYD announced a carbon banking system. |
| Low-Code Deployment Platform-as-a-Service (PaaS) | A flexible enterprise product to develop custom blockchain applications to create their own process templates using powerful tools. | The inherent transparency and immutability allow businesses to achieve reliable data sharing and collaboration with various parties. | VeChain's ToolChain platform assisted Bayer China in launching a traceability platform, Csecure, for clinical trial supply chains. |
| Blockchain as a Service | VeChainThor, a public smart contracts blockchain platform. | It can be used to build dApps and NFTs and store all kinds of digital data. | One of San Marino's Covid Certificates uses the VeChainThor blockchain for verification as an NFT via QR codes. |
| NFC Solutions | An NFC chip is a small electronic device that enables wireless communication. | It is commonly used in contactless payment systems, access control, and data-sharing applications. | Product tracking and tracing are generally done with the help of NFC chips. |
Source: VeChain. VeChain product descriptions, applications and use cases.
All the products highlighted above are operational and provide utility for real-world use cases in the industry. With these products, VeChain has established itself as a reputable blockchain services platform.
VET and VTHO Tokenomics
VeChain uses a dual-token economy, where VET is the value token, and VTHO is the gas token.
VET Value Token
Initially, the native VeChain token (VEN) was built using the Ethereum blockchain. It was publicly distributed in 2017 via a crowd sale, raising $20m. However, in 2018, when VeChain introduced its own blockchain, VeChainThor, they replaced VEN with a new token called VET at a rate of 1:100. Today, VET has a circulating supply of 72.5 billion, capped at 86.7 billion.
The below chart illustrates the VET token's price performance in USD over the past year. It made a high of around 9 cents on March 31, 2022, and has since dropped by 73%. In fact, VET is currently down over 90% from its all-time high in April 2021.
However, the VET token saw some positive price performance in February, where it briefly scored a 5-star trend on ByteTrend for the first time since November 2021. Although the trend has weakened since, the token is still up by around 50% YTD 2023. However, VET needs to see over 1000% in growth to reach its all-time high.

The VET token is instrumental in staking as a minimum of 25 million VET in collateral is required to run an Authority Node. Moreover, VET gives token holders governance rights and is used to create VTHO tokens.
VTHO Gas Token
VTHO tokens are used to pay for the transaction fees and cover gas for smart contracts development and processing. Its current circulating supply is 60 billion with no hard cap. After VTHO tokens have been used to cover the on-chain costs, 70% of the tokens used are destroyed, and the remaining 30% are paid out to the Authority Nodes as incentives for producing blocks. Although VTHO can be bought and sold on exchanges, and its price can change depending on the supply and demand, it is fundamentally meant to just support the network and maintain a stable fee structure.
Concerns
Although the dual-token system provides stable fees in all scenarios, including in a volatile market, this model splits the token utility into two different tokens. In comparison, ETH is used for paying gas fees and storing or transferring value. This model gives ETH maximum utility, making it relatively attractive for investors and token holders.
On the other hand, VeChain's VET and VTHO tokens have split utility and value propositions, making the primary token (VET) less attractive for investors and token holders. There is a possibility that even if the VeChain platform succeeds in the future (which looks like it will), VET may not be able to mirror its success and carry a risk of underperforming unless its ecosystem utility is increased.
VeChain Competition and Partnerships
VeChain is not the only blockchain-powered supply chain management platform in this industry. Traditional tech giants like IBM and AWS both have in-house blockchain-powered supply chain management solutions. In addition to these, VeChain also competes with general enterprise blockchain platforms like R3 Corda, Quant, and Hyperledger Fabric.
What sets VeChain apart from its blockchain-native competitors is its first-mover advantage and a portfolio of enterprise partnerships. As illustrated in the below infographic, VeChain has enterprise partnerships in almost every sector, including Automobile, FMCG, Tech and Logistics.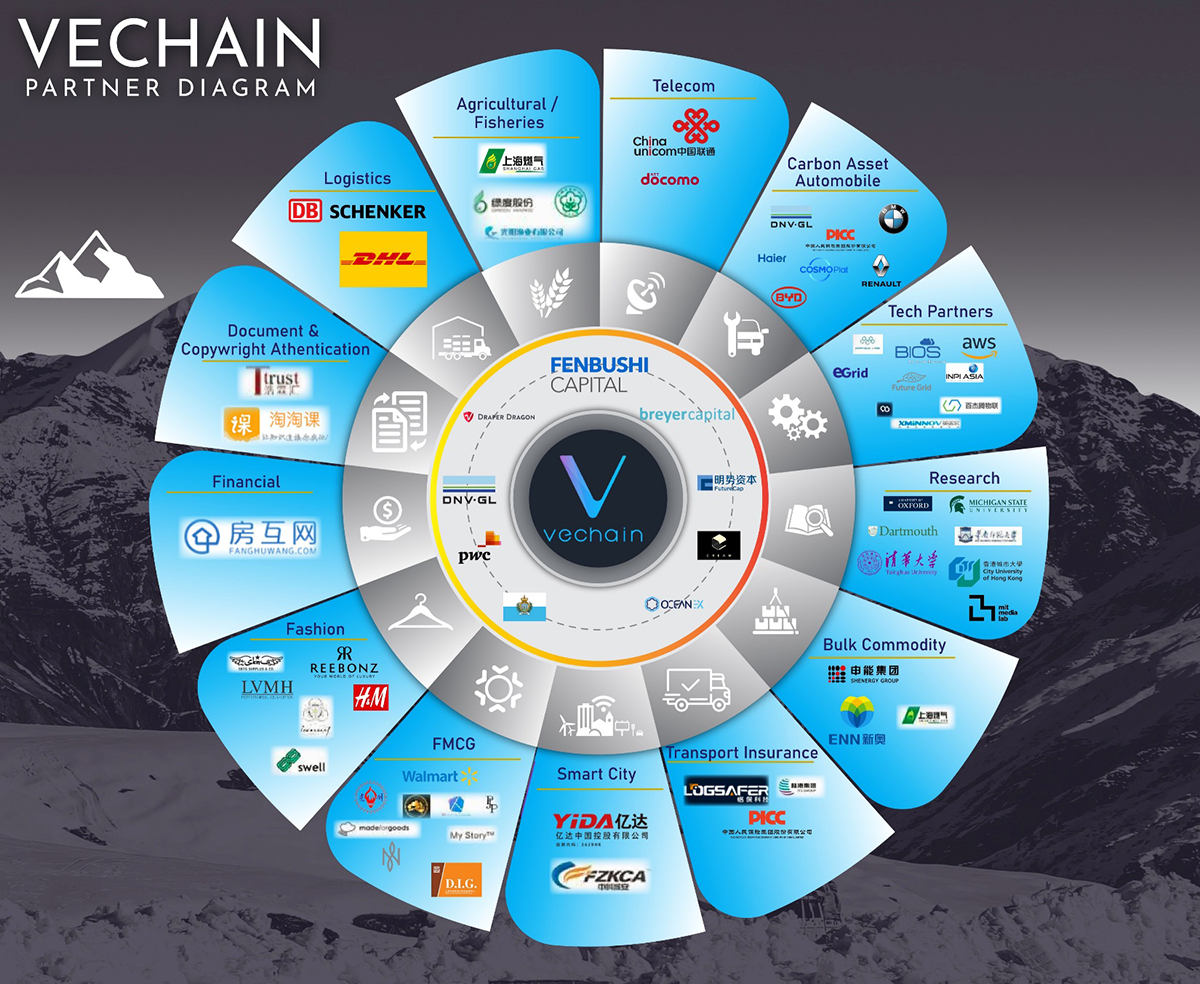 Based on the number of companies working with VeChain, it is safe to say that VeChain has built up a good reputation in the industry.
Conclusion
As evidenced by its ability to provide real-world use cases, it's clear that VeChain is already positively regarded among enterprises, highlighting the prominence and reputation VeChain products have in the industry. Moreover, VeChainThor's unique and developer-friendly features and efforts to gain mass-enterprise adoption make it a prominent player in the industry.
However, due to the reasons mentioned in the Tokenomics section, it will be a challenge for VET to attract investors and reach back to its all-time high price. In addition to that, VeChain's competition is also a significant hurdle for the platform to reach its goal of significant enterprise adoption in the supply chain industry. Nonetheless, VeChain stands out as one of the few blockchain platforms with various real-world applications and a strong client base, making it a project worth keeping an eye on.