Disclaimer: Your capital is at risk. This is not investment advice.
Token Takeaway: BAT Token
Brave is a free, open-source Web3 browser that protects and preserves user privacy and data. Brave allows its users to seamlessly surf the web like any other internet browser, but with improved speed, security, and privacy. This Token Takeaway will examine the fundamentals of Brave and its native token, BAT.
Overview
Launched in 2016, Brave is currently the leading Web3 browser, offering one of the best user privacy experiences among all the internet browsers. Brave was built using Chromium, an open-source web project created by Google. Currently, Chromium powers some of the largest browsers in the world, namely Chrome, Microsoft Edge, and Opera. Unlike other Chromium-based browsers, Brave blocks most of the pop-up ads, scripts, and web trackers by default, protecting users' private data and digital footprint.
Moreover, Brave employs a crypto token, Basic Attention Token (BAT), to pay users for their attention (e.g. viewing personalised ads) and publishers for their content while also providing a better return for the advertisers. The BAT token is the foundation of the Brave economy, but more on that later.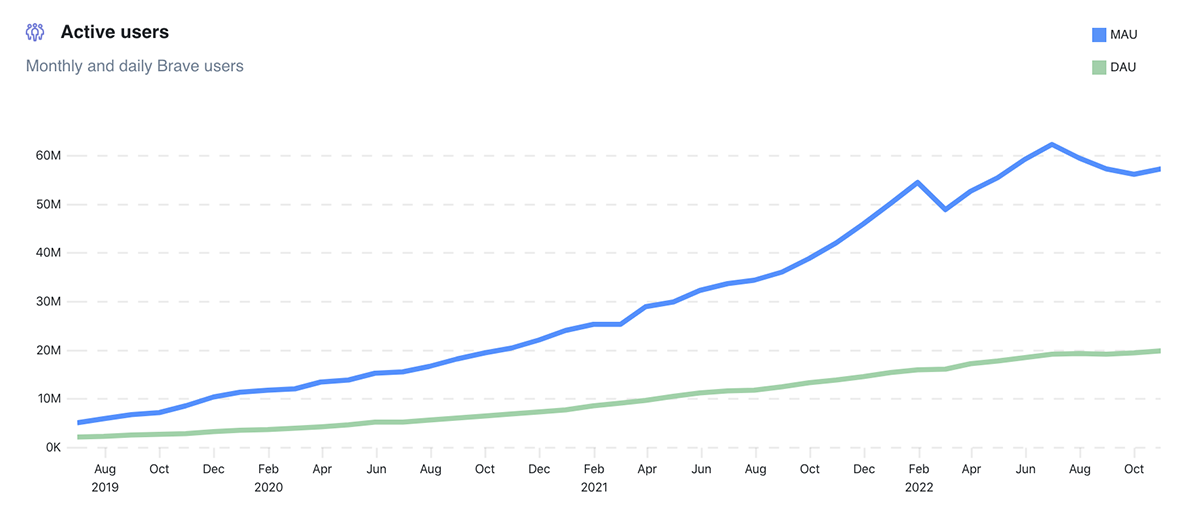 Source: Basic Attention Token. Growth in monthly and daily active Brave users.
Over the years, Brave has managed to scoop up a decent market share. It currently has over 57 million monthly active users, just under 20 million daily active users, over 10.6 million BAT wallets, and runs ad campaigns with leading brands on five continents.
History and Funding
Brave was developed by Brave Software Inc., a software company headquartered in San Francisco, California. It was founded in May 2015 by CEO Brenden Eich and CTO Brian Bondy, who brought multiple decades of relevant experience to the table. Brenden Eich is known for creating JavaScript, one of the world's most popular programming languages. Eich is also the former chief architect of Netscape, and the former chief architect and CEO of Mozilla Firefox. Brian Bondy also played an instrumental role at Mozilla Firefox.
Brave released the Brave 1.0 version in November 2019, with around 8.7 million monthly active users from its beta version. The first official version already had BAT integrated into the Brave economy to reward users and tip creators and came with ad blocking and other privacy features as well.
The BAT token was launched in May 2017 in a controversial ICO, which raised $35m in just under 30 seconds. With such a short window, only around 130 people were able to buy the tokens, with five investors buying about 50% of the tokens for sale. This raised initial concerns about severe centralisation and BAT being a Ponzi scheme, but later the ICO became recognised as highly successful. Additionally, Brave has raisedfurther funds from 18 different investors, including blockchain-focused firms like Digital Finance Group and Outlier Ventures, bringing the total capital raised to $42.3m.
Brave Browser Features and Functionality
One of the biggest problems on the internet is the misuse of personal data. Lengthy terms and conditions, cookies, web trackers, malware, and phishing attempts, manipulate users to share more personal information than they'd like to. But since consent has been given (sometimes unintentionally), traditional browsers can share your private online data with third-party brands (advertisers) looking to target a specific audience. This data could contain your location, time spent viewing a product, IP address or other similar information.
Although this is an efficient way to target a potential buyer, it exploits user privacy. To prevent this from happening and to provide a better user privacy experience, Brave promises that no one has access to a user's personal information except the user, not even Brave. According to Brave, this information doesn't even leave a user's device.
With a focus on privacy, Brave also provides some of the best security features in its niche. It blocks third-party cookies, fingerprinting and cross-site trackers, and malware. Whenever possible, Brave will also automatically upgrade any HTTP URL to HTTPS, which establishes a secure and encrypted connection with your device and the website's server.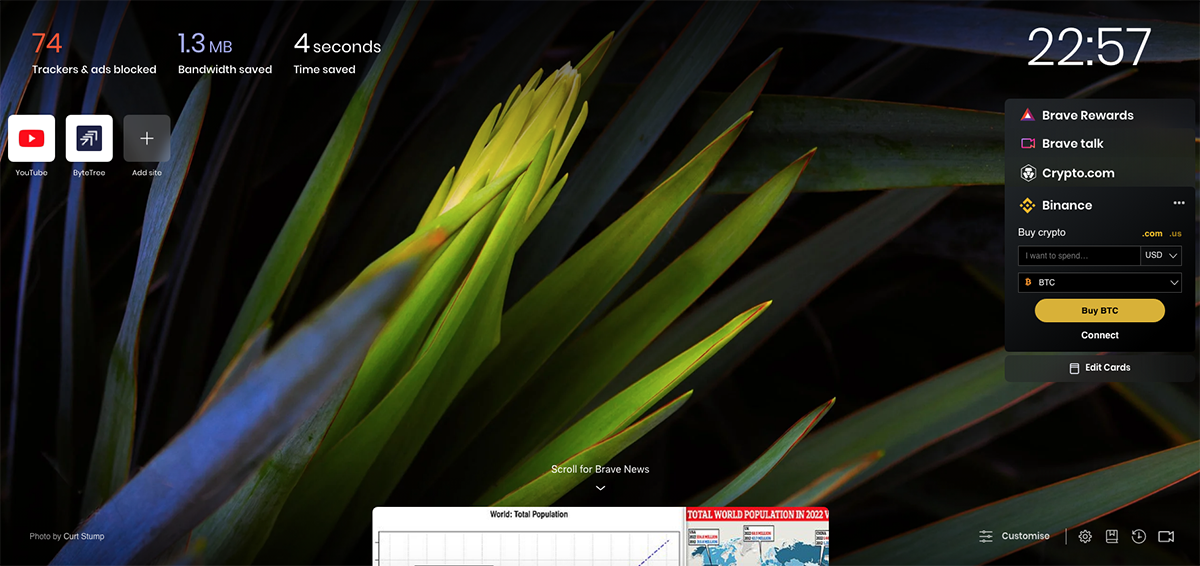 Source: Brave Browser. Brave Browser's Home tab.
According to their website, Brave is 3x faster than Chrome, their biggest competitor, supposedly due to Brave not loading all the ads, trackers, and scripts. Although there is no data to back this claim, I know from personal use that Brave is a fast browser.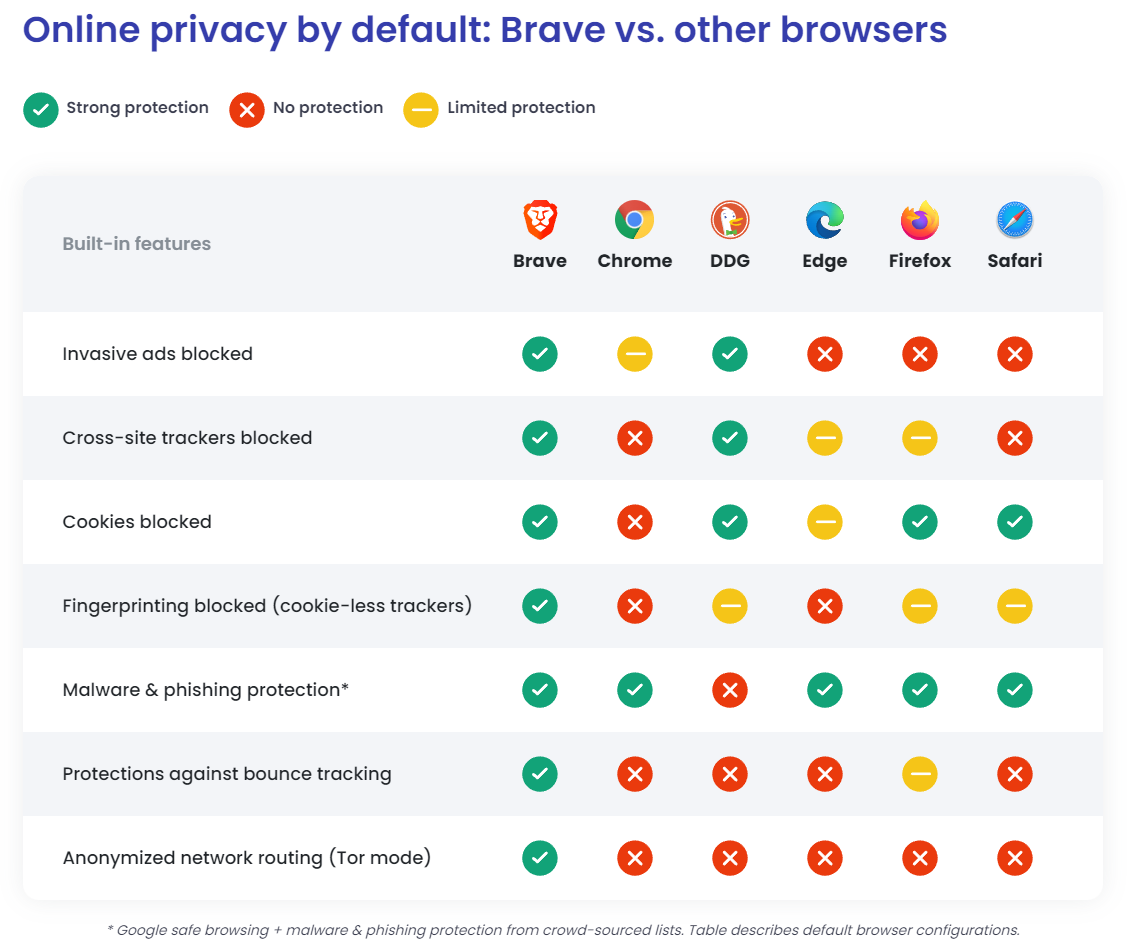 Source: Brave. Default features of different browsers.
Additionally, the Brave browser provides services like VPN, Brave Talk (video calls), Brave News, and integration with Tor for private windows. Brave has also partnered with Binance to offer crypto trading directly from the browser's home tab. Further on the crypto angle, Brave has a crypto wallet service, Brave Wallet, the first secure crypto wallet built directly into the browser. Brave Wallet allows the transfer of tokens to and from over 100 chains, while BAT holders can save 20% on the swapping fees using the Brave Swap Rewards Program.
Brave Business Model
Despite ad blocking being a built-in feature, Brave does run targeted ads. In fact, ads are a core part of their business model. When Brave Rewards are turned on, users receive personalised banner ads as notifications. These ads target users through Brave's AI and machine learning models, matching users with relevant ads available in their country without accessing personal data. Based on their attention (viewing ads), users get rewarded in BAT. Out of the 100% revenue generated from ads, Brave allocates 70% to reward users, which is paid to their in-browser wallet, and 30% to fund its operations.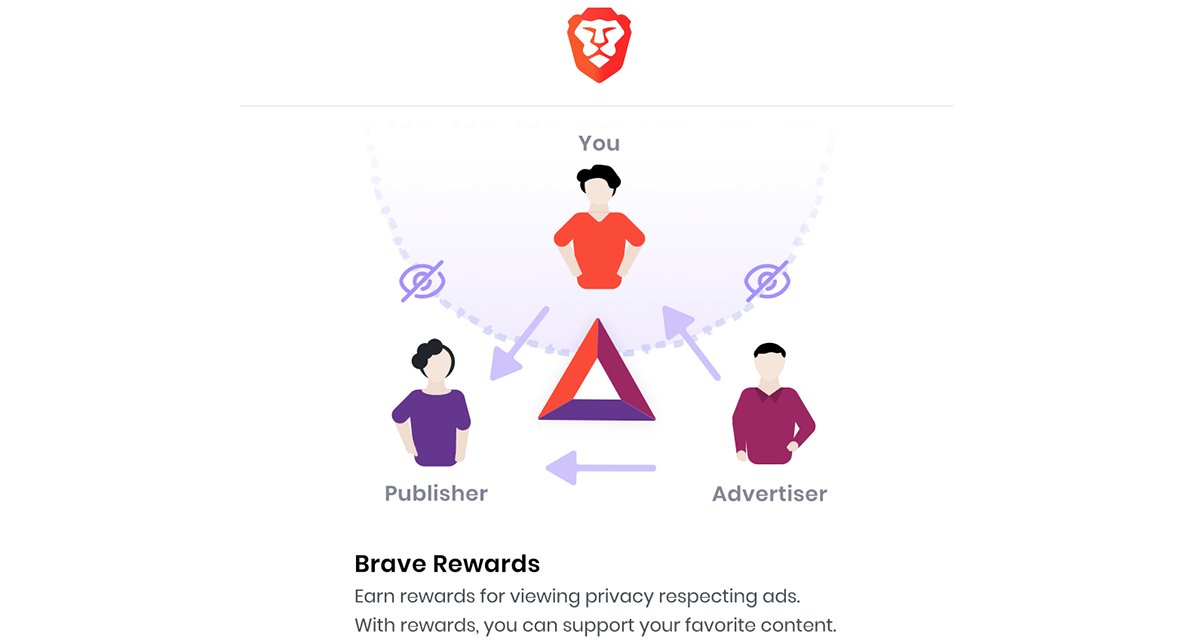 Source: Brave. Brave Rewards model.
Brave also provides subscription-based services to its users. These services include Brave Talk, VPN, and a firewall. It also makes money through affiliate commissions and merch sales via its web store, Brave Swag.
BAT Tokenomics
BAT was built on the Ethereum blockchain as an ERC-20 token standard and launched with a fixed supply of 1.5 billion tokens. BAT plays a key role in enhancing and improving security, privacy, and trust in the digital advertising space by incentivising users and preserving their privacy. As of November 2022, there are over 456k BAT holders.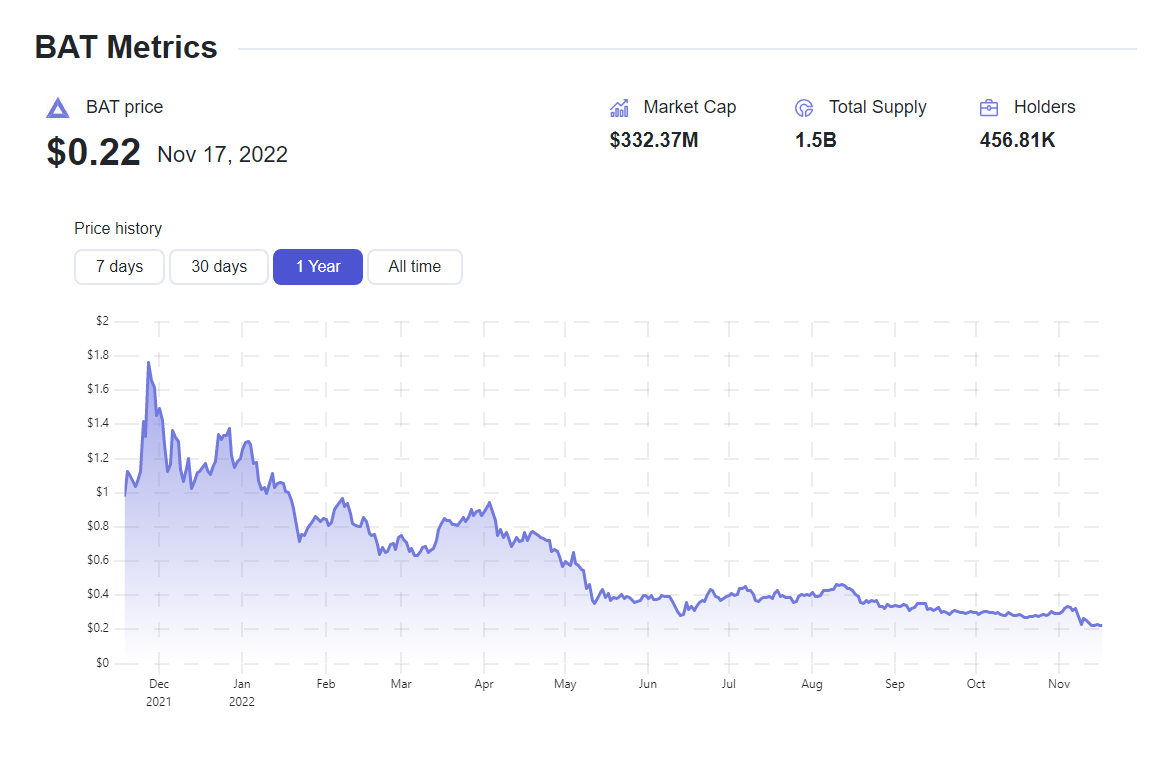 Source: Basic Attention Token. BAT Metrics.
BAT can be used to tip your favourite content creators across various websites and can also be withdrawn for cash using Uphold. Currently, 2 million creators on platforms use BAT tokens, with YouTube being the most popular.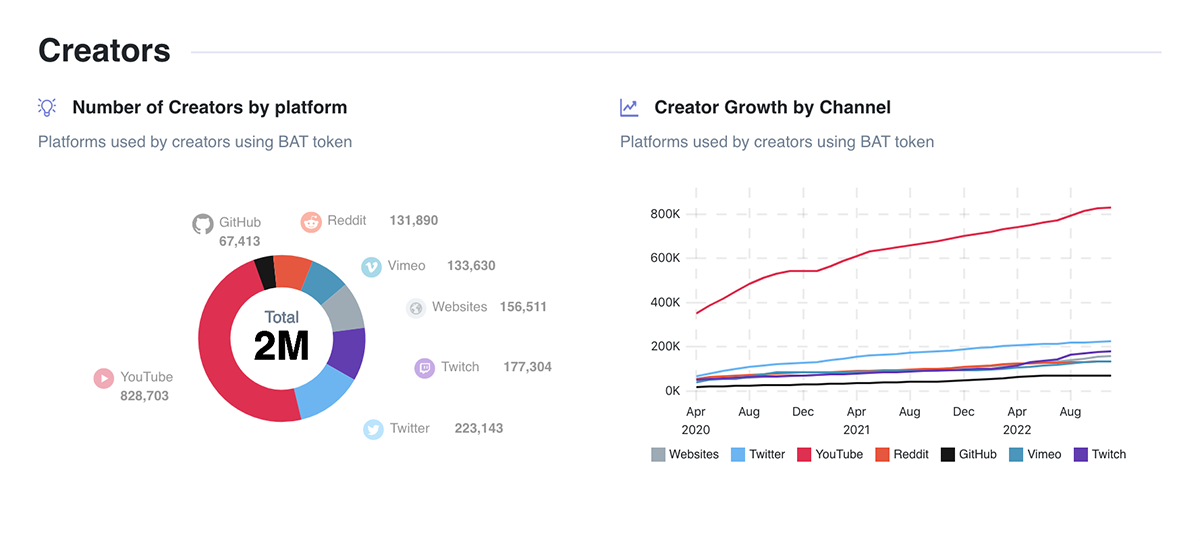 Source: Basic Attention Token. Growth in creators that use BAT on various platforms.
Brave uses the 70% of revenue generated from ads to buy back BAT tokens from the market to reward users. Since 2019, Brave has bought back over 57 million tokens. As illustrated in the chart below, BAT buybacks have seen continuous growth, showcasing an increased rewards payout while also helping to maintain a constant demand for BAT in the market.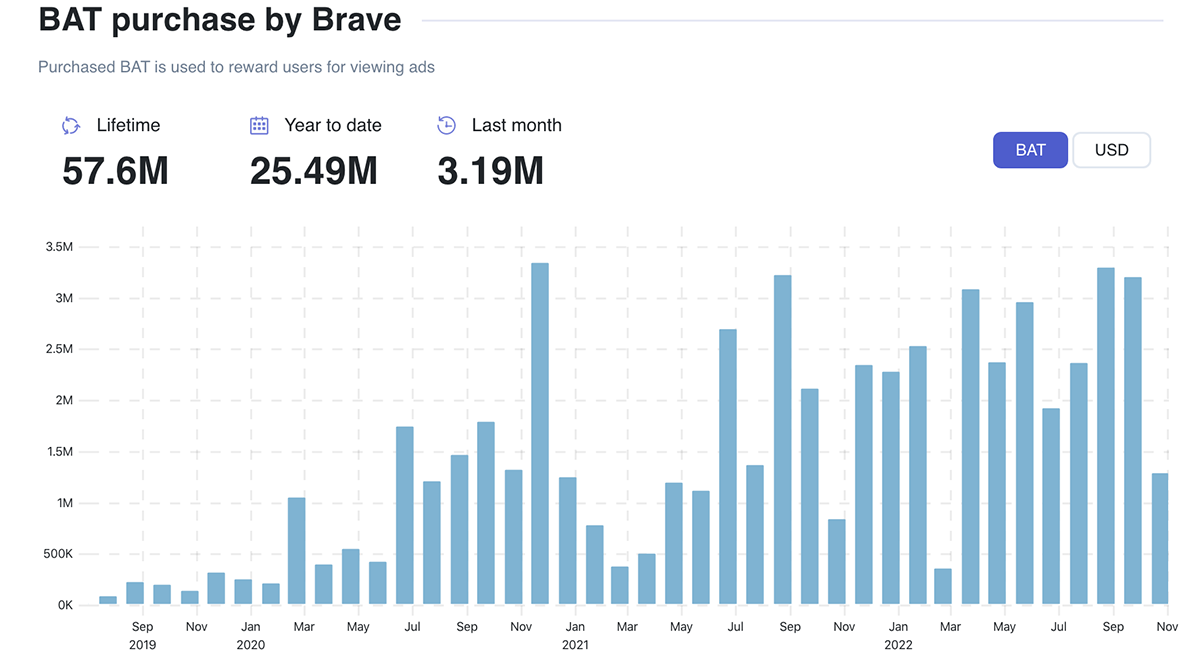 Source: Basic Attention Token. BAT buybacks to reward users.
Although Brave has seen significant user growth, up 1000% between June 2019 and October 2022, the on-chain activity for BAT has slumped, and the price has been seriously underperforming for months, as shown in the below chart. This could be attributed to the current crypto winter, poor on-chain performance, and low token utility.

Source: ByteTree. ByteTrend score for BAT (blue fill) and price (green) in USD.
Recognising the problem with limiting BAT for in-app utility, upcoming features will enable the token to be used for e-commerce, search engines, and content pinning and file sharing with IPFS, a peer-to-peer data storage and sharing platform. Increasing the BAT token utility and demand would drive and sustain its price, but there is currently no additional information or a timeline for implementation.
Competition
There are currently numerous web browsers available for free, with Google Chrome being the market leader. Chrome has created a monopoly by taking over 65% (2.65 billion users) of the market share in this space.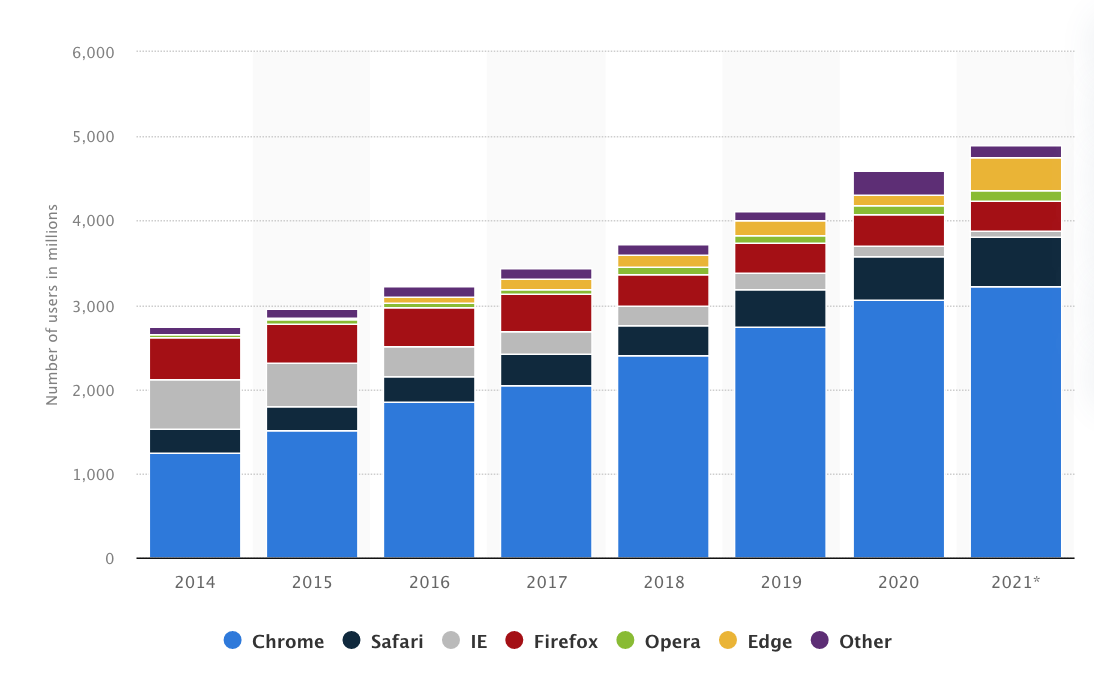 Source: Statista. Growth in web browsers and their user base.
Chrome has been the dominant player in this space for years, serving around 3.2 billion users in 2021. Chrome also provides basic security features by default, but to experience the best privacy features, users must use third-party extensions and applications. It's worth noting that Chrome and another popular browser, Microsoft Edge, have been accusedof misusing user privacy by sharing their personal information, like name, address and passwords, to their parent companies. With users not taking any chances on their online privacy, millions have shifted to Brave.
Recent Partnerships
In November 2021, Brave announced a long-term Solana partnership with big plans. Then in May 2022, the Brave Browser integrated with the Solana blockchain, making SOL and any Solana-based tokens compatible with the Brave Wallet. Further strengthening the integration, this November, Brave also announced a Solana-based NFT project, BAT x Adam Ape for Brave, which is an effort to increase the BAT utility outside of Brave. You will be able to view this project on Magic Eden, Solana's largest NFT marketplace.
Conclusion
Since its launch in 2016, Brave has grown to serve 57 million users worldwide every month, with 20 million current daily users. Its user-centric privacy and rewards models have worked well for the onboarding of new users. However, giving away 70% of the advertising revenue has negatively impacted on the company's profits. Better capital and profits are needed to boost growth when competing with behemoths like Chrome, which also offers enhanced privacy through extensions.
Nevertheless, the gradual user growth shows the demand for privacy-focused browsers. The built-in crypto features, enhanced digital ads, and partnerships with top blockchains, do make Brave a prominent contender, especially in the Web3 space. As Web3 matures, platforms like Brave will grow with it.